Soccer cleats can be an expensive purchase, so if you've outgrown your boots, bought the wrong size, or need a bit of cash, it's worth selling your used cleats.
Maybe you want to jump on the sneaker bandwagon and diversify into soccer cleats. But if you don't know anyone who needs them, how do you go about selling them in a store or online?
How do you sell soccer cleats, here's some of what we'll be covering?
Online market places
Local options
Charity
There is a massive market for used soccer cleats and various stores, both brick and mortar and online, where you can sell or swap.
If you're interested in selling your old boots or looking to get into the business of reselling soccer cleats, here are some curated options for passing on used soccer cleats.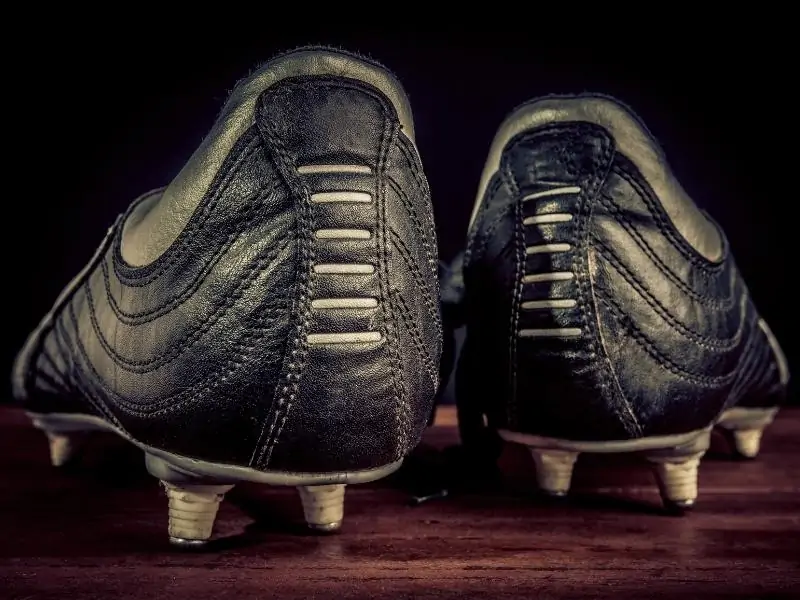 How To Sell Soccer Cleats As A Side Hustle
If you're keen to sell your soccer cleats because you've outgrown or upgraded them, go ahead and look at the options below.
The soccer cleat resale market is very different from the sneaker market: the demand is lower, so the profit margins are lower.
Sell your used cleats to a local thrift store or used sportswear store, where you can often get cash up front.
List your cleats on eBay, especially if they're a high-end, expensive brand.
Classic Soccer Cleats buys and sells collectible, custom, and limited-edition soccer cleats.
Take a look at other online stores and apps, such as Poshmark, Facebook Marketing, and Letgo.
Swap or trade your used cleats with other sports fans.
Consider donating your used cleats to a less fortunate player.
However, if you're thinking of making money reselling cleats as an income, read on. The used and limited-edition sneaker reselling industry has exploded, and many entrepreneurs may consider turning to soccer cleats to make a similar killing.
There are a couple of valid reasons why reselling cleats is not such a simple money-maker.
Sneakers are a fashion item that anyone can wear, while soccer cleats are only helpful if you play soccer – their studs or cleats prevent you from wearing them as ordinary shoes. This means there are far fewer buyers of soccer cleats out there, so your market is limited.
The demand for limited-edition sneakers is enormous, so sellers can charge inflated prices. There isn't this kind of demand for cleats, even if they're super uncommon or customized.
Because of market demand, sneakers can offer a high profit margin. You'll make your money back but not earn a significant profit on selling cleats.
The size of the cleats will impact the value. You'll only make money off commonly sized cleats, not the big size 12s or the most petite sizes.
Soccer cleats don't go up in value as sneakers do.
If you want to make money selling cleats as a side hustle, here are some ideas.
Buy low-price soccer cleats at outlets and department stores and resell them at a regular retail price. You will turn a profit but not get rich off selling soccer cleats.
Know your soccer cleat market and what people want to buy.
Please don't invest in expensive limited-edition boots to resell them, as you may not make your money back quickly. You'll tie up a lot of cash.
For a list of the best online soccer stores, check out our best soccer stores list.
How To Sell Soccer Cleats At A Store
Begin by checking out your local thrift stores, especially those that specialize in sportswear. Charity and thrift stores are a great bet if your cleats are well-worn or you're selling your kids' old cleats.
You may well have a branch of Play It Again Sports near you, which makes it simple.
These stores have a walk-in policy, where they will have a look at your gear, and if they make you an offer, you can get cash (or store credit) immediately. They will then sell on the cleats.
How To Sell Soccer Cleats Online
Many sites are selling used goods online, but these are the best for selling sports gear.
For sites that require you to meet the buyer in person, take care, and always meet strangers in a safe, public space.
How To Sell Soccer Cleats On eBay
One of the oldest, most popular, and most dependable online marketplaces, eBay is a fantastic place to sell used soccer gear, especially if you've got the expensive kit and you want to recoup your money.
It's not uncommon to purchase cleats in the wrong size and then be unable to return them.
The site has high traffic, and it's straightforward to list your goods. Here are some tips for selling your used cleats on eBay:
Take your own pictures so that potential buyers can see the actual cleats and their condition.
Give a detailed description of the cleats, including brand, size, width, and type of boot so that they come in in more searches.
Be honest about the cleats' condition and how much wear they still have in them.
Respond quickly to any queries so that buyers see that you are keen.
Price your cleats competitively and realistically. Check out what similar boots in a similar condition are going for and list yours in the same price range.
Choose the "buy it now" option so that buyers can avoid the bidding process and purchase immediately.
How To Sell Soccer Cleats On Classic Soccer Cleats
Classic Soccer Cleats specializes in high-end, custom, and limited edition used cleats, so this could be the best choice if you've got something special in your bag.
You sell your used boots directly to the site, who then sell them to customers, usually collectors, looking for a particular pair of cleats. There's a helpful blog that gives background on the different cleats for sale.
How To Sell Soccer Cleats On Facebook Marketplace
Facebook Marketplace is a site where you can list goods and then meet up with the person to exchange cash for cleats. You can purchase just about anything on this site, and it's perfect for selling goods to beginners – it's often the first stop for people getting into the beautiful game.
How To Sell Soccer Cleats On Thrifting Sites
At the opposite end of the used items spectrum to classic collectible sales, Poshmark's app is a thrifter's paradise, and you'll be able to buy and sell most clothing items here, including soccer cleats. They have countless used soccer cleats on sale, so you're in good hands.
Another app for used goods of all kinds is Letgo, a kind of localized Poshmark.
How To Swap Your Soccer Cleats
A creative way to get rid of your used soccer cleats is to trade or swap with someone else. You can do this by putting up a notice at your local sports club, or you can do it online.
The excellent site Sideline Swap is a leader in used sporting equipment. It connects people who want to buy, sell, or swap their used sports gear.
It's intuitive and straightforward to list your goods, and the site makes it safe to work directly with others, both locally and internationally. As with eBay, they have the option to bid or to buy now.
Another trading site to check out is BigSoccer's SwapShop, where you can buy, sell, and trade used cleats, amongst other gear.
How To Donate Your Soccer Cleats
If you decide that you'd rather not sell your used soccer cleats, you can always donate them to someone in need. Many charitable organizations collect used soccer kits, especially for children who don't have the gear to play their beloved game.
For US-based charities, look at the US Soccer Federation's Passback initiative, or for international charities, see Peace Passers.
Resources