Reading Time:
9
minutes
Soccer is extremely demanding and pushes players' bodies to the limit causing endless injuries. Professional soccer players are among the fittest athletes in the world, covering more distance per game than virtually any other—non-track-and-field-based sport. 
Unfortunately, the physicality of the sport plus the number of games means that injuries occur frequently. 
In this article, we look at the most common soccer injuries and the main reasons they occur. Some of the other areas we'll touch on include: 
Concussions in soccer
Injury frequencies per position
Main causes of injuries
Worst injuries
Injuries in various other sports
Awareness of the following injuries will help you prepare your body to prevent injuring yourself.
Soccer Injuries
Soccer injuries occur to the lower extremities, affecting the ankles and knees. Soccer is a highly dynamic sport that involves frequent accelerations, decelerations, kicking, changes of direction, and explosive actions.
These movements put a lot of strain on the joints, ligaments, and tendons, making them susceptible to injury. The most common knee and ankle injuries are mild to severe sprains, strains, and tears.
Other less common knee and ankle injuries include dislocations and fractures.
How Most Soccer Injuries Happen
As a sport that's played predominantly with the feet, many injuries occur due to contact and collisions between players competing for the ball.
Dead legs (quadriceps contusions) are common injuries when players come together in a tackle. In terms of muscular injuries, the hamstrings are problematic for soccer players.
From niggles to full-blown tears, hamstring injuries cost teams millions of dollars every season, with players being sidelined for anywhere from a couple of weeks to several months.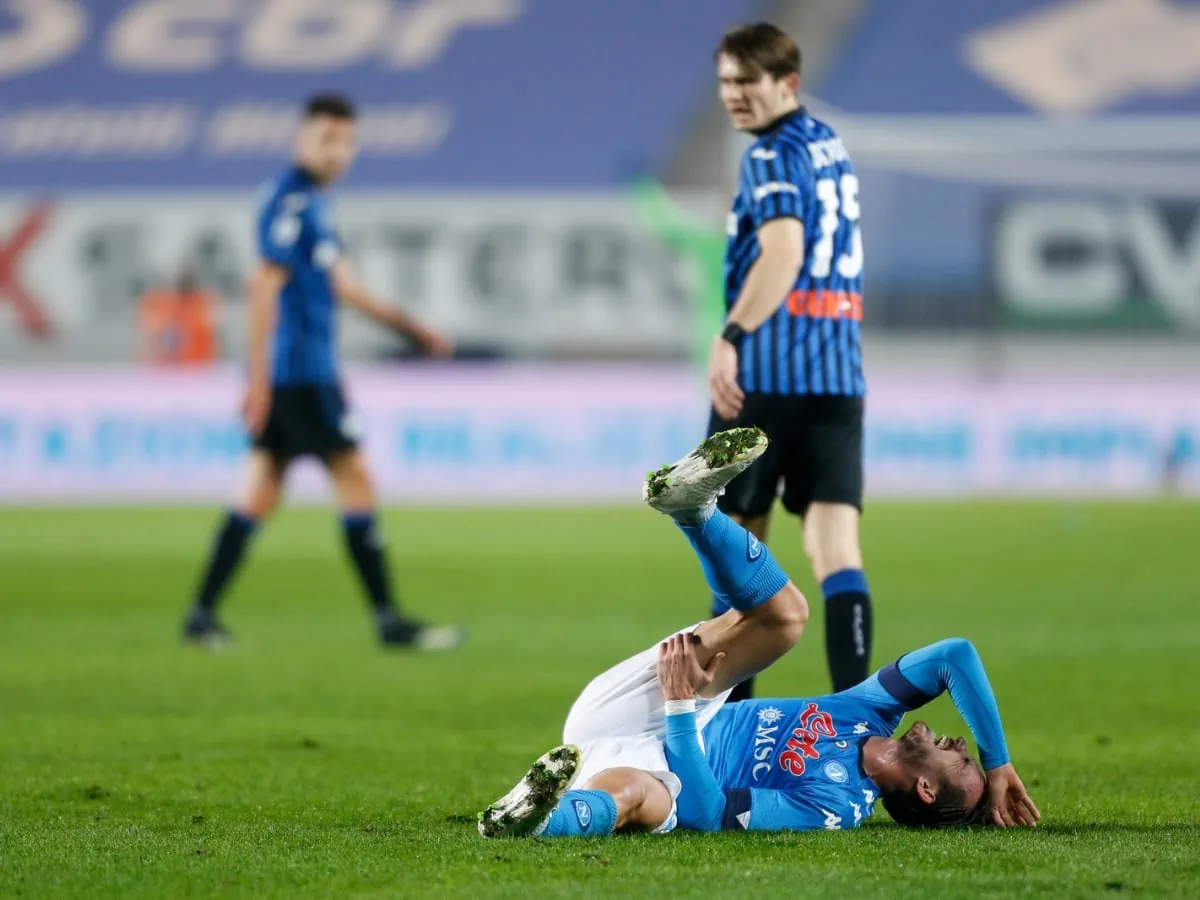 Most Common Injury In Soccer
According to the Annual Football Injury Index from Marsh JLT Specialty, one of the world's leading insurance brokers and risk advisors, knee injuries are most prevalent in the sport, accounting for 26% of all injuries during their premier league study. 
These findings are backed up by various other sources, including a study from the National Library of Medicine that documented injuries in the MLS. 
When it comes to knee injuries, sprains, and strains are most common. Failing to treat minor knee injuries properly can lead to more severe problems, such as meniscus or anterior cruciate ligament (ACL) tears. 
Why Knee Injuries So Common In Soccer
Knee injuries are common for a combination of reasons. As we discussed, soccer is a fast-moving, dynamic, and demanding sport that is played mostly with the legs.
From sharp turns to jumping, and from slide tackles to shooting, the knees come under a lot of duress during training and games. This alone is reason enough for frequent knee injuries. 
Despite this, there are other significant factors to consider. Knee injuries are some of the most common sporting and non-sporting injuries in the world.
The knee joint is prone to injury no matter what activities you're engaged in. The main reason for this is that the knee is located between the two longest bones in the body.
This means that your full body weight is transferred through the legs and knees, into the feet every time you move. As a joint bends, its stability weakens, making it vulnerable to injury. 
Taking contact while your cleats are stuck in the turf can cause your knee to stay in place as your body twists, leading to the ligaments or tendons tearing or rupturing.
Even minor collisions can sprain or strain the ligaments, as the knee must support a lot of weight during contact. 
Most Common Injuries In Soccer
The 3 most common injuries in soccer are knee strains, ankle sprains, and hamstring strains. Let's take a look at these injuries in more detail: 
1. Knee Injuries
The most common knee injury in soccer and many other sports is a lateral collateral ligament (LCL) sprain. These ligaments are located on the outside of the knee. They connect the femur (upper leg) to the tibia (lower leg) bones surrounding the knee joint.
To determine the extent of an LCL injury, an MRI scan is generally required. Common symptoms are pain and swelling along the outside of the knee. Depending on the severity of the strain, an LCL injury can take days to several weeks to heal.
Injured players often wear a brace to add stability to the knee as it heals. Changing direction, pivoting, rapid acceleration, and deceleration, as well as landing awkwardly, contribute to most stress knee injuries. 
It's important for soccer players to address knee injuries as quickly as possible. Even mild knee strains can cause a weakness in the joint that may lead to a more severe problem, like a total LCL or ACL tear.
Overtraining and heavy use of the joint can cause a runner's knee, leading to chronic pain and swelling. Even the fittest players can sustain injuries from overexerting themselves. 
2. Ankle Injuries
Ankle injuries are also prevalent in soccer. A PubMed study found that 20% of soccer injuries were ankle sprains, across all skill levels. No matter your skills, abilities, or the tier of the game you participate in, ankle sprains are a risk. 
Players frequently roll their ankles while changing direction, contesting a loose ball, tackling, being tackled, or getting their foot caught in the turf. From such instances, the most common type of ankle injury observed in soccer is a lateral sprain.
A lateral sprain generally occurs through inversion, where the ankle is impacted while the toes are pointed downward. Whether they are shooting, running, passing, or dribbling, players often play with their toes facing down.
Lateral ankle sprains are typically felt quite quickly. Within 2 hours of an impact or incident, you can generally observe swelling due to the strong blood flow to the ankles. The joint becomes tender to touch and there is generally at least some bruising.
Lateral ankle sprains are graded between 1 and 3 depending on severity:
Grade 1: this is an ankle injury that involves minimal swelling and no ligament laxity. It typically takes between 2 and 10 days to recover from.
Grade 2: with some swelling and ligament laxity, this type of sprain may make it difficult for players to raise their heel, jump, or run. It usually takes between 10 and 30 days to recover from.
Grade 3: this is the most severe ankle sprain. It causes significant swelling and ligament laxity, as well as tenderness and pain on the inside and outside of the ankle. Players may not be able to put any weight on the joint. Recovery time can range from 30 to 90 days.
3. Hamstring Injuries
Hamstring injuries have been associated with soccer for decades. In the past, a bad hamstring tear has ended or led to the end of many careers. 
This type of injury usually occurs when a player is running at speed, propelling significant force through the hamstring muscles (located at the back of the thigh). 
Certain players' careers were blighted by hamstring injuries, preventing them from reaching their potential. As an injury that reoccurs frequently, a hamstring problem not only disrupts a player's season, but can also affect their confidence and mentality.
Michael Owen was known for his blistering speed and elite-level finishing when he first broke into the Liverpool team in 1997 as a 17-year old.
His pace would strike fear into defenders, who knew that he was unstoppable as soon as Owen had made his run in behind.
However, it was Owen who became fearful later in his career, after sustaining a series of serious injuries, including hamstring and ACL tears.
Commenting on tearing his hamstring at just 19, Owen had this to say:
"Once I did it once I was gone really…I was petrified of running into a channel. I just knew I was going to tear a muscle. The worst thing about it is your instinct is to do what you have done all your life but you start thinking: 'Oh no, don't.'… For six or seven years I hated it. I couldn't wait to retire."

Micheal Owen, 2018
Fortunately, despite his fear, Owen enjoyed a hugely successful career, lasting 17 seasons.
He played for some of the giants in world soccer, including Liverpool, Real Madrid, Manchester United, and Newcastle United, scoring 222 club goals.
He also captained the England national team, scoring 40 goals in 89 appearances. Although he was forced to adapt his game, Owen showed that you could come back after multiple bad injuries. 
Due to advancements in sports science and the increased emphasis on injury prevention and recovery, hamstring injuries are no longer as threatening to careers as they used to be.
Although they are still serious, players typically recover fully, even from severe hamstring issues. 
How Common Are Concussions In Soccer?
According to a study by Purdue University, up to 22% of all soccer injuries are concussions. Traditionally, soccer was considered a relatively low contact sport, especially when compared with popular sports like American football and hockey.
Historically, head trauma in soccer has been underdiagnosed or neglected due to mild symptoms. However, these findings show that in some cases, soccer concussions are comparable to other relatively high-contact sports. 
Head injuries are linked to direct contact, such as collisions and tackles on the field, as well as contact with the ball when heading.
Some professional players head the ball around 12 times during a game and up to 800 times throughout a full season. Moreover, many headers are from high-speed crosses or shots, as well as long passes falling from significant heights. 
Recent concerns regarding traumatic brain injuries (TBI) in soccer have led to rule changes in the underage game.
In the US, the heading is prohibited for children under the age of 10. There is limited use of heading in practice for soccer players between the ages of 11 and 13.
What Soccer Position Has The Most Concussions?
While strikers score the most headed goals, defenders head the ball the most, meaning they are at the biggest risk of concussion.
Position In Soccer Gets Injured The Most
According to the research, forwards get injured the most in soccer. Competing with large, aggressive defenders, occupying advanced positions, running at high speed, and shooting the ball make them more vulnerable to injury than other positions. 
Most Physical Position In Soccer
Defenders are the most physical players in soccer. After strikers, defenders are most likely to get injured. Defenders are known for putting their bodies on the line to make last-ditch tackles and blocks.
They also make the most headers throughout a game, increasing their chances of concussion. After strikers and defenders, midfielders are the next most likely players to suffer an injury. 
Safest Position In Soccer
Statistically, goalkeepers get injured the least of any position. Although their primary goal is to block shots and prevent goals, goalkeepers are less involved in general play, making them less susceptible to injury. 
Worst Injury In Soccer
Unfortunately, there have been countless career-ending injuries throughout the history of soccer, so it's hard to say what the worst injury ever was conclusively. 
High-profile stars such as Luke Shaw, Eduardo Da Silva, Djibril Cisse, Aaron Ramsey, and several others suffered gruesome leg breaks. Despite how bad double leg fractures look, most players recover from them.
The German midfielder, Ewald Lienen, suffered a particularly gory injury in 1981.
In a collision with a defender, Norbert Siegmann, Lienen's thigh was lacerated by his opponent's studs, leaving an open wound that reached almost 10" in length. Lienen's muscles and femur were visible.
Luckily, he was cleared to play again just a few weeks later. 
The worst injuries in soccer tend to be head injuries.
Former Chelsea goalkeeper, Petr Cech, suffered a skull fracture after colliding with Reading's Stephen Hunt in a Premier League game. More, recently, Wolverhampton Wanderers and Mexico striker, Raul Jimenez also suffered a skull fracture that almost cost him his career.
In 2017, while playing for Hull City, midfielder Ryan Mason clashed with Chelsea defender, Gary Cahill, leaving Mason unconscious on the field.
After an 8-day hospital stint and emergency surgery for a fractured skill, Mason was released. He was left with 14 metal plates, 28 screws, and 45 staples to keep his skull intact.
Mason was forced to retire.
In the 2020 European Championships, a tragedy almost occurred on the field when Denmark and Inter Milan player, Christian Eriksen, collapsed on the pitch after suffering a cardiac arrest.
Resuscitation and defibrillation saved Eriksen's life. It's unclear whether Eriksen will ever play again.
Worst Tendon To Tear
Rupturing the Achilles tendon is a devastating injury that takes a long time to recover from.
Although it was previously a common career-ender, most modern professionals can recover from an Achilles tear.
Longest Injury To Recover From
The longest injuries to recover from are reoccurrences of major tears or breaks, such as a second ACL tear, multiple hamstring tears, or a severe leg break.
Why Do Soccer Players Fake Injuries?
Soccer players typically fake injuries to fool the referee into awarding a foul, booking, sending off an opponent, preventing a counterattack, or wasting time. 
Check out our article on faking injuries here. 
Is Football Tougher Than Soccer?
American football has a higher injury rate than soccer. While both sports take a toll on the knees and ankles, football is far more taxing on the upper extremities than soccer.
Football is one of the heaviest contact sports in the world, with huge hits taking place frequently by players weighing 300lbs and heavier. 
Concussions are arguably the biggest threat to an NFL player's health. 
There are approximately 140 concussions reported in the NFL each season. It's estimated that a player on every team experiences a concussion once every 5 games.
What Is The Safest Professional Sport?
Not all professional sports keep updated injury records so it is difficult to say for sure what professional sport is the safest. However, studies of athletes in the most popular professional sports found that the safest sports include: 
Table tennis
Swimming
Canoeing
Archery
Shooting
Bowling
Golf
Baseball
Joel is a seasoned soccer journalist and analyst with many years of experience in the field. Joel specializes in game analysis, player profiles, transfer news, and has a keen eye for the tactical nuances of the game. He played at various levels in the game and coached teams - he is happy to share his insight with you.