Every soccer player goes to the field with a number printed on the back of their jersey. The number is meant to serve as an indicator of the player's position on the field. But most importantly, it is an identifier of who the player is.
Soccer players with the number 9 play in the main center forwards or the offensive position. They play in front of the midfielders and are responsible for scoring goals for the team. Thus, they are usually prolific goal scorers.
Let's uncover why number 9 is regarded as a gem and why players who wear this jersey are considered the most important in a soccer team.
In this article, we look at the players:
Short Biography
Soccer talent
Career achievements
Career contributions
Examples of players with the number 9 include Alan Shearer, Ian Rush, and Bobby Charlton.
In this article, we shall look at a short synopsis of their background, their history as players, and some of the honors, accolades, and awards they earned.
The Best Soccer PLayers With The Number 9
This collection of players with the number 9 is all strikers. If you love goals in soccer, these players have broken all of the records. Check out the player's records and watch the highlights of their goals. These number 9s should be known by everyone.
Alan Shearer
Referred to as England's greatest number nine, Shearer was born in 1970 in England and got interested in soccer at a tender age. He played for Southampton in 1988, then Blackburn Rovers, and Newcastle United.
He also played for England's national team. He appeared 63 times for his nation and scored 30 goals.
He is widely regarded as one of the best strikers globally and among the greatest players in Premier League history.
He won the Football Writers Association Player of the Year in 1994. He then won the PFA player of the year in 1995. In 1996, he became third in both the Ballon d'Or and FIFA World Player of the Year awards in 2004.
He was named by Pele in the FIFA 100 list of the greatest living players and was among the two players who were inducted into the Premier League Hall of Fame in 2021.
Ian Rush
Ian Rush was born on 20 October in the year 1961. He is a Welsh professional soccer player who played forward in most games.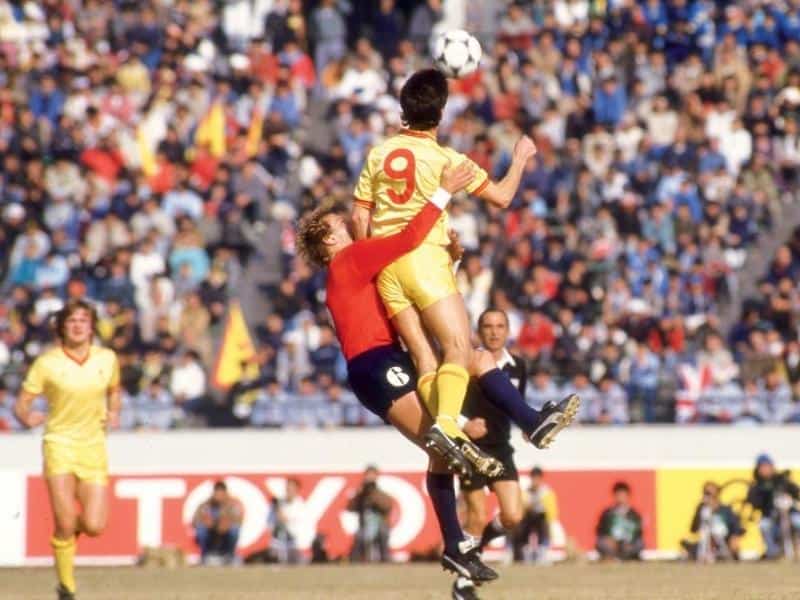 He played many games for Liverpool at club level for 16 years, from 1980 to 1996. He is the club's all-time leading goal scorer, having scored 346 goals in all competitions at the club.
He also played for Manchester City, Juventus, Leeds United, Newcastle United, Sheffield United, West Ham, and the Sydney Olympics.
Rush won 73 appearances for the Wales national team at the international level. He remained the record goalscorer for Wales until 2018, with 28 goals between 1980 and 1996.
Rush was named PFA Young Player of the Year in 1983 and 1984, European Golden Boot in 1984, and International Personality of the Year by FAI International Awards and BBC Personality of the Year after helping Liverpool to a first successive First Division Double.
Fernando Torres
Fernando Torres Sanz is a Spanish soccer manager and a professional player who played as a striker. Currently, he is the manager of Atletico Madrid Juvenil A. He was born on 20 March 1984. His nickname was El Nino.
The retired striker Fernando Torres represented this jersey well when he was named the most lethal forwards in the Premier League during his tenure at Liverpool.
Rush led his team to win several trophies, including five UEFA European Championships. He was the second player at Liverpool to score more than 20 league goals in one season. In addition, he broke the record for the fastest Liverpool player to score 50 league goals.
Furthermore, he was named in the FIFA World XI in 2008 and 2009.
He transferred to Chelsea, where he won the UEFA Champions League and FA Cup, helping Chelsea win the competition for the first time.
He has represented his country over 100 times, and he is the third-highest goalscorer of all time.
Luis Suarez
Luis is an Uruguayan professional soccer player who has rocked the number nine jersey. He has played as a striker for Spanish Club, Atletico Madrid, and Uruguay national team.
He is known for his passing the ball trick and his mystery comfort with the ball.
Suarez has won over 19 major trophies in his career, including seven league titles and a UEFA Championship at the club level. He also won the 2011 Copa America with Uruguay.
Additionally, Suarez has won two European Golden Shoes and the Eredivisie title, a Premier League Golden Boot, and the Pichichi trophy.
He has netted over 500 career goals for club and country.
Suarez has represented his country at three FIFA World Cups, four Copa Americas, the 2012 Summer Olympics, and the 2013 FIFA Confederations Cup.
He is nicknamed El Pistolero ('The Gunman') for his exemplary performance on the field.
Despite a remarkable career, Suarez has had a few hiccups. Suarez had a goal-line handball at the 2010 FIFA World Cup while playing against Ghana.
On three occasions, he has bitten opponents, and he has been accused of diving. Furthermore, in 2011 he was found guilty of racially abusing Patrice Evra.
Romelu Lukaku
Lukaku is Belgium's all-time scorer and also Belgium's most valuable player. Having been transferred five times and loaned twice, Lukaku is the most expensive player considering his cumulative fees.
He has also had two record transfers, at Everton and Inter Milan.
He started his career at Anderlecht, where he finished as the top scorer and won the Belgian Pro League.
He joined Chelsea in 2011, but he did not get much playing time. He was loaned off to West Bromwich Albion and Everton.
The loan to Everton resulted in the club signing him for a record transfer. After the signing, Lukaku went on to win the league's second-top scorer.
After Everton, Lukaku moved to Manchester United, then Inter Milan, at a record fee. At Inter Milan, he won the Serie A title and Serie A Most Valuable Player.
Internationally, he has represented Belgium at the 2016 and 2020 UEFA European Championships and the 2014 and 2018 FIFA World Cups, where he won the Bronze Boot in 2018.
Jamie Vardy
Jamie Richard Vardy is a prolific striker who has had an impressive career, setting several records. Vardy is the oldest player ever to take home the Premier League Golden Boot.
Also, after winning the FA Cup in 2021, he became the first player to ever play in every round of the competition.
He started his career with Stocksbridge Park Steels for three seasons and then moved to FC Halifax Town, a North Premier League club. At FC Halifax Town, he won the Players' Player of the Year in his debut season after scoring an impressive 25 goals.
He then graduated to the Conference Premier League and joined the Fleetwood Town club. Here too, in his first season, he won the Player's Player of the Year, scoring 31 goals and winning the division cup.
Later in 2012, he moved to Leicester City, where he shone in the Premier League 2015/16 season after scoring in eleven consecutive games. He became Premier League Player of the Season and FWA Footballer of the Year.
Vardy took home the Premier League Golden Boot in the 2019/20 season.
Vardy has also played for his country's national team, appearing for the EEFA Euro 2016 and FIFA World Cup 2018.