Space utilization is a key part of controlling a soccer game. Wide players create space and offer an outlet for their teammates to switch play and open up opportunities from different angles on the field.
While you have most likely heard the terms used interchangeably, wide midfielders and wingers are not the same. But, what's the difference between these positions?
Today, we're taking a look at the role of wide players on a soccer field, focusing predominantly on the difference between midfielders and wingers. The core topics we discuss include:
The roles of a wide midfielder
Best wide midfielders in soccer
The roles of wingers
Best wingers in soccer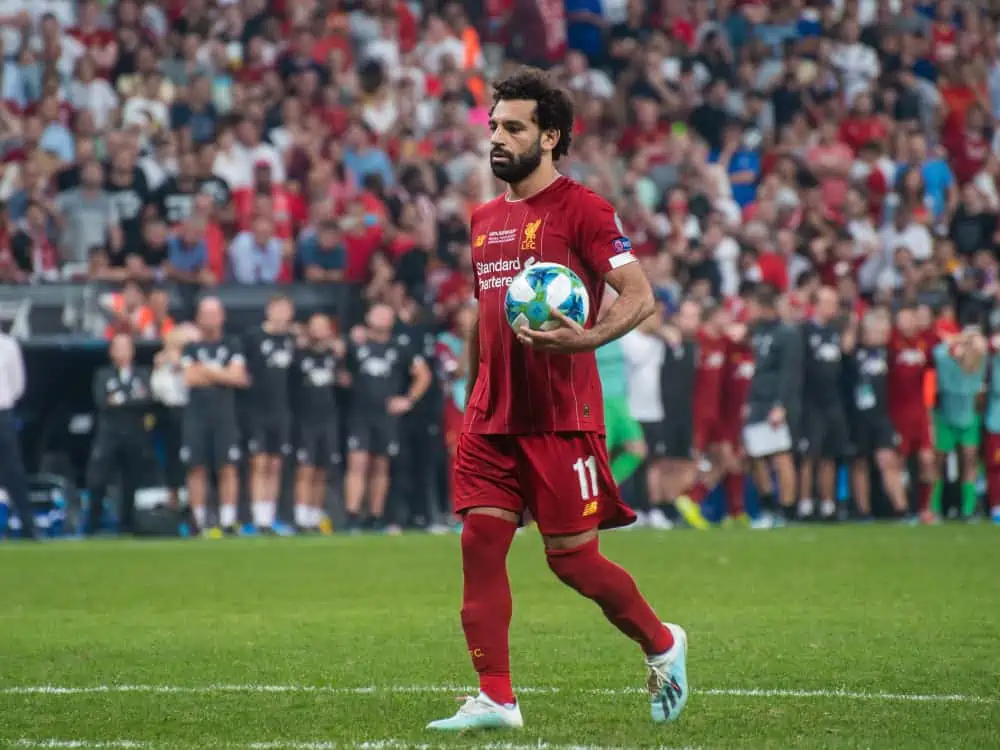 In the modern era, we are blessed with an abundance of talent along the flanks, with many of the best players in the world showing dominance from wide areas.
Are Midfielders and Wingers the Same?
Midfielders and wingers are not the same. There are multiple midfield positions, including central and wide roles. A winger is a specific position that involves key responsibilities, mainly in the opponent's half of the field.
Wide midfield players tend to have more defensive responsibilities and often spend a lot of time in their own half of the field. There are also multiple central midfield roles that require totally different skillsets to wingers.
Throughout this article, we'll take a closer look at the roles and responsibilities of wingers and left and right midfielders.
Soccer Winger and Forwards FAQs
How Many Types of Midfielders Are There?
There are five core types of midfielders in soccer:
Left midfield (LM)
Right midfield (RM)
Center midfield (CM)
Center defensive midfield (CDM)
Center attacking midfield (CAM)
Within these five positions, there are several different styles and ways of playing each role. For example, center defensive midfield roles can vary significantly, depending on the individual and the team strategy.
Currently, N'Golo Kanté is one of the best center defensive midfielders in the world. Despite standing just 5'6" tall, his quickness, tenacity, low center of gravity, and work rate make him a menace to his opponents.
In contrast, Liverpool's Brazilian CDM, Fabinho is a tall and lean enforcer. He not only defends well, but he is also an excellent passer. Fabinho does a phenomenal job dictating the tempo of the play and switching the ball from one side to the other.
The same goes for all midfield positions, including wide roles. 
Wide Midfield Players
Wide midfield players play on the right or left-wing, providing width and balance for their teams. Wide midfielders are most common in 4-4-2, 4-4-1-1, 4-2-3-1, and 4-5-1 formations.
Traditional wide midfield players must have excellent conditioning, relying on their stamina to attack the opposing full-back and trackback to help stop their opponent's wide attacker. While there are marauding wide midfielders, who venture into central positions, most spend a lot of time whitening their cleats with chalk from the sidelines.
In many cases, wide midfield players operate on the side of the field that aligns with their stronger foot. For example, right-footed players generally play right midfield, while left-footers play left-midfield.
What Does a Wide Midfielder Do?
Wide midfield players are typically durable and hard working. They must have the fitness and awareness to be in the right position at all times, offensively and defensively. Left and right midfielders are often very unselfish, providing assists and contributing to attacking buildup play.
Here is a look at some of the core responsibilities of a traditional wide midfielder:
Take Ons
A wide midfielder's direct opponent is the fullback from the opposite team. In possession, the wide midfielder must face the fullback in 1 v 1 situations, attempting to dribble past them to gain an advantageous attacking position.
Many wide midfield players are the fastest on their team, using their speed to drive past their opponents. Others rely more on their quick feet and trickery, beating fullbacks with skill and creativity.
Chance Creation
Teams that play with wide midfield players tend to cross the ball a lot. Traditional wide midfielders are usually excellent passers and crosses. They must be able to create clear goalscoring opportunities for teammates from the wing.
Wide midfielders must also develop good relationships with their fullback teammates. Fullbacks and midfielders often work together to create chances through one-two passing, overlaps, and dummy runs. 
Opening Up Space
Teams that play with wide midfielders often use width to create space on the field. This not only opens up attacking opportunities, but it also stretches the opposition team, forcing them to leave gaps or mismatches in certain areas.
Goal Scoring
Many wide midfielders come up with their fair share of goals. Many of these goals come from counterattacks or well-timed runs behind the defense. Skillful midfielders may be able to create their own goalscoring opportunities, beating a defender or two before getting a shot off.
Another excellent way for wide midfielders to score is to attack the back post when the ball is on the opposite side of the field. A deep cross can lead to a high percentage of scoring opportunities.
Defensive Duties
Wide midfielders usually have several defensive duties. Standard defensive responsibilities include marking their opposition winger or fullback, tracking back when their team loses possession, pressing, and cutting out passing lanes.
Best Wide Midfielders
The vast majority of teams today play with wingers, occupying more advanced positions than traditional wide midfielders. However, there are some old-school wide players in the game, including:
Christian Pulisic
Adama Traore
Dejan Kulusevski
Thomas Lemar
Kingsley Coman
If we reel in the years a little, we can find a perfect example of a right midfielder: David Beckham. The former Manchester United, Real Madrid, and LA Galaxy superstar dominated the right flank in attack and defense.
The only aspect of his game that outperformed his work rate, was his magic wand of a right foot.
Wingers
Wingers are similar to wide midfielders but have significantly more attacking responsibilities. Many wingers are the most offensive players on their teams, posing the main threats in terms of goals and assists. Most modern teams operate with a front three, consisting of two wingers and a striker.
What Does a Winger Do?
A winger provides width and an attacking threat from wide areas. The best wide attackers are quick, strong dribblers, and efficient with their passing and crossing. Wingers may also have some defensive duties. However, they are usually quite different from those of a traditional wide midfielder.
Some of the main tasks and responsibilities of a winger include:
Goalscoring
Goalscoring is one of the most important responsibilities of a modern winger. Some of the top scorers in the world's biggest leagues are wide attackers. In the English Premier League, Mo Salah, Sadio Mané, Son Heung-Min, and Raheem Sterling have been among the top scorers for the past six or seven seasons.
Kylian Mbappe, who often plays as a left-winger, finished 2021 with the most goal contributions of any player on the planet, with a combined 65 goals and assists.
Assists
Wingers are expected to provide a large number of assists as well as goals. Wingers lead counterattacks, take on defenders, and cross the ball from wide areas, assisting teammates regularly. In most of the major European leagues, the leading assisters are wingers.
Pressing
"Gegenpressing" is a defensive tactic that relies heavily on attacking players, including wingers. The term essentially means counter-pressing, where the defending team attempts to win possession in high areas within the opponent's half.
The idea behind this strategy is that, if successful, the defensive team gains possession in dangerous areas of the field. Winning the ball in advanced positions can lead to great goalscoring opportunities.
Jurgen Klopp's Liverpool team is a perfect example of a forward pressing side. Wingers Salah, Mané, and Diaz display excellent work rates, running tirelessly to regain possession from opposition defenders.
Speaking about the philosophy, Klopp had this to say:
"Gegenpressing lets you win back the ball nearer to the goal. It's only one pass away from a really good opportunity. No playmaker in the world can be as good as a good gegenpressing situation, and that's why it's so important."

Jurgen Klopp, 2021
Best Wingers
Due to the attacking philosophies adopted by many modern teams, there are many elite wingers in today's game. Wide attackers have dominated world soccer for two decades or more, providing fans with moments of magic and highlight reels every week. Some of the best wingers over the last few years include: 
Mohamed Salah
Neymar
Sadio Mané
Jadon Sancho
Vincius Jr.
Riyad Mahrez
Son Heung-Min
Eden Hazard
Arjen Robben
Angel Di Maria