Reading Time:
5
minutes
Share the post "Soccer Players With The Number 22 (Awesome Collection)"
The kit number 22 in soccer is not a number you associate with gifted soccer players. However, a few players have proved this misconception wrong and bucked that trend.
Some soccer players with the number 22 have proven their spectacular skills and abilities, making it one of the most respectable numbers due to the legacies established by these players.
Here we shall look at the players who have made themselves a name in the soccer arena while donning the number 22 shirt.
So stick around as we explore:
Their backgrounds,
History in soccer,
How they made it in the soccer world.
Be amazed by the stories of these legendary players as you sip your coffee.
The Best Soccer Players With Number 22
Kwadwo Asamoah
Kwadwo Asamoah is a Ghanaian professional soccer player. He mainly plays as a left midfielder or left-back but has occasionally been deployed as a central defender. He was born on 9th December 1988, in Accra, Ghana.
He began his career with the Italian club Udinese in 2008. At Udinese, he displayed consistent and marvelous performances earning him a transfer to Juventus in 2012.
His energy, versatility, and technical skills played a crucial role in helping his club, Juventus, win six consecutive Serie A titles between 2013 and 2018. He later joined Inter Milan in 2018.
He wore the number 22 during his time at Inter Milan.
He had his debut for the Ghanaian national team, Black Stars, on the international level in 2008. In addition, he represented Ghana in the African Cup of Nations four times and the FIFA World Cup twice.
In 2010, he was also awarded by the CAF the most promising African player
Also named Ghana Player of the Year twice
Furthermore, in 2013, he was ranked the 27th best footballer globally by Bloomberg
His style of play is dynamic. He is among the few players who outdo themselves in the field. He is dynamic, hardworking, energetic, versatile, intelligent, and tactical.
Asamoah is primarily known for his strength, stamina, and ability to read the game. A predominantly left-footed player makes him defend and pass the ball very swiftly.
Additionally, his agility and great vision make him initiate attack runs and get good offensive positions to create chances for teammates to score or pave the way through balls.
Paul Scholes
Paul Scholes is an English soccer coach, a former professional player, and currently a co-owner of Salford City. He spent his whole professional career at the Premier League club Manchester United, where he scored over 150 goals in 718 appearances.
He is the third-highest in club appearances in the two decades between 1993 and 2013. He is considered among the best midfielders of his generation and one of the best and most iconic players of Manchester United.
He mostly rocked the number 22 jersey throughout his career, and when he took over the number 18 jersey, he played for a short while then reclaimed his number.
He started his career when he joined Manchester United Youth Academy under the management of Sir Alex Ferguson. He made his full debut for Manchester United in the 1994-95 season.
In 1997-2004, he represented the England National Team, playing 66 times and participating in the 1998 and 2002 FIFA World Cups
He also played in the UEFA Euro 2000 and Euro 2004 tournaments
Scholes was additionally named in the Premier League 10 Seasons Awards (1992 -93 to 2001-02) Domestic
Overall Team of the Decade
In 2008, Scholes was inducted into the English Football Hall of Fame
He is defined as the complete midfielder, undoubtedly the greatest of his generation, making him in his own class.
Whether it was dashing into the box and unleashing a sweetly-struck shot or commanding the game, he did it with profound elegance and precision, and his ability to read the game unsurpassed.
Eric Abidal
Eric Sylvain Abidal was born on 11th September 1979 at Saint-Genis-laval, France. He is a former French soccer player who played as a left-back or center-back.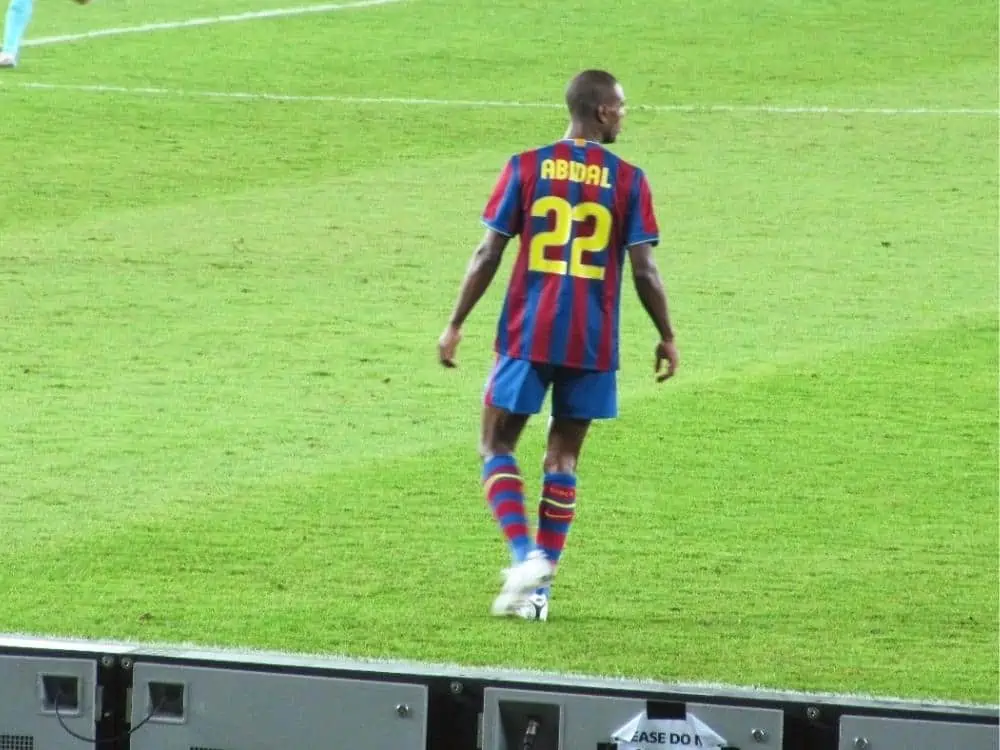 He started playing with AS Lyon Duchere, an amateur team, progressing to play professionally for AS Monaco FC, where he made his League 1 debut in 2000 in a 3-0 home win against Toulouse FC.
On 29th June 2009, Abidal signed a four-year contract with FC Barcelona, where he was given the number 22 jersey. With Barcelona, he won the La Liga seasons 2008-09, 2009-10, 2006-2010-11, 2012-13.
He also won the Copa Del Rey in 2008-09, 2011-12, the Super Copa de Espana and the UEFA Championship 2008-09, 2010-11, the UEFA Super Cup in 2009 2011, and won two FIFA Club World Cups, in 2009 and 2011.
After retiring, he returned to Barcelona in June 2018 as the club's Director of Soccer. However, he didn't stay long. He was sacked on 18th August 2020 after an 8-2 defeat against FC Bayern Munich in the Championship League Quarter-Finals.
Abidal was tactically intelligent and a versatile defender capable of featuring as a center or left-back because he could read the game and position himself intelligently.
In addition, in his prime career, he was quick and decisive, allowing him to run up the wing and assist his team offensively and defensively.
Ricardo Izecson dos Santos Leite
Ricardo Izecson dos Santos, commonly known as Kaka, is a former professional Brazilian soccer player who played as an attacking midfielder.
In his prime, he played as a playmaker in AC Milan, a period where he made a name for himself through his creative passing, goal-scoring, and dribbling from midfield.
It made him among the iconic soccer players of his time. He donned the number 22 jersey as he played for AC Milan.
In 2003, he joined a Serie A club at AC Milan, where he helped AC Milan win Serie A in his first season.
AC Milan also finished runners-up in the UEFA Championship League, where Santos made the most assists.
He was also recognized as the UEFA Club Midfielder of the Year.
He led AC Milan to victory in the 2006-07 UEFA Championship League.
During this tournament, Santos was the top scorer.
Additionally, he won the FIFA World Player of the Year
The 2007 Ballon d'Or, and the UEFA Club Footballer of the Year as testaments to his incredible performance.
In 2010, he played for his national team, Brazil, in the FIFA World Cup.
He also played in Brazil's 2005 and 2009 FIFA consideration Cup-winning squads, where he also won the Golden Ball Award.
Additionally to his winnings, between 2006 and 2009, he was named in both FIFA World XI and UEFA Team of the Year. In 2010, he was inducted into the AC Milan Hall of Fame.
He also became one of the most famous players of his time, having a massive following on Twitter of 10 million people.
In addition, Kaka is known for his humanitarian work, where he became the youngest UN ambassador to the UN Food Programme in 2004.
His style of play was nothing short of spectacular. FIFA describes him as a player with the capacity to pass effortlessly past his opponents. He is known to serve defense-splitting passes and get the ball into the net from a distance.
Others described his gait, when in possession, as mesmeric and reasonably unusual. His long strides made him unstoppable on the run and how he accelerated his speed was just mesmeric.
Share the post "Soccer Players With The Number 22 (Awesome Collection)"
Joel is a seasoned soccer journalist and analyst with many years of experience in the field. Joel specializes in game analysis, player profiles, transfer news, and has a keen eye for the tactical nuances of the game. He played at various levels in the game and coached teams - he is happy to share his insight with you.