Reading Time:
9
minutes
Share the post "Are Soccer Players Short? (+ Average Heights)"
Most sports require players to be tall to take advantage of plays, and when you're on the shorter side, the thought of being short may hold you back.
But soccer is something else entirely. You can dream of going pro, despite being just a short and average-sized player.
When I was growing up, I always heard Pelé was the greatest of all time; he was a generous 5'8".  Watching Diego Maradona at 5′ 5″ dribbled past five English players to score what's been called the "Goal of the Century".
It's clear to see how his five-foot-six-inch frame gives him advantages over taller opponents.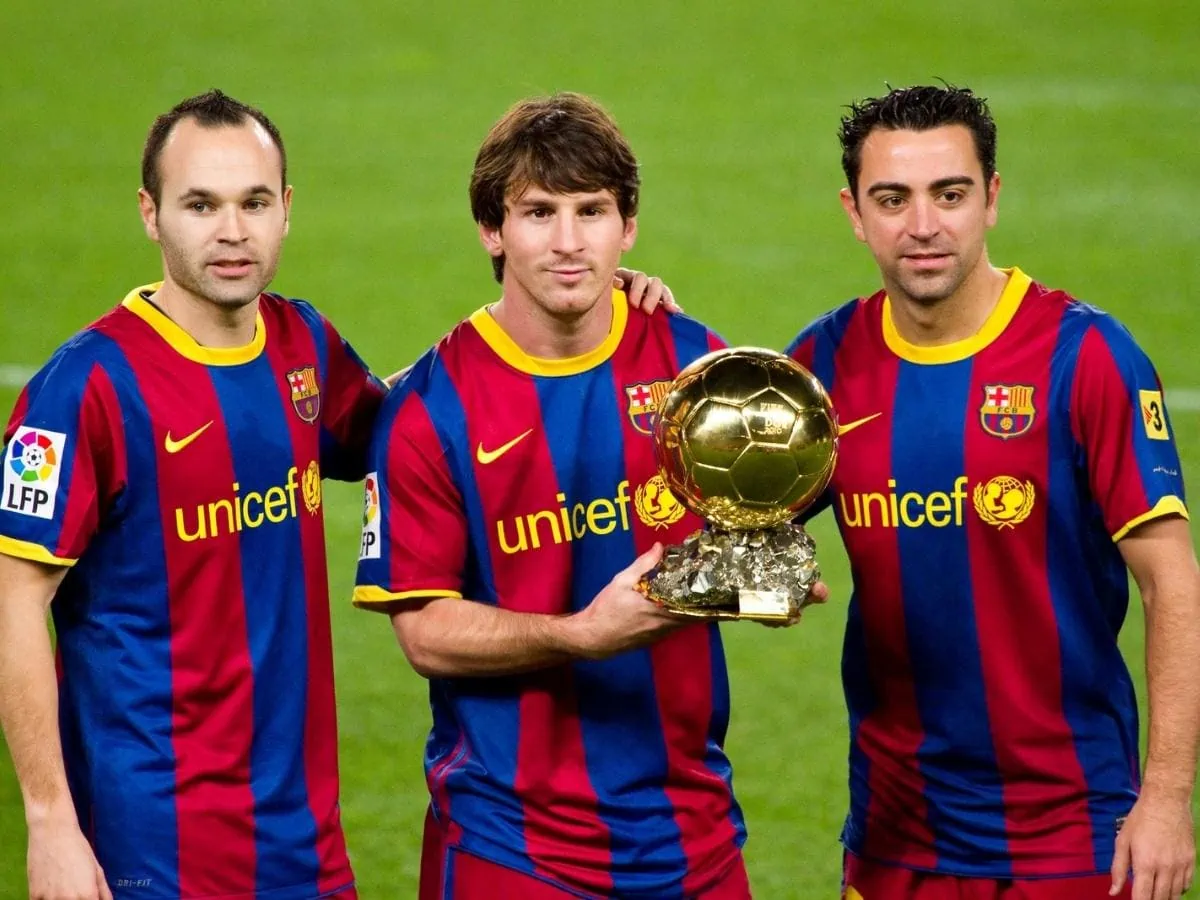 Are soccer players short?
The average height of the men playing in the last World Cup was 182.4 cm or 6'0" feet tall.  That's taller than the average American male, who measures 5'9", but it's slightly shorter than the averages for the NHL and MLB (both 6'1") and the NFL (6'2").
There are even more examples of great soccer players who are on the shorter side. Leo Messi recently voted the greatest of all time, famously took growth hormone as a child, and is now listed at 5'7".
On recent World Cup-winning teams, short players have been critical to their teams' successes.
Think of Griezmann for France in 2018, Lahm for Germany, and the midfield of Iniesta and Xavi for Spain in 2010 – not one of those players is taller than 5'9".
As always, though, simply quoting an average is an oversimplification. Let's consider some pros and cons of being a shorter soccer player and then analyze how those factors affect players in different positions.
Does Height Matter in Soccer?
Being short can pay off for certain positions, but height is a definite advantage for other positions. Defenders, particularly down the center, tend to be taller players. And goalkeepers are often the tallest players on the field.
It makes sense—all else being equal, a taller keeper with longer limbs will stop more balls. In the last edition of the World Cup, goalkeepers were the tallest group on average (over 6'2"), followed by defenders.
Forwards were next, and midfielders were the shortest group on average at just under 5'11".
This is not to say that short players are out of the game; far from it! Read on…
Advantages of Being a Short Soccer Player
Shorter players often display incredible agility, seemingly able to turn on a dime. Their compact bodies are able to change direction faster than taller players.
First, let's take a quick look at some of the general advantages and disadvantages of being a short soccer player:
More agility
Better balanceand stability
Superior ballhandling and control
Faster acceleration
Better stability comes because shorterplayers have a lower center of gravity. Essentially this means that theirweight tends to stay more centered, helping them keep their balance andstability even when changing directions quickly.
Short players usually have better ball-handling skills and control because they are close to the ground. Their shorter limbs keep them closer to the ball and give them more control.
Disadvantages of Being a Short Soccer Player
Being a shorter soccer player does have its drawbacks, though, and studies show that professional soccer players are becoming taller over time. The clearest area where taller players have an advantage is the aerial game.
Less chance of winning headers
Not likely to play center back/goalkeeper
Shoulder-to-shoulder disadvantage  
Fewer interceptions with shorter legs
Winning headers is a lot easier if you're a taller player. On corner kicks especially, you can see how shorter players are at a disadvantage.
There are other disadvantages, too. Taller players have longer legs. This allows them to reach top speeds that are higher than those of shorter players.
Again, remember that this is only running in a straight line long enough to reach top speed without the ball, which is not that common in a situation.
Think of a wide receiver in football.  How often do you see a football prospect come out of the combine with some crazy 40-yard time to fail in the NFL because he can't cut quickly enough or can't juke defenders?
Finally, because shorter players tend to weigh less, they can sometimes be pushed around by heavier, more physical players.
Great Short Soccer Players – Ballon d'Or Winners
A good place to see whether a soccer player is short or tall is by looking at the best players in the world. Over the last ten years, two players have dominated the awards, Messi and Ronaldo. 
But there was a change to that in 2018 when Modric won.  So what is the height of these players, and what position do they play?
| | | |
| --- | --- | --- |
| Player | Height | Position |
| Modric | 5'8" | Midfielder |
| Ronaldo | 6'2" | Winger |
| Messi | 5'7" | Striker |
Two of the winners are under the average height of a male (5'9″), with Ronaldo being the exception. This demonstrates that it's possible for both short and tall to compete and reach the heights of soccer.
Best Players in the EPL – Short and Tall
The following is a list of the best players in the English Premier League over the last 10 years. A note for defenders and goalkeepers makes you less likely to get the accolades that the forward players get!
Although in 2018 van Dijk won it with his solid displays at the back.
The height of the players ranges from 5'6" to 6'4" – this is a good indication that the height of a soccer player does not restrict you from gaining awards.
| | | | |
| --- | --- | --- | --- |
| Player | PFA Year | Height | Position |
| Virgil van Dijk | 2018 | 6'4" | Center Back |
| Mohamed Salah | 2017 | 5'9" | Winger |
| N'Golo Kanté | 2016 | 5'6" | Midfielder |
| Riyad Mahrez | 2015 | 5'10" | Winger |
| Eden Hazard | 2014 | 5'9" | Winger |
| Luis Suárez | 2013 | 6'0" | Striker |
| Gareth Bale | 2012 | 6'1" | Winger |
| Robin van Persie | 2011 | 6'0" | Striker |
| Gareth Bale | 2010 | 6'1" | Winger |
| Wayne Rooney | 2009 | 5'9" | Striker |
A list of top keepers playing today might include names like Buffon, ter Stegen, Oblak, DeGea, Lloris, Courtois, and Neuer. Every one of those men is at least 6'2".
More than any of the field players, this unique position seems to reward height.  Tall keepers can cover a larger area from side to side and vertically.
High balls are easier to catch for a tall keeper and field players will find it much harder to win a header from a taller keeper. 
There's also a psychological element: Seeing a tall keeper in a goal makes the goal feel smaller and harder to score.
Are Goalkeepers Short?
Taller keepers sometimes lack the agility and flexibility that allow shorter keepers to get down low to make saves. The Mexican national team has featured a few short keepers, notably Oscar Perez and Jorge Campos.
But even "shorter" keepers are often still fairly tall by general standards. For instance, when David Ospina, at 6'0", was signed to become Arsenal's goalkeeper.
Many people questioned whether his lack of height would prevent him from finding success in the Premier League.
The Spanish team enjoyed its greatest streak of all time with the first-choice pairing of Iker Casillas and Victor Valdes, both just six feet tall.
Still, it's clear that of all the positions on the field, keepers are generally on the taller side.
Are Soccer Defenders Short?
There's often a marked difference in heights between a team's central defenders and fullbacks. Central defenders must defend the air game and take up space in the box.
Their height is especially critical to defend on crosses to taller strikers.
Still, though, there have been several standout center backs whose physique was on the shorter side; Fabio Cannavaro, Carlos Puyol, and Javier Javier Mascherano three that come to mind.
The picture of Mascherano clearly shows his height being less than his teammates. While he was a Liverpool player, he played center midfielder, and in Barcelona, he played center back.
His effort and determination made up for his lack of height at 5'7″!
On the other hand, it's more common to see shorter, speedier defenders playing as fullbacks. On defense, holding wider positions, height doesn't confer many advantages.
Defending crosses from the wing, jockeying opposing forwards into worse positions, and maintaining tactical discipline are much more important.
And in the modern game, full-backs often utilized for their offensive game as much as their defensive prowess, so quick and agile shorter players.
Like Jordi Alba at Barcelona or Dani Carvajal at Real Madrid can shine on both ends of the field.
Are Soccer Midfielders Short?
In many games, the shortest players on both teams are midfielders. This is the area where all those advantages listed above-agility, balance, control, really help shorter players shine on both offense and defense.
5'8" Luca Modric won the Golden Ball as the best player in last year's World Cup. N'Golo Kanté is only 5'6" but his dynamism and agility make him one of the best in the world.
Isco and Coutinho are two other good examples of shorter midfielders who use their quick feet and creativity to keep defenders off-balance.
Are Soccer Forwards Short?
Center forwards and strikers seem to have the biggest variance in terms of height generally if a team relies on its striker to win high balls in the air and create chances for teammates.
A typical "target man"—height and physical strength will be at a premium. Peter Crouch, at 6'7" holds the record for the most headers in Premier League history.
Zlatan Ibrahimović has technical abilities rarely seen in a 6'5" striker.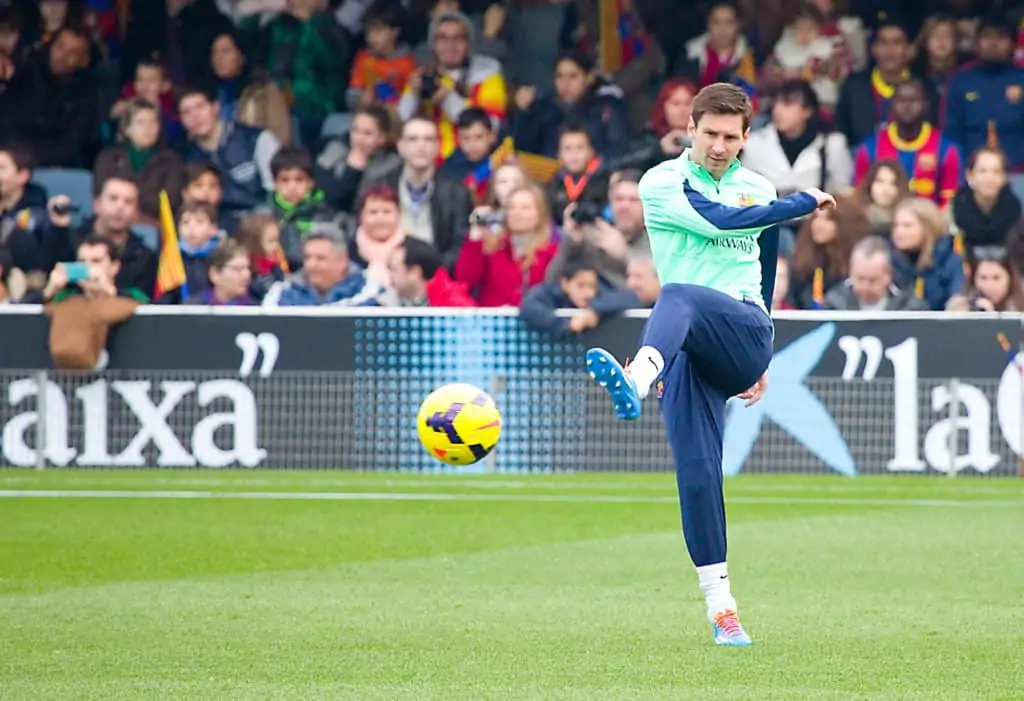 But a glance at top forwards reveals many of them on the shorter side.  Messi, of course, who often plays a kind of false 9, excels there in large part because his outstanding dribbling ability lets him take advantage of space between defenders.
While his great passing ability and vision help him connect with teammates making runs to the goal.
Antoine Griezmann and Sergio Aguero are both under 5"8" but are considered among the best forwards in the world.
On the wings, Neymar at 5'7" is often listed as the third greatest player today, after Ronaldo and Messi. Raheem Sterling, and Eden Hazard, neither of whom are top 5'7".
They are two other top wingers whose pace and cutting ability make life difficult for taller, heavier, slower defenders.
Who is the shortest players in the EPL?
The shortest player in the Premier League right now is Ryan Fraser, who stands 5'4" and plays on the wing for A.F.C. Bournemouth.
Who is the shortest players in the MLS?
The shortest player in MLS history is Joao Plata, who plays forward for Real Salt Lake and is listed at 5'2″.
Height of Soccer Players at the World Cup 2018
The tallest team at the World Cup was Serbia, measuring 185.6cm/6'1", and the shortest team was Saudi Arabia, measuring 176.2/5'8".
These figures show us that the heights vary from team to team, but who won the World Cup and what is their height?
The Top 3 World Soccer Teams and Their Heights
| | | |
| --- | --- | --- |
| Team | Place | Height |
| France | 1st | 5'9" |
| Croatia | 2nd | 6'1" |
| Belgium | 3rd | 6'0" |
What is a Good Height for a Soccer Player?
Despite trends that show players getting taller over time, soccer is clearly a sport in which shorter players can not only compete but excel at the highest levels.
If you're short you're currently excluded from two positions, center back and goalkeeper – but this could all change in the game of soccer.
Being short or tall does not stop you from playing soccer; it's a game for all sizes, one of its beauties. There are advantages and disadvantages to all players.
So whether you're a giant or a shorty, you can excel. For more useful guides, see the articles below or visit our home page.
Related Questions
What is a good height for a soccer player?
If you're playing center back or goalkeeper, you should be over 6 feet tall. For the rest of the positions, you can be any height.
Who are faster, short or tall players?
Generally, short players will be quickest in a short sprint, but a taller player will outpace the shorter ones over longer distances. Soccer involves a lot of weaving, and short players are more capable of being agile.  
Share the post "Are Soccer Players Short? (+ Average Heights)"
Joel is a seasoned soccer journalist and analyst with many years of experience in the field. Joel specializes in game analysis, player profiles, transfer news, and has a keen eye for the tactical nuances of the game. He played at various levels in the game and coached teams - he is happy to share his insight with you.