There are many different attacking systems in soccer, with many teams experiencing tremendous success using various tactics. In the modern game, most teams play with a single striker flanked by wingers or inside forwards. 
As soccer advances, subtle tactical decisions are becoming increasingly important. Choosing an inverted winger vs an inside forward is a key decision for coaches.
Throughout this article, we'll take a closer look at both positions, helping you better understand the differences. The topics we'll cover include: 
The inverted winger tactic
Inverted winger roles and responsibilities
Best inverted wingers in soccer
What inside forwards do
Difference between wingers and inside forwards
Wide attackers have become some of the most deadly attackers in today's game. Let's take a look at some of the reasons why.
Inverted Wingers
An inverted winger is a modern adaptation of the wide attacking position. Inverted wingers play on a particular side, depending on which foot is strongest.
Left-footed wingers play on the right flank, while right-footed wingers play on the left. Inverted wingers cut inside onto their strong feet rather than taking on their opponents along the outside, like traditional wide midfielders.
Inverted Winger and Inside Forward FAQs
The Inverted Winger Tactic
While crossing remains an important skill in soccer, many teams take a more measured attacking approach, opting for slower buildup play instead of bombarding the penalty box with crosses.
The inverted winger tactic means most attacking play occurs in central areas, allowing players to link up with quick passing and clever movement.
Tricky inverted wingers often create attacking overloads, forcing central defenders to step away from the backline, leaving space in behind for strikers to make runs.
Many invented wingers are excellent strikers of the ball and are constantly looking for opportunities to shoot. Compared to traditional wide midfielders, modern wingers are far more attacking.
Since inverted wingers are encouraged to cut into central areas, they contribute significantly with goals and assists.
Many inverted wingers have very few defensive responsibilities, aside from pressing opposing defenders when they're in possession. 
The inverted winger tactic has brought a lot of excitement to soccer in recent seasons. Some of the most productive and skillful players in the world today are wide attackers.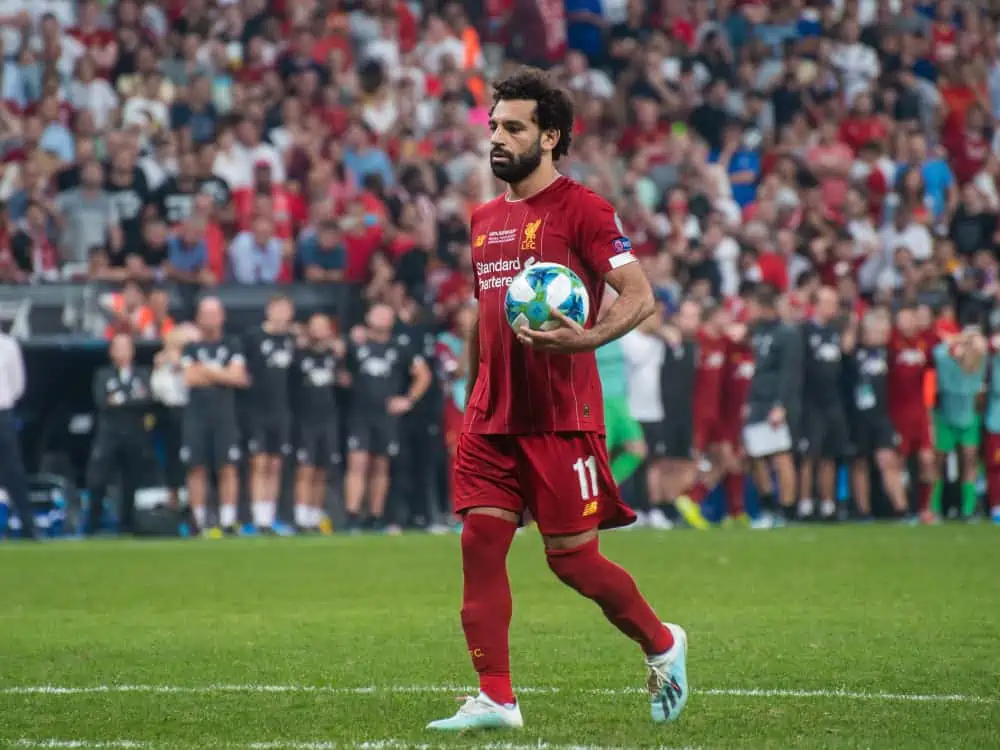 What Does an Inverted Winger Do?
An inverted winger is primarily responsible for attacking from wide areas. These players are skilled dribblers and often demonstrate elite-level movement, finding space on the wings and centrally.
The three main objectives of an inverted winger are:
Goalscoring
Most modern teams play with an attacking three, consisting of a lone striker and two wingers. Although there are wide outside attackers that stretch the field and play mainly along the sidelines, most teams use inverted wingers. 
Take Mo Salah and Sadio Mané, for example. Mané, a right-footed attacker, plays off the left, cutting inside to shoot and dribble at defenders. Salah, a left-footer, is a complete right-winger, using his pace to speed past defenders on the inside and outside. 
Inverted wingers score a lot of goals in the modern game. Salah has been consistently one of the top scorers in the Premier League over the past five years.
We've also seen players like Marcus Rashford, Kylian Mbappe, Neymar, and Son Heung-Min score plenty of goals from wide areas. 
Assists
While elite-level inverted wingers contribute a lot of goals for their teams, they are also known for creating scoring chances and racking up assists. Since they mainly occupy wide positions, they must be excellent facilitators, setting up easy opportunities for their teammates. 
Angel Di Maria is an excellent example of a creative inverted winger. The Argentinian is often utilized as a right-winger.
However, he uses his quick feet and dribbling ability to beat his defender on the inside before playing threaded passes behind the defense, chipped balls over the defensive line, and deep crosses to the far post. 
Di Maria has astounding vision and a wand of a left foot to match. He is one of the best assisters in world soccer. Interestingly, several of the top assisters of the last decade played as inverted wingers for large parts of their careers:
| | | | |
| --- | --- | --- | --- |
| Rank | Player | Position | Number of Assists |
| 1 | Messi | False 9, CF, RW | 136 |
| 2 | Di Maria | RW | 108 |
| 3 | Ozil | CAM, RW | 106 |
| 4 | Muller | CAM, CF | 108 |
| 5 | Ronaldo | ST, CF, LW, RW | 95 |
| 6 | David Silva | CAM, RW | 94 |
| 7 | Dimitria Payet | LW, CAM | 93 |
| 8 | DeBryune | CAM | 93 |
| 9 | Suarez | ST, CF | 90 |
| 10 | Fabregas | CAM, CM | 90 |
Most goal contributions from 2010 to 2020: information from
AllFootbal
l.
How Do You Play Inverted Winger?
You must be technically proficient and skillful to play effectively as an inverted winger. An inverted winger is only effective when he or she has a dual threat.
If the attacker doesn't pose an outside threat, they cannot be effective in cutting inside.
Inverted Winger Examples
Fortunately, in today's game, we have an abundance of inverted wingers to obsess over. Including the MLS and all other major soccer leagues, some of the best-inverted wingers include:
Salah
Mané
Sancho
Di Maria
Rashford
Vinicius JR
Inside Forwards
Inside forwards are a rare commodity in modern soccer. In the right circumstances, they are extremely effective, overloading defenses that are trying to hold onto a lead. 
Kylian Mpbappe and Marcus Rashford are prime examples of high-level inside forwards. They are essentially hybrids of wingers and strikers, attacking from wide areas with pace and trickery.
What Does an Inside Forward Do?
An insider forward is a secondary attacker that plays off as a lone striker. Most inside forwards play between the lines of strikers and winners. They support lone strikers by making forward between the full-backs and center-backs.
As an inside forward, the main objective is to score or assist, similar to a winger. However, the positioning is different because an inside forward leaves space near the sidelines.
Rather than standing space on the flanks, an inside forward drags defenders and midfielders to central areas.
They open opportunities through direct take-on and clever runs. Inside forwards are essentially goal-savvy wingers that use their stronger feet for effectiveness.
How Do You Get The Best Out of Inside Forwards?
To get the best out of an inside forward, teams should deploy heavily attacking formations. In general, inside forwards are utilized in 5-3-2 formations with wingbacks.
This shape affords the attacking team with defensive while having attackers use the full with of the field.
Are Inside Forwards Wingers?
No. Inside forwards are not wingers. They are essentially a hybrid striker that provides width for their teams. Inside forwards are a throwback to old times when teams played with five or more attackers.