Reading Time:
5
minutes
Share the post "Can You Play Soccer While Pregnant? (When To Stop)"
My mother has been playing soccer for over 40 years and has had five children throughout four pregnancies (one set of twins). She's played soccer before, during, and after pregnancy, but not without certain precautions.
She's not alone, either. While pregnancy used to mark the end of a soccer career for women, motherhood is now becoming a more common part of a female soccer player's trajectory.
Many female soccer players want to know if they can play soccer while pregnant.
Today, we'll take a closer look at the following:
Soccer training while pregnant
Risks and safety considerations
Playing after pregnancy
Pregnancy is a powerful experience that will impact your training, but it is more than possible to play soccer as a mother!
Playing Soccer While Pregnant
First, the million-dollar question: can you play soccer while pregnant? It's not a simple "yes" or "no" answer. Let me explain.
Generally speaking, exercise is good for the mother and baby. Women are often recommended to keep up regular activity as much as possible.
In fact, pregnancy can be a great time to get active — even if you haven't exercised in a while.

Mayo Clinic
During pregnancy, moderate exercise can help reduce pain, promote better sleep, prevent excess weight gain, and preserve muscle.
Regular exercise throughout pregnancy has been linked to shorter labor, reduced likelihood of a C-section, and less risk of gestational diabetes.
However, there are exceptions, and soccer is one of them. Soccer is listed as an activity to "approach with care."
The Sports Medicine Australia Guidelines by Dr. Marg Torode lists soccer as an "unlimited contact and collision sport" and recommends participation only during the first trimester.
Can Playing Soccer Cause a Miscarriage?
One of the main concerns with playing a high-impact, contact sport during pregnancy is the risk of miscarriage. Can soccer cause miscarriage?
Exercise itself has not been shown to cause miscarriage. However, soccer includes the risk of being hit in the abdomen.
10-20% of known pregnancies end in miscarriage, and the cause is not always easy to determine.
After the first trimester, when the uterus starts to move above the pelvis, being hit in the stomach becomes a more significant risk. A bad enough blow to the abdomen could cause placental abruption, leading to severe damage.
Essentially, it's unlikely that a fall or hit from soccer will result in a miscarriage. Still, playing soccer after the first trimester puts both mother and baby at risk.
Risks of Playing Soccer While Pregnant
Playing soccer while pregnant comes with some risks to be aware of including:
Phsycial trauma from falls, collissions, or forcible contact.
Pregnancy symptoms may negatively impact your ply (i.e. shortness of breath).
Increased risk of falling, which can lead to other inuries.
Ligaments loosen, increasing the risk of ligament injury.
Can increase internal body temperature too high.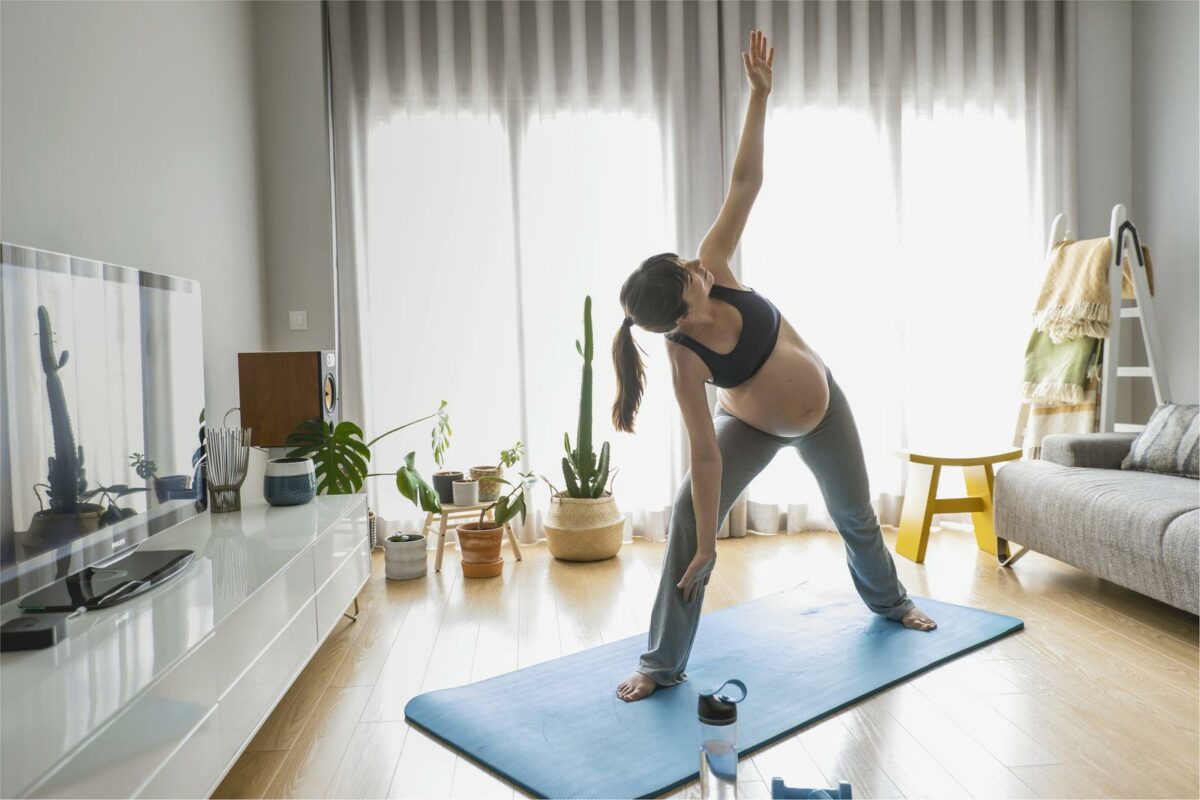 Examples of Women Who Played Soccer While Pregnant
To be safe, you should not play full-contact soccer while pregnant. So does this mean you have to hang up the cleats and halt your training? Not exactly.
Some incredible female soccer players recently led by example. Alex Morgan and Sydney Leroux incorporated soccer-specific training throughout their pregnancies and returned to professional soccer after pregnancy.
Leroux trained with her club, Orlando Pride, throughout pregnancy. As her pregnancy progressed, she did only non-contact training. She returned to playing just five weeks after giving birth.
"I think it's really important to see that life doesn't have to stop and you can have a family and have a career and be able to do them at the same time."

Sydeny Leroux
Morgan also trained late into her pregnancy. Much like Leroux, she moved to non-contact and individual training later in her pregnancy. She posted video clips of her passing and shooting while 7 months pregnant!
Only three months after giving birth, Morgan earned a spot on the USWNT Tokyo 2020 squad.
While Leroux and Morgan were not the first professional athletes to train late into pregnancy and return soon after, they are two great modern examples of women who blended motherhood with their professional soccer careers.
Tips for Safely Playing Soccer While Pregnant
Pregnancy does not have to take you away from the game of soccer. It's certainly possible to play soccer (in some way) while pregnant, but you should be cautious.
Here are some tips for safely blending soccer and pregnancy: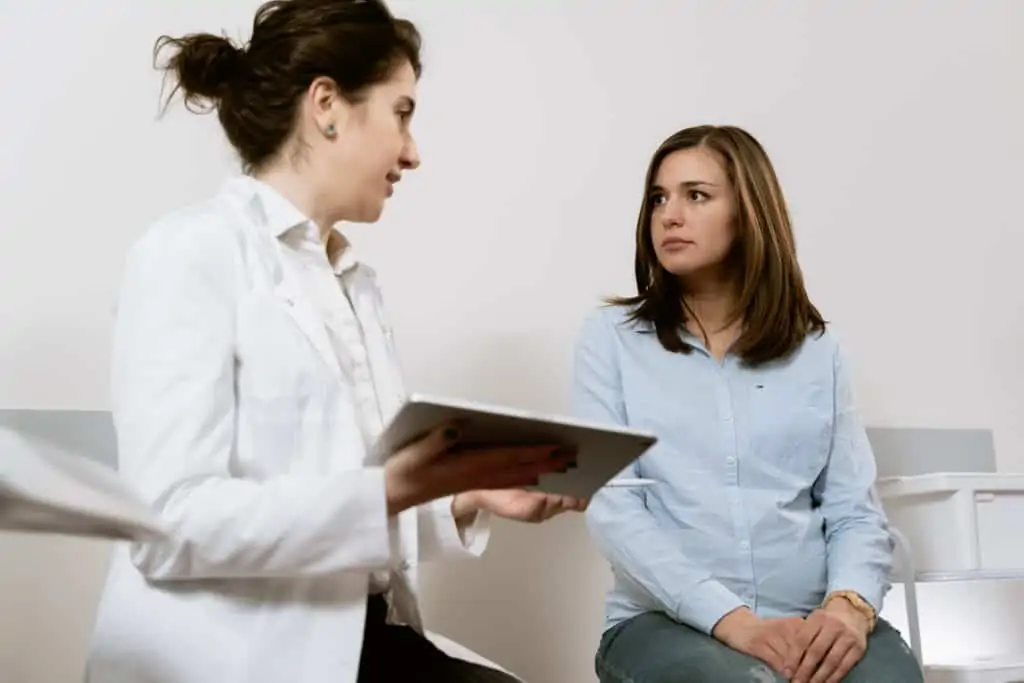 Consult Your Doctor
Every pregnancy is unique. Work closely with your doctor to determine what is safe for your pregnancy.
Not all of us are professional athletes who need to return within a few months after giving birth. It's about creating a plan that is best for you and your baby, and your doctor can help.
Stay Cool
It's common to play soccer outside in warmer months, but this can be an added risk for pregnancy. You must make sure not to overheat. Avoid playing in too hot of weather, hydrate, and bring cooling towels or ice.
Take Breaks as Needed
Fatigue and shortness of breath are common symptoms of pregnancy. You should not be miserable while playing or training. Take breaks as needed and catch your breath.
Listen to Your Body
The body goes through many changes during pregnancy, be sure to listen. If you feel dizzy, faint, your heart racing, etc, then step aside.
Adjust Your Training
As your pregnancy continues, you will need to adjust how you train for soccer, and that's okay. You may go from playing to non-contact playing to individual drills, etc.
Proper Equipment
Pregnancy is not the time to skip out on shinguards or to wear tennis shoes instead of cleats. Make sure you play or train with the proper gear, including the right shoe for the surface.
For example, if you're looking for a quality, affordable turf shoe, we recommend the Nike Tiempo 9 Academy.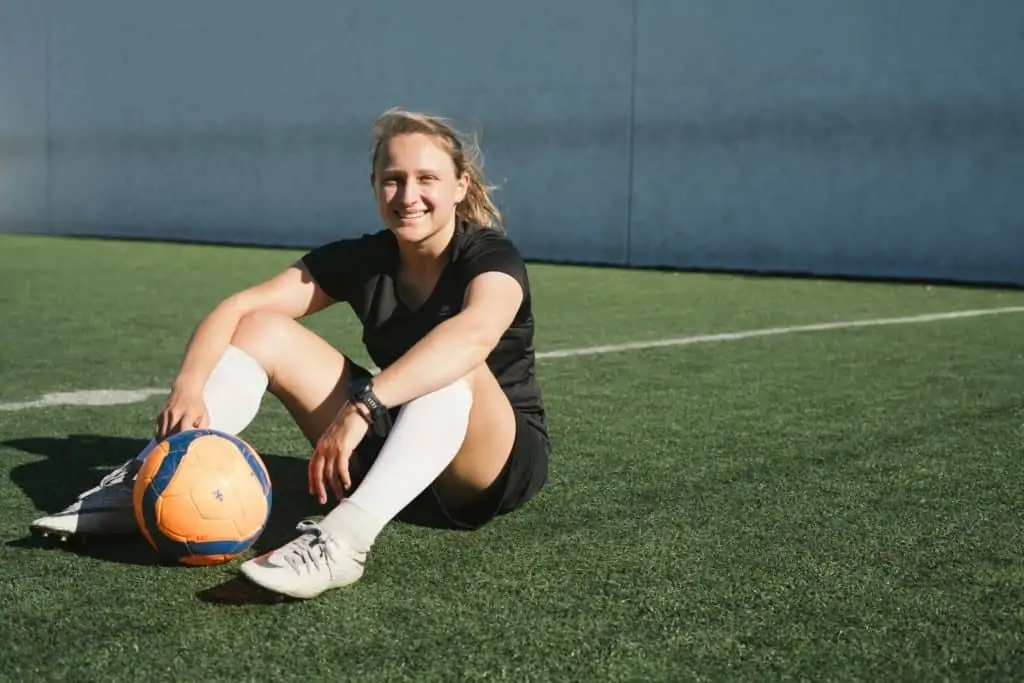 Playing Soccer After Pregnancy
During pregnancy, you must prioritize the health of yourself and your baby. For some women, this may still include quickly jumping back into soccer training, while for others, it may not.
Regardless, most women can return to soccer after pregnancy. Of course, training for soccer (safely) throughout pregnancy can help you return quicker, but every recovery is different.
Much like training during pregnancy, returning to sport after pregnancy is all about listening to your body. Some professional athletes like Leroux and Morgan return fully within a few months, while it may take over a year for other women.
Take your time after pregnancy to heal fully, gain strength, improve fitness, and work your way back to soccer. This reduces the chances of injury and helps you get back to the sport you love safely!
If you're looking for a pair of pro women's soccer cleats. Here's a list that the USNWT wears! Read the full article here to find the perfect cleat for you.
Cleat
Nike Vapor 13 Academy Fg/mg Unisex Mens At5269-414...
New Balance Men's Tekela V3+ Magique FG Soccer...
NIKE Unisex's Phantom GT Elite FG Soccer Shoe,...
Nike Men's Legend 7 Pro Fg Footbal Shoes, Grey...
PUMA Men's ONE 20.1 OSG FG Football Boots, Nrgy...
Cleat
Nike Vapor 13 Academy Fg/mg Unisex Mens At5269-414...
Cleat
New Balance Men's Tekela V3+ Magique FG Soccer...
Cleat
NIKE Unisex's Phantom GT Elite FG Soccer Shoe,...
Cleat
Nike Men's Legend 7 Pro Fg Footbal Shoes, Grey...
Cleat
PUMA Men's ONE 20.1 OSG FG Football Boots, Nrgy...
Share the post "Can You Play Soccer While Pregnant? (When To Stop)"
Joel is a seasoned soccer journalist and analyst with many years of experience in the field. Joel specializes in game analysis, player profiles, transfer news, and has a keen eye for the tactical nuances of the game. He played at various levels in the game and coached teams - he is happy to share his insight with you.