The number 13 usually stirs people's emotions. It is mainly associated with bad luck. The superstitious would not want anything to do with the number.
In soccer, clubs like Arsenal and Liverpool have retired the number from their kit for this same reason. But not everyone thinks like this. Some players don't mind shining in their number 13.
This article looks at soccer players with the number 13, who have gone against superstition and created a different story for the number.
We'll look into the following:
Club career
International career
Awards and Accolades
Read on and get to know the soccer players with the number 13 who represented the number well on the pitch.
The Best Soccer Players Who Wore Number 13
Michael Ballack
Michael Ballack is a former German soccer player among the top German goal scorers. Ballack donned the number 13 shirt for all teams except FC Kaiserslautern.
On the field, he was physically strong, aggressive, and commanding. In addition, he was tall, which made him a threat during set-pieces. But also, his powerful shots from either foot didn't spare the opponents either.
His intelligence and high technique made him German's Player of the Year thrice, the UEFA Club Midfielder of the Year, and Pele named him in the FIFA's 100 Greatest Living Players.
Ballack was featured in the UEFA European Football Championship in 2002, 2004, and 2008.
He also played in the FIFA World Cup in 2002 and 2006.
He started his career at Fritz Heckert and swiftly moved to FC Kaiserslautern, winning the Bundesliga in his first season. In 1999 he moved to Bayer Leverkusen.
He was shy of several titles, like the Bundesliga, DFB Pokal, UEFA Champions League, and settled for runners-up.
Germany lost to Brazil in the 2002 FIFA World Cup final, even in his international cap.
His transfer to Bayern Munich saw him win the Bundesliga and DFB Pokal doubles in 2003, 2005, and 2006. After 58 goals at Bayern Munich, he moved to Chelsea.
He kept his winning streak at Chelsea, winning the FA Cup, the league title, and reaching the Champions League final.
Maicon
Nicknamed 'The Colossus,' Maicon is a gifted Brazilian soccer player. He currently plays for Tre Penne as a right-back. His career started with a domestic team, Cruzeiro.
On the 125th occasion, he was noticed by the Ligue I club, Monaco. Two years in Monaco saw him move to Inter Milan, becoming a household name.
At Inter Milan, his athleticism and excellent technical skills shone. He proved to be a formidable player who could be deployed offensively and defensively.
He can serve as a full-back, attacking wing-back, or wide midfielder. In addition, his excellent vision, fantastic crossing ability, and powerful shot made him dangerous on the right flank.
After Milan, he moved to Manchester City, then Roma, and went back home to Brazil and played for Avai, Criciuma, Villa Nova, Sona, and now Tre Penne.
Maicon represented Brazil on 76 occasions, scoring seven goals.
He represented Brazil in the CONCACAF Gold Cup
Three Copa America tournaments, two FIFA World Cups
FIFA Confederations Cup
Eusebio
Regarded as Africa's first greatest soccer player and possibly Africa's best soccer player in history, Eusebio da Silva Ferreira was a Mozambican-born Portuguese soccer player.
He is also considered among the best soccer players of all time.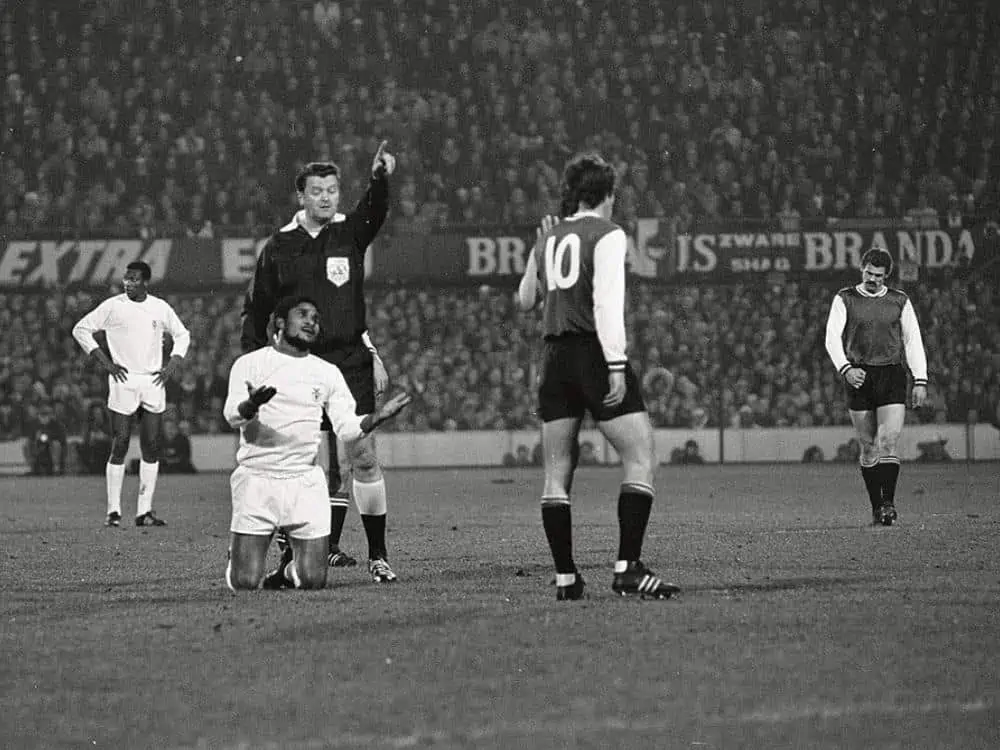 He spent most of his career in Benfica. In his career, out of 745 games, he scored 733 goals. For Portugal, he played 64 games and scored 41 times.
He had a devastating right-foot shot that made him very lethal on the field. Coupled with his athleticism, technique, and speed, he stands on top of the mountain of legends to ever grace the soccer game.
His legendary status is marked by the numerous awards and accolades he bagged, and the aliases people gave him. For example, he was called the Black Panther, the Black Pearl, or Reo (the King).
World Cup
The prolific goal scorer was the top scorer in the 1966 World Cup, winning the Bronze Ball Award and helping Portugal get to third place.
A year prior, he had won the Ballon d'Or, where he was runner-up in 1962 and would be runner-up again the same World Cup year.
Portugal and Europe
While he dedicated 15 years of his professional career to Benfica, he won eleven Primera Liga titles, five Taca de Portugal, and a European Cup. He is still Benfica's top scorer of all time out of 440 games. He scored 473 goals.
Eusebio is the eighth-highest goal scorer in the European Cup and second-highest in the pre-Champions League era.
Furthermore, Eusebio was the first player to win the European Golden Boot. Moreover, he won the Bola de Prata a record seven times.
His legacy in Portuguese soccer and the world, in general, is recognized.
He has been voted among the best players in the world in different polls
IFFHS, where he was the 9th best soccer player of the 20th century
World Soccer magazine poll, where he was the 10th best soccer player of the 20th century
UEFA Golden Jubilee Poll he was 7th. Furthermore
Portuguese Football Federation selected him as the Golden Player of Portugal during UEFA's Jubilee
Park Ji-Sung
Park Ji-sung, aka Three Lungs, is a former South Korean soccer player and one of the most successful Asian soccer players of all time.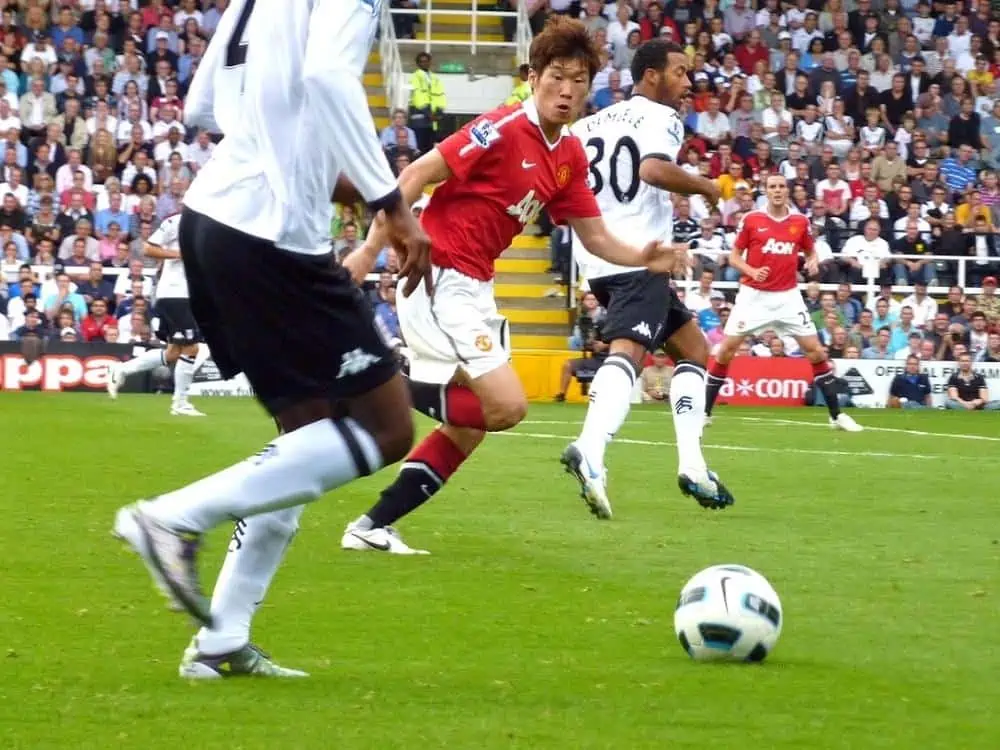 Right off the gates, Park has set several Asian soccer records:
The first Asian soccer player to lead his team to win the UEFA Champions League
The first Asian soccer player in the UEFA Champions League finals
The first Asian to lead a victory in the FIFA Club World Cup
Born in Seoul, South Korea, Park started his career playing for a university team, Myongji University. He then moved to Japan and joined Kyoto Purple Sanga. He then crossed to Europe into the Netherlands and joined PSV Eindhoven.
Manchester United
Sir Alex Ferguson took notice of Park during the 2004-05 UEFA Champions League and signed him for the English Premier League club Manchester United.
Park played for Manchester United for seven years, appearing 134 times and scoring 19 goals. His ability to play from anywhere in the midfield made him stand out.
In addition, his phenomenal fitness, discipline, work ethic, and out-of-this-world endurance earned him the nickname, 'Three-Lungs.'
At Manchester United, he got to win four Premier League titles, UEFA Champions League, and the FIFA Club World Cup.
Later, in 2012, he moved to Queens Park Ranger and later rejoined PSV on loan for the 2013-14 season.
Park further earned 100 caps for his country and scored 13 goals. He is South Korea's leading World Cup top scorer, having scored in the three consecutive World Cups he has represented his country; in 2002, 2006, and 2010.
Davide Astori
David Astori is an Italian soccer player who met an untimely death in a hotel room before a league match. After investigations, the cause of death was determined to be cardiac arrest.
Astori had played his youth career at Pontisola and AC Milan. His professional career started on loan, with AC Milan loaning him to Pizzighettone and Cremonese in the first two seasons of his senior career.
In 2008, he signed a deal co-owned by AC Milan and Cagliari, who later bought him fully from Milan.
He would later spend two more loan spells with Roma and Fiorentina
before Fiorentina signed him in 2016 and made him captain in 2017
Internationally, he was capped by Italy 14 times and scored one goal.