Reading Time:
8
minutes
Share the post "Soccer Players With The Number 3 (Awesome Defenders)"
Throughout the evolution of soccer, the way different positions are played has changed. However, although the style of play might have evolved, the field position for soccer players with the number 3 has not changed much.
The number 3 is reserved for defenders. Some players have rubber-stamped their names while playing with this jersey, with Ashley Cole Paolo Maldini as iconic examples.
In this post, we look into the players who famously represented their clubs with the number 3 soccer jersey. In this case, we look at their:
Careers
Accolades
Titles and trophies
Be ready to be amazed by the achievements and contributions these legends made and are making into the precious soccer game.
Best Outside Left Backs and Center Backs To Wear Number 3
The typical position for a number 3 in soccer is the left-sided defender (outside back/full back), although a central defender may use this number.
The number 3 is a special one. There have been so many greats to wear this jersey. Here are some amazing players from the past and also present.
Be sure to watch the highlights. It's surprising what a number 3 can do!
Paolo Maldini
Paolo Cesare Maldini is a former Italian soccer player who played his entire career for AC Milan. His legendary performance in AC Milan saw the team retire the number 3 shirt after his retirement.
Maldini was a left-back and center-back and was one of the greatest defenders and players.
Here are some of his incredible feats:
He won the best defender at the UEFA Club Football Awards at age 39
He won the Serie A Defender of the Year Award in 2004
He has made the most appearances as Italy's captain (75)
He was the runner-up FIFA World Player of the Year in 1995.
He was third in Ballon d'Or 1994 and 2006
He was in the 2002 FIFA World Cup Dream Team
He was named in the FIFA 100 list of the greatest living players in 2004 by Pele
He was participated in the Ballon d'Or Dream Team 2020
He holds the record for most appearances for Milan in all competitions (902)
He was included in Italian Soccer Hall of Fame in 2012.
In his playing career, he won 25 trophies with Milan, including:
Five UEFA Champions League titles
Seven Serie A titles
One Coppa Italia
Five Suppercoppa Italiana
Four UEFA Super Cups
Two Intercontinental Cups
One FIFA Club World Cup
Internationally, he captained the Italian national team for eight years playing in four FIFA World Cups and three UEFA European Championships.
He is currently a technical director for Milan and a co-owner of Miami FC, a USL Championship Club.
Pepe
Kepler Laveran de Lima Ferreira, popularly known as Pepe, is a Brazilian-born professional soccer player who opted to play for Portugal.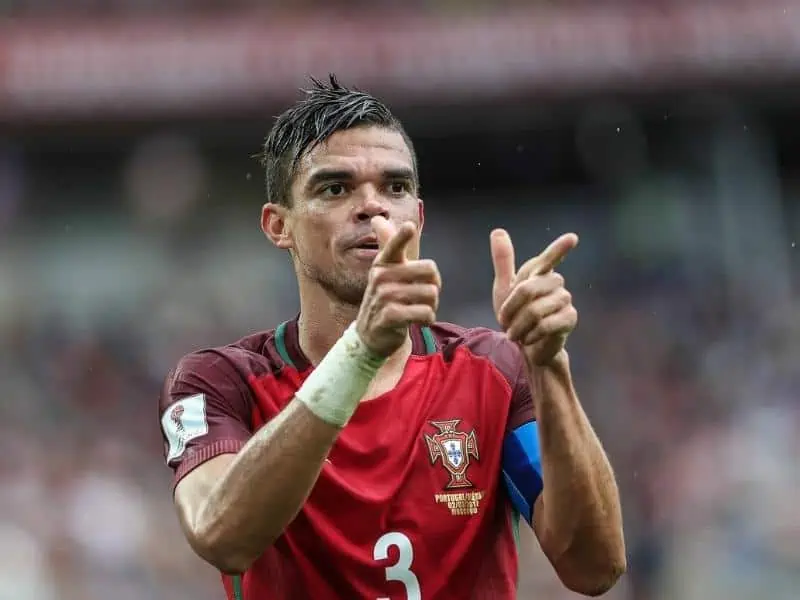 He played for the Portugal national team at three FIFA World Cups and four European Championships. He also played in the team that won the Euro 2016 and the team that got to the semifinals in 2012.
He is a revered defender and has played for Maritimo, Porto, Real Madrid, and Besiktas. He accumulated most of his career wins when playing at Porto and Real Madrid.
While playing at Real Madrid, he won three La Liga titles, three UEFA Championships League titles, and two Copa del Rey trophies.
While at Porto, he won three Primeira Liga titles and two Taca de Portugal trophies.
Roberto Carlos
Roberto Carlos da Silva Rocha is a Brazilian soccer player who has been the most offensive-minded left-back in the history of soccer despite him starting his career as a forward. He was also a master at free-kicks, with his shots measuring over 105 miles per hour.
Because of his impeccable skills he:
was FIFA World Player of the Year
was chosen on the FIFA World Cup Dream Team in 2002 and 2004
was named by Pele in FIFA 100 list of the greatest living players
is among the few players to make 1100 professional career appearances
was named by Marca in 2013, Best Foreign Eleven in Real Madrid's History
was named to the FIFA World Cup All-Star Team in 1998 and 2002
Roberto mostly played for Real Madrid, where he played 584 matches and scored 71 goals in total. He also won the La Liga title four times and the UEFA Champions League three times.
Furthermore, he is the second most capped Brazilian player with 125 caps. He played three World Cups with Brazil, reaching the final in 1998 and winning in 2002.
Ashley Cole
Ashley Cole is a former English soccer player regarded as one of the best defenders of his generation. He is the soccer player who has won the most FA Cups in history, having bagged seven, three at Arsenal and four at Chelsea.
Ashley is also one of only two players in the world to have won the Double with two clubs. The other player is Nicolas Anelka.
In addition, he is the most capped England full-back with 107 cappings.
He appeared for his country at three World Cups, including 2002, 2006, and 2010. He also appeared in the Euro 2004 and Euro 2012. He retired from international soccer in 2014, having debuted in 2001.
Beginning his career at Arsenal, Ashley made 228 appearances for the team. However, he won two Premier League titles and three FA Cups. He was part of the 2003-2004 team that went undefeated.
He then moved to Chelsea and continued the winning streak with four FA Cups, one Football League Cup, and one UEFA Champions League title.
He is currently serving as part of the coaching staff for Chelsea's U15 team.
Patrice Evra
Patrice Latyr Evra is a French coach and former professional soccer. The former Manchester United's coach, Sir Alex Ferguson, described him as one of the best left-backs in Europe and praised him for his leadership skills.
Evra started his career at Marsala, an Italian club then moved to Monza shortly after. He then moved back to France and played for Nice. Later, in 2002, he moved to Monaco, where his performance led to his transfer to the English Premier League club, Manchester United.
At Manchester United, he became captain and won five Premier League titles and one UEFA Championship League title.
Evra also played for his home country in 2008, 2012, and 2016 UEFA European Championships and at two World Cups, 2010 and 2014.
He was in the PFA Team of the Year three times
He was named in the FIFPro World XI
He was ned to the UEFA Team of the Year
He was named Ligue 1 Young Player of the Year
He appeared in the Ligue 1 Team of the Year
He then had a series of moves moving to Juventus, then Marseille, and lastly to West Ham United. He retired from professional soccer in 2019.
Asamoah Gyan
Asamoah Gyan is a Ghanian professional soccer player and the leading goal scorer for the Ghana national team with 51 goals. He is also Africa's top goalscorer in the history of the World Cup with six goals.
Asamoah has played for his country in three World Cups, 2006, 2010, and 2014. He has also appeared for the Summer Olympics, 2004, and seven Africa Cup of Nations, helping his country get t third place in 2008 and runners up in 2010 and 2015.
Asamoah started his career with a Ghanian club, Liberty Professionals, then moved to Udinese, where he spent three seasons but was loaned to Modena for two of them.
He then moved to a Ligue 1 club, Rennes, and later joined Sunderland's Premier League club. He joined Al Ain, a club in the UAE Pro-League on loan, and became the league's top scorer.
This impressive performance prompted his move to Al Ain the following season and kept his league's top scorer title.
However, his best performance was during the 2013/14 season, where he scored 44 goals in 40 matches.
Marcos Alonso
Marcos Alonso Mendoza is a professional Spanish soccer player who debuted for the national team in 2018.
He started his career with Real Madrid, then moved to Bolton Wanderers and then Italy's Fiorentina.
His performance at Fiorentina fueled his transfer to Chelsea, a Premier League club where he has won a Premier League and UEFA Champions League.
Eric Bailly
Eric Bertrand Bailly is an Ivorian professional soccer player. He debuted for his national team in 2015 and helped them scoop the Africa Cup of Nations that year.
Bailly started his career at Espanyol, a Spanish club then moved to Villarreal. After two seasons at Villarreal, he moved to Manchester United in 2016.
He is a center-back but also plays as a right-back.
Dennis Irwin
Joseph Denis Irwin is a former Irish soccer player and a sports television presenter. He is the most successful Irish soccer player in history, which he shares with Roy Keane.
Alex Ferguson has described him as his greatest signing ever, pound for pound.
Earlier in his career, he played for Leeds United and Oldham Athletic before moving to Manchester United.
He established himself as a vital player for his team during his long stint there. He, however, retired at Wolverhampton Wanderers, where he played his last two years.
He played for his home country 56 times and scored four goals.
Gerard Pique
Gerald Pique Bernabeu is a Spanish professional soccer player who has been capped 102 times by his national team, where he played a crucial role in the team's success during the 2010 Soccer World Cup and the UEFA Euro 2012.
He, however, retired from national soccer after the 2018 FIFA World Cup.
Pique is one of only five players to win the UEFA Champions League two years in a row with two different teams. Under the leadership of Pep Guardiola at Barcelona, Pique also won two trebles in the 2008/09 and 2014/15 seasons.
Chiellini
Giorgio Chiellini is an Italian professional soccer player who is the sixth-highest capped for the Italian national team.
Chiellini has been capped 114 times, appearing for the team in the 2004 Summer Olympics, four UEFA European Championships, two FIFA World Cups, and two FIFA Confederations Cups.
Chiellini started his career with Livorno, and then moved through Roma and Fiorentina and ended up at Juventus, where he has helped yield wins after wins.
At Juventus, he won nine consecutive Serie A titles, five Coppa Italia titles, and five Suppercoppa Italiana trophies.
Furthermore, he has been named the Serie A Team of the Year five times and awarded Serie A Defender of the Year three times.
Share the post "Soccer Players With The Number 3 (Awesome Defenders)"
Joel is a seasoned soccer journalist and analyst with many years of experience in the field. Joel specializes in game analysis, player profiles, transfer news, and has a keen eye for the tactical nuances of the game. He played at various levels in the game and coached teams - he is happy to share his insight with you.