Soccer in Mexico is a big deal. As the nation's most-watched, supported and played a sport, it's deeply ingrained in Mexican society and bears enormous cultural significance.
Throughout this article, we look at Mexican soccer, its origins, and its traditions. Some of the main areas we explore include:
Who brought soccer to Mexico
The popularity of soccer in Mexico
The importance of soccer in Mexico
Mexico and The World Cup
Mexico vs USA – a soccer rivalry
The Mexican National Team
The Mexican professional leagues
This is a comprehensive guide to Mexico soccer. All your questions will be answered here …
How Did Soccer Start In Mexico?
Soccer started in Mexico toward the end of the 19th century when it was introduced to the locals by English miners. Around this time, the game's official rules had been established, and soccer was beginning to spread globally.
It is believed that the migrant miners hailed from Cornwall and played a significant role in developing the foundations of soccer in Mexico.
After the Mexican War of Independence (1824), Cornish miners were recruited to bring the latest technology from the industrial revolution.
A Cornish mining company ran the Real del Monte-Pachuca (State of Hidalgo) mines from 1824 to 1848, causing a large influx of British workers to the region. 
English Emigrants
The Real del Monte mine has been one of the most prominent in the world since it opened in 1739. As the English emigrants integrated into society, they brought several traditions, including soccer.
Over time, they introduced the local workers to the sport, eventually leading to the foundation of the first Mexican team, C.F. Pachuca, in 1901. The following year, a five-team league was created. 
C.F. Pachuca is known to be one of the oldest franchises in the Americas. After 120 years of existence, it remains in the top division of the professional Liga MX. 
In the early days of Mexican soccer, many teams were closely associated with major corporations and businesses.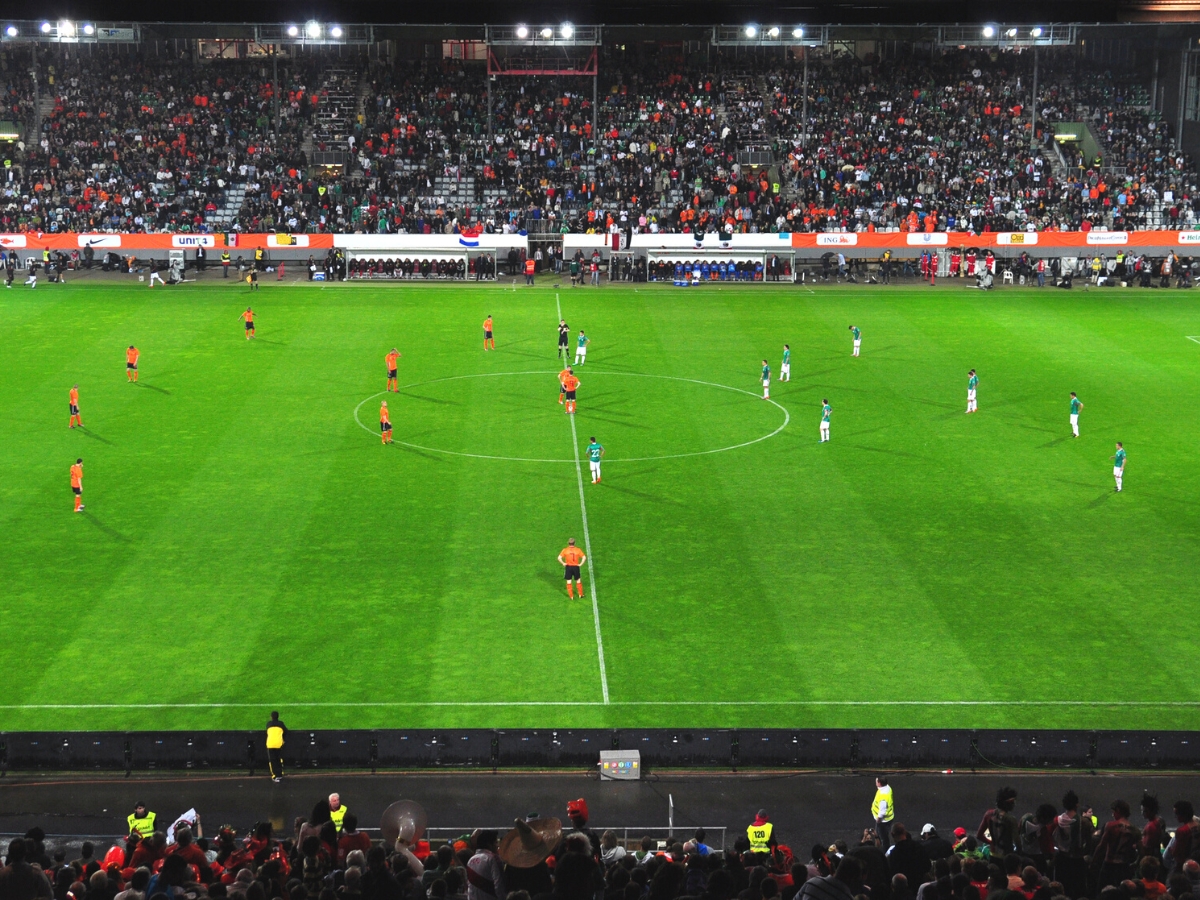 What Is Mexico's Soccer Called?
In Mexico, soccer is called "fútbol".
This is the Spanish translation for "football," which soccer is known as in many regions outside North America. 
Is Soccer A Mexican Sport?
Soccer is not a Mexican sport. Although the exact origins of the game are disputed, soccer began in England as we know it today. 
Check out our article on the history of soccer for a full breakdown of where the beautiful game came from.
Is Soccer Popular In Mexico?
Soccer is the most popular sport in Mexico. Since the first teams were established in the early 1900s, soccer quickly gained popularity.
At a club and national level, it has a significant nationwide following. The professional league (Liga MX) is well regarded globally and is followed religiously by fans. 
Mexico's love of the game led to them hosting 2 World Cup tournaments in 1970 and 1986. While it was more popular in the past, today, 55.3% of Mexicans are interested in soccer. 
Large Stadiums
Mexico is home to some of the largest and most iconic soccer stadiums. The Estadio Azteca is a legendary stadium representing the official home ground for the Mexican National Team and Club América (Liga MX team). Located in Tlalpan, Mexico City, the stadium can hold 87,523 people. 
Before safety standards restricted the capacity, the Azteca hosted 119,853 soccer fans for a game between Mexico and Brazil in July of 1968.
132,247 fans packed into Estadio Azteca to watch Mexican boxer, Julio Cesar Chavez retain his WBC light welterweight title against Gren Haugen in February 1993.
Estadio Azteca is one of only 2 stadiums to host 2 FIFA World Cup Finals (1970 and 1986). The other stadium is the Maracanã in Rio de Janeiro, Brazil. 
The first World Cup Final in Estadio Azteca saw Brazil beat Italy 4-1. In 1986, Diego Maradona's Argentina beat West Germany 3-2 to lift the trophy. 
"Hand of God"
Estadio Azteca is the ground that hosted the legendary "Hand of God" goal, scored by Diego Maradona in the 1986 World Cup at the expense of England.
In that same game, Maradona also scored what would go on to become one of the most incredible all-time goals, collecting the ball in his half before going on an astonishing solo run to score. 
If you're unfamiliar with either of these goals, check out the videos below.
Mexico is steeped in soccer history, from its origins to its legendary World Cups, and from the culture to the stadiums.
Is Soccer Important To Mexico?
As the most popular sport in the country, soccer is significant to Mexico and its people. As well as being a popular pastime and the most-watched sport in Mexico, soccer is essential for the economy.
Mexico has hosted 2 World Cups and is home to one of the top ten professional leagues in the world, meaning soccer brings in valuable revenue.
Soccer is one of the main passions of young and old Mexicans, whether they play recreationally with friends or watch their favorite team every weekend.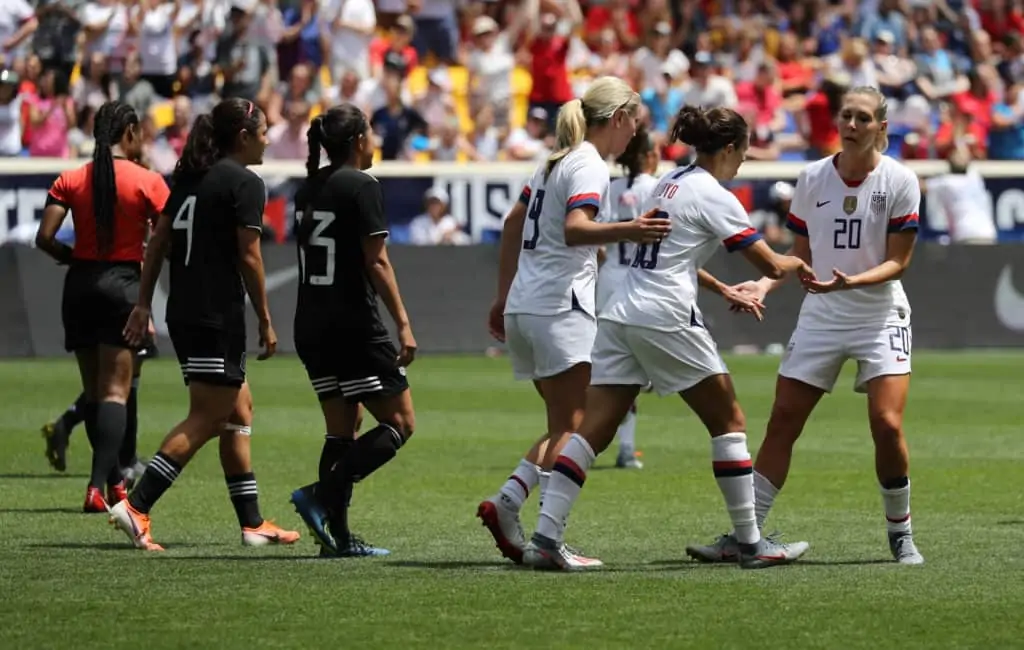 What Is Mexico's Official Sport?
Despite its popularity, soccer is not Mexico's official sport.
Charrería is the official national sport, predating soccer by several hundred years. Charrería is essentially a combination of multiple equestrian events. 
For example, one of the most challenging events, Cala de Caballo, involves demonstrating horse rein. Riders must command their horse to display its competency in cantering, galloping, slide stopping, spinning, and backing up.
There are approximately 10 different types of events, each of which involves different skills.
Is Mexico A Good Soccer Team?
Traditionally, the Mexican National soccer team has always been good, particularly compared to the teams competing in its region. 
The Mexican National Team is often called El Tri, short for el tricolor, which translates to the tricolor. This refers to the Mexican flag, which has 3 colors: white, red, and green. 
Mexico is part of the Confederation of North, Central America, and Caribbean Association Football (CONCACAF).
Within this confederation, Mexico won the following:
8 x CONCACAF Gold Cups
3 x CONCACAF Championships
2 x FAFC Championships
1 x North American Nations Cup
1 x CONCACAF Cup
2 x Gold Medals of the Central American and Caribbean Games
2012 Summer Olympic Games
Due to its success in the CONCACAF tournaments, Mexico is often invited to participate in the Copa América. Although they have never won it, they finished runner-up on 2 occasions and came in third place 3 times.
Mexico has appeared in 16 FIFA World Cup tournaments. They only failed to qualify for 3 different World Cups: 
Italy (1934)
West Germany (1974)
Spain (1982)
As of early 2022, the Mexican National team is ranked number 14 worldwide. 
The Mexican soccer team always has great jerseys. Get the Mexico home jersey here.
Mexico World Cup Soccer
As we discussed, Mexico has a historical association with the FIFA World Cup. 
Is Mexico Qualifying For The World Cup?
At the time of writing (early January 2022), Mexico is in third place in the CONCACAF World Cup qualifying group. Mexico will automatically qualify for the 2022 FIFA World Cup if it maintains its position. 
Is Mexico In The World Cup 2022?
Mexico hasn't yet qualified to be in the World Cup in 2022. Mexico has played 8 of 14 qualifying games and lies third in its qualifying group on 14 points.
As the top 3 teams from the group advance to the World Cup, Mexico is in a strong position. However, Panama is even on points with Mexico, meaning their position is under threat. 
If Mexico drops to 4th place, it can still qualify for the World Cup through the inter-confederation play-offs. 
The final qualifying games will be played in January, February, and March of 2022. 
Has Mexico Won The World Cup Soccer?
Mexico has never won The World Cup in 16 appearances. Mexico's best finish in a World Cup is the quarter-finals, which they played in twice, in 1970 and 1986. On both of these occasions, Mexico was the host of the tournament. 
In 1970, Mexico lost 4-1 to Italy, who went on to lose in the final to Brazil. 
In 1986, Mexico lost in a penalty shootout to West Germany, after their game ended in a 0-0 draw after 120 minutes.
West Germany lost 3-2 to Argentina in the final. 
Why Was the 1986 World Cup Held In Mexico?
The 1986 World Cup was held in Mexico as it was chosen as the backup for Colombia, the original host country.
Colombia had to back out in 1982 due to economic challenges. No European hosts were eligible as Spain had hosted the previous World Cup. In 1983, Mexico was chosen to be the first country to host multiple World Cups. 
FIFA's Congress votes on the host of each World Cup through a ballot system. Hosts are usually chosen around 7 years before the tournament takes place. 
Mexico Soccer Vs. USA Soccer
As neighboring countries, there is a long-running rivalry between Mexico and the US regarding soccer. 
Since their first meeting at Estadio Azteca in 1934, the sides have played each other 73 times.
These games draw a lot of attention from fans and the media. Crowds of over 100,000 people attended multiple games in Estadio Azteca. Crowds of over 90,000 attended games on US soil in the Rose Bowl. 
As they compete in the same tournaments and qualifiers regularly, the rivalry between the 2 nations is hotly contested.
The games tend to be very physical, and tensions often spill over into off-the-ball incidents and arguments. 
Former Manchester United and USA Soccer goalkeeper, Tim Howard, had this to say about the fierce rivalry:
"I have always thought that your fate and reputation and your legend will ultimately be decided as a U.S. player by how you perform against Mexico. Those will be the games you remember and cherish. We talk about the hatred, that is bred out of respect. They fear us and vice versa, because we have a mutual respect."

Tim Howard, 2015
The US National Team currently ranks higher than Mexico. The USA is ranked 11, while Mexico recently dropped to 14.
The rivalry between Mexico and USA soccer exists in the women's games. 
How Many Times Has Mexico Beat USA Soccer?
In 73 games, Mexico has beaten USA 36 times, giving them a 49% win ratio.
Has US Ever Beaten Mexico Soccer?
The US has beaten Mexico a total of 22 times, giving them a 30% win ratio.
Who Has Won More Games Mexico vs USA?
At present, Mexico has won more games than the US. The official records are as follows:
| | | | |
| --- | --- | --- | --- |
| Country | Wins | Losses | Draws |
| USA | 22 | 36 | 15 |
| Mexico | 36 | 22 | 15 |
Mexico Vs. USA Wins, Losses & Draws
Interestingly, the US has been far more successful since the turn of the century, maintaining a winning record since 2000.
Over the past 2 decades, the US has won 17, lost 9, and drawn 6.
Has Canada Ever Beat Mexico In Soccer?
Canada has beaten Mexico 4 times in history, with their most recent victory coming in an important World Cup qualifier in 2021. This was Canada's first win against Mexico since February 2000.
Since their first meeting in 1957, Mexico has won 22, lost 4, and drawn 9 games against Canada, giving them a 63% win ratio.
Does Mexico Have 2 National Soccer Teams?
At the senior level, Mexico has just one national team in men's soccer, and one in women's soccer.
Like any other ranked FIFA nation, Mexico has a youth structure where players represent their country at an underage level. 
Soccer Teams In Mexico
The domestic soccer leagues in Mexico are run by the Mexican Football Federation (Femexfut).
There are 4 main professional levels:
Liga MX
Liga de Expansión MX
Liga Premier de Mexico
Liga TDP
How Many Mexican Soccer Teams Are There?
There are 283 club teams in Mexico, spread across 4 tiers in the professional pyramid. The professional soccer pyramid in Mexico is much different from many other popular leagues around the globe.
While the top 2 divisions usually operate, with 18 and 17 teams in each league, the 3rd and 4th tiers are split into multiple groups. These divisions are a little more complicated to run due to the number of teams. 
Liga MX
Liga MX is officially called the Primera División de Mexico. It is the top division in Mexican soccer. It is the only league in the first level of the professional pyramid.
Liga MX is regarded as the best or second-best professional league in North America. Brasileiro Serie A (Brazil) is often disputed alongside Liga MX as the best league.
There are 18 teams in the top flight. Teams compete for a place in the playoffs each season, from which a winner is crowned. Traditionally, one team is relegated to the division below every year. 
However, due to the COVID-19 pandemic, there will be no relegation or promotion in Mexican leagues for 6 seasons. A stabilization project was put in place to help franchisees experiencing financial struggles due to the pandemic. 
Liga de Expansión MX
Liga de Expansión MX is the second division of Mexican soccer. It occupies the second level of the professional pyramid.
In the past, one team would be promoted to the Liga MX every season, and one team relegated to the Liga Premier. As mentioned, this is on hold for 6 seasons. 
Liga Premier de Mexico
This division is ranked on the 3rd level of the professional pyramid. It contains 35 teams that compete in 3 different groups within Serie A and Serie B.
Serie A consists of 2 groups, while Serie B consists of one group of 8 teams.
The top 4 times from each group compete in a tournament at the end of the season to gain promotion to the Liga de Expansión MX.
Liga TDP
The Liga TDP is the 4th rung on the professional pyramid.
It is made up of 213 teams, divided into 17 groups.
4 teams each season can gain promotion to Serie A or Serie B in Liga Premier de Mexico (on hold due to pandemic).
As well as qualifying through competition, all teams must meet certain professional criteria such as:
Legal members with supporting documentation
Suitable playing grounds and facilities
Specific debt requirements
Financial requirements for participating in the league
What Soccer Teams Play In Mexico City?
Mexico City is home to some of the most popular teams in the country. In Liga MX, there are 3 teams from Mexico City:
América
Cruz Azul
Pumas UNAM
In Liga de Expansión MX, there is 1 team from Mexico City:
Atlante
What Is The Oldest Soccer Team In Mexico?
Club de Fútbol Pachuca is the oldest soccer team in Mexico. As mentioned, it was established on the 28th of November, 1901, after Cornish miners introduced locals to the game of soccer. 
C.F. Pachuca is still a favorite team today and plays in the top division. Its home ground is called Estadio Hidalgo and can hold a capacity of 30,000 fans. 
Interestingly, Pachuca was largely unsuccessful in its first 100 years of existence. However, since it regained its promotion to Liga MX in 1998, it has been one of the best-performing teams. 
Since 1998, it has won 6 national titles, 5 CONCACAF Champions' Cups, the SuperLiga, and the Copa Sudamericana. Pachuca last won the Liga MX in 2016. 
What Is The Biggest Club In Mexico?
In Mexico, the Cuatro Grandes, or Big Four, are regarded as the biggest, most popular, and largely successful teams:
América
Guadalajara (Chivas)
Cruz Azul
Pumas UNAM
América has won 13 league titles, the most in history. Guadalajara has 12 titles, Cruz Azul has 9, and Pumas have 7.
The only other teams with comparable success are Toluca (10 league titles) and León (8 league titles).