Reading Time:
9
minutes
Finding the best supplements for soccer players is a big piece of the puzzle when you want to maximize your playing time on the soccer pitch.
Soccer athletes demand a lot from their bodies. They train hard, they train smart, and then they spend two 45 minute halves (and maybe some stoppage time) pushing themselves aerobically and aerobically – often pushing harder than athletes in most other sports.
The best supplements for soccer players allow these athletes to unlock all reserves of fuel, tap into every ounce of their athletic capabilities, and focus their minds to dominate the competition.
Finding the right supplements for soccer players, though, can be a bit of a challenge. But that's why I've put together this detailed guide.
Here are some key details I'll cover below:
How to find soccer specific supplements
How to stack and combine multiple supplements together for even better results
How to use soccer supplements safely
How to leverage soccer supplements to improve training time and playing time
… And of course, I'll dive into the top supplements on the market today for serious soccer players. Let's jump right in!
The Important Factors: Supplements for Soccer Players
For one thing, the athletic supplement industry is so big – and has so many different products – that trying to sift through all of them is next to impossible on its own.
Trying to drill down to supplements that are specifically good for soccer players is like trying to track down a needle in a haystack sometimes.
That's part of what makes this guide so valuable, though. I've handled all the heavy lifting for you – tracking down the best supplements for soccer players available today – so that you don't have to.
Use this as a bit of a cheat sheet to make things a whole lot easier while guaranteeing that you get the best supplements designed specifically to enhance your soccer performance.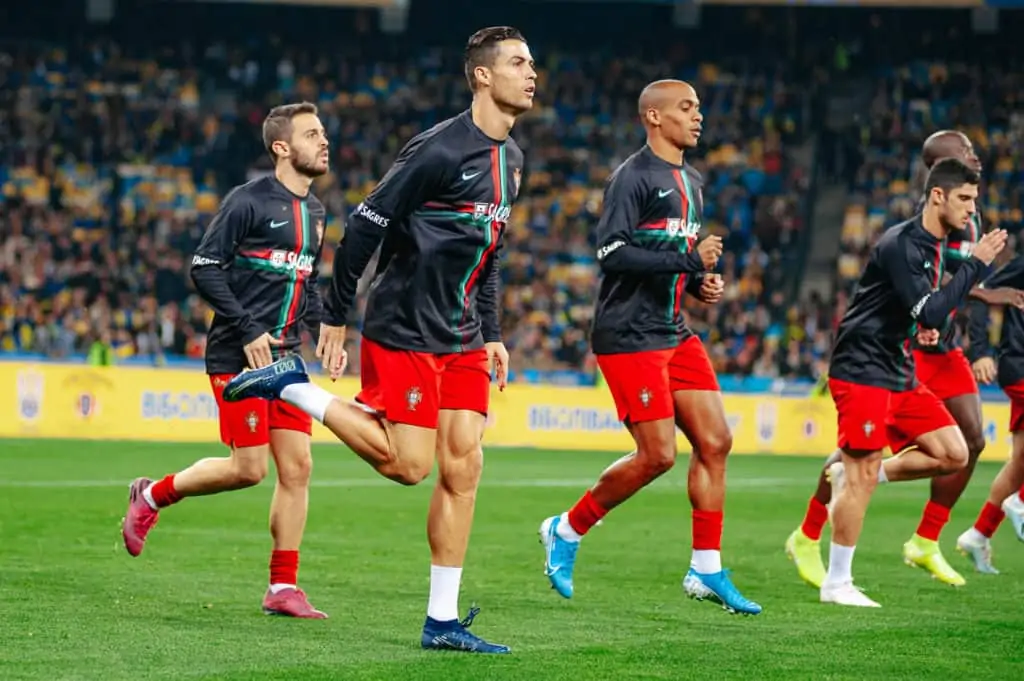 Are There Soccer Specific Supplements?
You have bodybuilding-specific supplements, athletic supplements, and supplements designed to help people bulk up or cut fat. Nobody really markets their product as soccer-specific supplements, though.
There are a ton of soccer-specific supplements available on the market right now, supplements designed to give soccer players an almost unfair advantage when they step on the pitch or climb into the training room.
I highlight a handful of the most impactful ones below.
Can I Use Multiple Supplements at Once?
Most athletes know that it is critically important to understand how everything you put into your body impacts everything else.
There are certain things that can nullify not just the effectiveness of a supplement, but nullify all of the supplements that you're using – essentially wasting your time (and a mountain of money along the way).
That's why all the supplements I recommend can be "stacked" with one another.
You'll be able to mix and match, combine different supplements with each other and with other supplements to give yourself the biggest boost possible when you are playing soccer.
And you can do all of that without risking any ill side effects. Speaking of side effects…
Are Soccer Supplements Safe?
Some supplements are definitely safer than others. And there's no shortage of products out there that you shouldn't even consider putting into your body without the express instruction to do so from a personal trainer, medical expert, or team physician.
All the supplements I recommend are completely safe for use, including with one another.
You're not going to have to worry about any of the supplements causing weird or adverse effects as long as you use them the way they are recommended to be used.
Should I Only Use Soccer Supplements to Train?
Not at all! Too many players think that supplements are only for time spent training, time spent working out, and time in the off-season to build a better soccer body.
Nothing could be further from the truth! All of the supplements that I recommend below can be used not only while you are training but also while you are actively playing.
Some of them, in fact, are designed to give you a huge advantage when you are playing – especially when stacked up against competitors that aren't using the supplements at all.
These are "year-round" style soccer supplements that will take you to the next level.
Now that we've covered all of that, though, it's time to do a little bit of digging into what I think are the best supplements for soccer players available today.
The Best Supplements for Soccer Players
Optimum Nutrition 100% Whey Protein Powder
There isn't an athlete on the planet that couldn't use a little bit more protein in their diet! And while protein powder isn't necessarily a performance-enhancing supplement.
Ingesting plenty of protein (especially high-quality protein like this 100% whey protein powder source).
This guarantees that you're able to recover from intense physical exertion a whole lot faster than you would have been able to before.
The Brand
Optimum Nutrition is legendary in the world of sports supplements. One of the biggest brands in the industry, and one of the most trusted names in the world of supplements, Optimum Nutrition (ON) is particularly beloved for its protein powder formulas.
The vanilla ice cream flavor is always popular, as is the strawberry, but nothing – NOTHING – beats the Extreme Milk Chocolate.
Flooding your body with 24 g of whey protein isolate and whey protein concentrate, you'll also get some whey peptides in the mix that are all designed to help support lean muscle mass repair, restoration, and growth.
What Optimum Nutrition 100% Whey Protein Powder is Used For
Optimum Nutrition whey protein powder is used in a couple of different ways by soccer players, in the training room as well as out on the pitch during practice and on game day.
In the training room, this protein powder is going to help build bigger, faster, stronger athletes with dramatically increased performance (especially in the strength, speed, and endurance departments).
Out on the pitch, this protein powder is going to help athletes recover from grueling game days and long practice sessions much faster than they would have before.
What Makes Optimum Nutrition 100% Whey Protein Powder Unique
Optimum Nutrition whey protein powder is unique not just because of its delicious formula (it really is some of the best tasting protein powder money can buy), but also because of the 5 g of BCAAs, the limited carb and sugar content, and the fact that it is 100% gluten-free across the board.
Optimum Nutrition 100% Whey Protein Powder Performance
The instantized nature of this protein powder guarantees that you aren't dealing with lumps, clumps, or big blobs of protein in your shakes anymore.
Instead, you're going to be able to enjoy only the highest quality protein powder in thick, smooth, silky shakes – all without ever having to use a blender, too.
This whey protein is rapidly absorbed into the body as well, helping to flood you with the core building blocks you need to improve your athletic capabilities and to rebuild and restore your muscles after intense competition.
Pros and Cons
Super high quality protein powder
Downright delicious
Very easy to use
Readily available pretty much anywhere
A little bit on the expensive side of things
5 pound containers and 10 pound bags take up a lot of space
BulkSupplements.com Creatine Monohydrate
Creatine is a hugely important supplement for soccer players, too. In fact, many consider it to be the best of the best supplements for soccer players bar none.
A fantastic energy source, creatine is perfect for soccer players because it fuels high-intensity exercise better than most anything else out there. Saturating your muscles with creatine on a daily basis keeps your "fuel tank" 100% full.
The Brand
BulkSupplements.com sort of popped up out of nowhere a handful of years ago as a go-to source for large quantities of athletic supplements that are about as high quality as it gets.
This company was later found out to be a major wholesale distributor that supplied the same exact supplements they offer under their house brand to some of the biggest supplement manufacturers in the business – including manufacturers that charge three or four times as much for the exact same stuff!
You're getting a great deal on top-of-the-line creatine when you go in this direction.
What BulkSupplements.com Creatine Monohydrate is Used For
As mentioned a moment ago, this creatine monohydrate supplement is used to flood your body with all the energy you need to play soccer at a high level even after the rest of your competitors – and even your teammates – begin to fatigue.
On top of that, there's quite a bit of research out there that shows creatine can improve your overall power, your running capacity, and your ability to hydrate your muscles.
If you're looking to dial things up on the pitch creatine needs to be in your supplements stack.
What Makes BulkSupplements.com Creatine Monohydrate Unique
The most unique thing about this particular brand of creatine monohydrate is how inexpensive it is compared to a lot of the competing options out there – especially when you factor in its purity.
This stuff is the real deal!
You'll be able to dramatically boost your anaerobic strength and aerobic capabilities on the soccer pitch when you are regularly supplementing with creatine monohydrate.
BulkSupplements.com Creatine Monohydrate Performance
Here's a couple of things you can expect this creatine monohydrate to do for you going forward:
Dramatically increase your ability to gain muscle mass when you train intensely
Maintain your muscle mass when you dial back your training program during the season and into the playoffs
Improve your overall anaerobic strength and aerobic capacity so that you run harder, faster, and longer than anyone else
Boost your cognitive and brain function abilities, helping you to become more creative when you play, to push through decision fatigue when you're tired, and to maintain that competitive edge
Pros and Cons
Super easy to use, dissolving quickly and completely into tapwater
Can be stacked with any other supplement on this list (and pretty much any other supplement under the sun)
Not only supports anaerobic and aerobic capabilities, but cognitive abilities as well
You have to buy it in bulk to get the best price
The taste is definitely on the flavorless side of things
Klean SR Beta-Alanine
Of all the best supplements for soccer players on the market today, this one just might be the "secret weapon".
A lot of people like to use it as a pre-workout booster, enjoying the "tingling" sensation it gives off before they get down to business and start throwing iron all over the place.
Truth be told, though, the overwhelming majority of people that use this supplement aren't actually going to benefit from it much.
That's because beta-alanine works best to act as a buffer against fatigue and most people just don't push themselves hard enough to really use this.
The Brand
Klean Athlete supplements have earned their sterling silver reputation through delivering some of the best performance-enhancing supplements athletes can buy. This one is no exception.
The brand has been around for quite a while now (founded in 2012) and is built on the bedrock principles of giving athletes as many advantages as humanly possible without breaking any rules.
This particular supplement, this fatigue eliminate her, is a game-changer for soccer players that spend 90+ minutes running up and down a giant soccer pitch.
What Klean SR Beta-Alanine is Used For
The thing that this supplement should be used for most is beating back fatigue – the kind of fatigued that not only makes you slower than your competition but also slows down your competitive decision-making, too.
As your body physically exerts itself a potent acid starts to get produced and built up in your muscles. It doesn't take long for that acid to lock up your major muscle groups, tiring you out and causing real fatigue that is almost impossible to push through.
When you have plenty of beta-alanine in your body, though, you're able to buffer back against that fatigue for much longer than you would have been able to otherwise.
This compound is saved up in your muscles and basically shields you from the fatiguing acid we highlighted a moment ago.
Best of all, all you need is about 3 g of this supplement per day as a soccer player to guarantee that you are sufficiently protected.
What Makes Klean SR Beta-Alanine Unique
There are a couple of things that make this specific supplement unique, but the biggest one has to be the way that it was formulated to not only improve overall absorption and retention but to reduce the "tingling sensation" a lot of people get when they supplement with beta-alanine.
You'll get all of the muscle supporting and fatigue armor benefits you're after without having to worry about feeling jittery or odd as you step out onto the soccer pitch.
Klean SR Beta-Alanine Performance
This stuff really works!
Used by top athletes at the highest level of sport across the world, professional soccer players the globe over swear by everything that beta-alanine brings to the table.
You'd have to be at least a little bit crazy to be a competitive soccer player at any level and not use this supplement to give you even just a slight edge over your competitors.
Pros and Cons
Really easy to ingest things to the smart pill form
Next to no "tingling" sensation when you use this form of beta-alanine
Starts working almost immediately and has significantly better absorption and retention levels than other supplements
The pills are a little bit on the larger side of things
You will have to take these pills pretty regularly (every day or every other) to maximize their performance
Our Favorite Soccer Supplements
References