For billions of people around the world, soccer is a religion. Supporters worship their club, and the stadium is the heart of that.
Getting the maximum number of fans into the stadium costs huge sums. And today, we will look at;
Building a stadium
Costs to build and maintain
How are they paid for
The best stadiums
There are some fantastic stadiums around the globe, and it's fascinating to know more about these iconic and historic structures.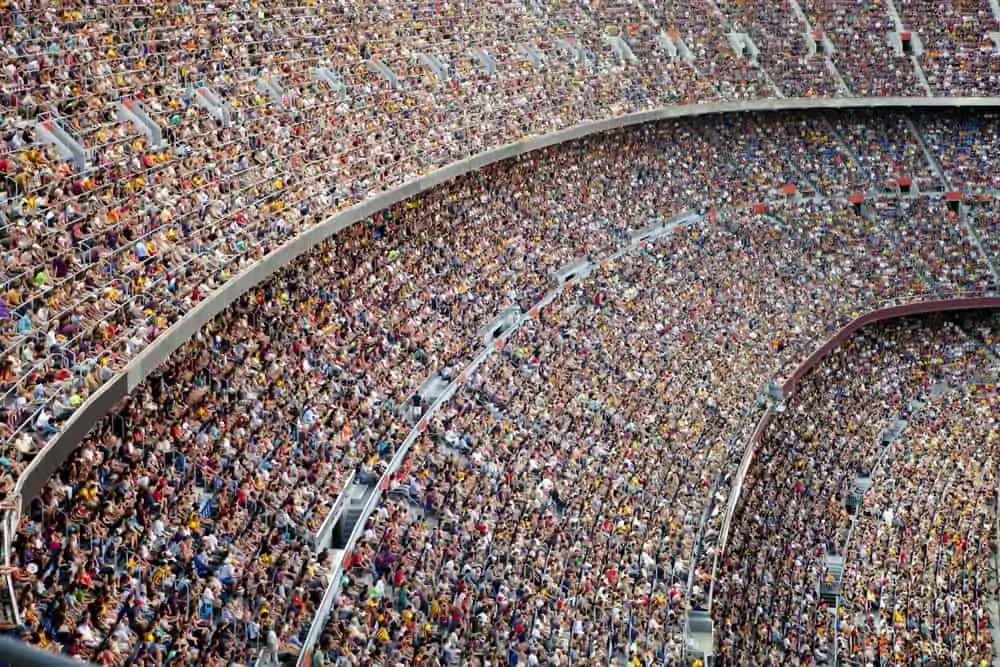 Soccer Stadiums
Stadiums around the world come in all shapes and sizes. Some have been around for decades, while others are being built.
Each one has its own unique features and design that make it loved (or hated) by fans.

Stadium design and architecture have changed throughout the years, but stadiums remain a gathering the main gathering place for supporters who hope to make their home into a fortress.
The lore of a stadium alone can be enough to shock visiting opponents.

An unbelievable amount of detail goes into building a stadium.
It is a large investment requiring years of planning and work, but the results can be beautiful.
What goes into building a stadium?
Building a stadium today is becoming increasingly expensive. Technological advancements come at a significant cost. However, they are necessary to keep up with rival stadiums.
More importantly, stadiums must compete with the at-home viewing experience.

Getting to the stadium can be expensive. It's also less convenient than watching on your 70-inch TV at home where the snacks and parking are free and there is no line for the restroom.

Some of the things that stadium designers must think about are:
Design – what are the unique design features that are going to set the stadium apart from others?
Ingress and egress – getting in and out of the stadium plays a huge role in the game experience.
Viewing areas – everyone wants something different and they must accommodate many different needs.
Concessions – long lines at the concession stand could make fans upset. What is the optimal amount to have in a stadium?
Restrooms – they need to be easy to find, accessible, and simple to get in and out of.
Future advancements – the stadium should last for as many years as possible, but technology will continue to advance. They must ensure upgrades can be made to keep the stadium up-to-date
New vs. Old Stadiums
The stadiums of old were relatively bare-bones. They had rows and rows of bleachers designed to get as many people into the facility as possible.
These types of stadiums did not necessarily take comfort into account. Some stadiums even sold seats where structural elements obstructed the view of the field.
Today's stadiums are all about creating a comfortable environment for everyone in attendance. They build club areas and install comfortable seats to ensure the best experience.
New stadiums take every detail into account, while older stadiums were much more about simplicity. Their function was to give people a place to watch the game.
How much does a stadium cost?
Professional soccer stadiums can cost from 250$ upwards to 1.5 billion dollars. With capacities from 25,000 to 60,000 as an average.
The Premier League's Tottenham Hotspur opened a brand new state-of-the-art, 61,000 seat stadium. It has all of the best amenities and is located in London, England.
The project cost an astronomical $1.4 billion.
Near the other end of the spectrum, Major League Soccer's FC Cincinnati opened a new stadium of their own in 2021. Although the stadium seats a smaller capacity of just 26,000, it is beautifully designed.
Its open club areas, modern aesthetic, and location in the heart of Cincinnati make it a world-class experience. This brand new stadium cost the club's owners $250 million.
Despite there being a large gap in funding, it is clear that these are two world-class facilities.
Who pays for the stadium?
So with all of these costs, who is footing the bill? Well, that depends on a number of factors.
Where is the stadium being built?
How much does it cost?
How long will it take to build?
How is a stadium paid for?
Stadium funding can come from one of two sources. It can come in the form of either private funding or public funding.
Private funding is when the money comes directly from the owner or an ownership group. This is often the preferred method for cities that don't see a stadium as a need for their community.
Teams can also look towards sponsorship and naming rights deals to offset some of their costs. Some businesses are willing to pay hundreds of millions of dollars annually to have their name on the side of a stadium.
This is beneficial for both sides. While the business gets great brand exposure, the team gets significant money.
Public funding can help pay for a stadium as well but can be more controversial. The use of taxpayer dollars is typically used for things like roads and schools.
However, taxpayers are able to vote on whether or not they want to help fund a stadium.
Wembley stadium below was funded via the soccer association. The money gathered from the EPL teams each season, as a running cost is put towards building/renovating the national stadium.
Which type of funding is better?
Private funding can be controversial when owners hold taxpayers hostage in hopes of a new stadium.
If an owner feels a new stadium doesn't want to pay for a new stadium with their own money, they might threaten to move the team to a new city that they feel might be more "supportive."
This was the case recently in Columbus, Ohio when their former owner threatened to move the team to Austin, Texas.
Fortunately, the team's fans and local government fought to keep the team in Columbus.
In the end, the old owner got his team in Austin, and a new ownership group funded a brand new stadium in downtown Columbus.
How long does a stadium last?
As with anything, stadiums don't last forever. Some stadiums like FC Barcelona's Camp Nou have been around for many, many years.
At the very least, they do typically last at least a few decades.
However, if you go into a 30-plus-year-old stadium, it will likely feel "old." Alternatively, if you go into a 30-year-old skyscraper, it will probably still feel pretty new.
When should a team replace Their stadium?
The first-ever soccer-specific stadium in the United States was Columbus Crew Stadium. It opened in 1999.
Although the stadium saw changes and updates over the years, it was not up-to-par with the best stadiums in Major League Soccer.
Just over 20 years after opening that stadium, the Crew moved into their new state-of-the-art stadium.
The stadium has a gorgeous design and modern amenities. It is safe to assume the new one will last more than two decades.
What are the best stadiums?
Incredible stadiums can be found in all corners of the world. They do not necessarily have to be the biggest or the newest.
Those seen as the best are often called that because of the environment or the experiences they create.
FC Barcelona's Camp Nou was built in 1957 and seats just under 99,000 people. It is widely regarded as one of the best and most historic stadiums in the world.
Although the stadium has seen its share of upgrades over the years, it remains largely the same.
Some other stadiums that are highly regarded are:
Celtic Park – Glasgow, Scotland
Ibrox – Glasgow, Scotland
The Maracana – Rio de Jenerio, Brazil
Wembley Stadium – London, England
Old Trafford – Manchester, England
Estadio Azteca – Mexico City, Mexico
This list could go on and on and it might even depend on your personal preference.
Everyone looks for something different in their experience. One thing is for sure, though, nothing beats a day at your favorite stadium!