Reading Time:
5
minutes
Share the post "Are Big Feet Good for Soccer? (+ Size Of Pro Players)"
Soccer players have a wide range of body types, including some very different foot sizes. In the sport, your feet don't only matter for running but also for handling and striking the ball. 
People with very flat or very arched feet are likely to struggle to comfortably wear cleats without some arch support, but what about those with big feet? Simply put, are big feet an advantage or a disadvantage during soccer?
We'll tell you everything you need to know on the subject, including:
Pros and cons of big feet
Shoe sizes of professional soccer players
How soccer impacts your feet
Now's the time to find out all about foot size and soccer. Read on!
Is There Any Advantage to Having Big Feet in Soccer?
When it comes to big feet and soccer, are there any advantages?
Those with larger feet are in luck! There tend to be some common benefits of big feet in soccer:
More surface area to block the opponent's access to the ball.
Greater foot surface for dribbling or kicking.
Increased traction and turning ability on the field due to larger area in contact with the ground.
Do Big Feet Make You Run Faster?
According to a New York Times blog article, more weight around the feet will slow down your running efficiency more than extra weight near your midsection.
Based on this information, big feet may sound worse for running. Well, not exactly.
The real-world decline in efficiency among runners with oversize feet is small.

Rodger Kram, a professor of integrative physiology at the University of Colorado at Boulder who studies the biomechanics of running
At the same time, research from the Faculty of Sport and Health Science at Ritsumeikan University in Jaan found that longer forefoot bones were correlated with faster running speed for runners.
In both studies, they also found that longer forefoot bones correlated with faster running speeds among the trained runners, although here the studies' findings diverged: endurance runners who reported faster 5K times had longer big toe forefoot bones, whereas sprinters who reported faster 100 meter times had longer second toe forefoot bones.

RunnersWorld
So, longer toe bones are associated with better running efficiency. However, that does not necessarily mean that the overall size of the foot matters.
Ultimately, there are several mechanical differences that can impact running efficiency and speed.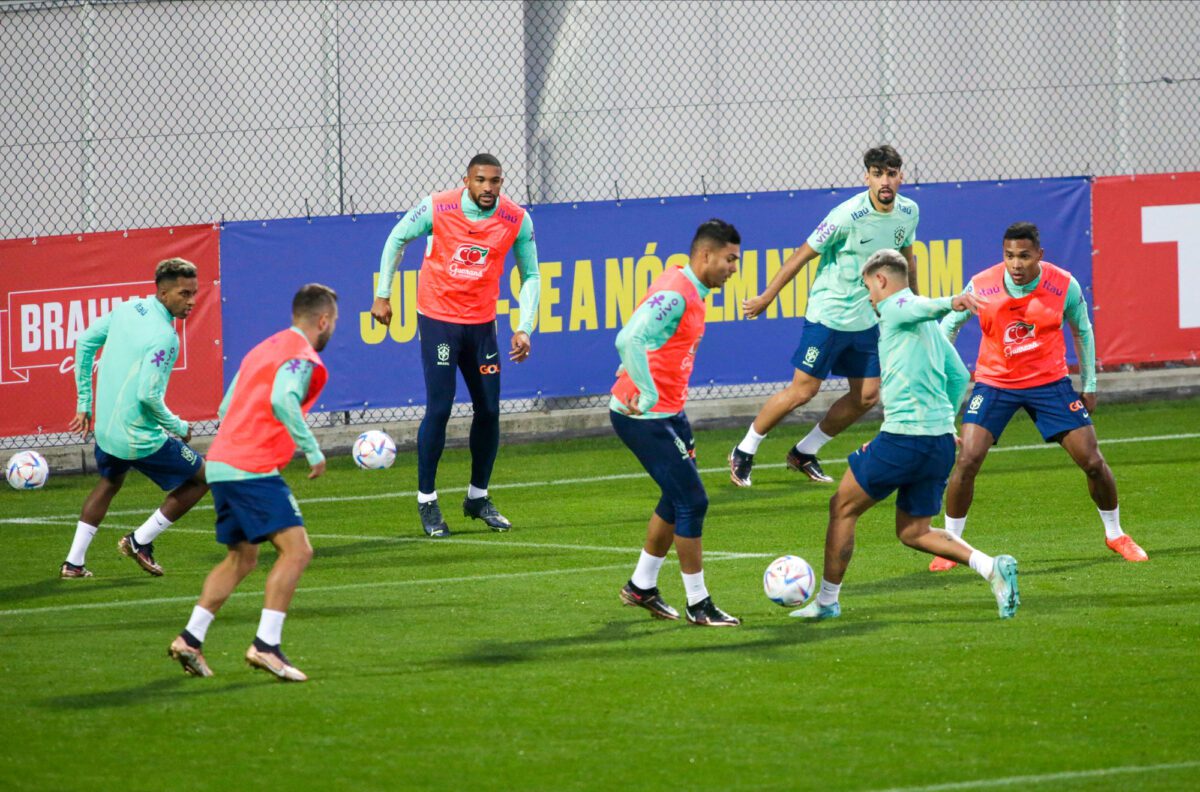 Is It Better to Have Big Feet in Soccer?
Given the potential benefits of big feet, it may sound like they are better. So, is it better to have big feet in soccer?
Not necessarily. Having large feet is not "better" for you in soccer, but it may not be worse either.
Pros and Cons of Wide Feet
Regardless of overall size differences, some players may also have wide feet. It's possible to have "large", but narrow feet or to have short but wide feet. In some cases, players may have both long and wide feet. 
Here are the top pros and cons of wide feet
Pros
Larger footprint, better for traction.
More surface area for handling or striking the ball.
Larger area to transfer power to the ball.
Cons
Difficulty finding cleats that fit comfortably.
Pain with soccer cleats.
More likely to also have flat feet (and associated arch problems)
Big Feet Soccer Players
There are soccer players with feet of all sizes. Of course, some of them have big feet.
Let's take a look at some big feet soccer players and the shoe sizes of professional soccer players.
But first, it's important to note that the average shoe size for men in the United States is 10.5 medium width.
Neymar
Neymar, the Brazilian soccer player, wears a size 9 shoe. The 5'9" attacking player currently plays for PSG in France. Take a look at his quick feet in action in this fun highlight video from Legends of the Game!
Cristiano Ronaldo
Cristiano Ronaldo, a 6'1" Portuguese player, wears only a size 9 shoe. He currently plays for Manchester United in the Premier League.
Paul Pogba
Paul Poga is a sizeable player for Manchester United. He's 6' 3" tall and wears a 10.5 shoe. Based on his height, this shoe size is not extremely large.
Romelu Lukaku
One of the professional players with the largest feet is Romelu Lukaku, Manchester United striker. He wears a whopping size 14!
Here's a helpful chart to review even more players and their shoe sizes:
| | | | |
| --- | --- | --- | --- |
| Player | Club | Position | Shoe Size |
| Neymar | PSG | Forward | 9 |
| Cristiano Ronaldo | Manchester United | Forward | 10 |
| Paul Pogba | Manchester United | Midfield | 10.5 |
| Romelu Lukako | Manchester United | Striker | 14 |
| Christian Pulisic | Chelsea | Midfield | 8.5 |
| Fraser Forster | Southampton | GK | 12.5 |
| Dele Alli | Tottenham Hotspur | Midfield | 10.5 |
| Christian Eriksen | Brentford | Midfield | 9 |
| Zlatan Ibrahimovic | AC Milan | Forward | 12 |
| Jack Butland | Crystal Palace | GK | 12 |
| Lionel Messi | PSG | Forward | 10 |
| Kylian Mbappe | PSG | Forward | 11 |
Soccer players and their shoe size
Do Soccer Players Have Bad Feet?
Big feet are one thing, but soccer players are known for having bad feet. Is this claim true?
Not every player is the same, but a fair share of soccer players tend to have less-than-ideal feet. The game exposes them to tight-fitting shoes that are not ideal for the human foot, contact with the ball and other players, and more. 
Essentially, the conditions of soccer make it pretty hard to have great feet. Here are some common foot problems soccer players have:
Bruises
Loose, bruised, or missing toe nails
Callouses
Sprained or broken toes
Cuts and scrapes
Athlete's foot/foot fungus
Who Has the Strongest Foot in Soccer?
One feat in soccer that remains impressive is striking the ball. Some players combine technical mastery with their unique mechanics to offer a fast-paced kick.
So, who has the strongest foot in soccer?
Ronny Heberson from Sporting Lisbon hit a real rocket in 2006. His shot traveled 210/8 Km/h, which is around 131 mph! Herberson was a Brazilian professional player. Take a look at his rocket shot below!
Final Verdict: Are Big Feet Good for Sports?
Overall, big feet may offer slight advantages or disadvantages for different sports, but they won't make or break your talent!
Soccer players, and athletes in many sports, have feet of all sizes. You may hear common beliefs that big feet are either good or bad for soccer, but the truth is that a lot more matters than shoe size.
There are many players with smaller or average size feet, but there are also many with large feet. Ultimately, total body proportions, body mechanics, playing technique, and experience are more important for soccer players than just the size of their feet.
Share the post "Are Big Feet Good for Soccer? (+ Size Of Pro Players)"
Joel is a seasoned soccer journalist and analyst with many years of experience in the field. Joel specializes in game analysis, player profiles, transfer news, and has a keen eye for the tactical nuances of the game. He played at various levels in the game and coached teams - he is happy to share his insight with you.