Soccer friendlies happen every year for each team. Although you'd imagine them to be less competitive, they often are.
Soccer friendlies are games played that are non-competitive/exhibition for clubs and internationals. The purpose is to increase fitness, integrate new players, tour the world, and raise charity money.
After a soccer season has finished, the wait is for the next season with hopefully some new players. There are games before the new season, soccer friendlies. However, some teams have friendlies mid-season.
After a long soccer season, the players have a 1-3 weeks break (depending on international tournaments). Then the preparation for the season begins. This is to build up game fitness and work on new tactics.
After the teams reunite, they work on their game and practice this against opposition outside their league formats.
When do soccer friendlies take place?
Soccer friendlies normally take place before the season begins for a club side. This friendly is to prepare them for the up and coming season.
When a season is over after eight to nine months of playing once or twice a week, players build up fatigue and the body needs a rest.
During the offseason, players will take a break from their clubs and spend more time with their families.
The players sometimes take a week off without any physical activity, so their bodies can re-charge.
Other players like to keep active and keep their bodies going by doing a small amount of cardiovascular work to maintain their level.
Most professional players around the world will have a break from three to five weeks away from their club.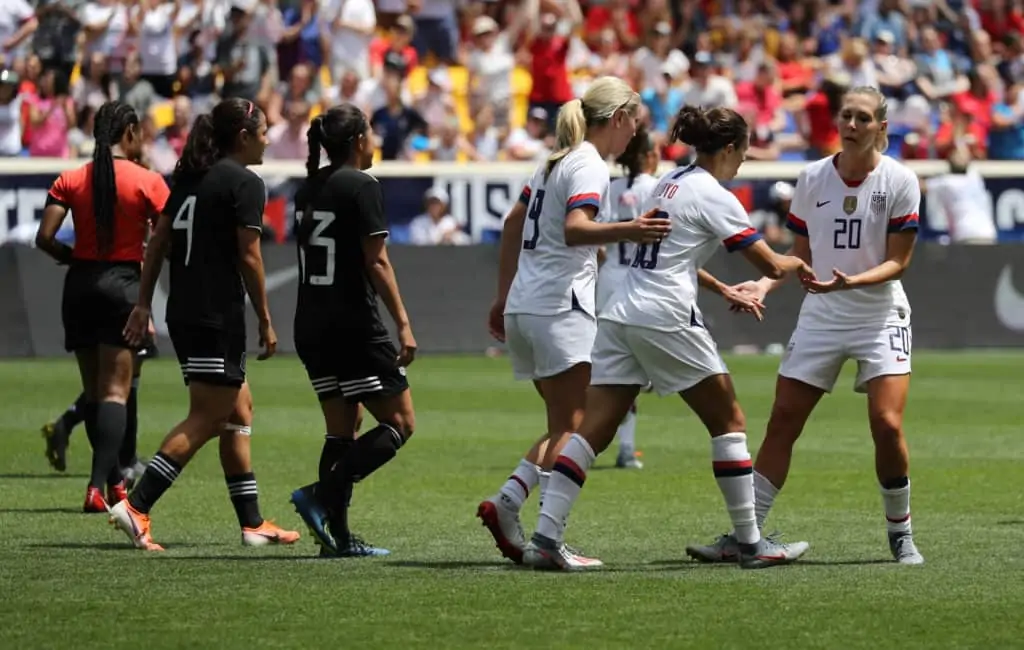 What are soccer friendlies for?
Soccer friendlies are for players to improve their fitness for the new season. New players can establish themselves and tactics and formations can be worked on.
After a few weeks away after soccer season, players relax and eat less of a strict diet than they would do if they're with their club every day.
A few extra pounds of weight are added to the players, and they need to work it off and tune their muscles back up to peak fitness. 
Training can get players fit, but to play like a professional soccer player, you need to be at the highest peak possible and this is only achieved by taking part in a real game.
Players play friendly soccer games against each other when they're training to try out or fine-tune their game.
With a squad of over 22 players, 11 a-side friendly games often happen in the weekly training schedule.
It gives a chance for all squad members to take part and show the coach what they've got.
It's also a chance for the youth players to get involved and raise their game against the more experienced players.
What are international friendlies soccer?
International friendlies are for countries to prepare their teams for tournaments or playoffs. National teams play against each other for preparation or fun.
Before the World Cup Finals, the nations need to decide who to pick for their final roster of players. International friendlies are a great way to trial players who have performed in their league.
International friendlies allow teams to work on formations and tactics for the upcoming games in the knock out group stages.
Without international friendlies, the teams would be unprepared for real game play.
Players have spent a long season with their teams and each team has a different style of play, formation, and patterns.
It takes time for these players to adjust to their new teammates, to produce the best soccer they can.
Do friendlies count as caps?
Caps for international games are registered for players but not so for club games.
Due to the limited number of games a player will have for their country, the caps (number of games registered) are added to their record.
Where can I watch international soccer friendlies?
You can watch international friendlies on tv or online. Each country sell their publishing rights for game to different broadcasters.
In the US soccer games are normally broadcast on networks like;
CBS Sports.
FOX Sports.
NBC Sports.
Univision.
In the UK, soccer games for international games are shown on Freeview tv and paid subscription. This is due to the arrangement with broadcasters.
Where international friendlies can be watched in the UK will vary for each competition. The free to view games are shown on;
The paid-for international games in the UK are normally shown on;
Do soccer friendlies count?
Soccer friendlies count only as a non-competitive game. There are no official trophies to win, goals scored are not counted on players' records.
There are no official points to be added to the league – unless there is a friendly league. Players often score many goals against weaker opposition, but this is just for fun.
When a player or coach's career has finished, no record of wins, goals, or trophies is added from friendlies.
Soccer Friendlies for The New Season
It's often noted how a team game is when there has just been a World Cup or some other international competition. The players don't have enough time to rest and then get back to full fitness.
This can cause severe problems a the start of the season. A slow start will knock the player's confidence and they can easily be on the losing side before they find the peak levels.
That's why friendlies are so important, it's great to get a few wins on the table to boost morale. For the first friendly game after coming back from the break.
The team will work on their fitness with the club for a few weeks and then face a friendly game. The first friendly game for the top team is against lower opposition, to gradually get back to normal.
Teams will have anywhere from 4 to 8 friendly games in the off-season. The last few friendly games will be against opposition that's of a similar ability.
Not only are friendly games for fitness, but they're also important to work on new tactics and positions.
Soccer Friendlies for New Players
Your club has just signed a new player, and you are desperate to see them in action.
The first opportunity to see them is a friendly game – how good are they? Where will they play?
Are a couple of many questions we have when a new signing comes along.
New players need time to adapt to the players around them. It will be a formation and system and friendly games are key to gel the players together.
There will be a standout player that won't need any time; they will look like they have been part of the team for a year – that's when you know you have a top player.  

Soccer Friendlies for Promotional Tours
The teams need to play friendly games, so many clubs combine the need for a trip to a different country, to visit fans abroad and promote the club to the international market.
It has become so common now that there are mini-tournaments around the world between the top teams.
For the MLS it can cause disruption, as their season is not the same as the European teams.
Every year teams want friendly games while the MLS is mid-season and there is a break.
In the normal schedule to compete in these games. It's welcomed by some who want to see their teams face the best competition, but it can also disrupt the rhythm of the season.

Soccer Friendlies for Testimonials
When a player has played for a team for ten years and more, most clubs like to have special games to celebrate their success and loyalty.
Ten years at the top as a pro player deserves a good send-off. It gives the club a chance to thank their player and it gives the fans a chance to say their goodbyes.
Soccer Friendlies for Charity Games
A friendly soccer game can be organized to raise money for a good cause.
Soccer has a role in society to be a good role modal, and with the amount of money in the game, it's a way for them to give back to a deserving need.
Soccer Aid – Exhibition Game
Friendly games don't need to be just for teams. Soccer Aid is a great example of the good that can be done in soccer.
Money is raised from these games and given to UNICEF, which helps disadvantaged children from around the world.
They have raised a total of 49 million dollars since they began!
The teams that play in these games are made up of current players, retired players, and even icons from the big screen. These games are truly friendly and there is joy in their game, with plenty of smiles.
Competitive games are great to watch, but it's nice to see the players uniting for a good cause.
Soccer Friendlies Overview
Soccer friendlies are vital to the game of soccer, they help teams prepare for the up and coming season. It allows for new players to be introduced into the team and they can also raise vast amounts of money for great causes. 
Without soccer friendlies the first few games of a season and tournament would be chaos – it also gives us soccer fans more games to watch!