A hat-trick is one of those holy-grail rights of passage for attacking players. Don't get me wrong, ANY player can score goals (and they do), but it's a lot easier to do when you're closer to the attacking goal most of the game. 
If you've never heard the term, you may be wondering exactly what a hat-trick is and why it's a big deal.
We'll give you all the details including:
How many goals equal a hat-trick
Where the term came from
Hat-trick FAQs and leaders
Keep reading to learn everything you need to about this important soccer term!
What Does the Term Hat Trick Mean in Soccer?
A hat trick occurs when a soccer player scores three goals in one game. The goals do not have to be consecutive to count as a hat-trick, they only need to be scored during one game.
The scoring of three goals in one game (as of hockey or soccer) by a single player.

Merriam-Webster Dictionary
Is It a Hattrick or Hat Trick?
You may see a soccer hat-trick spelled as either hattrick, hat-trick, or hat trick but which one is correct?
The term hat trick comes from cricket. In 1858, Bowler H.H. Stephenson scored the first-ever hat-trick, but in cricket. He scored three wickets at Hyde Park Cricket Grounds. In celebration of this, he was given a hat. 
The term later made its way to other sports, including ice hockey and soccer. There are several accepted variations of the term.
Perfect Hat-Trick
If a hat-trick is scoring three goals in one game, what is a super hat-trick? When a single player scores one goal with the right foot, one with the left, and one with the head, it's called a perfect hat-trick.
How Many Points is a Hat-Trick in Soccer?
All goals in soccer are worth one point, and a goal is the only way to score a point in soccer. The team with the most goals (or points) wins. Therefore, a hat-trick is worth three "points" in soccer.
Who Scored the First Hat-Trick?
As mentioned, Bowler H.H. Stephenson technically scored the first hat-trick, and it was in cricket. What about the first soccer hat-trick?
According to the Guinness World Records, Bert Patenaude was the first player to ever score a hat-trick in the 1930 World Cup. He was playing for the US in a game against Paraguay.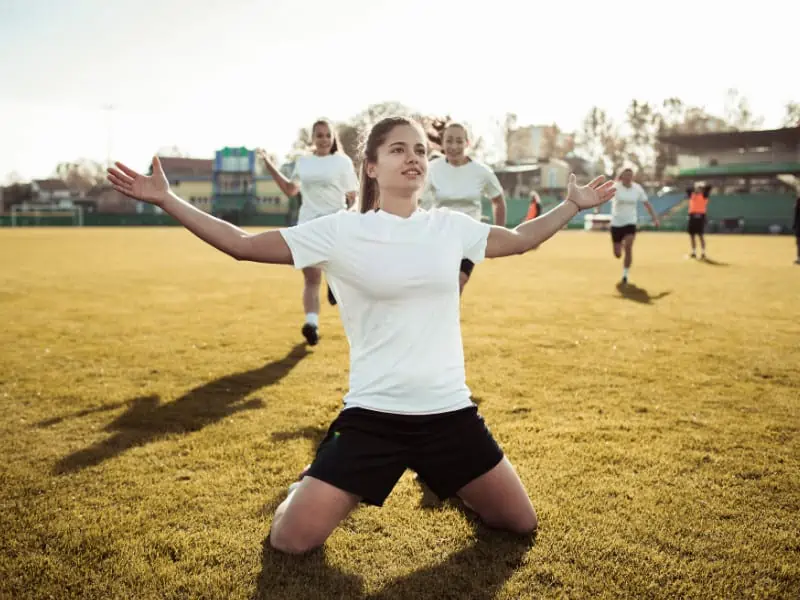 What is Better Than a Hat Trick?
A hat-trick is a great soccer achievement, but players can score even more than three goals per game. Scoring more than three goals per game would be better than a hat-trick.
One example is scoring four goals in a game.
What are 4 goals in soccer called?
The name for one player scoring four goals in one soccer game is called a super hat-trick. However, in some countries, it is called poker or a haul.
Double Hat-Trick in Soccer
A double hat-trick is when a single player scored two hat-tricks (or 6 total goals) in one game! As you can imagine, scoring a double hat-trick is extremely difficult and rare.
Very few players have scored a double hat-trick. According to a Sports Net article, the only four recorded players to score a double hat-trick are:
Johnnie Mullington
Andy Scott
Albert Valentine
Syd Carter
How Rare is a Hat-Trick in Soccer?
Overall, hat-tricks are fairly rare in soccer. This is especially true since soccer is a lower-scoring game compared to sports like basketball. For example, the average number of goals per game in the 2006 World Cup in Germany was only 2.3. There is only a 3.34% chance of a game having a hat-trick.
What Happens if Two Players Get a Hat-Trick?
Any number of players could score a hat-trick in a game. While it is rare for more than one to earn a hat trick, it's not impossible. 
Usually, a player who scores a hat-trick will get a match ball to keep as a symbol of their accomplishment. This can still happen if more than one player scores a goal, considering that there is more than one game ball.
Have There Ever Been 2 Hat-Tricks in One Game?
While two hat-tricks in one game may be rare, it has happened before.
One example was during the 1992-1993 Premier League season. Toque Stana Cruz of the Blackburn Rovers scored a hat-trick. Yet, Marcus Bent from the other team also scored a hat-trick that game. In the end, Wigan Athletic won 5-3.
Another game had two hat-tricks in May of 2003. In that game, Jermaine Pennant debuts for Arsenal and scored three goals. In that same game, teammate Rober Pires also scored three goals, for a 6-1 win.
How to Score a Hat-Trick in Soccer
Scoring a hat-trick is a pretty big achievement. Yet, many players have done so multiple times. What's the secret to scoring three goals in a game?
Here are some tips for scoring a hat-trick in soccer:
Practice Your Finishing
"Practice makes perfect" is not an overrated saying! It applies to every part of soccer, including goal scoring.
If you want to score a hat-trick, you need to practice your finishing.
This includes striking with your laces, finishing with the inside of your foot, hitting off a volley, and more. Work on finishing with different body parts and in different locations.
Confidence
Do you believe you can score a hat-trick? If not, then it probably won't happen. You need to be confident in your abilities.
Check out this quote from former a former professional midfielder:
I'm absolutely delighted. I looked in the mirror in the morning and told myself it was going to be my day, so to score a hat-trick was tremendous.

Paul Hartley, former Scottish player, and current manager
Take Your Chances
Clinical finishing is important, but so is taking your chances. If you want to score, you need to shoot and take opportunities on the net.
Get hungry for the goal! If you see a shot, take it. Follow up your team's shots, and be relentless in the box.
Who Has the Most Hat-Tricks in Soccer?
Several players are known for scoring hat tricks. Given the difficulty of this feat, that is quite impressive.
Here's a breakdown of the players with the most hat-tricks in soccer:
| | |
| --- | --- |
| Player Name | # of Hat-Tricks |
| Erin Helmchen | 141 |
| Pele | 92 |
| Lionel Messi | 55 |
| Christiano Ronaldo | 58 |
| Luis Suárez | 29 |
| Robert Lewandowski | 22 |
What is the Fastest Hat-Trick in Soccer?
In 1964, Tommy Ross scored the fastest hat-trick in soccer. He scored three goals in just 90 seconds. He scored for Ross County against Nairn County in Scotland.
Who Scored 3 Goals in 3 Minutes?
There are a few players who have scored 3 goals in under 3 minutes. One example is Jimmy O Connor scored 3 goals in under 2.5 minutes. He scored the goals against the Bohemians at Dalymount Park Dublin in the 1960s.
Watch the Shelbourne FC hat-trick for yourself on YouTube!
Who is the Youngest Player to Score a Hat-Trick in the Premier League?
At the ripe age of 18 years and 62 days old, Michael Owen scored a hat-trick in the Premier League for Liverpool. He holds the record for being the youngest player to net a hat-trick in the league, a record he set on February 14, 1998.
Did Ronaldo Score a Hat-Trick Against Barcelona?
Christiano Ronaldo is another highly talented and well-known player. He's had 34 hat-tricks for Real Madrid.
Many people wonder if he's ever scored a hat-trick vs La Liga powerhouse, Barcelona.
The answer is YES! In 2009, Ronaldo scored a hat-trick against Barcelona to lift Real Madrid to a 3-0 victory.
Who Has the Most La Liga Hat-Tricks?
Argentinian soccer star, Lionel Messi, has the most La Liga hat-tricks with 36. He played for FC Barcelona for nearly 13 years, from March 10, 2007, to February 22, 2020. He beat Christiano Ronaldo's former record of 34 hat-tricks in December 2019.
Messi Hat-Trick Facts
As the La Liga hat-trick leader, Messi knows a thing or two about scoring goals. Here are some interesting Messi hat-trick facts: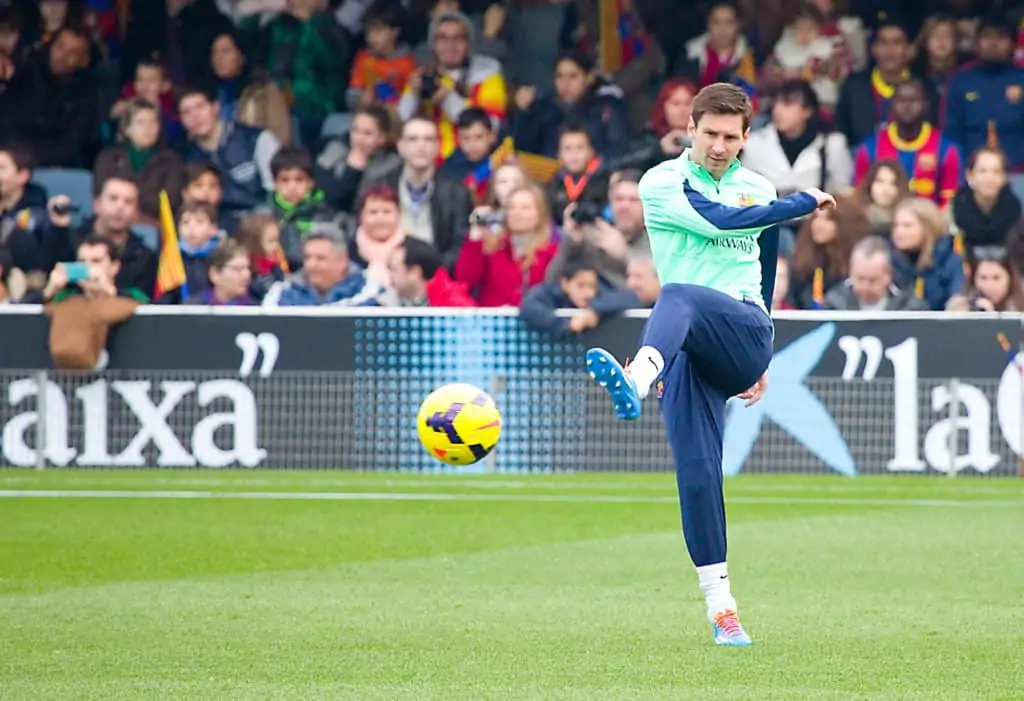 How Many Hat Tricks Has Messi Scored?
Messi has scored quite a few hat-tricks in his time as a professional. While Messi has scored 36 hat-tricks in La Liga, his total is actually 55 hat-tricks.
When Was Messi's's First Hat-Trick?
There's a good chance young Messi scored some hat-tricks in his youth career. However, In March 2007, Messi scored his first professional hat-trick for Barcelona at age 19. He netted three goals to earn an exciting draw with Real Madrid for his team in the Clasico.
Check out the throwback video from ESPN FC!
What is Messi's Fastest Hat-Trick?
Messi has scored the third-fastest hat-trick ever for FC Barcelona.
In March of 2015, Messi scored three goals in less than 12 minutes against Rayo Vallecano.
Another five minutes passed, just 12 since Messi's opener, and Pedro threaded a ball to him in the area. Somehow, the Argentinian waltzed through two defensive tackles at the same time before sitting Álvarez down and sliding the ball into an empty net for his fastest-ever hat-trick at Barca.

FC Barcelona
Does Messi Have a Perfect Hat-Trick?
As of right now, Messi does not have a perfect hat-trick recorded. This means he's not yet scored a hat-trick where one goal was right-footed, one left-footed, and the other a header.
However, he has scored an all weak-foot hat-trick, which is also quite impressive. In a 2014 Champions League game with APOEL, Messi scored all three goals with his non-dominant (right) foot!
Who Has More Hat-Tricks, Messi or Ronaldo?
Messi and Ronaldo have a tight competition when it comes to impressive career stats. When specifically looking at hat-tricks, the race is always close.
At times, Messi is ahead. Other times, like right now in the beginning of 2022, Ronaldo has more hat-tricks.
Currently, Messi has 55 hat-tricks while Ronaldo has 58!
Start Scoring!
A hat-trick is when a player scores three times in the same game. The term originated in cricket but is now used in several sports including soccer.
For such a generally low-scoring game like soccer, scoring three goals in one game as an individual is an impressive feat. It's one that takes practice, dedication, and commitment.
Several talented players have scored many hat-tricks in their careers. Some of the big names that come up time and time again are Messi and Ronaldo, both of which have over 50 career hat-tricks.
While hat-tricks are very exciting, they are far rarer than some of these top players make them seem! Keep this in mind as you sharpen your skills. 
Now that you know everything about the soccer hat-trick it's time to get to work perfecting your own!