Nike Tiempo soccer cleats are sportswear that Nike designed. The company targeted soccer players with the desire for a boot built for comfort and performance.
Nike Tiempo Cleats first appeared in the 1994 FIFA World Cup in the United States. After that, they have gradually become the boot of choice for many soccer players and fanatics.
They are some of the most comfortable and lightweight cleats on the market. In addition, they provide excellent traction for the ball.
This article broadly examines the Nike Tiempo Cleats, including the types and features. We'll also teach you how to take care of your pair of Nike Tiempo Cleats and introduce you to some players who have ricked these fantastic boots.
QUICK CHOICE – OUR TOP THREE
We also give you insights into the best positions to shine with these unique boots. Read on.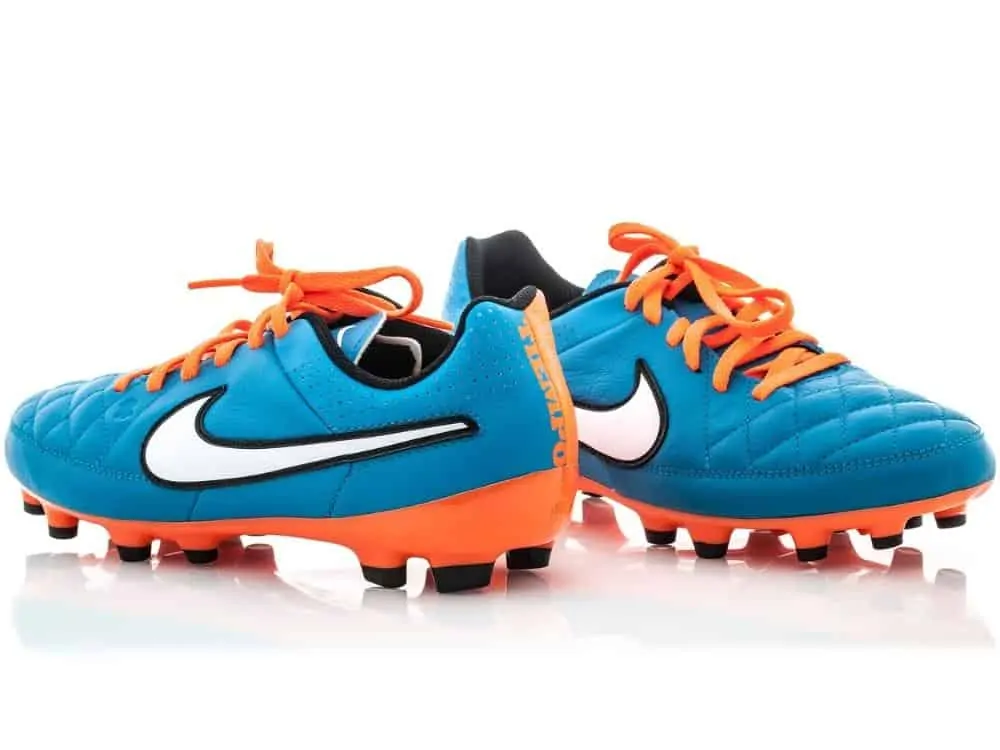 Why Are Nike Tiempo Cleats Good?
Tiempo boots are phenomenal. They incorporate nearly all of Nike's technology in line with soccer boots. To be the best fit, they have the FlyKnit technology.
In addition, the Quadfit technology enhances the out-of-box comfort and, finally, the soft kangaroo leather for better handling and longevity.
Pros
The Nike Tiempo cleats have a hyper-stability soleplate. It is a mix of bladed, conical, and chevron studs, providing players with an aggressive touch. This feature helps a player dig into the ground aggressively for acceleration.
The Tiempo Legend has a thin, embossed leather upper, giving the player a smooth and comfortable ride on the field. Its texture adds friction, grip, and control to the ball.
They also have rounded studs that ease maneuverability. The stud design is unique to provide extra stability on hard and soft ground pitches.
Cons
It focuses more on comfort around the pitch.
The upper material of the Nike Tiempo cleat is leather. The leather quickly absorbs moisture and can get saturated when excessively wet.
Top Choice Nike Tiempo Cleats – Legend 8 Academy MG
What Positions Are Nike Tiempo Cleats Good For?
The answer to which Tiempo boot is most suited for a soccer position is not as straightforward. Different factors play out in what kind of boot is suitable for a specific player.
These factors could range from playing style, players' feet, or preference for upper or fit.
But different Tiempo boots are designed to fit different positions on the field by being suitable for given playing styles. An essential quality of a good soccer boot is a comfortable fit on a player's foot.
Unfortunately, some have a wide or narrow fit. Therefore, paying attention to this and the correct size is essential.
Now let's look at several positions in soccer and the preferable Nike Tiempo boots to rock.
Defense
The defense player's primary aim is to prevent the opposition soccer players from attacking. The Nike Tiempo Legend is one of the lightest soccer cleats globally, allowing defenders to become more agile in getting into the positions and maintaining a clean sheet.
Famous and veteran soccer players such as Virgil Van Dijk and Gerard Pique are world-class defenders that wear the Nikes Tiempo Legend.
Midfield
Midfielders are known for their outstanding ball control and ability to launch leather attacks. Nike Tiempo Genio II is known to facilitate this move.
Nike Tiempo has evolved gradually and is widely known for its enhanced touch, control, and stability once it touches a soccer ball.
Tiempo's upper layer is vacuum pressed into an embossed quality shape that increases the ball's grip and accuracy.
The sole and stud placing enhance stability for hard and soft pitches, giving an easy ride for the box-to-box midfielder and supporting your ankles and Achilles while playing.
Ronaldinho is an iconic midfielder of his generation. During his career, the Brazilian wore Nike Tiempo Genio and always emulated a silky touch with the ball.
Attack
Tiempo is the boot for the undercover attacker, who sparks offense. The Nike Tiempo legend nine elite SG_Pro Ac has a low-profile design customized for attacking players.
The upper has raised textures backed by soft moisturized foam pods that aid in precision, dribbling, passing, attacking, and shooting the ball.
Some players wearing the shoe include Sergio Ramos and Jerome Boateng.
Goalkeeper
Nike Tiempo Legend IV SG Pro is specifically designed for goalkeepers. These boots focus on touch and comfort for powerful play on the field.
With goalkeepers being frequently used to start plays from the back, these boots are suitable. The studs have a good grip on the surface, and the fit is medium to wide.
Diego Lopez and Thibaut Courtois famously used them.
Soccer Players Who Wear Nike Tiempo Cleats
Famous soccer players have endorsed the Nike Tiempo cleats. Ronaldinho, Sergio Ramos, Carlos Puyol, Andrea Pirlo, and others.
Ronaldinho
He is a retired Brazilian soccer player. He is a 41-year-old midfielder who wears and endorses Nike Tiempo Legend soccer cleats. To celebrate the legendary status of Ronaldinho, Nike released Tiempo Ronaldinho 10R.
These boots came in classic blue or black and had a stitched leather upper. Later, a more advanced version was released, Ronaldinho 10R Tiempo Lunar Legend VII, but this version was a limited edition.
Both shoes had Lunarlon technology on the sole that provided bounce and enhanced comfort when one wore them. In addition, they're indoor and turf traction systems.
Sergio Ramos
Sergio Ramos Garcia is a Spanish soccer player who plays for Ligue 1 club Paris Saint Germain and the Spain national team. He plays as a center-back and is one of the best defenders.
Sergio Ramos is a legend of the soccer game. He has everything that makes him a legend. He is fast, strong, has massive lungs, is a fighter, and is a good defender at scoring.
Nike made the Nike Tiempo Legend VII SE in his honor to celebrate him as a legend.
These Nike Tiempo's offer a great fit that enables players to maintain a consistent touch. They have a water-resistant kangaroo leather upper and a midfoot cage that delivers a stable fit.
Carlos Puyol
FC Barcelona legend Carles Puyol has lifted more titles than any Barcelona captain. He has won six Leagues, two Copa del Rey, two World Club Cups, and two European and six Spanish Super cups.
In late 2008, he switched from Nike Total to Nike Tiempo soccer cleats. He became the face of the cleats.
While donning this soccer cleat, he won two championship titles; One Euro championship, one World Cup, and numerous Spanish titles and leagues.
Puyol made his last match for Barcelona in 2014 wearing Nike Tiempo Legend V soccer cleats.
Virgil van Dijk
Vigil is an Italian professional soccer player who plays as a center-back for Premier League Club Liverpool and the Netherlands National team. He is exceptionally known for his aerial ability, strength, and leadership when he touches the ball.
He is the only defender to win the UEFA Men's Player of the Year in August 2019 and has finished runner-up for the Ballon D'Or and best Men's FIFA Player of 2019/20 season.
He wore Nike Tiempo Legend 9 cleats in 2021-2022 soccer.
What Types of Nike Tiempo Are There?
Nike debuted in the 1994 FIFA World Cup in the United States. Nike supplied the ten players in the final match between Italy and Brazil with soccer cleats. Later that year, Nike released the first Nike cleats commercially.
We shall dig deeper into history, how the boots have evolved, and the milestones they have achieved.
Nike Tiempo cleats are some of the most lightweight, comfortable, and best-fit cleats. They have remarkable traction, and you can accelerate and stop instantly, even on muddy fields.
Nike Tiempo Silo Cleat
Nike Silo cleat first came out in 2005. It weighed 330 grams, and famous soccer players such as Ruud Van, Nistelrooy, Ronaldinho, Andrea Pirlo, and Cesc Fabregas wore the shoe.
The Silo has a soft kangaroo leather upper that provides a good touch with the ball and a good fit. It also has Nike zoom Air technology.
No Longer Available
Nike Tiempo Air Legend 1
Nike updated Tiempo Air Legend 1 from its previous predecessor in 2007. Amazingly, 15 grams were removed and now weighs 315 grams. In addition, the heel counter is internal to help lower the overall weight.
Players such as Pirlo, Fabregas, and Teves donned boots.
No Longer Available
Nike Tiempo Air Legend 3
An update came for Tiempo collection in 2009. The boot now weighs an astonishing 304 grams.
Nike Tiempo Air Legend 3 added a new pattern to improve the fit. Furthermore, split the sole into two, which created more space for leather to fit.
No Longer Available
Nike Tiempo Legend III Elite
In the 2010 World Cup, Nike launched an update. The Tiempo Legend III Elite just weighed 245 grams. The weight reduction settled the demand of soccer players who felt the previous cleat models were too heavy.
The soccer cleat had a carbon sole that helped keep the weight down. Interestingly Nike changed from leather and went for synthetic materials.
No Longer Available
Tiempo Legend IV
Nike brought the Tiempo Legend IV to the market in 2011. It weighed 268 grams. Though not the lightest, it is considered relatively lighter than previous makes.
The cleat had added ACC technology, providing better ball control in various weather conditions.
Tiempo Legend VII
Tiempo Legend VIII
Nike Tiempo Legend IX Elite
Nile Tiempo Legend IX Elite is renowned for its super responsiveness and accuracy in touch with the ball. Its main aim was to provide control over overall weather conditions.
It also features Nike's Patented Control systems that maximize response when changing the ball's direction.
It also features 13 studs. 4 studs on the rear with blades for an aggressive bite, six are rounded for quick rotation, and three others for extra sharpness and reaction on the pitch.
What Are the Best Nike Tiempo Cleats?
I would go for Nike Tiempo Legend 9 SG-Pro. This Tiempo range is the lightest boot of the modern days.
It has studs on the bottom that have massive power through the wet field and Anti-clog traction on the sole plates that prevent mud from sticking.
Good Features of Nike Tiempo
Nike has invested in its technology. This technology has been vital in the development of the Tiempo cleat. These technologies manifest in the boot as better cushioning, waterproof capability, fit, and lightweight.
Do Nike Tiempo Cleats Cushion?
Yes. Tiempo cleats have excellent cushioning on the forefoot. They have extra padding inside the heel area that aids in cushioning and keeps the foot locked in.
Additionally, memory foam is inserted on the upper inside, providing an extra cushioning layer and making the boot more comfortable.
Is Nike Tiempo Leather?
Most Tiempo's range has the outermost skin made with a premium kangaroo leather upper for instant comfort, flexibility, and touch.
However, the rest of the shoe is knit. Kangaroo leather is preferred and considered the best material because of its flexibility and soft nature.
Is Nike Tiempo Waterproof?
No. Its upper is leather. The leather absorbs water and moisture due to its porous nature. As a result, when the soccer cleats dry, they become hard and dry, making the shoe lose its supple texture.
However, the Elite version of the Legend III used a material called Kanga-Lite. This water-resistant synthetic material made the soccer cleat maintain its performance and condition in all weather conditions.
How much does Nike Tiempo weigh?
The newest Nike Tiempo Legend 9 is very light. It weighs approximately 207 grams. In addition, its soleplate was redesigned and the upper refined, reducing the weight of the Tiempo 8's 228 grams down to 207 grams.
How Do Nike Tiempo Cleats Fit?
Nike Tiempo cleats fit excellently, giving one a good touch and feel on the ball.
How Do You Wear Nike Tiempo Cleats?
Loosen the laces.
Use both hands to stretch the back of the shoe all the way. Stretch the upper collar extension to slide in easily so the food can slide in. Don't jam your foot on the soccer cleat.
Once they are inside, adjust the collar and tie the laces well.
Is Nike Tiempo Comfortable?
Nike Tiempo is comfortable, and they fit all sizes comfortably. Nike Tiempos are durable soft leather and balance reliability, flair, and comfort.
Is Nike Tiempo True to Size?
Nike Tiempo is true to size. In addition, Nike Tiempo is regarded as one of the best-fitting soccer cleats, providing excellent comfort and stability.
They fit true to size. Nike Tiempo usually runs narrowly around the mid-foot. The good thing is that they are wide around the toes due to the bulky soleplate.
Do Nike Tiempo Cleats Stretch?
Yes, Tiempo stretches. Nike Tiempos stretch naturally with wear. In addition, the upper becomes softer as the boot expands.
Are Nike Tiempo Cleats Good for Wide Feet?
Yes. Tiempo Legend 9 is suitable for players with broad feet. It features a meshed tongue on the arch and has enough stretch for opening.
What Size of Nike Tiempo Cleats Should I Get?
Nike Tiempos are true to size; hence you should get the size that fits you. They, however, run narrow midfoot and are wide in the toe area because of a bulkier soleplate. Amazingly, it does not feel like that.
How to Break in Nike Tiempo Cleats?
Nike Tiempo uses softer synthetic materials that do not lead to foot injuries. Due to these advancements, they do not need an extensive break-in. However, it is always important to break in before playing with them for exemplary performance.
Wear comfortable socks and wear your new boots. Let them settle for approximately 20 minutes—the foot molds around the feet. Then, walk with them around the house to aid in the shoe loosening up.
If you form sores, apply petroleum jelly and leave them to absorb, which helps relieve pressure and ensure the tight areas have broken in before match day.
How to Clean Nike Tiempo Cleats
Cleaning Nike Tiempo cleats will ensure the durability of the shoe. Hence, it is essential to know how to clean it.
Can You Wash Tiempo Cleats?
Yes, it would be best if you cleaned your cleats.
Immediately after the game, loosen the laces to allow airflow.
Knock the boots against each other, sole facing sole, to remove dried mud and grass as much as possible.
If they have removable insoles and laces, hand-wash them or use a washing machine and hang them to dry.
Use a toothbrush and soft-bristle brushes to clean between the studs and seams. It helps loosen and remove dirt and the remaining bits of mud.
Take a clean, slightly soapy cloth and wipe off the Nike Tiempo cleat. Additionally, wipe the soles clean using a paper towel. The paper towel helps gather the remaining debris and allows your finger to reach between the spikes.
Sprinkle a tablespoon of bicarbonate soda to neutralize the offensive smell of smelly boots.
Can You Put Nike Tiempo Cleats in the Washing Machine?
No. Please do not put Nike Tiempo's in a washing machine unless the care label states it is okay. Washing Nike Tiempo this way makes them degrade very fast. The Flyknit could be ruined with the first wash.
How Do You Dry Nike Tiempo Cleats?
Remove the insoles and hang them separately.
Stuff them with old newspaper gently inside. Stuffing newspapers helps absorb excess moisture and maintain the shape of the shoe.
Dry them in a shaded area with natural light. Direct sunlight may dry the kangaroo leather on the upper outside, which leads to cracking that eventually shortens the cleats' lifespan.
Once fully dry, add a gentle amount of leather restoration to extend their life and maintain the shiny look.
Can You Put Nike Tiempo Cleats in the Dryer?
No. Do not throw Nike Tiempo soccer cleats in a dryer. Unnatural source of heat guarantees to ruin the cleats.
Nike Tiempo Soccer Cleats FAQ
Although most of the information is in the article, here is some additional information you might want to know about Nike Tiempo cleats.
When Did Nike Tiempo Cleats Come Out?
Nike Tiempo cleats debuted in 1994 during the World Cup USA.
How Can You Tell A Fake Nike Tiempo Cleat?
1. Many Nike Tiempo cleats fanatics have fallen prey to counterfeits. You will learn how you can spot a fake Tiempo instantly.
2. Nike Tiempo has a small indented outline, whereas a phony pair does not have an extensive swoosh outline.
3. The left soccer cleat of the Tiempo IV is written TIEMPO on the sole. Authentic cleats have 'T' at the start, with a small space between the top of the 'T' and the stud. Interestingly the bottom of the 'T' goes through the stud. A fake pair has the 'T' right in the middle of the boot and is usually on either side.
How Long Does Nike Tiempo Cleat Last?
Nike Tiempo cleats are for durability. Although durability depends on the shoe's amount of use and care, on average, a good Tiempo can last up to 6 months, assuming maximum utilization.