Reading Time:
8
minutes
As a defender, earning a clean sheet is a primary objective of mine each and every game. While I don't typically impact scoring goals, I can play a pretty significant role in preventing them.
If you're still wondering "what is a clean sheet in soccer?" you've come to the right place. A clean sheet is all about keeping the other team from scoring.
Today, we'll dive deeper into the idea of a clean sheet in soccer, reviewing the following:
Defining a clean sheet
Origins of the term
Why a clean sheet matters in soccer
How to achieve a clean sheet
Read on to learn all about what a clean sheet is and how to set your team up to earn them!
What Does Clean Sheet Mean in Soccer?
Whenever a team gives up 0 goals in a game, they have kept a clean sheet. So, a clean sheet in soccer is about shutting out the other team. Another name for a clean sheet is a "shutout."
examples of a clean sheet in soccer
There are many examples of clean sheets in soccer. First, let's review a couple of generic examples:
2-1. 2 for Team A and 1 for Team B. Team A won the game in this scenario, but neither team kept a clean sheet.
1-0. 1 for Team A and 0 for Team B. In this case, Team A won and Team A kept a clean sheet.
0-0. Both teams kept a clean sheet. Learn more in the next section.
In the 2019 Women's World Cup Final, the USWNT kept a clean sheet in its 2-0 victory against the Netherlands! This is just one example of a big clean sheet in soccer.
Is 0-0 A Clean Sheet
You do not need to win to earn a clean sheet, you must only prevent the other team from scoring. A 0-0 draw is still considered a clean sheet.
Winning the game does not guarantee a clean sheet either. If you win but allow the other team to score a goal, you will not have earned a clean sheet.
The same is true for tied games. You did not earn a clean sheet if you tie the game by a score other than 0-0.
In fact, a 0-0 draw is a clean sheet for both teams.
Difference between a clean sheet and a win to nil?
There's a difference between a clean sheet and a Win to Nil regarding sports betting. Win to Nil betting includes two separate bets, one on the team that will win and one on the team that will not score.
To win the Win to Nil bet, you must win both parts of the bet. On the other hand, you only bet on which team will not score with clean sheet betting. A 0-0 draw wins a clean sheet bet, but not a Win to Nil bet.
what is a clean sheet in FIFA?
A clean sheet in FIFA is the same as in a real soccer game. A team earns a clean sheet when they prevent the opposition from scoring. A clean sheet in FIFA is great for your team (and bragging rights).
Why is it Called a Clean Sheet?
While there is not a clear outline of how this term came to be, it's believed to be from the 1930s. Back then, scores were tracked on physical paper. The sheet remained unmarked, or "clean" when a team failed to score.
One idea is that this name could have come about because different statistics were recorded on different pieces of paper. "Goals" were marked on one piece, and if the team did not score then the sheet was empty, or "clean."
Interestingly, this term is more often used in the United States, and not as common in the U.K.
What is the purpose of a clean sheet?
The ultimate objective in soccer is to win, to score more goals than your opponent. While you can win the game without a clean sheet, a clean sheet often plays a big role in winning.
Soccer is known to be a low-scoring game. Especially at high levels, each game tends to have fairly few goals.
With so few goals being scored, the best way to set your team up for success is by shutting out the other team.
When you earn a clean sheet, you can win a game with only one goal. However, if you concede goals, then you only have to do that much more to win.
Furthermore, earning a clean sheet also guarantees your team at least one point. If the opponent does not score, then they cannot win. This means you either tied or won the game, which means you earned either one or three points.
How Do You Use a Clean Sheet?
There are many ways a clean sheet is used in soccer. Throughout a season or tournament, several statistics are tracked.
These include the goals for, goals against, goals conceded per game, goals scored per game, total points, etc.
Clean sheets may also be used for awards. When considering attacking players for recognition, voters heavily rely on goals scored and assists.
For goalkeepers and defenders, the number of shutouts is a big statistic.
Who has the Most "Clean sheets" in soccer history?
With 460, the goalkeeper with the most "clean sheets" in soccer history is Ray Clemence.
Ray Clemense is without a doubt the greatest goalkeeper ever to play for Liverpool. [he] displayed a level of consistency that no Reds' keeper has since been able to match.

Liverpool FC
Ray Clemence played for Liverpool FC, and made a whopping 665 appearances in his career!
Regarding women's soccer, Hope Solo was one of the best. The former U.S. national team GK holds the U.S. record for the most career clean sheets with 102.
clean sheet And goalkeeper
When we talk about clean sheets, goalkeepers quickly enter the mix. Why are goalkeepers so intertwined with clean sheets?
Just as it's the strikers' job to score goals, it's the goalkeeper's job to prevent them. Along with saves/save percentage, clean sheets are one of the top statistics for goalkeepers.
As a goalkeeper, clean sheets are your target. Team wins are great but especially satisfying when they involve thwarting the opponent entirely.
While goalkeepers undoubtedly deserve to carry this great statistic by their name, defenders should also. Unfortunately, defenders are rarely credited with shutouts.
Clean sheet statistics are often only connected with goalkeepers, and sometimes with teams overall.
clean sheets in The premier league
The Premier League tracks clean sheets. You can view the Clean Sheet rankings on their website. Amid the 2021 season, the top three clean sheet leaders are Chelsea, Liverpool, and Manchester City with 7, 6, and 6 clean sheets respectively.
Since the beginning of the Premier League in 1992, 16 goalkeepers have earned over 100 clean sheets.
One memorable goalkeeper, who now has over 200 clean sheets, is Petr Čech. He earned 100 clean sheets in the fewest games and holds the record for the most in one season (24).
Who will keep a clean sheet?
Keeping a clean sheet in soccer is a team effort. Everyone has to work together to keep a clean sheet.
When it comes to earning a shutout, of course, the goalkeeper and defenders play a huge role. Their primary purpose is to prevent goal scoring.
Without a doubt, defensive or goalkeeping errors can lead to conceding a goal. However, it is not only the defenders and goalkeepers who will keep a clean sheet.
To earn a clean sheet, the entire team, from the goalkeeper all the way to the striker, must commit to defending as a unit.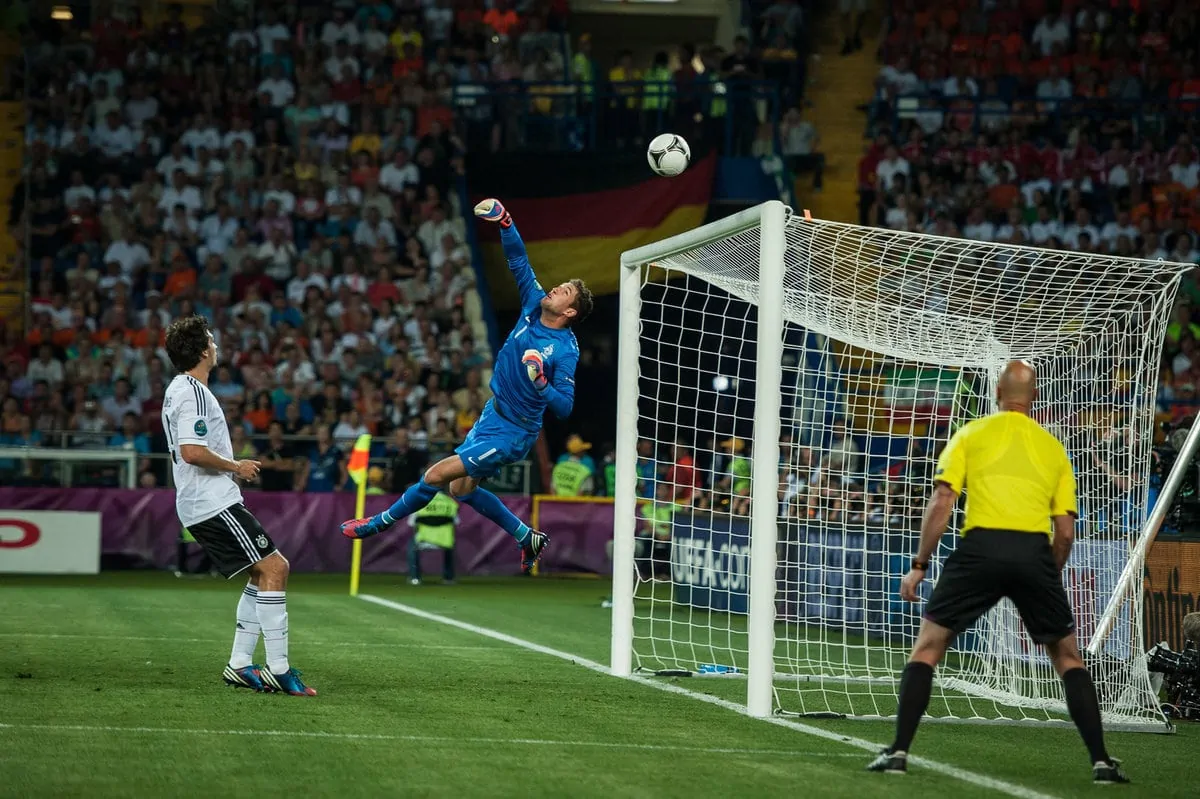 How to keep a clean sheet?
Keeping a clean sheet is plausible, but it requires team dedication. The following strategies can help your team earn a clean sheet:
Preparation and Scouting
Heading into the game, your team needs to know which forwards to watch out for, any unique set pieces from the other team, and other information to prepare.
Scouting the other team is a great way to discover everything your team needs to know to shut them out. Scout the team by watching games in person or on video. You can also trade scouting reports with other coaches.
This can help guide your preparation and ensure everyone is ready for the game defensively.
Goalkeeper Training
Goalkeepers play a huge role in shutouts, so it's important they have all the fundamentals down.
Your goalkeeper should receive dedicated goalkeeper training by an expert in the position. They can work on positioning, handling, jumps, and more.
Proper Equipment
All players should have the right footwear and equipment for the field material and conditions. Wearing the right shoes ensures proper traction and prevents injury, both of which are crucial for playing your best.
Two soccer shoes to consider are turf shoes and metal studs for soft ground. We recommend checking out the Adidas X Tango Turf Shoes and the Nike Tiempo Legacy Soft Ground cleats.
Nike Legend 8 Club Men's Firm Ground Soccer Cleats…
Soft synthetic leather consists of a molded diamond texture.
Leather is as thin as possible for a natural feel and ball…
For use on short-grass or artificial surfaces
Textured synthetic leather and add a versatile multi-ground…
adidas Men's X Tango 18.3 Indoor Soccer Shoe,…
Low-cut silhouette with signature Clawcollar shape locks…
Match-long comfort and a true touch from a lightweight,…
Sock-like construction hugs the foot
Lightweight outsole perforated for pure acceleration on…
1v1 Defending
Tight 1v1 defending is essential for shutouts. All defenders, and the GK, must be dominant in 1v1 situations.
Practice many different 1v1 variations in training. For example, have players practice defending in the center of the field, in the width, vs a player on the dribble and off of crosses.
Team Defending
Aside from individual defending, team defending is also imperative. Every player in every position should understand their role defensively.
Break down a team defending with different positions and different situations. Focus on concepts like pressure cover, spacing, timing, and more.
Communicate
No matter how well you train your team, players are not perfect. The game is not perfect. That's why communication is imperative.
To earn a shutout, the team must play together. They must adjust on the fly and have each other's backs. Communication ensures this level of teamwork.
Emphasize clear, directive communication. This is what will save your team in tough moments, helping them keep the opponents from scoring.
Resilience
Even in a game with a clean sheet, there will be close calls. Your team must be resilient, able to bounce back, and stay focused no matter what.
Resilience will help you earn a clean sheet, but it will also help you bounce back if you concede a goal.
The bottom line is that clean sheets are essential in soccer, they mean you prevented the opponent from scoring and earned at least one point.
However, clean sheets are not the end-all-be-all. It's just as important that a team can respond after conceding and still walk away with a result.
The tips above can put your team in a position to earn a clean sheet, but they can also prepare you to play your best in any challenging game, no matter the score.







Joel is a seasoned soccer journalist and analyst with many years of experience in the field. Joel specializes in game analysis, player profiles, transfer news, and has a keen eye for the tactical nuances of the game. He played at various levels in the game and coached teams - he is happy to share his insight with you.