Looking for cool and creative senior soccer picture ideas to show off on social media? We've got you covered!
Through this guide, in addition to presenting you with the top 12 soccer senior picture ideas, we will also be showing you how to bring these ideas to life by posing correctly and taking the photos from the right angles.
Let's take a look at some fun picture ideas for seniors.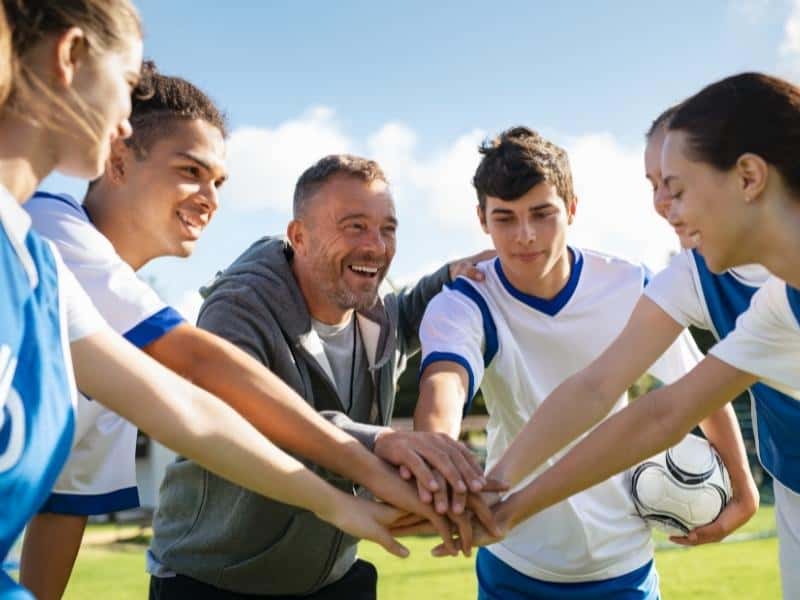 The Squatting Shot
This one is a classic, and we see professional soccer players do it all the time. Start off by placing a soccer ball in front of you, then squat while touching the ground with your toes only (as much as you can).
Position one of your elbows on one leg and relax that same hand. Now, just place the opposite hand on the ball in front of you, and smile for the camera. 
And voila! A seemingly professional soccer senior picture!  
Ball on the Head
Ah, the classic, picture of you with a soccer ball on top of your head… It's basic, but it works. There are many possibilities for this pose. 
After placing the ball on your head, you can smile, pretend to be flying with your hands, make a heart symbol around the ball with your arms, or you can even make up your own silly or creative pose. Basically, anything will work if you have a ball on top of your head!
One Foot on The Ball
Another basic yet timeless pose is to place the soccer ball on the ground and put one foot on top of it. You can either place your foot square so it's pointed towards the camera or place it at an angle. 
If you're a woman and like to take unique soccer shots, you can try out this position while wearing high heels instead of cleats.
Ball on The Head With a Twist
For this one, lie flat on your back on the soccer field, and position the soccer ball on the bridge of your nose (the curve between your nose and forehead) to make sure it stays still for a good shot.
Also, we recommend you ask whoever is taking the picture of you to only show your head and parts of your hair and neck.
Don't forget to smile or otherwise, it would look pretty creepy!
Pillow Soccer Ball Shot
You want to do exactly what you did in the previous pose, but instead of placing it on top of your head, use it as a pillow and lie down with your head on it. You can do whatever you think looks cool with your hands.
You can also choose to look directly at the camera or just pretend it's not there and look up at the sky.
The Spontaneous Shot
Try to break the pattern, and instead of posing for a picture, just play soccer as you normally would, and ask someone to take multiple pictures of you while you play.
You'll probably end up with multiple shots, many of which will not necessarily look the best, but you'll surely find at least one great shot among them.
The great thing about this kind of picture is that it looks natural and cool, which may well make it stand out among the other pictures of your teammates!
Hold the Ball Under Your Arm
This one is particularly great for goalkeepers. Stand in front of the goal and hold the soccer ball against your side with your arm. Pretend to be looking at something far away while tilting your head up a little bit. Make sure to have your goalie gloves on for a better shot.
This picture is better taken when the camera is low and pointed up at you, so the photographer may need to squat and get in all kinds of crazy positions to get a decent shot! 
Goalkeeper Cage
Another great pose for goalkeepers is to stand inside the goal with your face facing the net, cross your hands and hang both of your hands above your head from the holes in the net.
You're free to smile or to show a serious face, it's a cool shot either way!
Push-ups on Soccer Ball
If you're one of those people who like to flex their muscles in cool shots, you can place two soccer balls on the field, place one of your hands on each ball, and pretend to be doing push-ups!
The Whole Team Picture
A picture of the whole soccer team with the coach is a must in your soccer senior picture collection. Do it the professional way and place your teammates in two rows – one row on their knees in the front and the other row standing behind them so that everyone is visible. 
Make sure to ask the person taking the picture to ensure that all of the faces are clear in the camera. Nothing is sadder than a good picture with blurry faces! 
Document Your Field
What makes soccer special is that it can be played in a lot of different places like stadiums, sports grounds, closed rooms, open fields, or even streets!
So, whatever your soccer field is, you want to keep those memories by taking a good picture of the place you play soccer in.
Also, take some pictures of details like a ball, net, terrain, equipment, etc. These pictures can show the atmosphere of your field to other people.
Think Outside the Box
Soccer senior pictures don't just have to be taken on the field. You can literally take them anywhere you want, provided it's legal to take pictures there! 
You and your teammates can dress in your soccer jerseys or in any outfits you want and get outside of the soccer field to experience new places. You can take shots with your teammates outside of the field or even take shots with your other friends.
You can also strike funny poses in front of the field with your teammates, just whatever expresses your own unique thoughts and personalities!