Soccer is the most popular sport on planet Earth. With somewhere between 3.5 and 4 billion people worldwide claiming to be fans of the beautiful game, soccer is head and shoulders above all other sports in its following.
Did you watch the 2018 World Cup Final between France and Croatia?
If you did, you're one of 3.5 billion who tuned in! Half of the world's population witnessed France lift the trophy that year.
Where is soccer most popular?
By the number of fans, soccer is most popular in China, with 187 million people reported to have an interest in the sport. The country that's the greatest percentage number interest in soccer is The United Arab Emirates!
However, the sheer amount of fans does not fairly reflect the popularity of a sport in an area.
Intangibles such as overall interest, attitudes, passion, and the relationship between fans and their teams have more influence.
As the late Bill Shankly once said:
"Some people think football is a matter of life and death. I don't like that attitude. I can assure them it's much more serious than that."

Bill Shankley – Liverpool FC Manager
how many people play soccer
Not only is soccer the world's most popular sport among fans, but it's also the most played sport in the world. Although it's impossible to get exact figures on sports participation,
FIFA estimates that 270 million people are officially involved in the sport to some degree.
This estimation is taken from players and referees that are registered for leagues around the world.
It doesn't even include those who go for a kickabout with their friends in the park. Unlike many other sports, soccer's popularity is apparent on a global scale.
While American football, baseball, cricket, and Australian rules football are examples of popular sports, they're played predominantly in specific areas of the world.
Soccer is played in over 200 countries.
Besides, in North America, soccer is virtually the most popular sport on every continent. We now know that soccer is the most popular sport on a global scale, but what does this mean?
Does this mean that you're in Tokyo, Mexico City, or somewhere in between, and you're in danger of getting hit by a stray soccer ball as you turn a street corner?
Not quite! However, it does mean that there are some soccer-obsessed places where the game is part and parcel of life.
With this in mind, let's look at some of the most popular places where soccer is played, watched, and adored.

Most Fans
As we discussed earlier, China, due to the enormity of its population, has the most soccer fans in the world. India is not far behind, with 125 million fans.
Although we shouldn't doubt that soccer is hugely popular in these countries, the quantity of fans in an area doesn't tell the full story.
Soccer is not the most popular sport in either of these nations.
A World Soccer Report by Nielsen Sports in 2018 looked into the percentages of countries' populations that claimed to be "interested" or "very interested" in soccer.
Most people could predict many of the countries that appear high on the list, but there are several that may surprise you:
| | |
| --- | --- |
| Location | Population "Interested" or "Very Interested" in Soccer |
| United Arab Emirates | 80% |
| Thailand | 78% |
| Chile | 75% |
| Portugal | 75% |
| Turkey | 75% |
| Mexico | 73% |
| Spain | 70% |
| South Africa | 70% |
| Italy | 67% |
| Poland | 67% |
| South Korea | 67% |
| Malaysia | 65% |
| Brazil | 60% |
| Germany | 60% |
| Hungary | 54% |
| Russia | 52% |
| The U.K. | 51% |
| France | 50% |
| Czech Republic | 50% |
| Singapore | 49% |
Soccer interest statistics | Courtesy of Nielsen Sports
Where is Soccer Most Popular?
The United Arab Emirates
Not known for being a dominant force in soccer, U.A.E is the shock table topper on this fan list. With a single World Cup appearance (in which they failed to win a game) and little to no notable success as an international side.
You may be wondering how the people of the U.A.E have such a strong interest in soccer. Upon further examination, it all makes sense.
The U.A.E is in the top 5 richest countries in the world. There has been significant investment recently by local governments and companies in the sport of soccer.
The U.A.E is home to airlines Etihad and Emirates (Manchester City and Arsenal).
These companies are major sponsors of European soccer. Sheikh Mansour is a well-known member of the Abu Dhabi royal family and government.
He owns City Football Group, a holding company that administrates soccer franchises. It just so happens that this company owns Manchester City.
The international soccer team played its first game in 1972, just 4 years after the union of the U.A.E. It might just be the beginning for this young nation as an international soccer stronghold.

Thailand
Another shock inclusion at the top of this list is Thailand, a soccer-crazy nation. With 78% of the population reported to be "interested", soccer is Thailand's most popular sport.
Thailand has been a member of FIFA since 1925, The Olympics since 1956, and The Asian Football Confederation since 1957.
Its history is steeped in soccer. Although the Thai national team is the most successful in South East Asian history, they've failed to make an impact on the bigger stage.
Their best finish in the AFC Asian Cup was 3rd (1972), and they've never qualified for a World Cup.

Their Pro Leagues have only been around since 1996, so the game is still developing professionally. Thai League 1 ranks 8, behind the U.A.E in the Asian club league rankings.
There is widespread TV access to some bigger global soccer leagues, particularly the English Premier League.
Almost every game of the World Cup is also broadcast on Thai TV channels.
Thailand might not be a powerhouse in world soccer terms, but it stands alongside any other nation in its fans and followers of the sport.
Predictable Popularity
Apart from the top 2, the rest of the list is quite predictable. Soccer is the national sport of Chile and the majority of the Americas. It's no surprise to see any of these nations high on the list.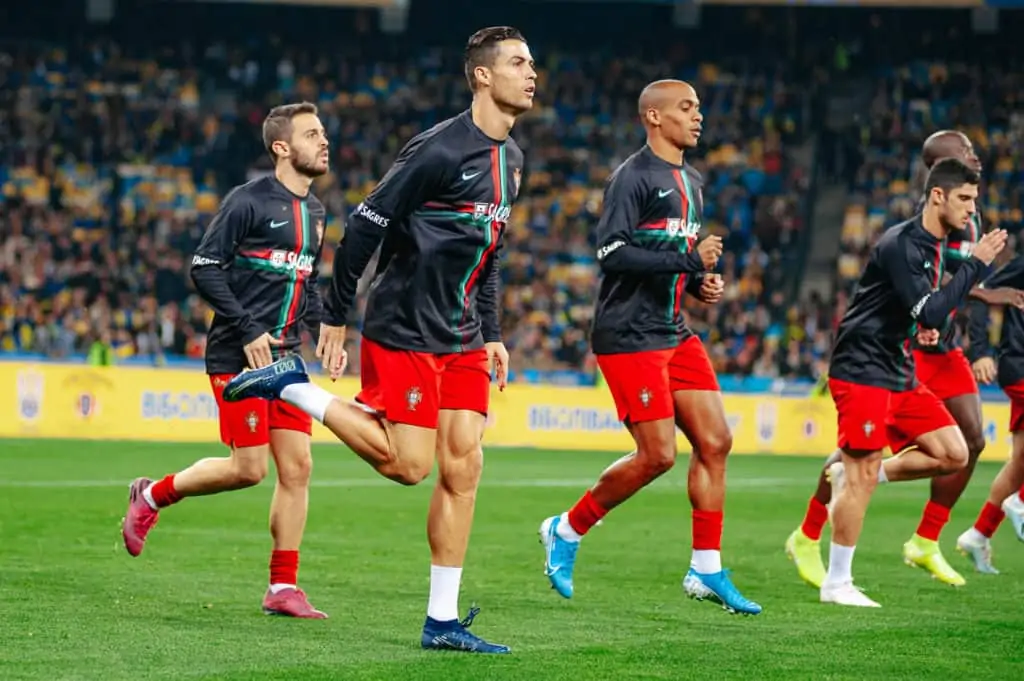 Portugal
Portugal has been a considerable force in European football on a National and club level for decades. They've had a strong National team for the best part of 50 years and have produced world-class players such as;
Eusebio
Luis Figo
Rui Costa
Cristiano Ronaldo
In general, Portugal is very competitive in all competitions. Although, some would argue that they've underachieved in international competitions over the past 20 years, given the level of talent that their squads have possessed.
Their notably high position on the "interest" table is most likely due to their Euro 2016 triumph, as well as capturing the first-ever UEFA Nations League Cup in 2019.
Cristiano Ronaldo is perhaps the biggest superstar in the history of world soccer. He captains the national team and has always excelled in playing for his country.
Ronaldo's star power may significantly influence interest in soccer in Portugal.
2018 World Cup Finalists
We expect to see the likes of France and Croatia on the places where soccer is most popular, but it is a surprise to see how far down the list they're.
Surprisingly, we're far removed from a thrilling World Cup Final between these two nations. 
Both countries have exceptional National teams, with major superstars who play for some of the world's top teams.
With some of the world's greatest players like;
Luka Modric
Ivan Rakitic
Mateo Kovacic
Paul Pogba
Antoine Griezmann
Kylian Mbappe
Raphael Varane
The list goes on and on! They also have substantial domestic leagues, filled with teams that compete at the highest level in Europe.

The U.K.
Again, it's not surprising to see the U.K. in the above list, but at number 17 it's probably further down than you may have guessed. Looked at by many as the home of soccer, the U.K. remains a giant in the game.
Although the England national team hasn't won a competition since 1966, they consistently qualify for major tournaments.
Domestic soccer leagues in the U.K. have never been bigger. The English Premier League recently sold its broadcasting rights for the 2019 – 2022 cycle for a record $11.7 billion.
Perhaps the enormity of British football is partially due to the overseas demand for the Premier League.
Soccers Increasing Popularity
The statistics show that certain areas demonstrate a large potential for growth regarding the popularity of soccer: China, India, Russia, Mexico, and the U.S.A.
China
Interestingly the origins of soccer date back to China over 2,000 years ago. Today, it's the most populated country in the world and holds the most soccer fans (187 million).
China's booming economy has allowed for much investment to be poured into the sport of soccer. In particular, their domestic league has seen enormous sums of money invested.
This has led to several high-profile players signing for Chinese franchises.
Top foreign soccer players in the Chinese Super League;
Carlos Tevez
Axel Witsel
Marouane Fellaini
Hulk
Paulinho
Ramires
Yannick Carrasco
Many of these players earn huge wages but have drawn many eyes and helped grow the sport in China.
China's current president, Xi Jinping, is a soccer fan, and his ambitions to host the World Cup shortly could see further investment and growth in soccer in China.
India
Much like China, India's population is home to the world's second-largest number of soccer fans (125 million).
Although it plays second-fiddle to cricket, the popularity of soccer has been gaining significant ground in recent years.
The Indian Super League was founded in 2013 in partnership with entertainment juggernauts IMG, Reliance Industries, and Star Sports.
With access to broadcasting networks and promotional tools, the introduction of this league has been a huge driver for growth in Indian soccer.
It may overtake cricket as the most popular sport in the coming years.
Russia
Soccer has always been a popular sport in Russia. With the 2018 World Cup taking place, a huge amount of emphasis was placed on the sport.
This promoted development of stadia, training facilities, and other soccer-related industries.
This growth in the years leading up to the World Cup has acted as a stimulus for Russian soccer, and we're now seeing huge sections of the population become involved. 65% of Russian men claim to be interested in soccer.
Mexico
Soccer is and always has been a way of life in Mexico. It's lived and breathed by many. At number 6 on the popularity list, their domestic league, Liga MX, is the strongest in North America and most attended outside of Europe.
Their national soccer stadium, Estadia Azteca, is one of the largest in the world and officially seats 87,523 people. In July of 1968, 119,853 people packed into the stadium to watch Mexico vs Brazil play.
With Mexico's economy and middle class growing steadily since the 90s, we're expected to see more investment into soccer, leading to further increases in its popularity.
U.S.A
In the past, soccer has been a secondary sport in the US. Americans love their homegrown sports and generally prefer American Football, Basketball, and Baseball.
Over the past 20 years, soccer has grown in popularity on a large scale. This is down to several factors, including:
Investment and growth of the MLS
An influx of high-profile talent to the MLS
The success of their women's national team
Consistent World Cup qualification by their men's national team
Online influence
Influence of the FIFA video game on popular society
Nielsen reported an interesting finding in their global soccer report in 2018. Although just 32% of Americans claimed to have an interest in soccer, the age breakdown of interest paints a compelling picture:
Age of Soccer Fans in The United States of America
| | |
| --- | --- |
| USA Population | "Interested" or "Very Interested" in Soccer |
| Of ages 16 – 24 | 55% |
| Of ages 25 – 34 | 50% |
| Of ages 35 – 44 | 29% |
| Of ages 45 – 54 | 22% |
| Of ages 55 – 69 | 14% |
Soccer interest statistics | Courtesy of Nielsen Sports
The US marketplace for soccer is growing among the youth. With incremental developments and improvements to the MLS ongoing, soccer may well have a very bright future in the USA.
Other Popular Nations
Brazil
It would be sacrilege to write an article about where soccer is most popular without mentioning Brazil. Soccer is regarded as being a prominent part of the Brazilian identity.
The country has a real soccer culture.
Their style of play at the international level is very distinctive: creative and full of flare. This style originates from street football, the most common form of the game in the favelas.
It brings to mind the saying made famous by Pele: "Joga Bonito" – play beautifully. The streets of Brazil have created several soccer heroes, such as;
Pele
Roberto Carlos
Rivaldo
Ronaldo
Ronaldinho
Kaka
Neymar
Marta
They're the most successful nation in World Cup history, lifting the trophy on 5 occasions: 1958, 1962, 1970, 1994, and 2002. 
The biggest crowd ever recorded at a World Cup match was in 1950 at the Maracana Stadium, Sao Paolo, Brazil. 199,854 people attended that game.
The Brazilian domestic club league, commonly referred to as Brasileirao, is the most-watched league in the Americas.
It's one of the strongest club leagues in the world and its teams have won the most club world cup titles ever (10).
Brazilian fans are extremely passionate and wear their hearts on their sleeves. Deeply ingrained in society, soccer is more than just a game in Brazil.
The 5 Footballing Nations of Europe
The 'big 5' European domestic leagues are the English Premier League, the Spanish La Liga, the German Bundesliga, the Italian Serie A, and the French Ligue 1. 
The National teams of these countries are among the best in the world. Since 2006, the World Cup has been won by one of these countries:
Italy in 2006, Spain in 2010, Germany in 2014, and France in 2018.
Their domestic leagues are the strongest and wealthiest in the world. The top 5 European leagues are filled with soccer royalty with rich histories in the game.
We've to go back to 2004 to mark the last time a team outside of the 'big 5' won the Uefa Champions League. This has been the trend throughout the history of European competition.
Interest in these countries can be linked to their club's and national sides' success.
The added factor of superstar studded teams adds to the appeal. Fans of these leagues are loyal and vocal. There are many local fans of the teams, but their global following sets them apart.  
Popular Global Game
As we've learned, soccer is popular among fans worldwide. In some areas, it's just another sport, but soccer is an integral part of life for many. People come in droves to watch and take part in games.
Its simplicity makes it accessible and inclusive to all. "sweaters for goalposts" soccer matches provide fond childhood memories for many soccer fans.
In recent times, the sport has become increasingly globalized. Fans tune in to leagues and games in several different countries.
We're in an era of European dominance in soccer. Still, there are developing soccer regions (notably the U.A.E, China, and the U.S.A) where interest and popularity among fans are on the rise.
Billions of people watch their favorite teams play every week. Tens of billions of dollars are spent on TV rights, sponsorship deals, and player trades every season.
Soccer's online presence on social media is unavoidable. 3 of the top 10 most followed Instagram profiles are soccer players, with Cristiano Ronaldo topping the list.
It's no surprise that soccer's popularity steadily increases on a large scale.
The extent of soccer's popularity worldwide means that it's effectively becoming The Global Game. For more useful guides, see the articles below or visit our home page.
Related Questions
Which countries play the most soccer?
By the total number of players registered, here are the top 10 countries that play the most soccer:
| | |
| --- | --- |
| Country | Number of Registered Players |
| China | 26M |
| The U.S.A | 24.5M |
| India | 20.5M |
| Germany | 16.5M |
| Brazil | 13M |
| Mexico | 8.5M |
| Indonesia | 7M |
| Nigeria | 6.5M |
| Bangladesh | 6M |
| Russia | 5.8M |
What are the most popular sports in the world?
The top 10 most popular sports, using 15 different criteria, are as follows:
10. Golf
9. American Football / Rugby (Tie)
8. Baseball
7. Table tennis
6. Volleyball
5. Tennis
4. Field Hockey
3. Basketball
2. Cricket
1. Soccer 
What are the most popular soccer teams in the world?
There are several ways to look at this question, but TalkSport has put together a comprehensive list of criteria to make a shortlist for the biggest clubs in the world at present. Here's the top 10:
10. Arsenal
9. Manchester City
8. Chelsea
7. Paris Saint-Germain (PSG)
6. Juventus
5. Liverpool
4. Bayern Munich
3. Manchester United
2. FC Barcelona
1. Real Madrid
What soccer leagues are most popular?
The most popular leagues in world football today, are:
10. MLS
9. Argentine Primera
8. Liga MX
7. Ukrainian Premier League
6. Brasileirao
5. Eredivisie
4. Serie A
3. Bundesliga
2. La Liga
1. English Premier League