Reading Time:
5
minutes
Share the post "Best Youth Soccer Balls (For Training + Games)"
Out of the various soccer balls available today, the best soccer ball for youth should have a good budget, proper size, material, excellent design, and features.
We will look at the three best soccer balls for youth players and coaches. Each soccer ball has pros and cons, and we will break them down for you.
soccer ball for youth
Soccer is the current obsession amongst the youth. It has inspired a huge percentage of them to engage in the soccer sport and participate in this adventure.
Yet, many aspiring soccer-loving teenagers are unaware of the importance of having only the best soccer equipment, such as soccer balls or soccer cleats. 
So, in this article, we will help you find the best soccer balls that can make your soccer training one of a kind and increase your efficiency.
Why The Best Balls For Youth Soccer
You may want to look out for soccer balls that come under a budget. However, simply buying any isn't exactly the best idea. 
Do you know why? Well, because of the following reasons.
Save Yourself From the Recurring Costs
Fishing out bucks every time from your pocket money can get pretty tedious. This may happen if you go for low-quality soccer balls rather than good-quality ones.
Now, you needn't worry about spending a lot of money as there are good-quality soccer balls you can get at quite an affordable rate. 
No Fake or Useless Features
Another reason to go with a trusted soccer ball is that they do what is mentioned. Plenty of soccer balls have ample features that may make any teenager want to buy them at an unbelievably low rate. 
However, only a few of them may be able to reach up to your expectations. So, rather than wasting your time and money on a low-guarantee soccer ball, why not invest in only the best soccer ball for youth? 
Use It Wherever and Whenever
The best thing about a good quality ball is that it is durable, and you can use it anywhere. Carry it on your camping trip or use it in your backyard; it will work the same. 
Low-quality soccer balls may not work as well as high-quality ones in harsh conditions.
For example, if the soccer field is too rough, your soccer ball may ruin your practice day with inefficiency. On the other hand, the best soccer ball will be able to endure even the roughest weather and kicks. 
Return Policy
Buying soccer balls from a reputable brand allows you to return them in a month or so.  If you don't like the ball, you can simply exchange or return it. This return policy is now applicable to various good brands. 
Yet, if you go for a low-quality one, you may not get the same customer support and help facilities.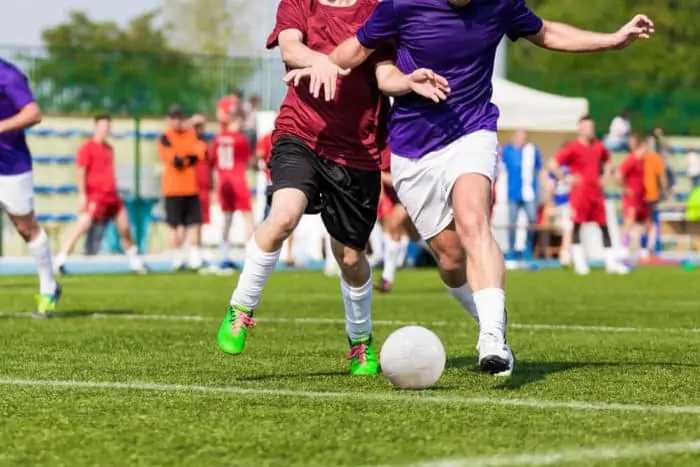 Three Best Soccer Balls for Youth
You don't have to search through thousands of soccer balls as given below are the three best soccer balls just for you.
1. Franklin Sports Official Futsal Ball
Brand: Franklin Sports
Where to Buy: Amazon
Price: Below $25
Franklin Sports Futsal ball meets the standards for junior players. The material, design, and durability are premium. It does not disappoint. 
It comes in sizes three and four, that are perfect for young players.
Franklin Sports Futsal Ball - Low Bounce Futsal...
COMPLETE CONTROL: Crafted with a soft abrasion, resistant...
HIGH VISIBILITY: Dynamic colorful graphics for a ball that...
LOW BOUNCE: Our stuffed and wound low bounce bladder keeps...
BUILD YOUR SOCCER SKILLS: Perfect for working on footwork...
JUNIOR SIZE: Our Futsal balls meet recognized standards for...
Here are some of the key features:
This soccer ball has a soft abrasion cover that is well crafted. It feels soft in your hand and gives you a premium touch and feel.
The ball is stuffed to keep it low on the ground. You do not have to worry about it bouncing high, which makes it safe for both indoor or outdoor activities. 
The design is well-suited for young players. It has dynamic and saturated colors that are very eye-catching. The colors also make the ball visible when playing on the grass, turf, playground, or any surface. 
You can choose to purchase it as an inflated ball or you can buy a bundle of 6 deflated balls with an air pump. The deflated bundle gives you a nice discount.
Pros:
Very dynamic and colorful
Affordable price
Low bounce
Highly Durable
Suitable for any surface
Cons:
The air and shape retention might not stay for a long time.
2. Under Armour Desafio 395 Soccer Ball
Brand: Under Armour
Where to Buy: Amazon
Price: Below $60
If you want a perfect overall soccer ball that is suitable for all kinds of training, the Desafio 395 is an amazing option for you. It surpasses expectations regarding every aspect.
It comes in size four, which is the standard size for youth players.
Here are some of the key features:
The cover of the Desafio 395 is made out of thermoplastic polyurethane. This material is proof against abrasion, oil, grease, etc. It gives an excellent power transfer as well.
The Desafio 395 simply feels great in your hands. It is designed with UA Touchskin Technology that provides you with that premium soft touch. It makes it worth the price.
This soccer ball is provided with a layer of EVA foam, which provides the ball with an extra layer of softness. This makes it easy to play with on any surface available with no issue.
This is one of the most durable soccer balls available in the market. The panels are machine-stitched and the cover is made of TPU, making the ball highly durable and strong. 
Pros:
Vivid colors
High durability
High-quality material
Very soft
Prolonged air and shape retention
Perfect for any kind of training
Cons
Relatively high price compared to other similar soccer balls
3. Wilson Traditional Soccer Ball
Brand: Wilson
Where to Buy: Amazon
Price: Below $20
This beloved soccer ball is one of the best options for youth players. It has the iconic black and white design which is very satisfying to look at. It is very durable and strong to handle everyday use.
It comes in sizes three, four, and five. Size three and four are optimal for young players.
WILSON Traditional Soccer Ball
May Ship Deflated
Synthetic leather cover for increased durability
Butyl rubber bladder for excellent air and shape retention
Traditional panel graphics with silver accents
Recreational use
Here are some of the key features:
This ball is designed with the famous black and white soccer ball pattern. It is very simple yet gives your ball a professional touch.
Young players usually want a soccer ball that is light in weight to play with. Other balls of this price range are mostly heavy as if they are made of concrete. On the contrary, this ball is very lightweight and optimal for young players.
The Wilson soccer ball is a great bargain. For less than 20$, you get a durable, high-quality, lightweight, and elegant ball. 
Youth players often have more rough playing and training sessions, so a durable and strong ball is required. The Wilson soccer ball can do the job. It is machine-stitched and covered with strong synthetic leather.
Pros:
Classic design 
Prolonged air and shape retention 
High durability 
It suits youth players perfectly 
Very cheap price
Cons:
It is not made out of the best materials, but it provides a great value for the cheap price.
A few users have stated that the quality varies between batches.
Final Words From Us
With its growing popularity, the youth today is undoubtedly attracted to soccer. This soccer craze has given rise to plenty of soccer equipment.
Yet, soccer often requires the best ball to endure all the strong kicks and rough exercises. The ball should also have a sleek and well-thought design for the best efficiency and real-match experience. 
So, you may consider our suggestions for the best youth soccer balls out there!
Share the post "Best Youth Soccer Balls (For Training + Games)"
Joel is a seasoned soccer journalist and analyst with many years of experience in the field. Joel specializes in game analysis, player profiles, transfer news, and has a keen eye for the tactical nuances of the game. He played at various levels in the game and coached teams - he is happy to share his insight with you.