You need equipment to play soccer, from basic cleats and balls to the more advanced professional gear.
Soccer equipment consists of cleats, shin pads, jerseys, shorts, socks, and a water bottle for outfield players. For the goalies, you'll need the above and gloves.
That's just the basic kit, but to take your game to the next level, you'll need more advanced equipment, which I've got here in this list – with pictures.
From personal experience, this soccer equipment list is selected only from the best gear on the market that will help you perform better and for longer.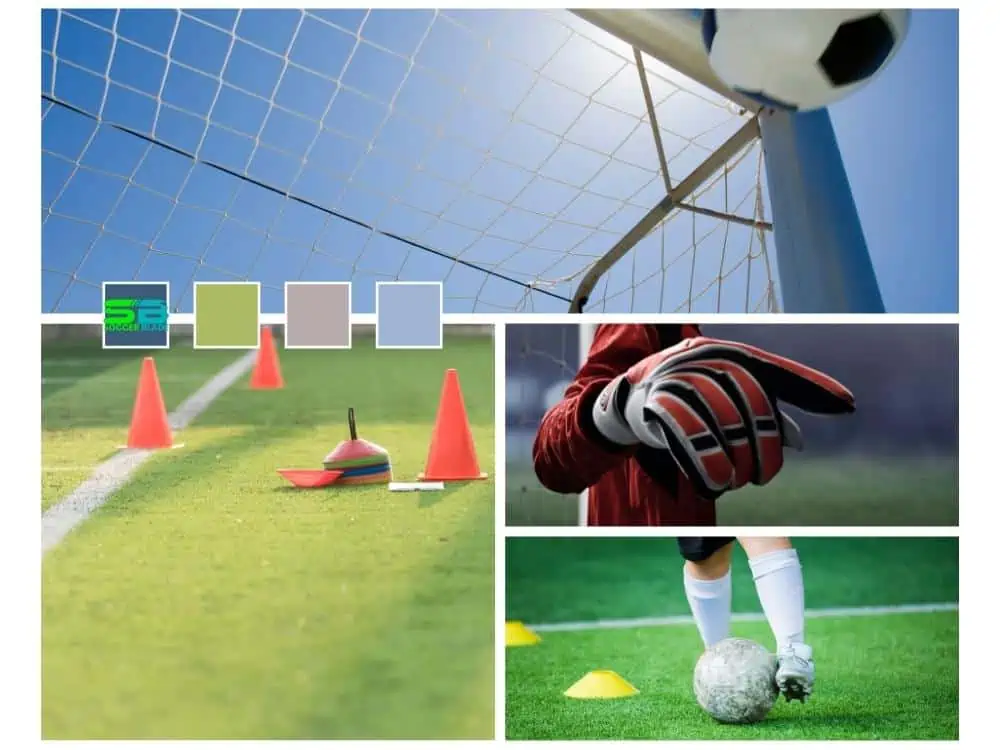 Soccer Equipment List
The soccer equipment needed to play soccer for beginners, youth, and adults is the same. Although some train without shin pads, I feel it's best to wear them even for friendly training sessions.
You don't need shin pads or socks only when you're doing fitness training – warm-ups/cool-downs, sprints, and long-distance runs.
Here's a list of equipment needed for soccer players, from beginners to youth, to professionals, in training and real games – we all need this soccer gear. Also, there's an equipment list for soccer coaches.
When toddlers play soccer between the ages of 1 to 3 years old, they won't need shin pads. At that age, it's just friendly play.
Soccer Equipment List With Pictures
I've selected the best soccer gear for you. Based on years in the game of soccer, using, testing, and playing. Over time I have seen what works best, and I want you to get the best value for money while having the best quality for performance.
Soccer equipment has advanced over the years, and everyday soccer players have access to professional soccer gear for a reasonable price.
Click the soccer equipment item from the list to jump to that section;
This equipment list has selected brands for different purposes – they have been proven over the years for their specialty.
Cleats List – Artificial and Natural Turf
The best soccer cleats on the market are mainly from Adidas and Nike. However, some from other brands like Puma and New Balance are worth considering.
Some cleats are better for people with wider feet than others, so it's best to read the reviews first.
Note: If you're playing on natural turf with long grass or getting heavily wet, you'll need cleats with long studs to grip the ground.
The list is in no particular order – just select what you like! Most of the products come in different colors than the examples shown and are available for boys, girls, men, and women.
Nike Men's Phantom Vsn 2 Academy Df Fg/Mg Football Boots
The Nike Phantom Vision academy, which Dynamic Fit admires, delivers the accuracy of road play to the pitch. The 1-pull Ghost lace system tights for a more expansive strike surface, and a foot-hugging sleeve delivers a unique sensation.
Nike Tiempo Legend 8 Academy MG
Sole: Ethylene Vinyl Acetate
The lace bow aids in tongue retention
Multi-surface cleats for traction on short grass and artificial grass surfaces
Calfskin leather
Seamless with a sculpted diamond pattern for ball control

Nike Men's Vapor 13 Elite Fg Firm-Ground Soccer Cleats
On the pitch, soft synthetic material covers your foot and gives it a second-skin experience.
A tiny texture from heel to toe provides the necessary touch for high-speed creation.
A versatile multi-ground plate provides traction on both natural and artificial grass grounds.
Lightweight cushioned sock liner
For use on artificial or short-grass surfaces.
Nike Unisex Kid's Junior Legend 8 Club Fg/Mg Soccer Shoe Cleats
The Jr. Tiempo Legend 8 Club MG combines the feel of textured synthetic leather with the versatility of a multi-ground plate for footing on natural and artificial grass.
Nike Vapor Edge Pro 360 Men's Football Cleat
The Nike Vapor Edge Pro 360 football cleat was designed for the game's fastest players. An internal chassis with a wide stud arrangement provides better traction and support during game-changing cutback actions.
New Balance Men's 442 1.0 Pro Firm Ground V1 Soccer Shoe
A contemporary masterpiece. The 442 PRO combines engineering and refinement, combining the latest technologies with classic soccer boot style. A quality Kangaroo leather vamp improves player touch, control, and feel while providing exceptional fit and comfort.
PUMA Unisex-Adult King Pro Fg Sneaker
The King has been revived as the most contemporary PUMA King. The new PUMA King is made out of just the highest-quality materials, fitting for its symbol. The kangaroo leather has a terrific fit and is quite soft.
PUMA Men's Monarch Ii Fg/Ag Soccer Shoe
The Monarch II is designed for players who want low-maintenance football footwear with a traditional style. It uses soft yet extremely durable synthetic leather in a traditional style with a deco stitching design in the vamp that is tied to the renowned PUMA KING.
Adidas Men's Copa Mundial Soccer Shoe
The Copa Mundial is the most popular soccer boot of all time, with an exquisite leather top for an exceptional feel and fit. These cleats' dual-density outsole has set the bar for firm-ground play.
Alternatives Available
Adidas Performance Mundial Team Turf Soccer Cleat
A variation on the Copa Mundial, the Adidas Performance Mundial is best for artificial turf. A classic pair of cleats made from leather gives a comfortable feel and lasts game after game. The brushed leather trim bond the sole and add grip for strikes.
Adidas Predator 20.4 Fx G J Sneaker Mens
Another classic from Adidas the Predator cleat was a new innovation in the 1990s with its groundbreaking grip pads on the toe, allowing you to curl and spin the ball more. They offer all-around support for the foot, although they might not be suitable for someone with wider feet.
Note: The 20.4 Predator is an update from the previous – where the rubber grips sometimes came off.
Adidas Men's X Ghosted.3 Soccer Shoe
Another popular choice from Adidas is the Ghosted range, a solid cleat for a reasonable price. A lightweight classic cut cleat that is good for a casual player or someone who's growing quickly. The Ghosted range offers laced/no-laces and variations for different playing surfaces.
Adidas Unisex-Child X Speedflow.3 Firm Ground Soccer Shoe
If you need cleats for kids from 4 to 12 years old, the Adidas Speedflow is a solid choice. They are designed for comfort and a firm touch on the ball, and great traction – it a firm choice for parents.
Soccer Shoe List – Hardcourt and Casual
You'll need soccer shoes if you're playing soccer on hard ground, like a court or concrete. Wear cleats with studs on a hardcourt – it's dangerous even if they are rubber. The flat soles will give you a grip and support your arch for the surface, which will enhance your play and prevent injuries.
Adidas Men's Samba Classic
Adidas Mundial is a classic pair of soccer shoes that have been around for many years. They are great for soccer on the hardcourt, and they can be worn casually. They have a cool retro look and last for a long time. These sneakers are built to last – it's one of the reasons people love them so much.
Nike Killshot 2
Nike is not letting Adidas has this casual soccer shoe market too easily. They have created their own awesome soccer shoe, Nike Killshot 2! Although the Mundial is the biggest seller, these Nike shoes look the business and will be great wearing them casually and playing soccer.
Puma Supa Liga
Puma has a similar shoe for multipurpose wear. They are of a similar style and have tough leather to be able to wack a ball and then walk home in them. They are lower-profile shoes, so you'll be able to chip a ball more easily with them.
Jerseys
A team normally supplies soccer jerseys for match day, but you'll need a few jerseys for training sessions and when playing soccer with friends. You can use team jerseys, which can be expensive, or a typical breathable soccer top.
NIKE Men's Legend Short Sleeve Tee
A classic Nike soccer jersey, available in more than 20 colors. Lightweight and great for breathability. Perfect for training, games with friends, or any other activity.
Adidas Men's Entrada 18 Jersey
Adidas classic T, made especially for soccer, is available in over 15 colors. With a strong collar and three shoulder stripes. It's another great jersey to have in the kit.
Shorts
Short is a must when playing soccer in warmer climates. You'll need them for training or when playing with friends. Your team will supply shorts that match a jersey for game day. Soccer shorts have no lining for flexibility, and you need sports boxers underneath.
Nike Soccer Park III Shorts
Adidas Parma 16 Shorts
Sport Boxers
Soccer requires a lot of movement, so it's nice to have boxers that support you. Sports boxers are worn underneath shorts and pants for flexibility when you stretch and kick your legs.
Adidas Men's Performance Boxer Brief Underwear (3-Pack)
Under Armour Men's Tech 6-inch Boxerjock 2-Pack
Pants
Pants are used in soccer for colder seasons or climates when training. The pants below are designed for use in soccer. You'll need them to be flexible to allow you to move freely.
Nike Nk Dry Park20 Pant
Adidas Tiro 21 Track Pants
Socks
Shin pads go behind the soccer and keep them in place – some shin pads also have a strap that goes behind the calf to stop it from twisting. Soccer socks have padding around the pressure points when playing to prevent blisters and thinning of the sock.
Nike Academy Over-The-Calf Soccer Socks
Adidas Unisex Team Speed 2 Soccer Socks
Soccer Equipment List
Bags
You'll need a bag for soccer to keep your cleats, shin pads, water bottle, etc. It's good to have separate compartments for used and fresh gear. A soccer backpack is a must for all soccer players.
Nike Men's Academy Team, Black, One Size
Adidas Alliance Ii Sackpack, Black/gold Metallic, One Size
Balls
Soccer balls range from sizes 1 to 5 – and the larger ball, 5 is for players 12 +. There are training balls and match balls – the difference is the quality. So if you can afford to train with match balls, then it's ideal. If you playing futsal, you'll need a special ball – they are heavier and designed not to bounce much.
Nike Academy – Team
Adidas Unisex-Adult Mls Training Ball
Ball Pumps
Soccer balls should have a pressure between 8.81757 psi (0.6 atm) and 16.1655 psi (1.1 atm). It's best to pump up your soccer ball once a month for regular use and weekly for heavy use. If the ball is at a lower pressure (0.6 to 0.8 atm), you'll be able to curve and control the ball easier.
Electric Ball Pump
Ball Pump and Needles
Bottles
It's important to keep hydrated when playing soccer. Ensure you drink enough during the day (not too much!) and have water or a water-based drink for breaks and after the game. Hydration will keep you going for longer, and recovery will be easier.
Under Armour Playmaker Water Bottle
Gatorade Gx Hydration System
GPS Monitors
GPS monitors have only been invented in the last 10 years or so. Professional players use them to track their performance from previous games. Heat maps, speed, distance, and sprints indicate if improvement is needed in certain areas and if fitness and diet are correct.
CATAPULT PLAYR Soccer GPS Tracker
Playermaker Smart Soccer Tracker Analyzer
Soccer Protection Equipment List
Shin Pads
It's required as part of the game's laws to wear shin pads during soccer games. I would also advise wearing them during training sessions. It is not necessary to wear shin pads when playing soccer with friends. There are two types of shin pads – one that slips behind the socks and the other that has attached padding for the ankles (which I advise).
Nike Mercurial Lite Shin Guards
Breathable shin pads that are ideal for warmer climates.
Adidas Predator 20 Match Shin Guards
Ideal for protecting your ankles from tackles. Plus it can support injury-prone areas.
Goalie Gloves
Goalie gloves make a big difference when shot-stopping. The grip can stop the ball from slipping off your fingers into the goal or dropping at a striker's feet. Goalie gloves also protect the fingers from injuries.
Rinat Xtreme Guard Pro Goalkeeper Glove
Reusch Soccer Prisma Prime S1 Evolution
Goalkeeper Padded Pants
Goalies need to dive to save the ball, which can be painful if this is done on a hardcourt or dry turf. That's why goalies should wear padded pants underneath their team shorts or pants when training.
Reusch Alex Goalkeeper Pant
HO Soccer Goalkeeper Long Pants
Soccer Field Equipment List
Goals
5-A-Side has dimensions that are 12-ft wide by 6-ft high. Such soccer goals are for under-7 and under-8 soccer games
7-A-Side has dimensions that are 12-ft wide by 6-ft high again. Such soccer goals are for under-9 and under-10 soccer games
9-A-Side has dimensions that are 16-ft wide by 7-ft high. Such soccer goals are for under-11 and under-12 soccer game
11-A-Side or full-size soccer goal has dimensions that are 24-ft wide by 8-ft high for the under-15 and over. Whereas, for the under-13 and under-14, it's 21 ft wide by 7-ft high
FORZA Alu60 Soccer Goals (10 Sizes)
24ft x 8ft) Long-Lasting and Weather-Resistant Alu60 Soccer Goals [Net World Sports] (3m x 2m (Futsal))" class="size-large aligncenter" src="https://m.media-amazon.com/images/I/61MPtxshMqL._SL500_.jpg" alt="FORZA Alu60 Soccer Goal – Club Spec Aluminum Soccer Goal (Choose Your Size 6ft x 4ft -> 24ft x 8ft) Long-Lasting and Weather-Resistant Alu60 Soccer Goals [Net World Sports] (3m x 2m (Futsal))">
Pass: Official Size 24 X 8 X 5 Ft. Steel Soccer Goal. Heavy Duty Frame
Nets
Soccer goal nets are normally supplied with goals. If not, try and buy nets from the same manufacturer as the goals to ensure they fit. There are many different goal shapes and sizes.
Practice Goals
Practice soccer goals for mini-games – 3, 4, and 5 aside games. They are perfect for promoting passing and building up play towards the goal, as it's difficult to score small goals.
FORZA Soccer Goal (5 Sizes)
Franklin Sports Steel Goal
Rebounder Nets
Rebounder nets are a great way to practice passing and striking on your own without having to get the ball after each hit. It's also great for two people to use as a third person – deflecting from the rebounder on an angle. They increase passing/shooting variations.
Goalrilla Striker Soccer Rebound Trainer – Double-Sided (Goal and Rebounder)
Franklin Sports Soccer Rebounder
Corner Flags
For a professional look, have the field corners marked with corner flags. Not only does it look great, but it also allows players to see where the boundaries are easily.
Line Marking
Sport Supply: Stripe Marking Machine
Coaching Equipment List
Field Markers
For training sessions, coaches must mark out field sections to play games. Coaches might change the play area to make it smaller, increasing the difficulty. Markers give a session structure, and they are part of every coach's kit.
Mirepty 7 Inch Plastic Traffic Cones
Nexxxi Sports Soccer Disc Cone, Set of 60
B08L3JVBSN
TuXHui Spot Markers 9inch 10inch 18pcs
B08MWYF7SB
Pinnies
To play team games, you need pinnies. Players wear different colored jerseys to training, so it's difficult to know who's on which team. Pinnies make those competitions even more competitive.
4Gambeta Scrimmage Training Vest
Tactic Boards
Before a game or training session, it's good to ensure the players know their positions, roles, and duties. Some people are visual learners, so having a display is good. Adjust your tactics at halftime and surprise the other team.
Football Coaching Board Coaches Clipboard
Soccer Innovations Double Sided Aluminum Magnetic Coaches Tactic Board
Duffel Bags
Coaches use duffel bags for their equipment and for soccer players who don't have enough room in a rucksack. You may live in a colder climate and need somewhere for a large jacket. Duffel bags are strong and can last for a few years.
Nike Brasilia Small Duffel-9.0
Adidas Court Lite Duffel Bag, Black/White, One Size
B07RN2GN7Y
Soccer Equipment FAQ
Here are some common questions people have about soccer equipment.