A soccer player usually wears a shirt and shorts. They also have stretchy clothes underneath their shirts and shorts, which are compression shirts and pants.
Compression shirts are breathable stretcher shirts made from nylon, polyester, and spandex, which helps keep the player dry and comfortable during training and game time. They are also convenient in winter because they ensure the players stay warm and dry.
In this article, we'll look at:
The relevance of compression shorts and shirts in soccer
Qualities of compression shirts and shorts?
Performance of compression attire
Best compression tops on the market
Best compression shorts on the market
Read on to find out all about compression shirts. It might be the piece of clothing you have been looking for to bolster your performance.
What Do Professional Soccer Players Wear Under Their Shirts?
Ideally, soccer players do not wear anything under their shirts. But after playing, they sweat a lot. So nowadays, they wear compression shirts. Compression shirts are shirts made out of nylon, spandex, and polyester to help keep the players warm and dry.
When players put on a compression shirt, their clothes do not get soaked, even if they sweat a lot. Therefore, they do not feel disgusted running around wearing sweaty clothes. It, in turn, boosts their productivity throughout the game.
Qualities of compression shirts
Compression shirts are a convenient addition to players' attire during training and matches. These are some of its qualities.
Breathability
Compression shirts may seem tight, but they are breathable. The fabric used to make the shirts allows air to flow through the shirt, giving it breathability.
Breathable shirts enable fresh air circulation into the shirt, which rejuvenates the player, seriously boosting a player's performance.
Staying Dry
Do you have those uncomfortable incidents of sweat-soaking up your soccer gear? If yes, you can relate to how continuing to work out or play in them is uncomfortable. It would help if you, therefore, tried compression shirts.
Compression shirts use polyester, nylon, and spandex. These materials keep a soccer player dry after sweating.
In addition, these shirts can lift water upward from the fabric, and sweat is brought to the surface of clothes, where it dissipates through evaporation.
Reduced Muscle Fatigue
Compression shirts are tight and hug the player's body in all the right ways. The muscles and other soft tissues are held in place tightly, reducing the fatigue they endure.
The reduction of fatigue enables the players to perform better and for longer.
Enhances Recovery
In addition, compression shirts enable faster recovery of a player's muscles. Assuming the player has played the entire 90 minutes, their muscles undergo significant damage, and they need some time to recover.
Compression shorts reduce wear and enhance recovery after mild bruising.
Improve Flexibility
Compression shirts pride themselves on their stretchiness. Exercising or playing soccer involves a lot of stretching, lifting, kicking, passing, and shooting the ball.
Therefore, compression shirts are ideal for supporting a player's movement and not holding them back. It also increases safety as one might trip when wearing loose soccer gear.
Are Compression Shirts Good for Soccer?
First, compression shirts do not limit the player's mobility. Compression shirts are stretchy and allow the player to make any maneuver with their body, and they go back to their original fit.
The tightness that compression shirts hug the player reduces muscle vibrations and prevents soft tissue movements around the chest and shoulders. The restraint reduces the risk of injury.
Are Compression Shirts Worth It?
Compression shirts are touted as the secret to muscle power and optimizing soccer players' performance.
Compression shirts aid in quick blood flow to the muscles, meaning that oxygen and carbohydrates can get to the muscles faster, while waste products like lactic acids are removed more quickly.
The benefits of a compression shirt translate to the player maintaining good energy levels and feeling rejuvenated throughout the game. Additionally, they help in post-training recovery.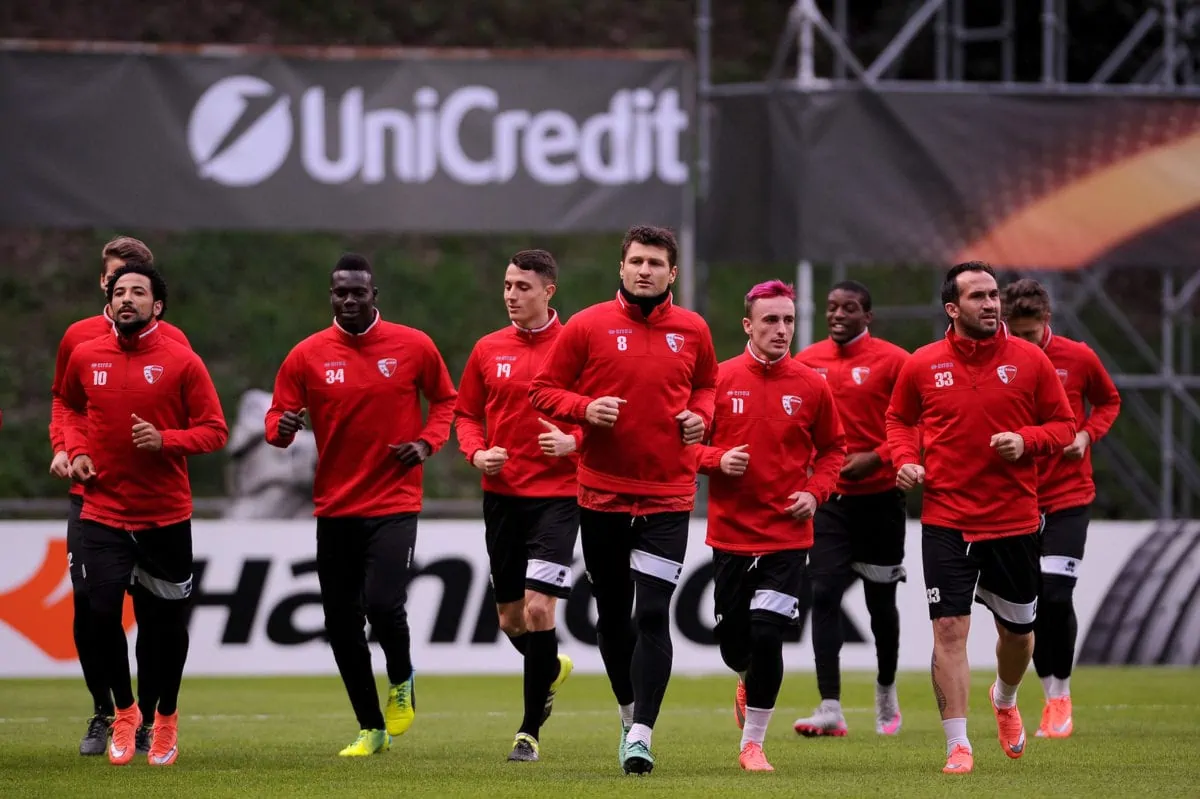 Do Compression Shirts Shape Your Body?
Compression shirts are worn for various reasons, and one of them includes aesthetics. Fortunately or unfortunately, what you wear significantly affects how an individual looks.
So if you want to look shapely, a compression shirt is the answer.
Compression shirts are made to stretch for a perfect fit. They also work to flatten budges and make curves more distinct while providing lines that look toned and tight. Additionally, the tummy may look streamlined and leaner.
Do Compression Shirts Help Anxiety?
It is worth noting that when a person feels anxious or gets a panic attack, something basic, like just a hug, does magic. The same principle plays out with compression shirts.
Compression shirts have a calming effect (they trigger the release of happy hormones). The shirt provides a constant soft embrace to the wearer's body. This calming effect makes the shirts wearable all day and even at night.
The compression shirts are made from specialized, high-quality, breathable, moisture-wicking sensory fabric.
Additionally, they have external stitching that provides a seamless feel for the wearer, and the material will keep the individual comfortable throughout, minimizing meltdowns.
Can You Wear a Compression Shirt All Day?
Provided that your compression shirt is comfortable, there is no issue with wearing it the whole day. If it supports your activity level, you can incorporate it into your day-to-day life.
These shirts are breathable. Therefore, you do not feel overly warm or cold. They maintain the optimum body temperature. They are also stretchy, allowing you to be flexible no matter your activity.
Do Soccer Players Wear Skins?
Skins are made to service athletes, soccer players being among them. Skins engineering provides the proper pressure level for specific body parts.
The ingenious engineering enhances circulation, and vital oxygen is supplied to players' active muscles, boosting their stamina, power, and speed.
Do Soccer Players Wear Compression Shorts?
Every player needs a good pair of compression shorts. Compression shorts help reduce muscle vibrations in the legs, assisting players in conserving energy and reducing muscle fatigue.
A soccer player not only fatigues when moving the whole body during play, but the movement of soft tissues and muscles is also a significant contributor to fatigue; hence compression shorts help reduce that.
What Do Soccer Players Wear Under Their Shorts?
Ideally, a player would only have their underwear under the shorts. But more and more players are wearing compression shorts.
These players wear compression shorts to soak up all their sweat, keeping them dry. The material used to make these compression shorts is usually a mixture of spandex, nylon, and polyester.
For it to be effective, the fabric should be directly in contact with the player's skin.
Why Do Soccer Players Wear Compression Shorts?
The elastic materials make compression shorts serve several purposes, including holding players' muscles in place and compressing them. Additionally, they help one keep light and dry during solid workouts.
They have a protective cup for compression shorts that reduces the risk of damage to the male genitalia.
Compression shorts also provide comfort for the soccer player. These shorts will apply pressure on the player's skin.
The thighs and butt region feel this pressure, meaning a player will not feel the garments riding up and down when playing. 
In addition, friction is significantly reduced compared to traditional playing shorts.
Best Compression Tops
Many compression shirts on the market do not meet the player's expectations. Therefore, you should purchase one from a reputable dealer.
We have narrowed it down to some good options that will not let you down. First are the best sellers on Amazon;
Bestseller No. 1
MEETYOO mens Men's Compression Undershirt, White, Large US
[High-performance Baselayer for Body shaping] **If you prefer loose fit, we recommend…
[Instantly Absorbing Sweat In Exercise] The men's sport long johns is made of…
[Feel Free To Wear Outside or Base layer] The compression baselayer for men is good…
[Excellent Flexibility For Any Movement] The long gym top for men is designed with…
[100% Satisfaction Customer Service] Any problem with the athletic clothes for men,…
Bestseller No. 2
SALE
Bestseller No. 3
Nike Pro SS Compression Top
Nike has a ubiquitous lineup of compression tops. It's incorporated with a comfortable, supportive clothing formula. The Pro-SS features minimal seaming and underarm mesh for maximum comfort.
Its main advantage is how it fits and supports muscles. Additionally, it has a minimal seam design that reduces chafing. Unfortunately, on the flip side, you'll have to part with a considerable amount.
Mcdavid Hex Chest Protector Shirt
McDavid is famous for manufacturing padded sports clothing, including protector shirts. The design is aimed at offering protection to your sternum as you play. It's sleek and obstructive, which means a player may not notice the presence of padding.
Bestseller No. 1
Bestseller No. 2
McDavid MD7630-0201-12 HEX Sternum Raglan 3/4 Shirt White/Black Youth-S
DESIGN – Compression Shirt Boys – Mesh fabric across shoulders back and shoulders…
PROTECTION – Large Hex technology pad covering sternum, heart and chest area –…
ESSENTIAL – Keeps any athlete safe during play – Perfect for Baseball, Lacrosse,…
EASY CARE –Machine Washable – Can be thrown directly in the wash with your regular…
SIZING – Based on Chest Size: Youth Small: 25-26.5″, Youth Medium: 26.5-29.5″, Youth…
Bestseller No. 3
McDavid 3/4 Sleeve Recovery Max Shirt (Charcoal/Black/Bright Yellow – Medium)
PROVIDES BETTER PERFORMANCE: More Complete Recovery Post Competition and Training
ANATOMICALLY DESIGNED: to Help Pull Back Shoulders for Enhanced Postural Support
FORWARD SIDE SEAMS: For Better Fit, Increased Mobility and Reduced Chafing
LONG-LASTING: Longer Shirt Tail in Back for Extended Coverage
SEAM STRENGTHENING: 6-Thread Flat-Lock Technology
It features dense hexagonal padding that protects the player's chest from impact. Also, it's fashionable, stylish, and has a ventilated design to keep the soccer player comfortable.
Best Compression Shorts
Let's look at some options out there when it comes to compression shorts. First are the best sellers on Amazon;
SALE
Bestseller No. 1
Bestseller No. 2
Bestseller No. 3
New Balance Men's Mesh 5″ No Fly Boxer Brief, Athletic Compression Underwear (3-Pack)
What's Included: 3 New Balance Men's Mesh 5" No Fly Boxer Briefs. The sizes are…
Ultimate Comfort: Made from 90% polyester and 10% spandex, the New Balance Men's…
Superior Design: These boxer briefs feature an elastic waistband for added flex and…
ncredibly Durable: These boxers are incredibly durable and are highly fade resistant…
How to Wash: Washer and dryer safe! Machine wash cold with like colors. Only…
Zone3Mens Compression 2 in 1 Phantom Shorts
Their design allows for better blood flow, reduces lactic acid build-up, and improves recovery.
It combines conventional workout shorts and the benefits of full compression shorts.
Nike Pro Dri-FIT
They have a stretchy, sleek, and supportive fabric that wicks sweat, keeping a player dry, and provides all-day comfort.
Hybrid Compression Shorts
The hybrid compression shorts' design is for multi-purpose fitness. They have a modular system which makes them very versatile because the compression element can be detached from the lightweight, fast-drying outer.
Another fantastic thing is the sweat-wicking fabric that cools the player when he is in action. These shorts are super soft, which makes them very comfortable. However, their price can be a long stretch for beginners.
Take a look at all equipment, and apparel soccer players need here.