Reading Time:
12
minutes
Share the post "Youth Soccer Levels (Complete League Guide)"
As a player and coach, I've witnessed the extreme lack of information parents often have regarding youth soccer levels. Far too often, coaches and clubs push their division onto parents, giving them a tunnel vision of youth soccer levels. The lack of information often leads to poor team selection and overemphasizing which division a child is in rather than their environment. 
What are the youth soccer levels?
The youth soccer pyramid is now incredibly complex and often confusing. Three organizations (USYS, USSSA, and US Club Soccer) sanctioned several divisions for youth soccer players, resulting in multiple high-level youth leagues. 
Choosing the best soccer program for your child starts with understanding the constantly evolving world of competitive youth soccer. Today, we'll review the goal and structure of each youth division and a few helpful tips for deciding which is best in this complete guide.
Youth Soccer Levels in the USA
First, a broad look at the basic levels and then a deep dive into the youth soccer pyramid. Youth soccer in the United States is organized into various levels to accommodate players of different ages, skill sets, and competitive interests.
Here's an overview of the primary levels of youth soccer in the USA:
1. Recreational Soccer
Description: This level is for children just starting or wanting to play soccer in a less competitive, more community-focused environment.
Age Groups: Typically ranges from under-6 (U6) to under-19 (U19).
Focus: Emphasizes fun, participation, and basic skill development.
Leagues/Organizations: Often organized by local community groups, parks, and recreation departments.
2. Competitive/Travel Soccer
Description: For players seeking a more competitive environment than recreational soccer. Teams often travel to play against similarly skilled teams in other cities or states.
Age Groups: Usually starts from U9 or U10 and goes up to U19.
Focus: More emphasis on skill development, tactics, and competitive play.
Leagues/Organizations: Organized by local or regional soccer clubs. Examples include various state leagues and regional conferences.
3. Elite/Developmental Academies
Description: The highest level of youth soccer focuses on developing players for college, professional, or national teams.
Age Groups: Typically from U12 to U19.
Focus: High-level coaching, intense training, and national and international play exposure.
Leagues/Organizations: Includes the Major League Soccer (MLS) Next (formerly the U.S. Soccer Development Academy), Elite Clubs National League (ECNL), and other high-level club leagues.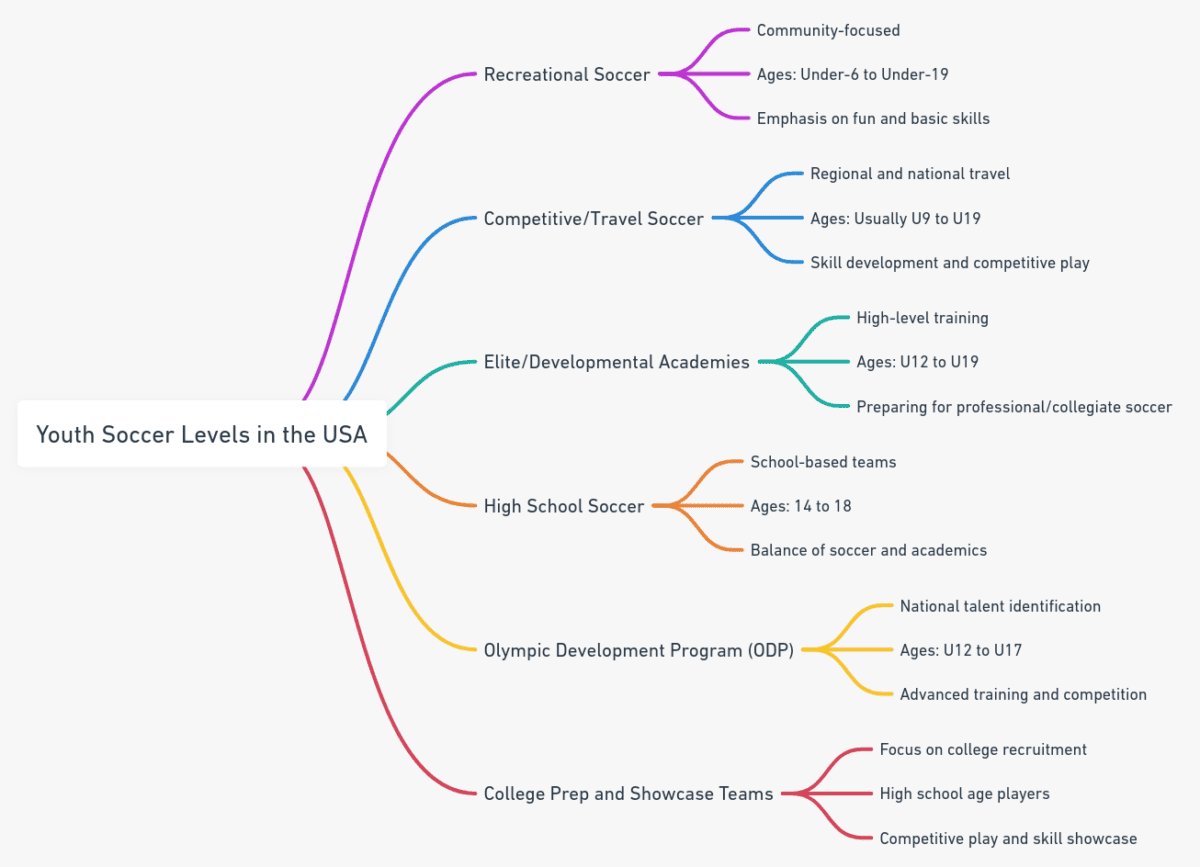 4. High School Soccer
Description: Organized by high schools, this level allows students to play competitively in a school setting.
Age Groups: Generally from 14 to 18 years old.
Focus: Balances soccer with academic commitments, focusing on team spirit and school pride.
Leagues/Organizations: Governed by state high school athletic associations.
5. Olympic Development Program (ODP)
Description: A national program aimed at identifying and developing talented young players.
Age Groups: Typically from U12 to U17.
Focus: Advanced training with top coaches and exposure to higher levels of competition.
Leagues/Organizations: Organized by U.S. Youth Soccer and its state associations.
6. College Prep and Showcase Teams
Description: Designed for high school-aged players aiming to play at the collegiate level.
Age Groups: Mainly high school students.
Focus: Competitive play, skill development, and exposure to college scouts.
Leagues/Organizations: Often part of competitive/travel clubs and include participation in showcase tournaments.
Each level of youth soccer in the USA offers different opportunities and experiences, catering to young players' diverse needs and aspirations nationwide.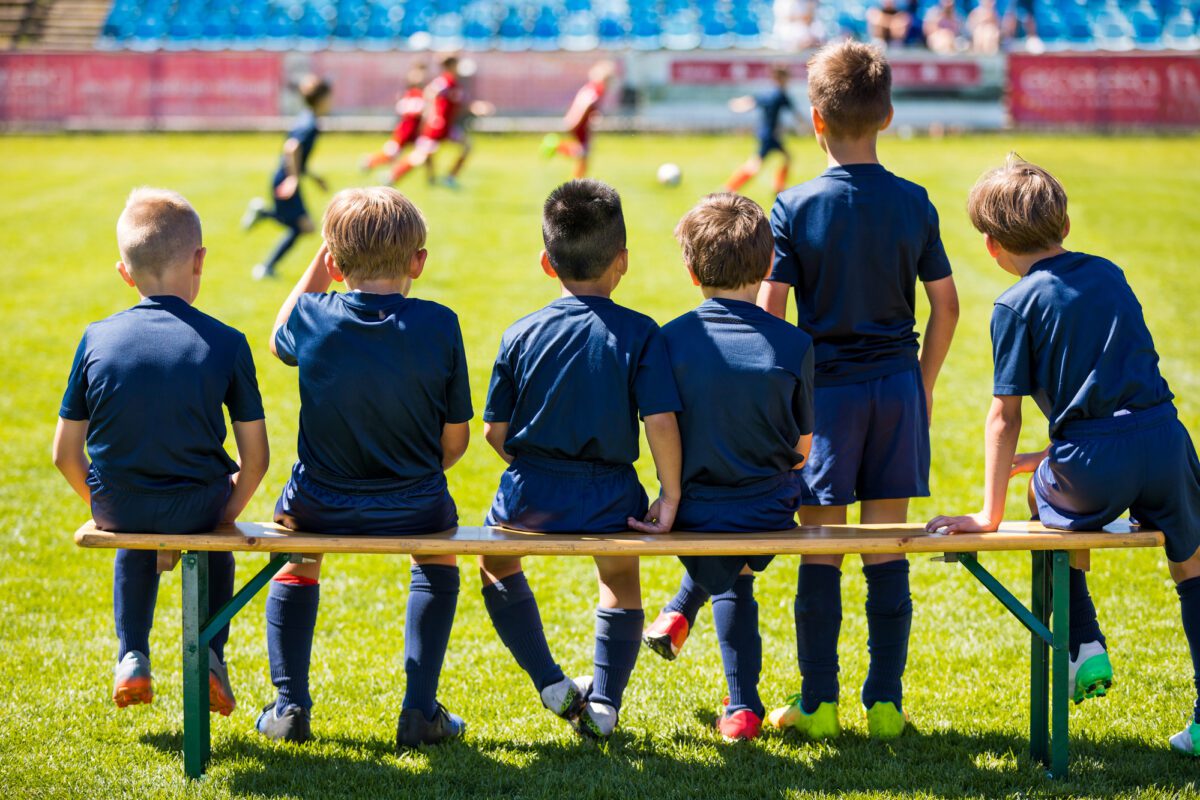 Youth soccer pyramid 
The youth soccer pyramid in the United States is far more complicated and controversial than it once was. Here are the various levels on the pyramid:
Local recreational leagues (from U6-U19)
Youth Academy (U7-U10)
Local (state) competitive leagues
National League Conferences, NPL, and ECNL Regional Leagues
The National League, ENPL, and ECNL
GA and MLS Next
DPL overlaps with all leagues above local competitive leagues
As different governing bodies sanction different leagues, there is no clear distinction for when one is higher on the pyramid than the others, the rankings overlap.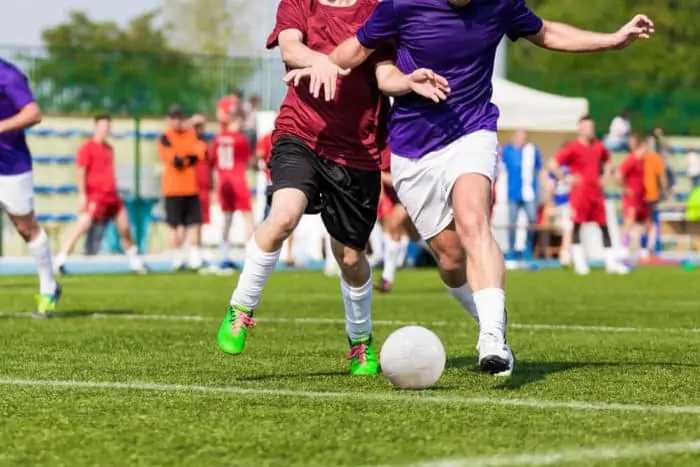 Organization of Youth soccer divisions
Different organizations now sanction several different soccer levels. Before diving into the various leagues and levels, it's critical to understand the different sanctioning bodies. 
USSSA
The United States Specialty Sports Association (USSSA) is a multi-sport governing body that oversees various sports programs, including youth and adult soccer, and is a non-profit organization affiliated with U.S. Soccer. Founded in 1968, originally as the United States Slow-Pitch Softball Association, USSSA has expanded its scope to include a wide range of sports.
The organization is known for promoting and developing sports at the grassroots level, offering programs catering to a diverse range of ages and skill levels. In soccer, USSSA plays a significant role in the United States by organizing leagues, tournaments, and championships for both youth and adult players.
The USSSA has over 4,000,000 members in several sports, including baseball, softball, soccer, basketball, volleyball, golf, and more. They sanction the Developmental Player League or DPL.
USYS
US Youth Soccer (USYS) is the nation's largest youth sports organization. Annually, USYS registers 3 million soccer players. They have 55 Member State Associations and 10,000 clubs. They sanction multiple levels of youth soccer, including National League Conferences, GA, and MLS Next. 
The United States Youth Soccer Association (USYS) is a nationwide organization dedicated to developing and promoting youth soccer in the United States. Founded in 1974, USYS has played a pivotal role in popularizing and advancing the sport at the grassroots level.
It is the largest member of the United States Soccer Federation, with over 3 million players between the ages of 5 and 19, and approximately 300,000 coaches. USYS organizes various programs and competitions, including the US Youth Soccer National Championship Series, which is highly regarded as one of the premier youth soccer competitions in the country.
The organization's focus extends beyond competitive play; it emphasizes player development, education, and creating a fun, family-friendly environment. Through its extensive network of state associations and local clubs, USYS provides a structured platform for young players to learn the game, develop their skills, and foster a lifelong love for soccer.
US Club Soccer
US Club Soccer is a National Association of the U.S. Soccer Federation. They seek to develop players through various club programs, including recreational, youth competitive, and adult leagues. US Club Soccer sanctions the ECNL Regional Leagues, ECNL, NPL, and ENPL. 
US Club Soccer is a prominent national organization that plays a significant role in advancing and developing soccer in the United States. As a member of the United States Soccer Federation (USSF), it is dedicated to fostering the growth and development of clubs and players nationwide.
Established in 2001, US Club Soccer offers a range of programs and services designed to support the soccer community, including player registration, staff and coach licensing, and insurance. It is mainly known for its player-centric approach, focusing on creating safe, fun, and competitive environments for players of all ages and skill levels. US Club Soccer organizes various leagues, tournaments, and player development programs, including the prestigious National Premier Leagues (NPL) and the Elite Clubs National League (ECNL).
These platforms allow youth players to compete at high levels, showcasing their talents and potentially advancing to collegiate, professional, or national team play. The organization's commitment to improving the standards of club soccer in the U.S. is evident in its emphasis on coaching education, player safety, and organizational support for its member clubs.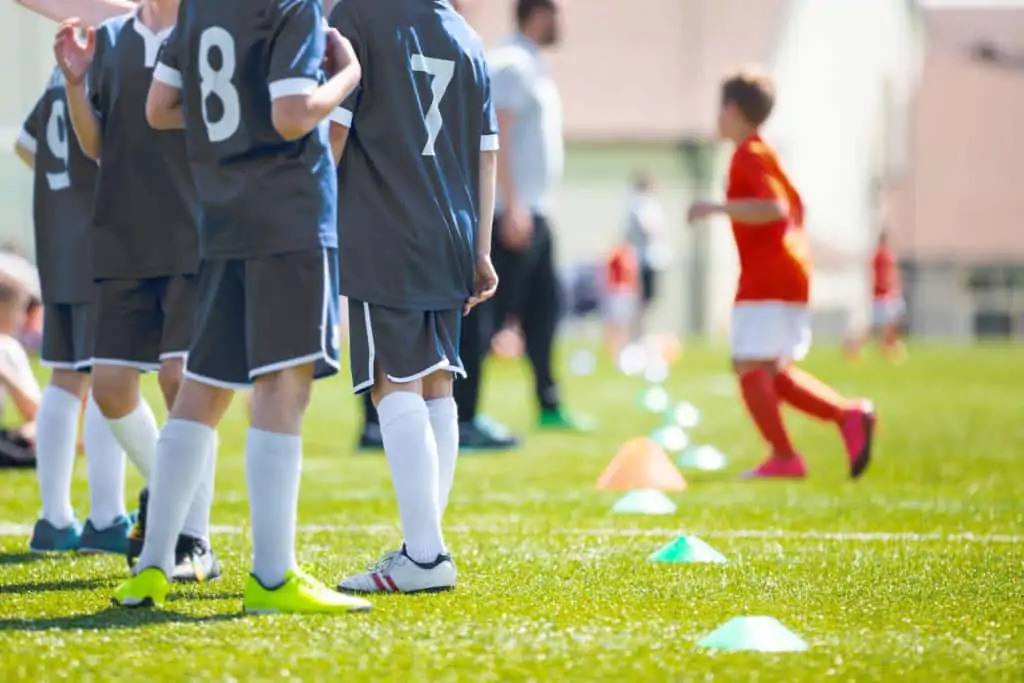 Youth Soccer Levels Explained
All three soccer organizations aim to improve player development and provide excellent opportunities to players throughout their youth careers. For that reason, choosing a particular league is not always so clear. Here's a helpful summary of each youth soccer level. 
Youth Academy
Regardless of which governing body sanctions a team/ club, most clubs provide academy soccer options for young players. Academy soccer covers U7-U10 age groups and is intended to be a higher-level alternative to recreational youth soccer. 
Youth academy soccer aims to prepare players to climb higher on the pyramid, making it to the highest level of youth soccer their organization participates in.
While clubs may split academy teams into different groups based on skill, no tryouts are required to play on an academy team.
National League
USYS sanctions the Conferences of the National League and the National League. By successfully competing in statewide US Youth Soccer State Associations, teams can earn a spot in National League Conferences.
National League Conferences have a top division known as Premier 1. Most conferences have additional divisions, Premier II and then First Division.
Travel for the conferences is regional. 
Premier I teams may qualify for US Youth Soccer Regional Championships. There is an East Region, Midwest Region, South Region, and West Regional Championship.
Teams U14+ can also qualify for the National League, higher than the National League Conferences. 
There is a National Championship tournament, and teams in the National League automatically qualify.
Otherwise, a team must place high enough in the Regional Championships to make the National Championship.
Note: Travel for the National League is nationwide, which is a significant commitment.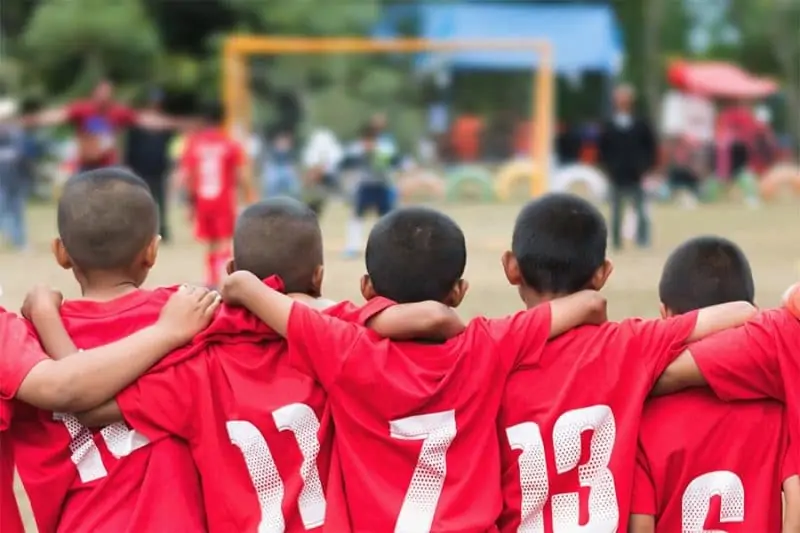 MLS Next
MLS Next is a U13+ boys-only option above the National League. Sanctioned by the USYS, MLS Next has replaced the former Development Academy.
MLS Next aims to create a pathway to professional soccer for boys. Admittance into MLS Next requires strict standards, likely including rules about the tournaments teams can enter and participate in other sports outside the league. Players cannot play high school soccer if they play MLS Next. 
GA
GA stands for The Girls Academy League, a new girls' league sanctioned by USYT. The GA was formed to replace the Girls DA and partnered with MLS Next.
GA aims to develop female players for the National Team pathway and college soccer.
Unlike the former DA, the GA will allow girls to play high school soccer.
National Premier League
US Club Soccer sanctions the National Premier League, a club commitment. A club must enter a team in every age group to participate. NPL participants can attend College Showcase events and playoffs.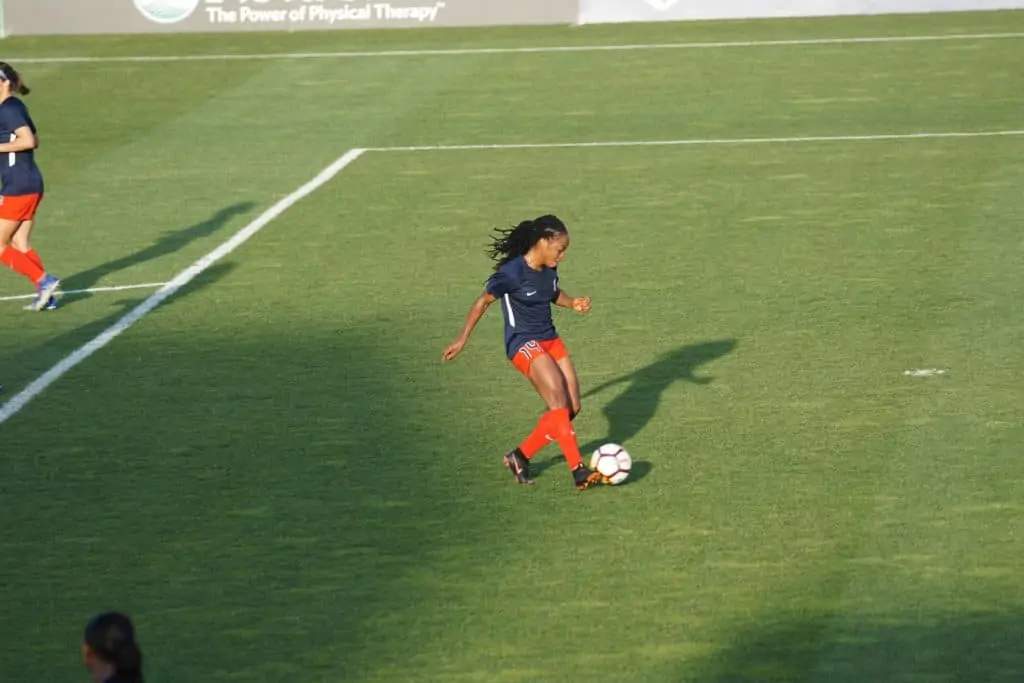 Elite National Premier League (ENPL)
The Elite National Premier League is a level higher than the NPL. It has the same structure, requiring club commitment. Based on its national scope, games may be around the country. 
ECNL
Initially started for girls, the Elite Clubs National League requires a club commitment. US Soccer sanctions this league now for boys and girls. ECNL has 8 regional conferences as well as showcase events. 
Compared to NPL, ECNL requires higher coaching and facility standards.
Teams may qualify for playoffs at the end of the year.
There can only be one ECNL club within a 75-mile radius. 
ECNL Regional Leagues
The ECNL expanded to include a lower level of competition known as ECNL Regional Leagues or ECRL.
Like Conferences for the National League, ECRL is a step under ECNL. The standards for qualification are a bit lower.
Teams from ECNL can earn promotions to the ECNL via playoff events.
Often, ECNL clubs enter their second-tier teams into the ECRL. 
DPL
The Development Player League is a girls league formed as an alternative to the DA. Sanctioned by the USSA, the DPL formed the GA initially.
However, the GA was since taken over by USYS. The level of competition in the DPL seems to be below that of the GA, but overall, it does not have as significant an impact on youth competitive soccer.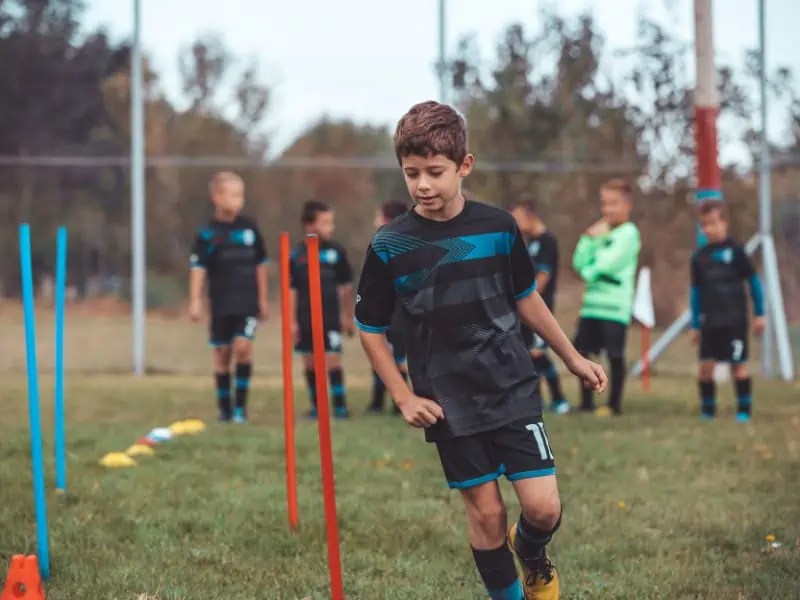 Youth Soccer Divisions
Ultimately, there are several youth soccer divisions to choose from. Naturally, each club and division touts its offerings as top tier. Parents are often shocked to find out about the different divisions available.
Ultimately, the mission statement of each sanctioning organization is quite similar, so it's most important to find the fit for your child.
Which Youth Soccer Division is Best?
If your child is serious about soccer, pick the toughest league in your area so that they are challenged. Because of the competition in each state, view the games to decide.
Choosing your child's right team, club, and league is difficult. With so many competitive options, making the best decision for your child is often very stressful. Again, each organization preaches a very similar mission statement. It would be best to consider several key factors when choosing a youth soccer division. 
What is Your Child's Goal with Soccer?
Be honest about assessing your child's goals for soccer, not your own.
High school soccer: If your child is interested in simply playing competitive youth soccer through high school (not college or beyond) then you will find National League Conferences or NPL to be a good option.
These leagues offer good competition but not nearly the same level of commitment and travel as other leagues.
Collegiate soccer: On the other hand, kids driven to play collegiate soccer should consider the National League and ECNL.
Both of these leagues focus on collegiate exposure through several showcase opportunities. While the ECNL claims that 90% of ECNL female players move on to college, college coaches will also attend the National League Championships.
Professional soccer/ National Team: MLS Next and the GA are designed to create a pathway to professional/ national team soccer.
Both are still relatively new, but they are partnered with US Youth Soccer with a close relationship with the US Soccer Federation.
That said, ECNL is also a strong option for overall development.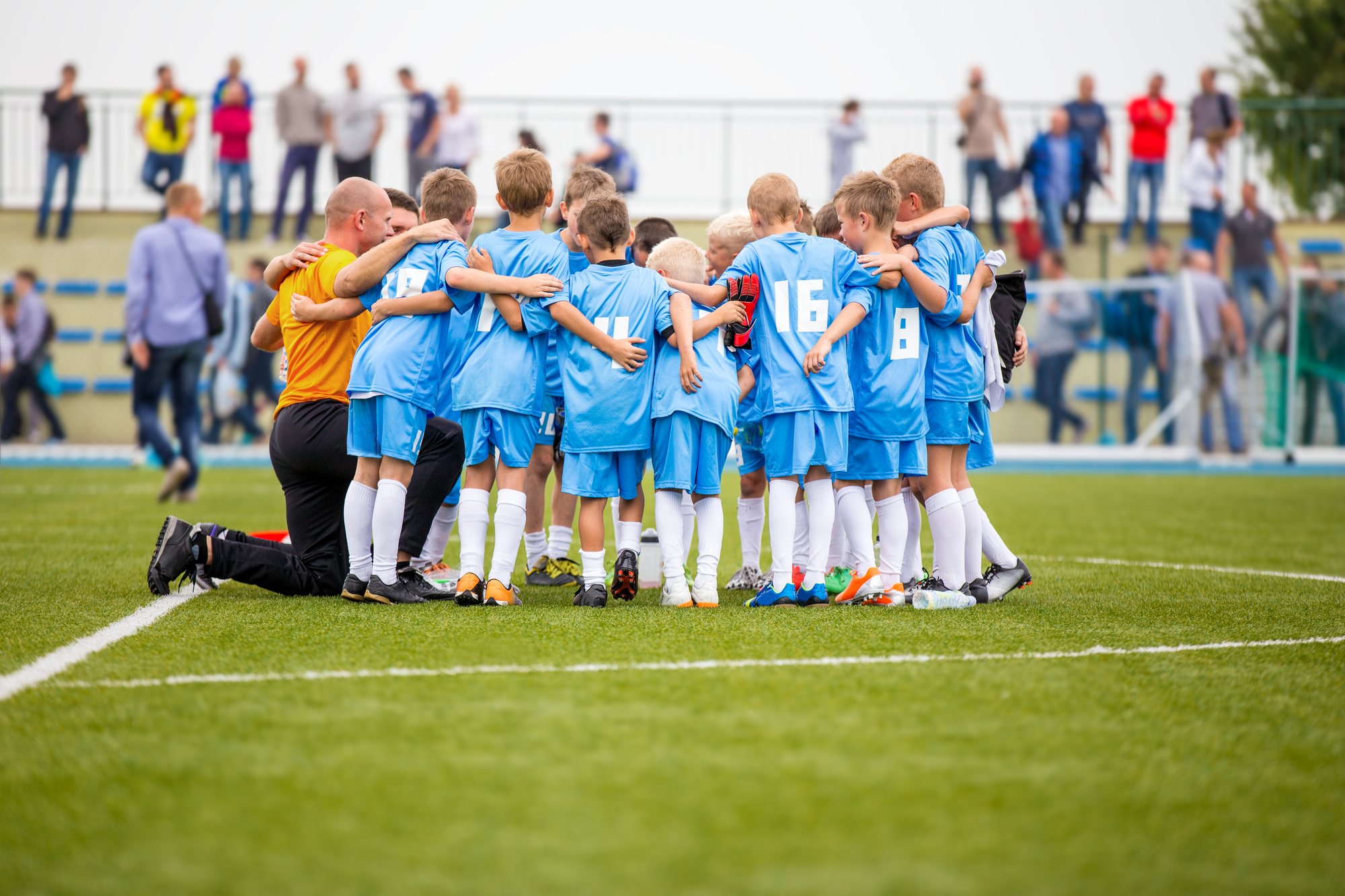 Aside from your child's goals, it would be best if you also considered the following:
What to consider when choosing a youth soccer team
Location. Not all of these options will be available within a reasonable driving distance. How far are you willing to travel just for training?
Cost. The cost investment of ECNL and MLS Next may be prohibitive.
Coach. Regardless of the league, will the coach be a good fit for your child?
Team. Youth divisions like the ECNL are club-based. That does not guarantee that the team in your child's age group is the top team in your area. You are better off opting for a top club in the National League than the worst team in ECNL.
Risk. Always remember that playing in a particular league does not guarantee anything. Even leagues that send a lot of players to college cannot guarantee your child will be a D1 soccer star. Will it still be worth the money and time if your child does not reach the next level?
How to play Competitive Youth Soccer?
Competitive youth soccer has more paths than ever. Ultimately, multiple pathways can help your child achieve their soccer goals. There's no correct answer about the best league for competitive youth soccer. Understanding each league's goals, organization, and structure will help you make the right choice for your child.
However, when selecting a team, you must carefully assess your local soccer landscape and personal circumstances. Consider which team fits your child better than hyper-focusing on a particular youth division. 
Moving Up The Levels
Moving from a local recreational league to a competitive league, or from a National League Conference to MLS Next, involves steps and considerations. Here's a general pathway:
From Local Recreational League to Competitive League:
Skill Development: Focus on improving soccer skills. This can be achieved through regular practice, attending soccer camps, and seeking additional training.
Scouting and Tryouts: Competitive leagues often have tryouts. Players should attend these to showcase their skills. Being scouted at local games or tournaments is also a possibility.
Networking: Engage with coaches, local clubs, and other players. Networking can provide information about tryouts and opportunities in competitive leagues.
Performance in Games: Consistently performing well in recreational league games can attract attention from competitive league scouts or coaches.
Joining a Club: Joining a local soccer club that participates in competitive leagues is a common pathway. These clubs often have connections and pathways to higher levels of play.
From National League Conference to MLS Next:
Standout Performance: Excelling in the National League Conference is crucial. This includes skill, understanding of the game, teamwork, and sportsmanship.
Exposure in Tournaments: Participating in national tournaments or showcases where MLS Next scouts will likely be present.
Club Connections: Some clubs have direct connections or pathways to MLS Next. Being part of such a club can provide a more direct route.
Academy Trials: MLS Next academies often hold open trials. Excelling in these trials can lead to selection.
Player Development Programs: Participating in development programs or academies that focus on grooming players for professional levels.
Coach Recommendations: Coaches at the National League level can recommend players to MLS Next academies based on their performance and potential.
Continual Improvement: Constantly working on skills, fitness, and understanding of the game to meet the higher demands of MLS Next.
General Tips:
Maintain Academic Performance: For younger players, maintaining good grades can be important, especially if the pathway includes college soccer.
Physical and Mental Fitness: High-level soccer requires excellent physical conditioning and mental resilience.
Professionalism: Displaying a professional attitude in all aspects of the game, including training, matches, and off-field behavior.
The journey from local to professional levels in soccer is challenging and requires dedication, skill, and sometimes a bit of luck to be noticed at the right time by the right people.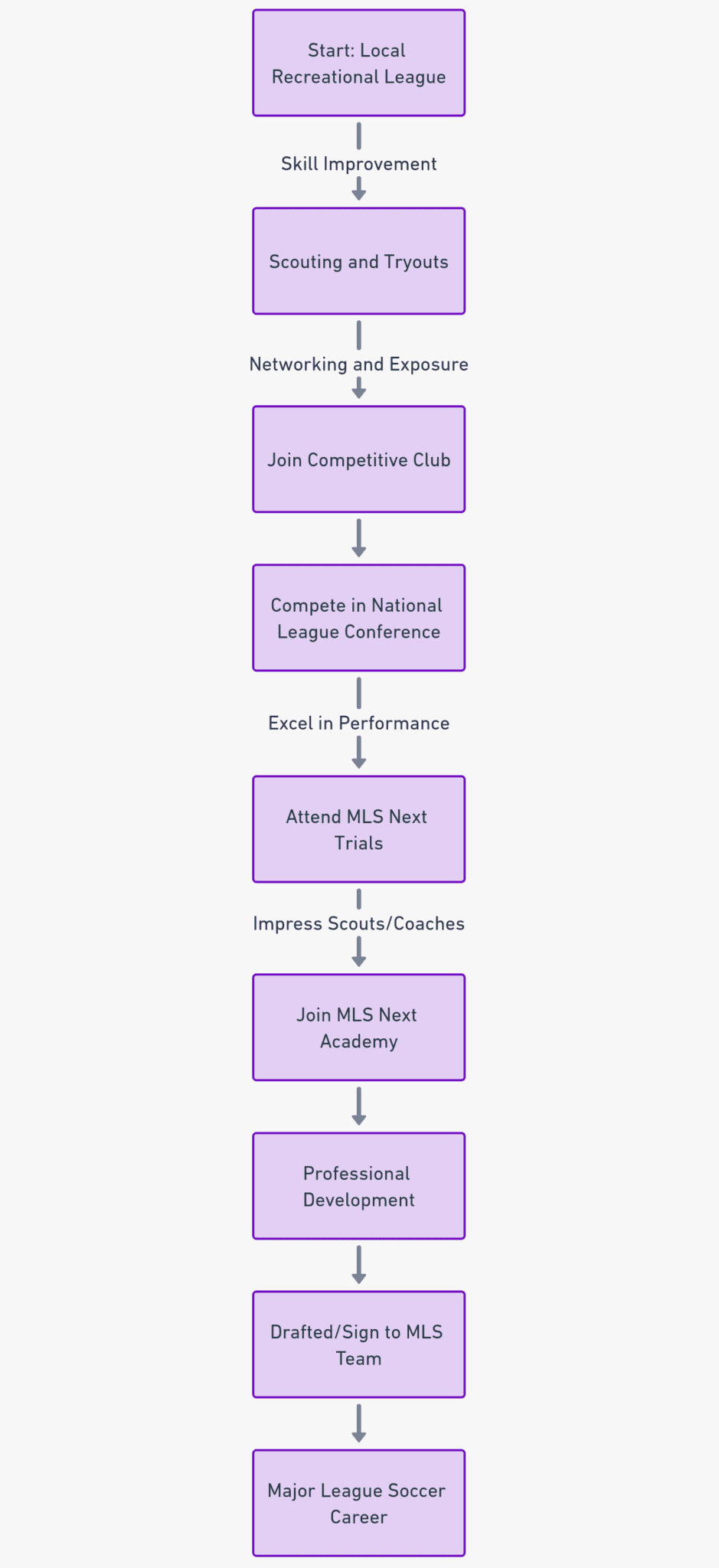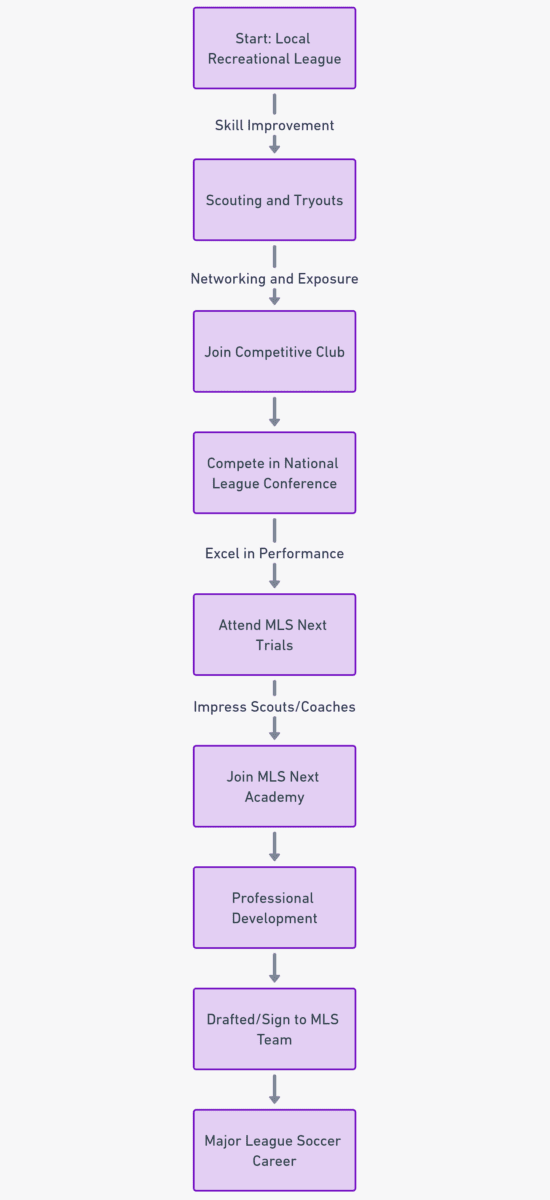 Share the post "Youth Soccer Levels (Complete League Guide)"
Joel is a seasoned soccer journalist and analyst with many years of experience in the field. Joel specializes in game analysis, player profiles, transfer news, and has a keen eye for the tactical nuances of the game. He played at various levels in the game and coached teams - he is happy to share his insight with you.