Soccer is one of the rare sports where you'll find tall and small players competing, making it even more interesting and accessible because each has an advantage and disadvantage.
Soccer is a sport that people of all shapes and sizes play.
Look at any game, and you will see a significant difference between player heights. However, height can influence what position you play.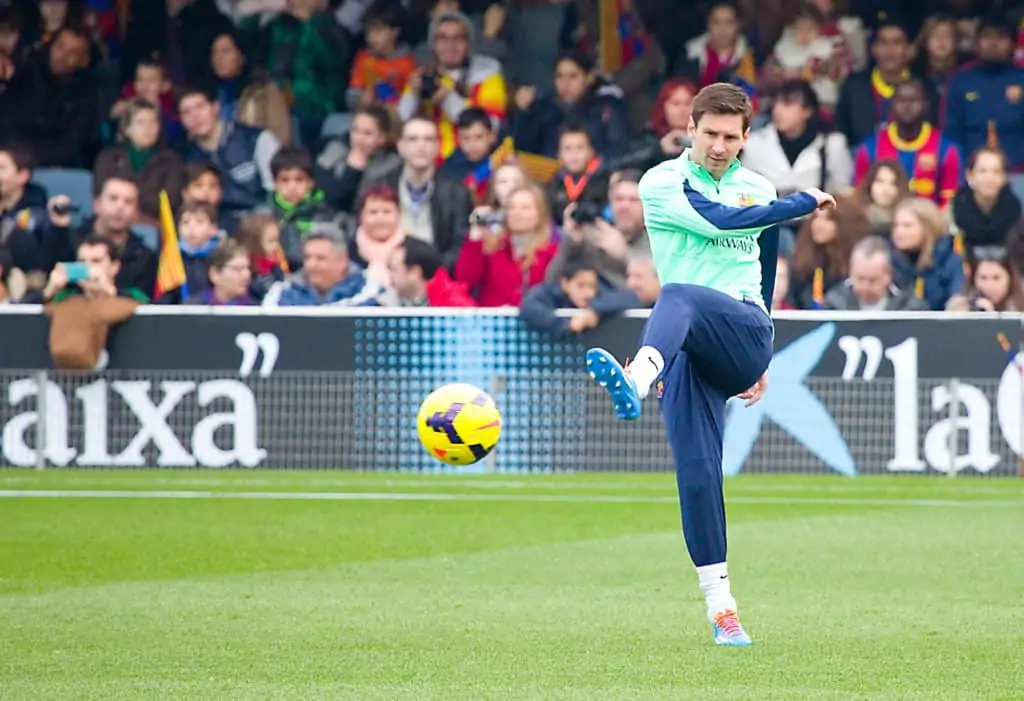 Average Soccer Player Height
The average height of a male is 175.4 cm, and the average height of the Barcelona team is 179.36 cm (2020). Soccer players are taller in general, but their best player Lionel Messi is 170cm.
The general distribution of height amongst pros approximates that of the average person. It varies from region to region but is relative to the population mean.
This contrasts greatly with other sports, where height and physical attributes play a huge role.
In the NBA and NFL, players require physical attributes only found in around 10% of the population.
Certain positions are suited to people of different heights. Take goalkeepers, for example.
They're generally the tallest players in a squad. It's beneficial to have a tall GK for reasons we'll discuss later.
That being said, height doesn't necessarily determine anything in soccer.
Many more important attributes can determine a player's ability and position suitability.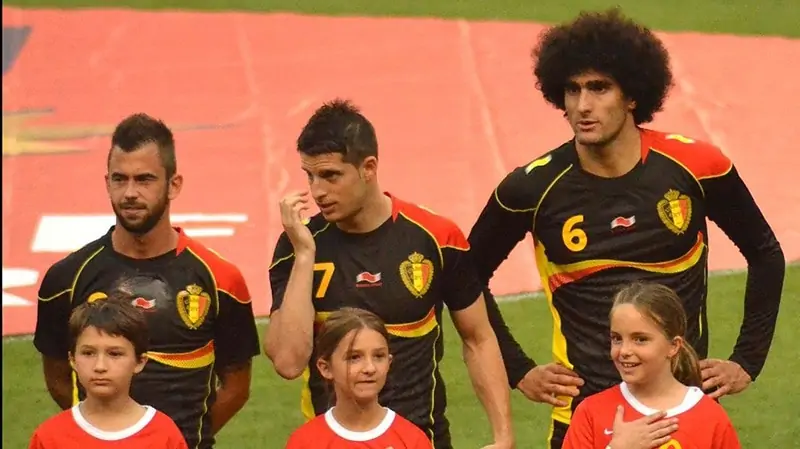 The true story regarding height in soccer becomes more apparent when you look at certain positions.
Often, goalkeepers, center-backs, central midfielders, and "target man" strikers tend to be tall.
While wingers, full-backs, and attacking players are more likely to be on the shorter end of the scale.
This trend is not an absolute rule, as managers' different styles of play and tactical set-ups may have more of an influence. 
Average female soccer player height
The average height for a women's team is 174 cm. The average female height is 161.8 cm.
The shortest soccer player for the United States soccer team is Crystal Dunn at 155 cm, and the tallest player is Sam Mewis at 183 cm.
The same theory applies to the women's team as it does to the men's.
Height is required in key positions, such as the goalkeeper, center back, and sometimes the center forward.
Your height will not restrict you from making it to a pro; there're positives and negatives to being short or tall.
Your height may determine the best position suited to you.
Let's see whether or not there are significant advantages or disadvantages to being tall in soccer.
Advantages of being a tall soccer player
Heading.
Leg length and dexterity.
Strength.
Longer reach.
Larger hands (for goalkeepers).
Larger limbs and torso give a larger blocking area.
Heading
This one is quite straightforward. A taller player has a distinct advantage in winning aerial balls as they're naturally in a better position to do so.
Peter Crouch, who was not physically strong or particularly powerful in the air, holds the record for most headers scored in Premier League history.
At 6ft 7", he always had a natural advantage over his opponents when it came to competing for headers.
Peter Crouch's physique, along with an unexpected level of finesse, made him a handful for any defender
Leg Length and Dexterity
Longer legs can be advantageous when it comes to getting on the end of crosses, be it offensively or defensively. They can also be useful when it comes to controlling balls at a height.
Taller players have leg reach and dexterity that shorter players simply don't.
Defensively, tall players can have an advantage when tackling. They can utilize the full length of the leg to tackle from the most difficult of angles.
Strength
With greater height, comes greater potential for a stronger player. Soccer players don't tend to be overly muscular, as this can hinder their speed and endurance.
Therefore, with a typical soccer build, a taller player is more likely to be a stronger player.
Longer Reach
As mentioned earlier, goalkeepers tend to be the tallest players on the field.
A long reach is particularly advantageous in this position when it comes to catching crosses or high balls.
A longer reach also allows a goalkeeper to stretch further to make a save.
Larger Hands
Again, this advantage is targeted at goalkeepers. Larger hands make catching easier.
They're also strong tools for saving and punching away crosses.
Larger Limbs
Larger limbs are beneficial to goalkeepers and outfield players. They provide a large surface area to block shots.
Disadvantages of being a tall soccer player
Center of gravity.
Taller players can be slower.
Less agile.
Less endurance as they have a bigger body to move and power.
Center of Gravity
Short players have the advantage of utilizing their low center of gravity. Lionel Messi and Eden Hazard are master dribblers who have perfected the running with the ball.
Either player can turn on a six-pence, even when moving at high speed. This is due to their short stature and low center of gravity.
Tall players do not have this natural characteristic.
Acceleration and Speed
Although certain tall players can reach a high top speed, their ability to accelerate is often lacking.
Players will rarely sprint for more than 4 seconds at a time, so speed off the mark can be crucial.
Generally speaking, the tallest players, occupying the roles of GK, CB, and target man striker, are quite cumbersome when it comes to a foot race.
Agility
For the most part, taller players do not possess the agility of their shorter counterparts. Soccer is a highly skillful game with continuous movement.
Although many tall players possess above-average agility for their size, the most agile players are frequently below average height.
Diego Maradona, who was perhaps the most graceful player to set foot on a field, is 5ft 5". Some notable exceptions to this rule are Kaka, Zidane, and Cantona, who all stand above 6ft 1".
Let's take a look at player heights in different positions. We'll also explore different styles of play adopted by players of different heights, exceptions to these.
Best positions for tall soccer players
The best positions for tall soccer players are goalkeeper and center back. Due to high balls and crosses, tall players eliminate these dangers.
Goalkeeper
Goalkeepers are the tallest players in the world. In the major world leagues, the average height of a first-team GK is around 6ft 2".
This is between 2 to 3 inches taller than the average outfield player.
It's rare to see a goalkeeper shorter than 6ft and it's common to find them up to 6ft 7".
GKs are usually the heaviest on the team also but their BMI levels align with those of outfield players, showing that they too are finely tuned athletes.
In a specialist position, there're many reasons why tall players are elected to play between the sticks, none of which are any great secret: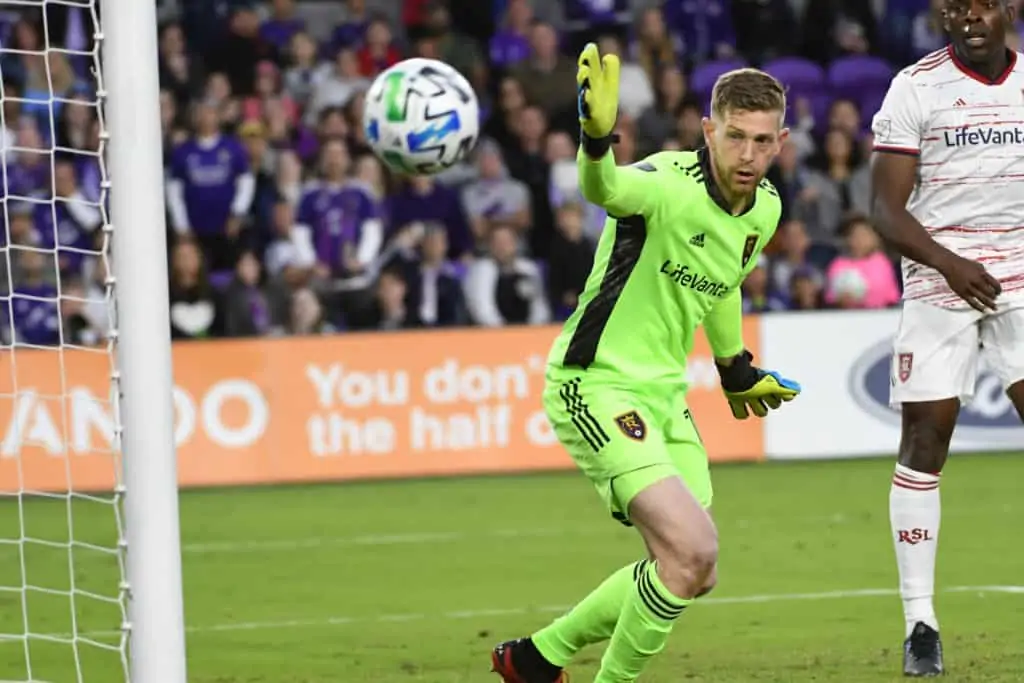 Why are goalkeepers tall?
Bigger surface area to block shots.
Longer arm span for claiming high balls.
Greater reach for stretching to make saves.
They fill more of the goal, which makes the target appear smaller for the shooter
Larger hands for catching and saving
Center-back
Traditional center-backs have always been the rough and tumble, no-nonsense players that every team needed.
Center backs are becoming far more technical and skillful players, with some CBs acting as extra midfielders.
Nonetheless, they're regarded as the on-field enforcers and are responsible for leading and ruling their defensive line.
Height and physicality are important for a CB.
They must be able to compete and win any duel that comes their way, particularly headers from crosses and corner kicks.
Defenders who are dominant in the air also pose a threat offensively and can come up with crucial goals from time to time.
Sergio Ramos (Real Madrid) is one of the most prolific goal-scoring CBs of all time, having scored 115 times for club and country.
He is standing 6ft tall, slightly shorter than the average for his position. This reinforces that height, although significant, isn't a necessity in the game. 

Center Forward: Target Man
The title says it all. This type of striker provides an outlet for their teammates. They're mostly tall, but the Barcelona striker Sergio Aguero holds the ball up well for a 5 foot 8 – 173cm player.
Center forwards are not known for their running ability or for covering ground on the field.
Target men are positionally aware and often have a knack for being in the right place at the right time.
Some of the main roles carried out by these forwards are:
Good positional play.
Ability to hold up the ball.
Competing physically with opposition defenders.
Link-up play.
Anticipating play.
Getting on the end of crosses.
Typically, target men are tall and physically strong. A great example of a complete striker and fantastic target man is Zlatan Ibrahimovic.
He is 6ft 5", almost 210lbs, and is technically gifted.
Some other typical target men are Romelu Lukaku, Olivier Giroud, Mario Mandzukic, and Peter Crouch.
As always, there're exceptions to the typical physical make-up for a position. Standing at 5ft 9" tall, Radamel Falcao is one of the finest examples of a target man in recent years.
Player Height by Position: Short
Wingers / Full-backs
Wide players tend to be some of the shortest players on a soccer field. Height and strength are not important characteristics in these positions.
It's more important for players who occupy wide spaces to be quick, with low centers of gravity, a high work rate, and a deep gas tank.
Roberto Carlos, Dani Alves, Alexis Sanchez, Lionel Messi, Lorenzo Insigne, and Frank Ribery are all examples of different types of wide players, all of whom are under 5ft 8".
Lorenzo Insigne (Napoli) is one of the most dangerous attackers in Serie A. At 5ft 5", he is very short but manages to use his height as an advantage.
Other positions and their height
Midfielders and forwards tend to cover a broad range of heights. There's good evidence to show both tall and short players are required.
Two elite CMs in European football currently is Paul Pogba (Manchester United) and Marco Verratti (Paris Saint-Germain).
Both occupy similar roles, albeit in different ways, but they're almost a 1ft in height difference between them. Veratti is 5ft 5", while Pogba stands 6ft 3".
Further forward, two of the EPL's leading strikers are Sergio Aguero (Manchester City) and Pierre-Emerick Aubameyang (Arsenal).
Both are agile, quick-footed, goal poachers with exceptional finishing. Aguero is a mere 5ft 7½", while Aubameyang is 6ft 1½".
Does Height Matter in Soccer?
When all else is equal, height is an advantage in soccer.
Fortunately, all else is very rarely equal and a multitude of attributes and skillsets contribute to the success and ability of a soccer player.
On average, soccer players fall into the height profiles of regular people.
While we can witness Peter Crouch (6ft 7") scoring a towering header at the back post, we can just as easily marvel at the quickness, agility, and skillfulness of Sebastian Giovinco (5ft 4").
There's "no one-size-fits-all" when it comes to the sport. Contrasts always exist.
The preference and style of play of a manager can dictate the size of the team on-field.
Jose Mourinho is known for having a fondness for tall, strong players down the center of his team.
In contrast, Pep Guardiola opts for smaller, more agile players to operate in his possession-based, intense pressing tactical system.
There's a role for everyone on a soccer field whether tall or short.
Related Questions
Who is the tallest player in the world?
Simon Block Jorgensen – a Dutch goalkeeper who plays for the Danish club, Dulwich Hamlet Football Club. He is 6ft 10½".
Who is the shortest player in the world?
Élton José Xavier Gomes – a Brazilian attacker who plays for Saudi Arabian club, Al-Wehda. He is just over 5ft tall.