Reading Time:
15
minutes
Share the post "Best Online Soccer Stores (+ Coupons Codes)"
The online marketplace is the go-to destination for soccer gear and equipment.
Digital orders for sporting goods now account for the vast majority of total sales in the industry. In 2019, almost 90% of total sales for sporting goods were completed online.
This is no surprise when you consider the convenience of online shopping today. The range of products, value for money, and speed of delivery make online stores hard to beat.
In the era of same-day delivery, online shopping may be even faster than visiting your nearest store. You can order a jersey in the morning and have it delivered on time for kick-off that evening.
Whether you're after a greater variety of cleats for the upcoming season, your favorite team's new jersey, or you're in the market for good value in soccer equipment, we've created a comprehensive guide that takes you through the best online soccer stores.
Best Online Soccer Stores – Summary Table
1. DICK's Sporting Goods
DICK's Sporting Goods is the third-largest sporting retailer in the world. It is an excellent resource for soccer apparel and equipment as well as information and tips such as purchasing guides, gift ideas, and professional advice.
DICK's Sporting Goods supplies a wide range of products, including jerseys, apparel, balls, and training equipment.
The online store even has a niche section for referees and coaches, where you can buy mesh ball bags, pumps, whistles, pinnies, referee jerseys, tactical boards, and more.
While it doesn't stock the same variety of jerseys as WorldSoccerShop, DICK's caters toward the US market, providing the uniforms of all MLS franchises.
It also sells replica kits of national teams and popular worldwide franchises, including Manchester United, Real Madrid, FC Barcelona, and Bayern Munich.
As one of the major global sporting retailers, it's no surprise that DICK's online store excels when it comes to soccer training equipment. It stock all the training gear you could want, from footwork ladders to practice goals.
DICK's Sporting Goods has a decent selection of cleats, including an extensive women's collection. It stocks the Nike Phantom range, worn famously by USA superstar Alex Morgan.
One of the major advantages of shopping at DICK's Sporting Goods is that it is more than an online soccer store; it is a major sporting retailer.
This means you can buy cool accessories to take your game to a new level, such as nutrition and supplements, activity trackers, GPS technology, and earbuds or headphones.
If you're in the market for a one-stop shop for gear, equipment, cleats, and accessories, look no further than DICK's. 
Deliveries
DICK's Sporting Goods ships to the 48 continental states. Alaska and Hawaii deliveries are only possible through expedited shipping. The cost of shipping is determined by the size, weight, shipping method, and delivery address.
The DICK's online store has a useful feature where it shows the estimated shipping cost of your cart as you shop.
For small items, customers can choose between:
Standard shipping: 2 to 5 business days
Expedited shipping: 2 business days
Express shipping: 1 business day
For large items, DICK's offer some unique delivery options:
Curbside delivery
Threshold delivery
Room-of-choice delivery
Room-of-choice delivery and assembly
Returns
DICK's operates a 90-day returns policy (extended from 60 due to COVID so visit their site for the most up-to-date information). Customers must provide proof of purchase in the form of a receipt.
Online purchases can be returned for free (excluding shipping fees).
Company Locations
DICK's Sporting Goods is headquartered out of Pennsylvania, United States. The online store ships from distribution centers in:
Smithton, Pennsylvania
Atlanta, Georgia
Conklin, New York
Plainfield, Indiana
Goodyear, Arizona
DICK's Sporting Goods represents good value for money. Although premium soccer apparel and training equipment are relatively expensive, the depth of DICK's product range allows you to find excellent bargains.
DICK's supplies entry-level cleats and clothing, meaning you can pick up training gear quite cheaply. As a general sporting retailer, it stocks both high and low-value items.
With decades of experience in the retail sector, DICK's has developed an excellent customer service system.
You can call, email, or talk to the live web chat team to resolve issues, such as returns queries, order tracking, cancellations, and product availability.
The "Customer Service" section on the website contains all the information you could need unless you have a very specific query or problem.
DICK's Sporting Goods has a straightforward purchasing experience, offering payment through PayPal or Credit/Debit cards.
Dick's Coupon Codes
Click the links above to get the discounts.
2. Soccer.com
Established in 1984, Soccer.com was created to bring high-quality gear to the US market at a time when players and fans had to travel to Europe for genuine merchandise and equipment.
The comprehensive online store is easy to navigate and mobile-friendly, ensuring you can shop on the go at ease.
This site sells all the soccer equipment you could imagine. It stocks cleats for every type of playing surface, from soft ground studded footwear, like the timeless Adidas World Cups, to indoor sneakers. Soccer.com also supplies professional-level equipment, including matchday goals, agility poles, and hurdles.
In the "Equipment" section, you can find other important gear such as balls, pumps, shin guards, nets, cones, and smart technology (e.g. wearable GPS smart vest trackers).
While it specializes in soccer gear, Soccer.com also provides general sports apparel, such as pants, socks, jackets, hats, and compression gear.
One of the main attractions to shopping on Soccer.com is the variety of jerseys it supplies. As well as stocking the latest MLS, Premier League, and La Liga uniforms, you can find a number of jerseys from local US teams through Soccer.com.
Search the site for your city's team shirt!
Soccer.com is a leading provider of custom uniforms for high school soccer, recreational league teams, or youth clubs.
Jersey options are available in a range of colors from soccer's leading brands, like Nike, Adidas, and Puma, giving players the look and feel of a professional team.
Deliveries
The delivery rates (at the time of writing) are as follows:
Size of Order: 5.99$ +
Express 2-Day Extra: 12.50$  
Express Overnight Extra: 32.49$
However, the website frequently offers discount codes for free shipping on certain goods, which is a real bonus!
International shipping rates vary.
Returns
Soccer.com has a customer-friendly returns policy, allowing you to send items back if necessary.
Soccer.com operates a 30-Day Wear Test.
Under this policy, customers can receive a full refund if they are unsatisfied with any aspect of their footwear, from the look and feel to the quality and performance. You can even take them for a test run at the training ground!
For all other products, Soccer.com offers customers a full refund (minus shipping and handling) as long as the purchase doesn't fit or meet quality standards.
Returns must be made within 30 days of delivery.
Company Locations
Soccer.com is headquartered out of Hillsborough, North Carolina, where its main warehouses are located.
Although Soccer.com is by no means cheap, it supplies a wide range of high-quality soccer apparel and equipment at a fair price. What's more, the returns policy allows you to send back any items you aren't satisfied with.
With Soccer.com, you pay for what you get.
This site also offers discounts under the "SALE" section. Depending on the time of year, the extent of the bargains will vary, but there are savings to be made!
Soccer.com offers thorough customer service options. The team is contactable by phone, email, or through their online help center to provide quotes, product information, returns assistance, and order status updates.
Soccer.com has a straightforward purchasing experience, offering payment through PayPal or Credit/Debit cards.
Soccer.com Coupon Codes
Click the links above for the discounts.
3. SoccerPro.com
Having opened its first store in 2004, SoccerPro.com is one of the newer retailers in the US market. Although it is yet to reach the same status as some of the other stores on our list, it continues to grow as a popular choice among soccer players, coaches, and fans.
The site also features two popular blogs, "The Center Circle" and "The Instep", providing reviews, tips and tricks, and interesting soccer articles.
SoccerPro.com supplies a broad range of soccer clothing, footwear, and apparel. It is an excellent source for premium cleats, as it stocks high-quality, professional standard footwear, such as Nike Phantom GT2 cleats, worn by Manchester City superstars Kevin De Bruyne, Jack Grealish, and Phil Foden.
SoccerPro.com also sells other popular brands like Adidas, Puma, and New Balance.
The website enables you to search for jerseys by the player so you can find the latest customizable jerseys from your favorite players and teams around the world.
The "Equipment" section of the site displays a host of useful accessories from training supplies to official, premium, competition balls.
SoccerPro.com sells quality items in all of its departments, rivaling the standards set by the major soccer retailers in the US.
It has quickly established itself as a leading supplier of off-the-field, lifestyle clothing.
Shop for casual tees, hoodies, shorts, sweatpants, and other activewear from high-profile brands. Don't leave this site without checking out the soccer-themed lifestyle clothing.
Deliveries
SoccerPro.com offers four different shipping options within the United States:
UPS Surepost Economy Shipping: 4.99$
Domestic Ground Shipping, 4 to 7 days: 8.99$
UPS 2 Day Air: 15.99$
UPS Next Day Air Saver – Based On Size: ****$
International shipping fees vary.
Returns
One of the greatest advantages of shopping with SoccerPro.com is its 999 day returns policy.
As long as you have proof of purchase and your items are in new and sellable condition, you should have no problem sending back unwanted goods.
However, it's important to note that there are some exceptions, including clearance items.
Company Locations
SoccerPro.com is headquartered out of Columbia, Missouri. It ships from Columbia-based warehouses but occasionally allows customers to order direct from the manufacturer.
SoccerPro.com is reasonably priced. While it stocks premium clothing and gear, it doesn't overcharge for them. Its clearance section is an excellent place to find bargains for cleats.
SoccerPro.com has mostly favorable reviews regarding its customer service. The team is contactable by phone or email, and the website contains an FAQ section that covers the most common customer queries.
SoccerPro.com has a straightforward purchasing experience, offering payment through PayPal or Credit/Debit cards.
Soccer Pro Coupon Codes
Click the links above to go to the offer pages.
4. Walmart
It may come as a surprise to some, but Walmart has a great online soccer store. It stocks all types of gear across a variety of price points, from official team merchandise to budget brand cleats.
After a quick scan through the Walmart soccer website, you'll notice a wide range of products. However, you'll also see that it stocks a very limited supply of professional level, gameday equipment, and apparel.
As a brand, Walmart has elected to target value-seeking, entry-level, or recreational soccer players. It also provides plenty of low-cost items for kids, making the online store a popular destination for parents.
An area where Walmart may have an advantage over its competitors is in training equipment. The online store is jam-packed with gear that you can use for at-home solo sessions or team training on the practice field.
What's more, most of these items are super cheap, representing a cost-effective way to improve your skills.
Some of the coolest items we came across include speed and resistance training parachutes, free-kick training mannequins, and rebounder nets.
Walmart is also a great store for amateur coaches and little league and local recreational team organizers as it stocks all the basic equipment needed to run a team.
Sifting through the online store, you can find captain's armbands, plain jerseys, dry erase tactics boards, 12-packs of practice balls, cones, and practice goals at very reasonable prices.
While it's not for everyone, Walmart's soccer store is the perfect solution for many. For certain customers, it is the only option worth considering.
Deliveries
One of the biggest advantages of shopping with Walmart is its free delivery system. However, if you wish, you can choose express shipping for an extra charge.
Walmart ships to all 50 United States, APO, and FPO military addresses, American Samoa, Guam, Northern Mariana Islands, Puerto Rico, and U.S. Virgin Islands.
Returns
Depending on the item, your goods are eligible for return within 30 or 90 days of receipt. Make sure to check if there are any exceptions related to your purchases. There is no return delivery fee.
Company Locations
Walmart is headquartered out of Bentonville, Arkansas. It ships from 158 distribution centers, located all around the United States.
Walmart offers exceptional value for money for certain items. It has low-cost goods in every department, including apparel, footwear, and equipment. You can dress head to toe in fresh gear for a fraction of the price you would pay in rival stores.
Walmart is a particularly attractive online store for parents of growing kids.
Young soccer players are constantly filling out, rendering clothing useless in a matter of months. Walmart stocks budget-friendly kids' soccer gear, such as DREAM PAIRS cleats and Wilson shin guards.
It also provides cheap bundles, such as a referee starter kit that includes a jersey, bag, shorts, socks, neon flags, a score pad, a data wallet, lanyards, toss-coin, whistle, and yellow and red cards.
Walmart shouldn't be overlooked as a leading budget option.
Walmart's customer service is generally praised for being helpful. The "Help" section on the website is comprehensive and covers FAQs. Walmart is contactable via phone or email.
Walmart has a straightforward purchasing experience, offering payment through PayPal or Credit/Debit cards.
Wallmart Coupon Codes
Click the links above for the discounts.
6. Amazon
As the largest online retailer to ever exist, it's no surprise to see Amazon on the list of best online soccer stores. While you mightn't always find exactly what you're looking for in terms of cleats or gameday balls, Amazon has an endless catalog of soccer gear.
You name it, they sell it. Amazon covers all bases when it comes to the game of soccer. The main issue with the site is that it isn't always reliable for finding specific types of products. For example, at the time of asking, an Amazon retailer may not have the particular make and model of cleat you're looking for.
Amazon shines in the soccer technology and equipment niches. It is one of the best sources for training sets, goals, and coaching supplies.
Some great packages on offer contain multiple items that you can use for solo or team training sessions. For example, the HLYWEI speed agility training set comes with an agility ladder, steel stakes, a sports headband, a jump rope, cones, and a carry bag.
Amazon is also a good source for finding reasonably priced practice clothing.
If you're looking for soccer memorabilia, Amazon is often the only place to find certain pieces. You can search the site for unique and one-off autographed photos and collector's items.
Deliveries
As Amazon is full of independent retailers, delivery costs may vary significantly. However, it's quite common for domestic shipments to be free.
Returns
Amazon has one of the most customer-friendly returns policies in online retail.
According to the website, "you may return most new, unopened items sold and fulfilled by Amazon within 30 days of delivery for a full refund".
Company Locations
The Amazon headquarters is in Seattle, Washington. While it allows sales from third-party sellers, all products are shipped from an Amazon fulfillment center.
There are currently 110 active Amazon fulfillment centers in the US alone.
Amazon is a great place to shop for bargains. With so many different retailers available on the site, you can find exceptional value for money.
Amazon's customer service is award-winning. The customer service team is contactable by phone, email, or webchat 24/7, ensuring any problems can be solved quickly.
Amazon has a straightforward purchasing experience, offering payment through PayPal or Credit/Debit cards.
The Best Leather Soccer Cleats – Quick Choice
Comfortable Pick
Great Quality
Popular Choice
Nike Men's Legend 7 Pro Fg Footbal Shoes, Grey...
adidas Copa 18.1 Fg Silver/Black/Blue Soccer Shoes...
NIKE Men's Footbal Shoes, Black Black Black Blue...
⚽ Kangaroo Leather ⚽ Elite ⚽ Hi Spec
⚽ Premium K Leather ⚽ Leather Sole ⚽ Sockliner
⚽ Calf Leather ⚽ Grass & Turf ⚽ Color Choices
Comfortable Pick
Nike Men's Legend 7 Pro Fg Footbal Shoes, Grey...
⚽ Kangaroo Leather ⚽ Elite ⚽ Hi Spec
Great Quality
adidas Copa 18.1 Fg Silver/Black/Blue Soccer Shoes...
⚽ Premium K Leather ⚽ Leather Sole ⚽ Sockliner
Popular Choice
NIKE Men's Footbal Shoes, Black Black Black Blue...
⚽ Calf Leather ⚽ Grass & Turf ⚽ Color Choices
5. World Soccer Shop
WorldSoccerShop has some of the best selection of jerseys on the market.
The origin story of WorldSoccerShop is an interesting one. Starting out selling jerseys online from a basement, the founders steadily built the business to become pioneers of the North American retail soccer market.
WorldSoccerShop is truly a soccer fan's dream website. From humble beginnings, it has developed into a comprehensive online store that sells all types of soccer-based goods.
The "Training and Playing" segment contains high-quality field equipment, where you can buy cones, balls, agility poles, and whistles.
This section also sells items that your local club might need, such as substitute benches and shelters, locker room cleat racks, corner flags, large tactics boards, and wet stripers for lining the field.
Have you ever seen professionals playing on a curved table tennis table during the off-season? Well, this playing surface is actually called a Teqball table. Tequball is a recognized sport in itself, combining elements of soccer and table tennis.
Neymar and his Brazilian teammates playing Teqball.
WorldSoccerShop stocks Teqball tables if you need ideas for stepping your background activities up a notch this year. But be aware that these tables don't come cheap!
If you're looking for a great gift for a soccer-crazy friend, WorldSoccerShop sells official memorabilia. This subsection is jam-packed with signed jerseys, artwork, scarves, framed photos, and other cool collector's items.
WorldSoccerShop supplies a vast range of cleats, including professional, gameday options.
The site conveniently lists categories for budget-driven buyers with "cleats under $100" and "cleats under $150" sections.
One of the greatest aspects of WorldSoccerShop is that it has stayed true to its roots and still prides itself in being the go-to source for jerseys.
WorldSoccerShop stocks the latest uniforms from the leading national and club teams around the world, including the limited edition and third-choice kits. All authentic and replica jerseys are customizable.
Check out the signed jersey selection and see if you can get your hands on your player's signature!
Deliveries
WorldSoccerShop offers three different shipping options:
Ground Standard: 3 to 13 business days
Two Day Air: 2 business days
Next-Day: 1 business day
Shipping rates depend on the type and size of the product as well as the cost of the order, your delivery address, and your chosen shipping option.
WorldSoccerShop ships internationally.
Returns
Apart from customized items and signed memorabilia, all items from WorldSoccerShop can be returned within 30 days of receipt.
One of the key benefits of buying cleats from WorldSoccerShop is the free footwear returns policy.
WorldSoccerShop allows you to try on, test, and play in your cleats, ensuring that you are totally happy with them. If you're not fully satisfied, it accepts footwear returns within 30 days of the purchase date.
Company Locations
WorldSoccerShop is based in Birmingham, Alabama, but it ships items out of warehouses in North Carolina.
Due to the rare memorabilia, signed items, and variety of products that WorldSoccerShop sells, you can easily rack up a hefty bill when shopping there. However, when you consider the quality of the items on sale, this online store is good value for money.
WorldSoccerShop has permanent clearance sales, where you can avail of huge discounts of up to 85%.
You can also pick up generic jerseys for your local rec league team at a very low cost.
Unfortunately, WorldSoccerShop has some poor customer service reviews online in relation to delays and communication.
The website contains plenty of key information on orders, pricing, shipment tracking, returns, and other FAQs.
Customer service is contactable by phone and email. However, there is limited availability.
They can be contacted from 9 am to 10 pm (ET) from Monday to Friday, 10 am to 6:30 pm (ET) on Saturdays, but they are unreachable on Sundays.
WorldSoccerShop has a straightforward purchasing experience, offering payment through Credit/Debit cards.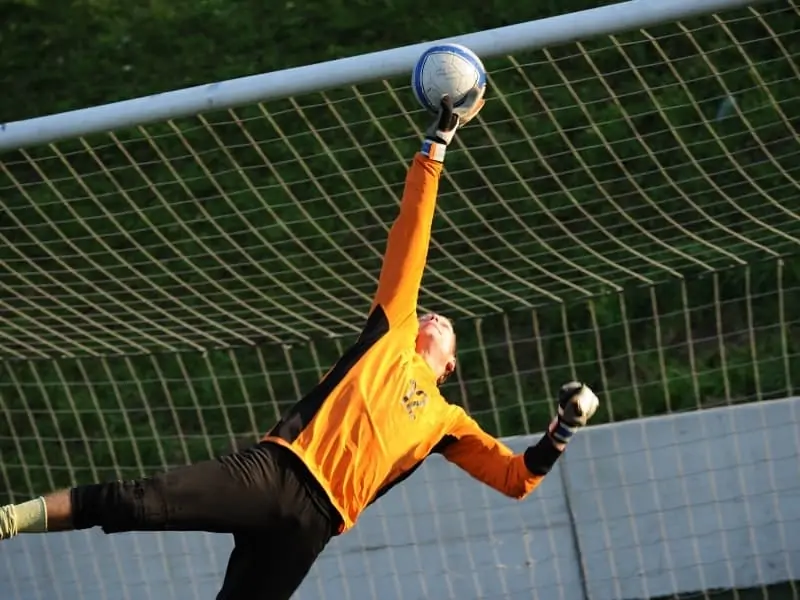 7. Pro:Direct Soccer
Pro:Direct Soccer made its name selling discounted soccer gear and sports apparel in the UK. However, it has come a long way. Although it still offers 80% discounts and massive savings through its outlet store, Sports:Direct Soccer also provides authentic, high-quality, gear and equipment.

While Pro:Direct Soccer has a US store, most of its goods are shipped from Europe, meaning it is not among the most popular online stores in America.
Sports:Direct Soccer sells a wide range of soccer clothing and training equipment. While it doesn't have the range of quality training ground equipment that WorldSoccerShop or Soccer.com have, Pro:Direct supplies all the accessories a soccer player can dream of, including ankle tape, kinesiology tape, laces, and cleat cleaner.
This site is a Godsend for the goalkeepers out there, with a section dedicated specifically for goalie gear.
Here, you can find beginner-level bargain gloves as well as professional standard game-day options. There are also glove care kits, goalkeeper bags, and training equipment. As a truly specialist position, it's great to see such attention to detail on this section of the website.
The Pro:Direct Soccer jersey selection is impressive, stocking kits from all the major leagues worldwide, including the awesome collaboration between PSG and Jordan.
The main difference between Pro:Direct and many other online stores is its focus on high-level performance clothing. If you take the game seriously or enjoy the benefits you get from professional-level athletic wear, check out the Nike, Puma, or Adidas Performance apparel.
Deliveries
Pro:Direct delivers to all US States other than Hawaii and Alaska. Rates depend on the chosen delivery option, size, weight, and delivery address.
However, the site periodically advertises discounts, such as half-price delivery.
Its FedEx delivery options include:
Standard: 3 working day
2 day shipping
Overnight delivery
Returns
Pro:Direct Soccer implements a standard returns policy, allowing customers to return items within 28 days of receipt. All items must be in their original condition, including packaging. Customized items cannot be returned unless they are faulty or damaged upon receipt.
Company Locations
Pro:Direct Soccer is based out of Devon, England. The company currently ships from warehouses across several locations in the United Kingdom and Europe.
Pro:Direct Soccer ranks highly when it comes to value for money. On the premium end, authentic jerseys, cleats, shoes, balls, and leisurewear are reasonably priced when compared to competitors.
However, Pro:Direct always seems to have excellent deals in its "SALE" section.
While other websites also offer year-round discounts, very few, if any, provide such significant price reductions on quality merchandise. On any given day, you can avail of 30% off professional-level Adidas Predator Freaks, which are worn by the likes of Paul Pogba, Marc-Andre Ter Stegan, and David Alaba.
If you're looking for real bargains, make sure to check out the famous "WAREHOUSE CLEARANCE" section, where you can discover one-off sizes and one-off prices.
This is an easy-to-navigate portion of the website where you can input your exact size specifications for footwear, gloves, and apparel to see what limited quantity items are still available.
Pro:Direct Soccer has good customer service reviews.
The website contains an extensive "Help & FAQ" section that addresses the majority of standard queries.
Customer service is contactable via email, phone, or through an online application form.
Soccer.com has a straightforward purchasing experience, offering payment through PayPal or Credit/Debit cards.
Share the post "Best Online Soccer Stores (+ Coupons Codes)"
Joel is a seasoned soccer journalist and analyst with many years of experience in the field. Joel specializes in game analysis, player profiles, transfer news, and has a keen eye for the tactical nuances of the game. He played at various levels in the game and coached teams - he is happy to share his insight with you.