If you've watched a soccer game recently or even saw training photos of your favorite team on Instagram, you may have noticed something unusual about their clothing. Many players appear to wear what looks like sports bras. 
In reality, a men's soccer sports bra is not quite as it seems. These are performance technology vests used mainly to track and analyze player performance. 
If you've stumbled across this article searching for a new bra, you're in the wrong place. Today we explore the science and technology behind fitness trackers in soccer, covering topics like: 
What does a sports tracker do?
Important metrics provided by trackers
The role of data in the modern game
The best trackers in soccer today
Keep reading if you're still wondering what male fitness tracker vests do.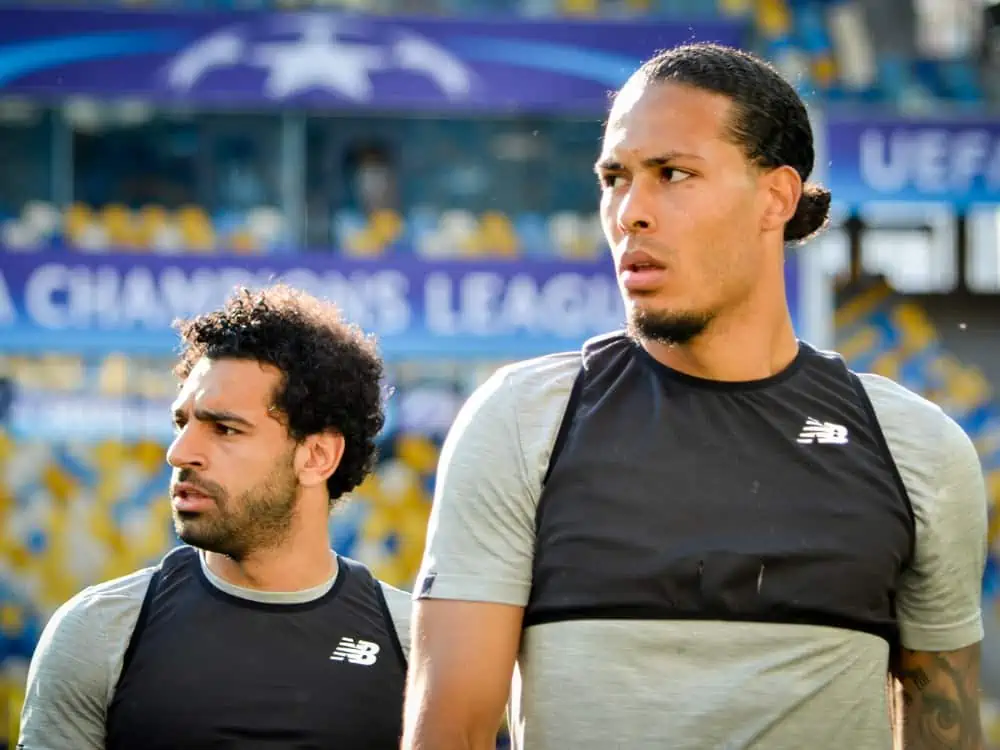 Men's Sports Bra
Modern soccer players are international superstars, some of them known for their off-the-field antics as much as their on-the-field performances.
The likes of David Beckham, Freddie Ljungberg, and Dominic Calvert-Lewin have all been snapped wearing what can be modestly described as "high fashion." 
Despite the close ties to controversial fashion choices, the men's sports bras you might have spotted are not a stylistic choice. These vests contain some of the most sophisticated wearable technology in soccer. 
Trackers and Monitors FAQs
What Do Soccer players Wear Under Their Uniforms?
The bra-like garment players wear under their uniforms is a high-tech fitness tracker device. The device uses GPS technology to record statistical data with player location and movements. This data is then relayed to a software application on a computer, tablet, or mobile device. 
The information can be accessed in real-time or saved as individual sessions. Depending on the particular vest and the synchronized software, the potential for analysis can vary.
While cheaper vests may provide limited data, like distance covered and top speed, more advanced trackers can produce a variety of key metrics, such as:
Accelerations and decelerations
Average heart rate (in BPM)
Average speed
Calories burned
Live heart rate (in BPM)
Live speed 
Distance covered per minute
High-speed running (total distance covered after reaching a certain speed)
Intensity
Maximum heart rate achieved
Top speed
Number of sprints
Bodily strain (baseline usually accumulated after several sessions)
Body imbalances
Red zone data
Overall distance covered
GPS Sports Bra
GPS tracker vests have become standard pieces of equipment for professional teams. Serious amateurs or up-and-coming youth players may also use these devices to monitor physical fitness levels and progress in certain areas.
As of 2021, it was estimated that approximately 75% of Premier League teams use GPS tracker vests.
Premier League teams can use live data during a game, helping inform decision-making. So, if you're scratching your head about an unusual in-game substitution, perhaps the metrics are telling the coaching staff something you couldn't possibly notice.
The Importance Of Data In Soccer
Data has become an integral part of the modern game. We have seen several top clubs invest heavily in data analytics departments to gain an edge over the competition.
Data is not just important for tracking data from training sessions and games, but it also plays a key role in other areas. 
"Those who turn their back to data will lag behind. In the future, clubs will sign players, managers, mathematicians and physicists, engineers and analysts."

Monchi, Sevilla F.C. Football Director, 2020
Men's Sports Bra Tracker: Key Uses
Men's sports bra trackers are used for three main reasons: analyzing player performance, monitoring in-game performance, and recruiting potential signings.
Player Performance
The primary reason for using fitness vests is to track player performance. As discussed, these devices provide a wide range of useful metrics that can be used to gain insights into player performance. Players typically wear these vests throughout entire games and training sessions.
In-Game
As a developing technology, the true potential of live game data is yet to be fulfilled. While you may think that coaches would look at the physical exertion metrics to make substitutions, this is rarely the case.
A high-performance athlete is capable of tremendous output. Removing a player that has worked hard or run a lot during a game is counterintuitive, doing a total disservice to the other aspects they can contribute to.
Players have the potential to do amazing things when they are exhausted. Think of all the wondrous last-minute goals, magic extra-time moments, and feats of brilliance in the late stages of important games. 
Instead, analysts are likelier to look out for tactical nuggets since they can be observed on-field and through data. For example, suppose the opposition is continually breaking through the defensive line between the left-back and left-center-back. The analyst can look at the positional data to spot potential issues in that case.
In many ways, the data can help reinforce a coach's decision-making or support a tactical change. As technology continues to play a more significant role during games, the interpretation of the data is likely to be the area that improves most.
The analysis, interpretation, and presentation of in-game data are some of the most important factors going forward.
Scouting
Data is also a key aspect of scouting and recruitment. While many professional scouts insist that a potential signing must pass the "eye test," the numbers must also be analyzed.
Monchi, the sporting director for Sevilla, credits his research and development staff at Sevilla for the club's successful signings in recent years. The scouting department commits much time to video and data analysis, identifying potential recruits. 
Unlike many other sports, soccer can be loose and free-flowing, making it difficult to analyze using statistical models.
Although it hasn't yet reached "Moneyball" status, tracking devices, machine learning, and other analysis tools make the sport much more data-heavy. This is especially true for scouting departments. 
Best High-Tech Male Sports Bra
There are several options for sports vests. While the technology continues to develop, keep an eye out for new releases or partnerships from major brands. For now, here are our top 5 options available currently:
CATAPULT ONE – Track, Analyze, and Improve Your Soccer Performance (Pre-Paid Membership) (Small)
Access performance and data trends, visual heatmaps, and customised recovery and…
Used by elite teams, Catapult One is a GPS tracking solution that captures ten times…
Includes Catapult One pod, vest, charging dock, carrying case, and a one-year…
Track and improve the core metrics that make you a better player, including total…