Reading Time:
9
minutes
Soccer is one of the most popular sports in human history. Given the fact, no wonder so many girls love the game. Some enjoy watching, but others want to be in the middle of the action.
When gifting a girl who is enthusiastic about soccer, there is a range of gifts from soccer kits to soccer-themed interior design and fashion items. Therefore, you can always find something that speaks to her soccer spirit.
This article will narrow down the most practical gift for soccer-crazy girls. We shall categorize the gift for you for easy selection according to age and price as follows:
Soccer Gifts for 4 to 19-Year-Old Girls
Soccer Gifts for Teenage Girls
Personalized Soccer Gifts for Girls
Soccer Gifts Under 10$ for Girls
Best Gift for Your Soccer Girlfriend
We've compiled for you the best soccer-themed apparel, jewelry, accessories, and books, the perfect mix to aid you in finding the gift that suits her best.
What to Buy for a Girl Who Loves Soccer?
Soccer is a high-paced, high contact game which can make the game a little rough. However, a girl who loves soccer is strong, well-coordinated, and has endurance. When getting a gift for her, it should be one that motivates them to keep on.
The gift should express how proud you are of their efforts. It should be more of a reward for their love of soccer.
Best Gift for a Girl Who Loves Soccer
The best gift for a girl who loves soccer motivates her to continue pursuing soccer, one that expresses her pride and love for soccer.
Below are specific gifts appropriate for each age group.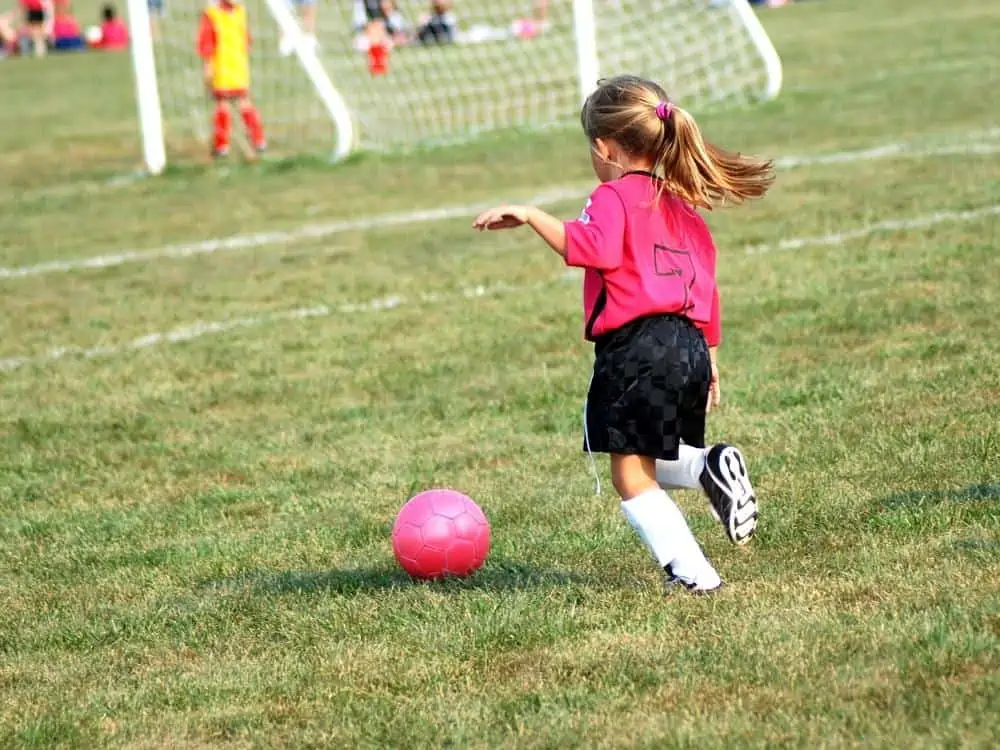 Soccer Gifts for 4, 5, 6-Year-Old Girls
At this age, the pretty girl is discovering her love for soccer. Most of her gifts are indoors for easy monitoring and her safety at this age.
A Soccer Barbie
The soccer player doll comes ready to play dressed in a soccer uniform, a pink and white striped shirt with her number marked on the jersey. She also has black shorts marked with a uniform number with the jersey. On top of that, she has striped socks, a shin guard, pink and white sneakers, and a black headband.
The barbie has 22 joints from the neck, upper arms, elbow, wrists, torso, hips, upper legs, knees, and ankles to aid the doll in its flexibility. These joints help the barbie be incredibly flexible, producing realistic ranges of movement.
A young soccer girl will find ways to play with the soccer doll.
3-in-1 Sports Zone
A 3-in-1 sports zone is not exclusively for soccer, but it is a fantastic gift for a little girl as it even gives her choices when she needs to play something different. The 3-in-1 sports zone features soccer, basketball, and bowling.
The young girl will appreciate this gift as she gets to kick, dunk, and roll strikes whenever she wants.
The sports zone comes with songs and sounds that play whenever she scores, dunks, or hits the bowling pins. These sounds make play more exciting and motivate her to keep going.
You can increase the height of the basketball hoop as she grows. She also improves her coordination by getting better at soccer, and the bowling objects enhance her understanding of shapes and colors.
Hover Soccer Ball Set
The Hover Soccer Ball Set is an indoor toy for younger kids, given how gentle it is. In addition, it is highly responsive, even from slight touch, making it very interesting for the young soccer lover.
The pack comes with two goals and two balls, one inflatable and the other a hovering ball. When hit, the hovering ball stays on the ground, making it safe for the child while playing inside. They can easily kick it and follow it around the house.
The hover ball also has flashing led-lights built within, making play even more fun for young soccer enthusiasts. However, you will need batteries that do not come with the package for the led-lights to work. In addition, the goals are easy to assemble and put up.
Soccer Gifts for 7,8,9-Year-Old Girls
A girl between these ages has been interacting with soccer for a while.
Vizari Blossom Soccer Ball
Therefore, it is now time to replace their soft soccer ball with a sturdier, professional-standard ball. A soccer ball like the Vizari Blossom Soccer Ball is a perfect gift for young soccer lovers.
The outstanding feature that makes this the ideal gift for a girl is the ball's creative design featuring pinks, purples, and blues and a beautiful aesthetic flower to top the design. The ball perfectly represents the feminine superpower on the soccer field, which the girls will appreciate.
It is available from size 3 to size 5. It comes deflated but does not come with its own pump. But apart from that, it retains its shape and is very durable.
Soccer Ball Bath Bombs
After a sweaty but worth it practice session, there is nothing that beats a nice warm bath. Unfortunately, girls younger than seven would miss the fun of bath bombs, but a seven-year-old will treasure a bath bomb as a gift.
These bath bombs are soccer-shaped and are very high quality. They are the most decadent bath bombs in the market. They create bubbles to fill up the bath. Their smell is therapeutic, and they are moisturizing to the skin.
In addition to containing Epsom salt, which is great for relaxing the muscles, these bath bombs are animal friendly which is an addition for animal lovers.
Book: For Soccer Crazy Girls Only
Seven-year-olds are just starting to pay attention to their skill. This book carries exciting facts, tips, and illustrations that stir up the young girls' interest in learning. It also has strategies and practical ideas on how she can improve her game.
The book has excellent content on tactics and techniques, including pre-game rituals, positional explanations, how to work with coaches, and how to keep improving. It is essentially a workbook for a soccer fanatic.
In addition, the book's design makes it easy on the eye and an easy read.
Soccer Gifts for 10,11,12-Year-Old Girls
These are the pre-teen years meaning that the girls are just getting ready for competitive, aggressive soccer starting their teen and possibly into professionalism. So the first gift that would fit them is improving their kit and adding the Adidas Youth X Shin Guards.
Adidas Youth X Shin Guards
The shin guard is meant to keep kids safe on the field. Fortunately, they are exclusively designed for girls because of the hot-pink black and white designs.
The best feature for these shin guards is that they come with ankle support guaranteeing that the soccer angel will be protected and avoid all manner of injuries.
Keeping the kids safe in the field is crucial for their love for the sport and their continued enthusiasm to learn and improve. Gifting them safety kits like this re-affirms what they do, and they feel appreciated and celebrated.
HCChanshi Soccer Bracelet
During these pre-teen years, young girls have started developing a fashion sense hence a soccer-themed bracelet is perfect for them.
The bracelet is handmade with cotton ropes, leather ropes, alloy charm, and lobster clasp. It is gorgeous and easily adjustable from 6.5 inches to 8.5 inches, so you don't have to worry about fit.
The pink, silver, and mint green bracelet is a perfect gift for the pre-teen girl who loves to show off her passion for soccer through her fashion.
Hipsy Adjustable No-Slip Soccer Headbands
A headband serves as a fashion article and an accessory for the girls while they are playing. The Hipsy Adjustable No-Slip Soccer Headband helps the girls hold their hair back while they play and look cute while at it too.
These adjustable headbands are easy to put on and adjust even mid-game, allowing the girl to go back to playing without minding their hair. In addition, they are super comfortable and do not tighten unnecessarily.
They are also easily washable by hand because they are made from soft material. In addition, the headbands come in various colors to choose from.
So, if the girl whom you are getting the gift for loves colorful articles, you will find one that fits her perfectly.
Soccer Gifts for Teenage Girls
Teenage girls playing soccer now have the skills, resilience, and grit that soccer calls for. Their gifts, therefore, should be gifts that motivate them to continue improving and bettering themselves.
Nike Pitch Training Pink Soccer Ball
The Nike Pitch Training Pink Soccer Ball is a professional-level soccer ball that performs outstandingly on the field. The pink design scores this as one of the best gifts for a teenage girl.
Its robustness, roughness, and toughness make it perfect for girls this age as they can practice with a professional-level ball. The ball comes in sizes 3 to 5 inches.
The standard ball size is size five; therefore, if she has played soccer for a while, the size five would fit her perfectly.
Also, being a Nike ball with the signature swoosh sign and a cute color scheme, she certainly will fall in love with the ball as a gift.
Book: Women in Sports: 50 Fearless Athletes Who Played to Win
A book is a fantastic gift for a teenage girl as it complements what she learns on the field, and they get to know much more from reading while relaxing. The book 'Women in Sports' is a fantastic gift because it highlights women in soccer and women athletes in other sports.
Fundamentally, a teenager learns that women can succeed across the board when it comes to athletics too. The book has information on outstanding world-class women in soccer, basketball, tennis, ping pong, and BMX.
The book has also been designed with infographics, timelines, facts, and beautiful illustrations. It has been written as a coffee table book for young girls, especially athlete girls who need motivation.
There are some more gifts that are suitable for teenage girls further on in the Soccer Gifts for Girlfriend section, plus the ones below;
Personalized Soccer Gifts for Girls
Apart from gifting your girl gifts that are age-appropriate for her, you can choose to customize a gift for her.
Personalized Necklace with Letter Charm
A personalized gift is a reaffirmation that you understand and support her and that you went out of your way to get them a gift that is personal to them especially. A personalized Soccer themed necklace is an excellent pick as a gift for her.
Soccer Hooded Sweatshirt
A soccer-themed hooded sweatshirt is another way you can personalize the gifting of a girl that loves soccer. The sweatshirt can come in handy as she goes for practice as she would wear it on top of the jersey or even just as a clothing article that allows her to profess her love for soccer.
Soccer gifts under 10$ for girls
While gifting, it doesn't have to cost you an arm and a leg. You can find meaningful gifts at very affordable prices.
Book: Breakaway: Beyond the Goal
Breakaway is a book by Alex Morgan, a successful female athlete. She is a role model to girls both in soccer and in life.
Her book that highlights her journey into professional football only costs $9.99 on Kindle and $6:39 as a paperback.
This book is guaranteed to inspire any girl, especially soccer lovers, as they get to experience how another girl made it through.
Best Gift for My Soccer Girlfriend
Nothing shouts I love you more than supporting what your girlfriend loves and gifting her gifts that acknowledge and reinforce her love for soccer.
Back Massager and Neck Massager with Heat
Your girlfriend will love you for this gift! Perfect for after a game and the following days to recover, this heated massager will be great for those muscle pains.
The balls rotate and massage while the heat gets through to ease the pain. It has a cover – sometimes these massagers can push you around too much. So the cover makes it a gentle sensation.
It also works in the car! No need to wait till they get home. Plug it into the car adapter and put on the headrest.
Padded Sports Bra
A great gift for older girlfriends is this Adidas Alphaskin sports bra. Sometimes girls will buy the standard sports bras for soccer, so this one will be a treat.
Soccer is intense, full of running, twisting, and turning, so it's nice to feel comfortable. So there's no better way for a girl than with a sports bra.
It's designed to be breathable and supporting. You're guaranteed quality as well coming from Adidas.
Blanket with Quotes
Off the topic of soccer, I thought it would be a nice gift for you to give to show your emotions!
This is a quality blanket filled with messages from the heart and you'll be remembered when they're keeping themselves warm when you're not there.
FIFA 22
Every soccer fanatic loves playing on FIFA. Although this is a relatively expensive gift, it is the perfect gift for your soccer-loving girlfriend. The addition of female teams and players in the game is an added pro of getting her this game.
She would appreciate taking you up on one game or several as you hang out if she owns a console. This gift is not only for her as you will also get to spend quality time together while playing the game.
FIFA 22 is not only a console game. You can also buy it for a PC, PS4, Nintendo Switch, and Xbox One; therefore, there is no reason not to get her one. Get FIFA for your console at Amazon.
That's mostly it for soccer gifts for girls – although if you've not got everything, there are some great gifts ideas on another article we have. Although it's aimed at boys, there are loads of great unisex gifts in our soccer gifts for boys article.