Reading Time:
9
minutes
Share the post "Most Important Positions In Soccer (Rankings + Cost)"
Soccer is a tactical sport that involves precise positional play, attacking, and defending. With so many different styles and strategies, it can be hard to know what is the most important soccer position.
Although the strikers get the headlines, are they truly the most important players on every team?
This article explores the various positions on a soccer field and opens the debate as to which position is most important. Some of the topics we'll discuss include:
The 4 most important positions
Whether defensive or offensive tactics are most effective
The most valuable positions
Key positions in youth soccer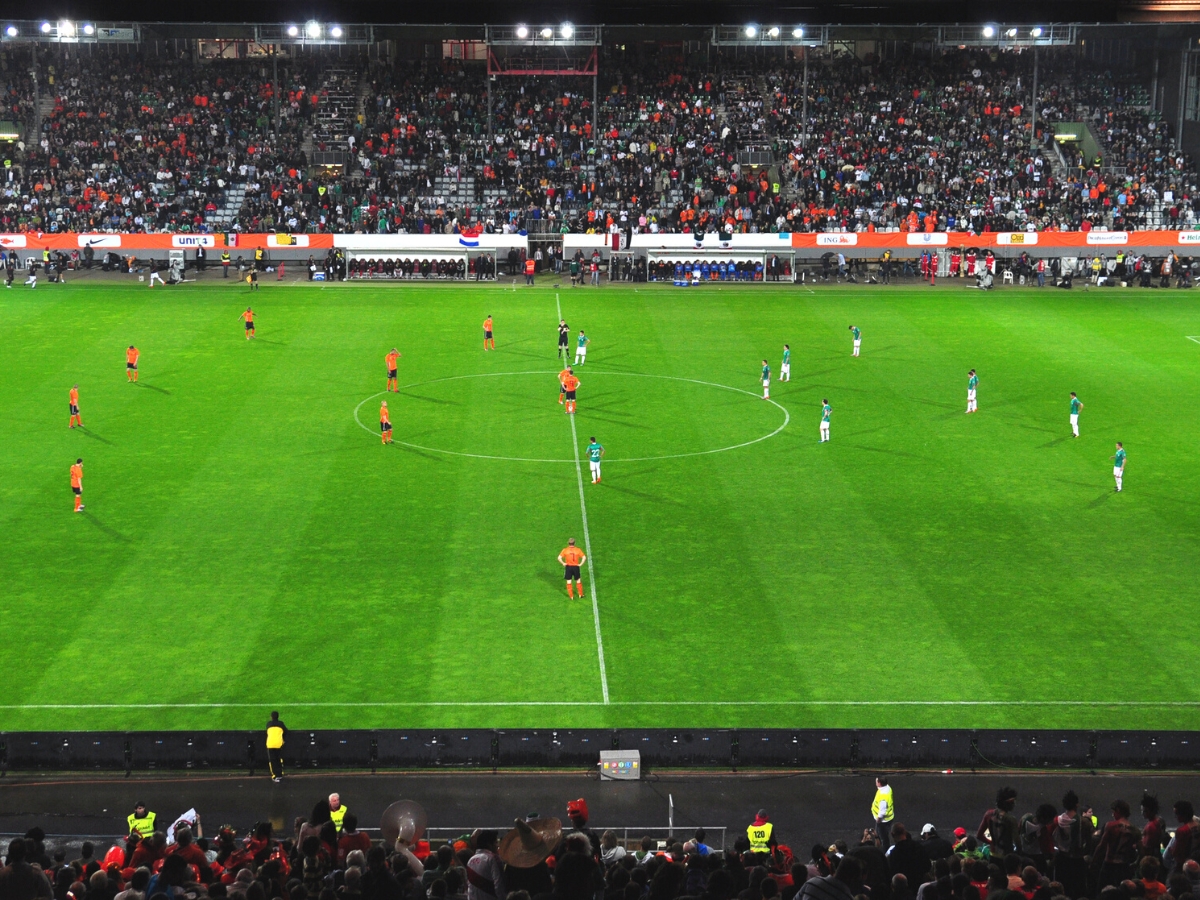 Most Important Soccer Position
Many soccer pundits claim that the striker is the most important position in soccer, as they have the most difficult yet crucial role of putting the ball in the back of the net.
Strikers must possess elite finishing abilities to be able to score at the highest level. Hours of practice on the training field combined with a natural instinct for being in the right place at the right time are the two core ingredients of a high-scoring professional striker.
While you can make an argument for the attacking positions being the most important, this is a relatively shallow take.
Goal scoring isn't reserved specifically for strikers, and soccer is a game that involves much more than an all-out attack.
A strong defense is also a crucial part of winning games.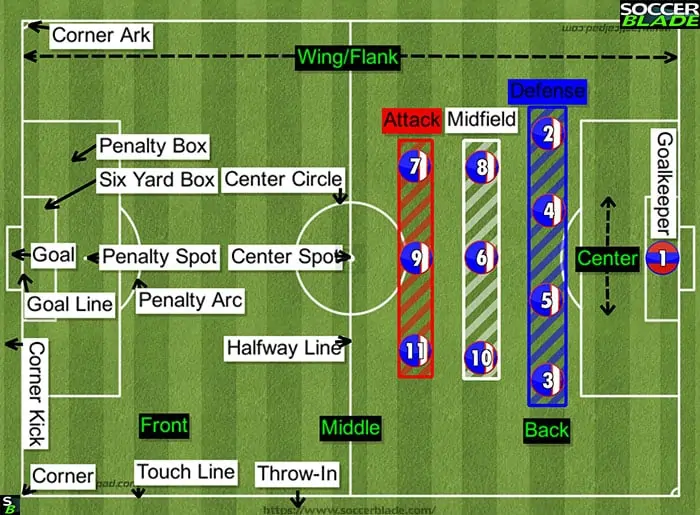 What Are The 4 Most Important Positions In Soccer?
In soccer, there are 11 players, that play in 4 key positions:
Goalkeeper
Defender
Midfielder
Attacker
While there can only be one goalkeeper, there are no restrictions as to how many other players fill the attack, midfield, and defensive positions.
Typically, teams play with either 3, 4, or 5 defenders, 2, 3, 4, or 5 midfielders, and 1, 2, or 3 attackers, depending on their formation.
There are various schools of thought regarding the best way to set up a team. Some coaches are defensive-minded, assembling a squad with defensive characteristics. For such teams, perhaps the center backs are the most important positions.
Teams who focus on possession may rely on highly talented midfield players to control the tempo and dictate the flow of the game. For such teams, midfield players may be most important.
Many soccer coaches have an attack-oriented philosophy, meaning they prioritize getting the ball to their strikers or wingers at every opportunity.
As their main source of creativity and goalscoring, attackers are likely to be the most important players for this type of team.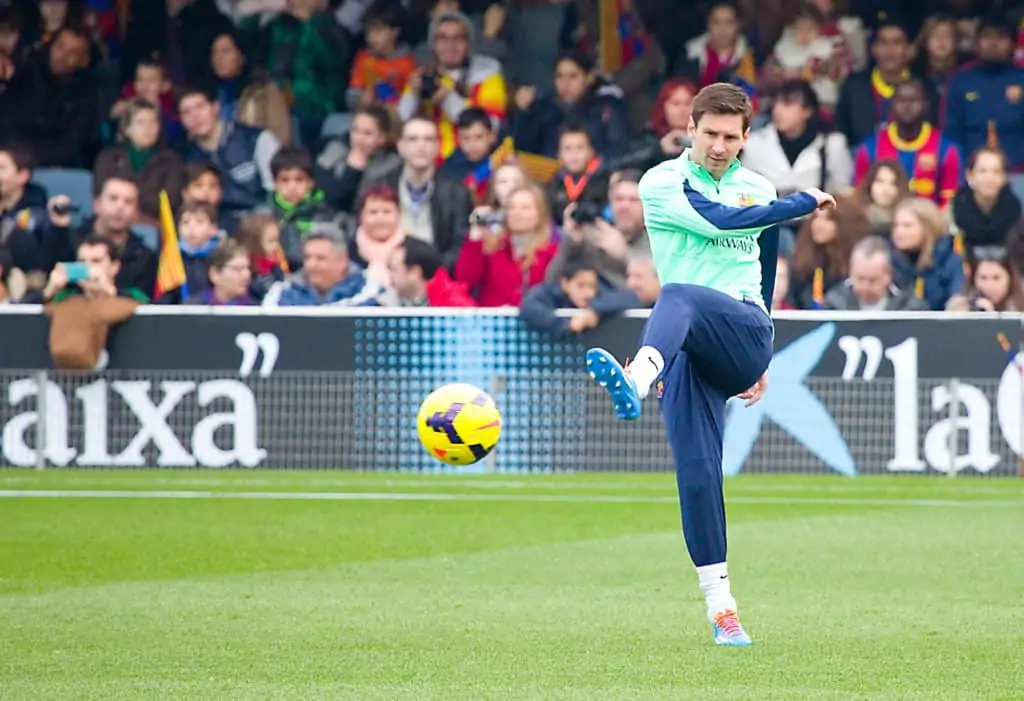 Is an Attacker Important In Soccer?
An attacker is undoubtedly one of the most important positions in soccer.
We are living in an era where attackers get the most plaudits in soccer. Today's game is very tactical, meaning players operate within established systems, where each and every player and position has a distinct role.
Attackers are generally the freest to express themselves and create moments of magic.
Even the most well-oiled teams have a style of play that aims to create chances for the attackers. If your striker can't finish chances, they are likely to become surplus to requirements very quickly.
Elite attackers such as Cristiano Ronaldo, Lionel Messi, Robert Lewandowski, Erling Haaland, Karim Benzema, Neymar, Kylian Mbappe, and Luis Suarez are goalscoring machines.
Before the arrival of such potent attackers, very few strikers came near the numbers that these players are racking up.
With 40, 50, and 60 goal seasons now the norm, soccer fans are becoming accustomed to such devastating scorers.
In the modern game, attackers play across the entire width of the pitch, providing goals and assists from the left, right, and center.
Players like Christian Pulisic, Mo Salah, and Marcus Rashford are goalscoring attackers that occupy wide spaces, unlike the traditional striker role.
Is a Defender Important In Soccer?
In his autobiography, legendary Manchester United manager, Sir Alex Ferguson, claimed that the backline was the most important unit for winning Premier League titles.
"Attack wins you games. Defence wins you titles".

Sir Alex Ferguson
This is a variation of the famous quote from an American football coach, Bear Bryant that "defense wins championships".
Over the years, there have been successful teams with a predominantly defense-oriented strategy.
"One-nil to the Arsenal" was a popular chant among fans of the Gunners in the '90s and early 2000s when Arsenal teams conceded very few goals.
Jose Mourinho is one of the most successful coaches in modern history. Often regarded as a tactical genius, Mourinho is known for being a defense-first style coach. In his first stint with Chelsea, his team broke the record for the fewest goals ever conceded in the Premier League.
Chelsea gave up just 15 league goals, in 38 games in their '04/05 title-winning season.
The following season, Chelsea became the second team ever to retain the Premier League title, conceding only 22 goals; the fourth-fewest in a single season.
Today, defenders are crucial for setting up attacks as well as defending.
In fact, many fullbacks are more effective in their opponent's half than their own.
Trent Alexander-Arnold, from Liverpool, is one of the most exciting talents in world football.
While he is often criticized for his lack of defensive nous, he has led Liverpool in assists every season since he broke into the first team.
It's important to note that they won the Champions League and Premier league in this timeframe.
For teams like Liverpool, fullbacks are essential to their style of play. For many other teams, fullbacks are the least important positions.
Is a Midfielder Important in Soccer?
We've also seen periods of dominance in the Spanish La Liga, where Barcelona's midfield trio of Xavi Hernandez, Andreas Iniesta, and Sergio Busquets was virtually untouchable.
Their tiki-taka style allowed them to pass rings around their opposition, tormenting teams with intricate play and possession heavy soccer.
Although they also happened to have a forward called Lionel Messi on their team, that midfield also won a European Cup and World Cup with the Spanish national team, becoming the first-ever team to hold both trophies at the same time.
Not many current teams adopt a 3-man midfield like the Barcelona team throughout the '00s and '10s. The most important midfield players in today's game are typically specialist attacking midfielders or specialist defensive midfielders.
Players in these positions often make their teams tick, acting as the glue between attack and defense.
Casemiro, from Real Madrid, is the perfect example of a midfield maestro. He has been a mainstay in the Los Blancos midfield for almost a decade.
Although he doesn't display spectacular feats of skill every week, his positional sense, work rate, and all-around skill level make him a crucial player in the squad.
Pick up this season's Real Madrid jersey here.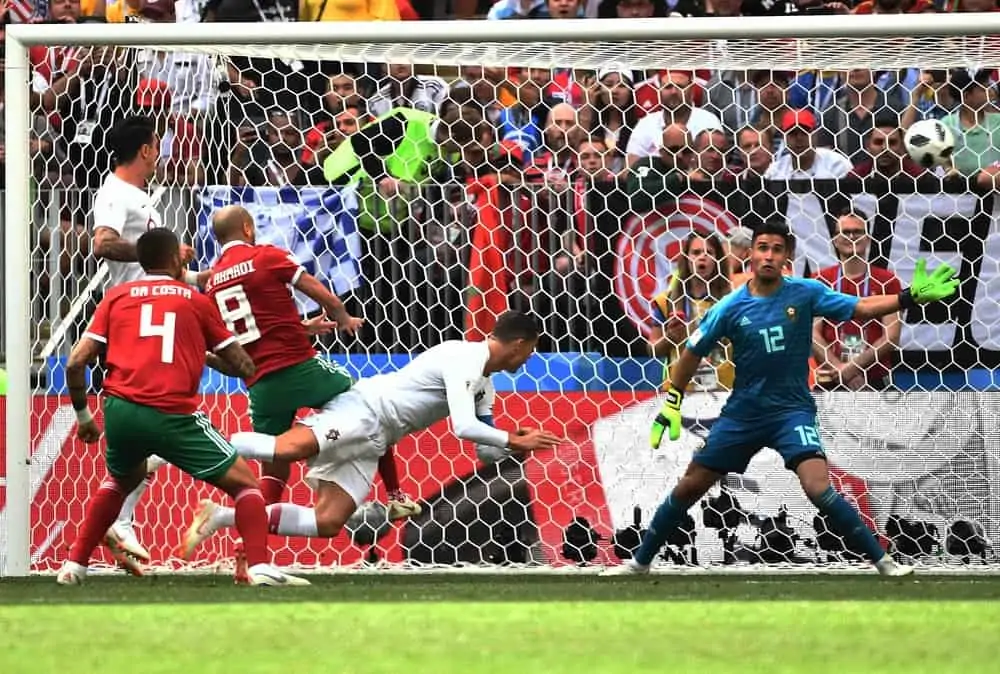 Is a Goalkeeper Important in Soccer?
When it comes to big moments in games, cup finals, and penalty shootouts, we have seen goalies become the hero countless times.
In certain instances, no position can directly influence a game as much as the 'keeper – win, lose, or draw!
It's possible to argue that attackers, midfielders, defenders, and even goalkeepers are the most important positions in soccer. There is no general consensus.
Defense Vs Attack In The Premier League
For a more statistically based look at whether attack or defense is more important in soccer, we've crunched the offensive and defensive numbers of Premier League champions over the past 26 seasons.
So, let's take a glimpse at whether defense or offense actually wins titles.
| | | | |
| --- | --- | --- | --- |
| Season | Champions | Defensive Rank | Offensive Rank |
| '95/96 | Manchester United | 3 | 1 |
| '96/97 | Manchester United | 7 | 1 |
| '97/98 | Arsenal | 2 | 3 |
| '98/99 | Manchester United | 4 | 1 |
| '99/00 | Manchester United | 6 | 1 |
| '00/01 | Manchester United | 1 | 1 |
| '01/02 | Arsenal | 2 | 2 |
| '02/03 | Manchester United | 1 | 2 |
| '03/04 | Arsenal | 1 | 1 |
| '04/05 | Chelsea | 1 | 1 |
| '05/06 | Chelsea | 1 | 1 |
| '06/07 | Manchester United | 2 | 1 |
| '07/08 | Manchester United | 1 | 1 |
| '08/09 | Manchester United | 1 | 2 |
| '09/10 | Chelsea | 2 | 1 |
| '10/11 | Manchester United | 3 | 1 |
| '11/12 | Manchester City | 1 | 1 |
| '12/13 | Manchester United | 5 | 1 |
| '13/14 | Manchester City | 2 | 1 |
| '14/15 | Chelsea | 1 | 2 |
| '15/16 | Leicester City | 3 | 3 |
| '16/17 | Chelsea | 3 | 2 |
| '17/18 | Manchester City | 1 | 1 |
| '18/19 | Manchester City | 2 | 1 |
| '19/20 | Liverpool | 1 | 2 |
| '20/21 | Manchester City | 1 | 1 |
EPL Winners and Defensive and Attacking Ranking
Over the past 26 years, 11 champions ranked higher offensively, 6 ranked higher defensively, and 8 ranked highest offensively and defensively.
Despite his comments about winning titles with a great defense, Sir Alex Ferguson's Manchester United won most of their championships due to their attacking prowess.
On two occasions, his teams won the league having ranked outside the top 5 for goals conceded.
What Positions Make Soccer Champions?
While the number of goals seems to be the mark of champions, it's important to point out that a lot of Premier League winning teams tend to rank highly in offense and defense.
The best way to guarantee a trophy is to score the most and concede the least.
Although these statistics are interesting, they don't necessarily paint the full picture. The number of goals a team scores or concedes doesn't mean that anyone's position is more important than another.
The formation, system, and style of play are crucial factors in the success of a team. 
Counter Attacks
For example, a defensive shape can be a springboard for quick counterattacks, leading to plenty of goals.
Sir Alex Ferguson's Manchester United dominant Manchester United teams were famous for counterattacking tactics, inviting pressure on their backline, before winning possession, and setting off on blistering fast breaks.
To counter-attack effectively, teams have to position a certain amount of players in attacking positions at all times, frequently leaving their defense outnumbered.
Perhaps this is why Manchester United often ranked number 1 for goals scored but didn't rank as highly for goals conceded.
While their defense may have leaked goals from time to time, the defenders and their tactical roles played a key part in the overall game plan.
Goal Scoring Positions
Another interesting consideration is who is actually scoring the goals.
In Chelsea's back-to-back Premier League winning seasons in '04/05 and '05/06, Frank Lampard was their top goalscorer in all competitions, racking up 19 and 20 goals respectively in either season from midfield.
When Manchester United won three league titles in a row from '06/07 to '08/09, Cristiano Ronaldo was the top scorer each season.
Although he had very few defensive duties, he did most of his attacking from wide areas as a winger.
In '20/21, Manchester City's top goalscorer in all competitions was a central midfielder, Ilkay Gundogan. In that season, City won the Premier League convincingly, scoring the most goals and conceding the fewest.
They also won the EFL Cup, reached the semi-finals of the FA Cup, and lost in the Champions League final.
Ball Playing Goalkeeper
An important part of Manchester City's dominance in recent years has been the "soccer abilities" of their goalkeeper.
Ederson's passing range and vision mean he is essentially an extra outfield player when Man City is in possession. As a possession-based team, City build from the back, meaning the goalkeeper position is important for offense and defense.
All these statistics prove is that the most important position in soccer is highly dependent on the situation and system.
One day the goalkeeper can save a team, while other days, attackers put away their chances and go home the heroes.
What Is The Most Sought-After Position In Soccer?
In general, the most sought-after positions in soccer are the attacking ones.
One of the best ways to gauge this is by looking at the most expensive transfers in the history of soccer. Let's take a look at the top 10 craziest transfer fees to date:
| | | | | |
| --- | --- | --- | --- | --- |
| Player | From | To | Position | Transfer Fee |
| Neymar | Barcelona | PSG | Attacker | $256 mil. |
| Mbappe | Monaco | PSG | Attacker | $218 mil. |
| Coutinho | Liverpool | Barcelona | Attacker | $167 mil. |
| Joao Felix | Benfica | Athletico Madrid | Attacker | $145 mil. |
| Griezmann | Athletico Madrid | Barcelona | Attacker | $139 mil. |
| Grealish | Aston Villa | Man City | Attacker | $135 mil. |
| Lukaku | Inter Milan | Chelsea | Attacker | $132 mil. |
| Dembele | Borussia Dortmund | Barcelona | Attacker | $121 mil. |
| Pogba | Juventus | Man Utd | Midfielder | $121 mil. |
| Ronaldo | Real Madrid | Juventus | Attacker | $115 mil. |
Soccer Positions and The Highest Transfers
It's abundantly clear that attackers are the most expensive and sought-after players in the world.
Most Important Position In Youth Soccer
In youth soccer, many of the best players play in midfield. The main reason for this is that this position allows them to get on the ball as much as possible, increasing their impact on the game.
However, this isn't necessarily a good approach.
AFC Ajax, in Holland, is known for producing some of Europe's finest young players through its fabled academy.
One of their most famous methods for promoting skill development is that they give players experience in every position.
As well as helping players develop a balanced skill set, it improves their knowledge of the game and situational awareness.
More importantly, it allows players to determine their best position, which is the most important factor.
Share the post "Most Important Positions In Soccer (Rankings + Cost)"
Joel is a seasoned soccer journalist and analyst with many years of experience in the field. Joel specializes in game analysis, player profiles, transfer news, and has a keen eye for the tactical nuances of the game. He played at various levels in the game and coached teams - he is happy to share his insight with you.