Soccer goalies put their bodies on the line to stop the opposing team from scoring goals. This means they dive in front of the ball to block it, often using any part of their bodies that'll do the job of keeping the ball out of the goal.
A soccer ball can travel at high speeds, so soccer goalies have to be brave to stop shots.
Some points we'll be covering today are:
Protecting goalies from injury
Staying protected and comfortable
Maximizing performance
Let's find out if soccer goalies wear protective gear to help keep them safe.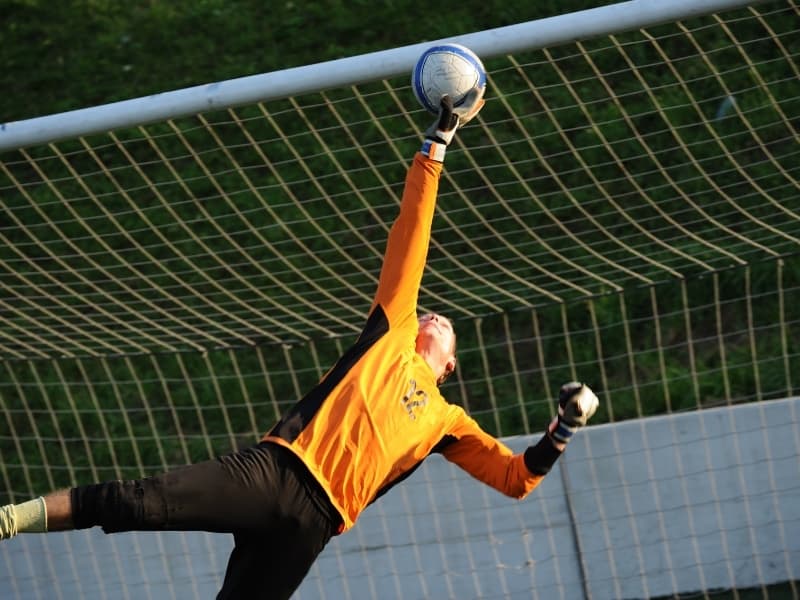 Do Goalies Need Gloves?
Goalies need to wear gloves playing soccer at any professional level under the IFAB rules. Similar rules apply to local leagues from youth to college.
The biggest tool for a goalie is their gloves. Without them, even the best goalies would look like they've never played the game before!
Even the best gloves compared to the worst can make a huge difference.
I've played with a few different types of gloves before and with the lower quality ones – a shot that I would normally save will be one that slips through the fingers.
Not only are they good for the performance they give your hands protection.
Your hands need to be protected from powerful shots. Top gloves give you wrist support and stability around the fingers. Which can easily be frailty when fierce shots come in.
Gloves are also used for catching crosses and punching the ball when strikers are jumping towards, it can become dangerous.
Below are two great options to give you that vital protection when playing in goal. Both of these options are from a highly rated professional goalie-glove-making company and you can't go wrong.
If you're new to soccer or don't play too often the entry-level is good for you. If you're playing regularly and want to succeed, the pro gloves are the ones;
Look after them well and they will be life-savers. (Be sure to follow the care guide).
We've got a list of the best three goalie gloves at the end of this article – if you need the best in the business!
Do soccer goalies wear knee pads?
Generally, soccer goalies don't wear knee pads. They don't want to be restricted during a game.
However, knee pads are an optional piece of equipment in soccer.
There's no rule against wearing them during a game. So, it's up to the goalie to decide if they want to wear knee pads or not. That's if the knee pads don't pose a danger to the goalie or any other player on the field.
They can't be made from hard material or else they could hurt a teammate or an opponent. The goalie has to wear soft padding, which won't hurt any other players.
Although soccer goalies tend to avoid strapping on knee pads, goalie leggings are becoming more and more popular. These offer protection around the thigh and hip areas. And some include knee pads in the legging.
Goalie leggings protect the goalie from getting injured on hard surfaces.
They can be a good choice if the ground is hard from cold or baked hard from the sun.
And it's always a good idea to wear them in training. That's because you don't want to get injured while you practice. So, goalie leggings can protect you and keep you ready for big games.
These Reusch Alex Goalkeeper Pants on Soccer.Com are a great choice for training. They'll protect you while you practice.
This protective gear will give you the confidence to put your body on the line for your team while offering the best protection possible.
For games, these Rinat Goalkeeper Padded Leggings can be worn beneath your shorts – see below and are available at Amazon;
But knee pads aren't the only protective gear available to goalies. Shin guards are another piece of equipment.
Do soccer goalies wear shin guards?
Yes, soccer goalies wear shin guards. In fact, shin guards are mandatory for all players on the field, including goalies.
However, soccer goalies don't have to wear a particular style of shin guards. That is, there's no specialized shin guard for soccer goalies.
So, goalies should find shin guards that are comfortable for them.
Goalies have to be light on their feet. Therefore, they'll want lightweight shin guards.
Also, goalies do a lot of bending and jumping, and diving. If you're a goalie, you'll want shin guards that don't restrict your movement.
As we said before, goalies put their bodies on the line to protect the goal. This can mean diving in front of a speeding ball. But it can also mean sliding towards an attacker to stop them from shooting.
This can put your lower legs at risk.
That means you'll want strong protection for your shins. It'll give you peace of mind when you're challenging for the ball in your 18-yard box.
For combined shin and ankle protection, these Adidas Tiro Match Shin Guards at Soccer.com will do the trick.
Find the best shin guards for you. Try them on if possible and see how they feel.
Remember, you'll want to be comfortable with the shin guards you choose.
Do soccer goalies wear cleats?
Yes, soccer goalies wear cleats. They do so for their safety and to maximize performance.
Soccer cleats are made to offer protection for soccer players. This applies to goalies as well. As mentioned in the previous section, goalies can be sliding out and tackling for the ball on occasion.
Soccer cleats offer protection in these situations.
Also, goalies wear cleats to maximize performance. We already know that goalies jump and dive to protect the goal.
Goalies need to have good traction with their feet. If they're playing in wet conditions, they need footwear that'll stop them from sliding and losing their footing.
If a goalie goes to dive for the ball and slips, there's a bigger chance an attacker's shot can go into the goal. So, it's important that the goalie's performance isn't affected by their footwear.
The right cleats will ensure that the goalie can perform well.
Additionally, goalies kick the ball a lot. They take goal kicks, hit long and short passes, clear the ball away when there's danger.
This means they need footwear that's powerful and will stand up to this pressure. And cleats are built for that purpose.
But that's not all. Goalies are on their feet for the whole game. They need to have comfortable footwear.
Cleats are designed to provide comfort for soccer players during a game.
Because goalies are soccer players, this applies to them, too. So, goalies wear cleats while playing soccer.
These Puma Future Z Cleats are an awesome non-leather option.
If you prefer a leather option, these Nike Tiempo Legend 9 Cleats are a great choice.
You'll want to see from the features which is the best choice for you.
Other protective gear for soccer goalies
In soccer, goalies can also wear protective headgear. This usually happens if they get an injury to their head.
Petr Cech, formerly of Chelsea, is one famous example of a goalie wearing protective headgear.
He started doing this after an injury.
In 2006, during a Premier League game, Cech collided with Reading midfielder Stephen Hunt in his 18-yard box. He got a head injury and needed surgery for a depressed skull fracture.
Due to the injury, Cech wore protective headgear while playing.
He could wear the protective headgear because it didn't put anyone in danger. For instance, he couldn't have worn a football helmet for protection. Such hard material could put players in danger.
Cech wore headgear made from soft padding. It offered him protection without putting other players in danger.
You can see what it looks like below:
There we have it, our guide to soccer goalies and protective gear. It's a good idea to choose what's comfortable for you. But you also want to think about protection.
So, weigh up your options to stay comfortable and protected.
For the best goalie gloves, these three are the top choices;
Fingersave Goalkeeper-Soccer Goalie Gloves- Armour...
Reusch Soccer Prisma Prime S1 Evolution Finger...
Rinat Unisex's Xtreme Guard PRO Goalkeeper Glove,...
⚽ German Latex ⚽ 5 Finger Saver ⚽ 360 Wrist Strap
⚽ Soft Gel Foam ⚽ Natural Latex ⚽ Breathable
⚽ Punch Pads ⚽ German Latex ⚽ Thumb Support
Fingersave Goalkeeper-Soccer Goalie Gloves- Armour...
⚽ German Latex ⚽ 5 Finger Saver ⚽ 360 Wrist Strap
Reusch Soccer Prisma Prime S1 Evolution Finger...
⚽ Soft Gel Foam ⚽ Natural Latex ⚽ Breathable
Rinat Unisex's Xtreme Guard PRO Goalkeeper Glove,...
⚽ Punch Pads ⚽ German Latex ⚽ Thumb Support