Reading Time:
6
minutes
One of the many great things about soccer is that it requires very little equipment in order to play. All across the world, soccer players are using makeshift spaces, goals, and balls.
Cleats are an essential part of the game. When you're competing against other players, any advantage that you can give yourself is worthwhile. Having a solid cleat that fits your needs is crucial.
Here are some of the key points we'll look at today;
What they are made of
What cleats are right for you
Selcting the best cleats
Every player is looking for something different when it comes to their cleats.
If you have never bought cleats before, it can be overwhelming, but rest assured, you can find the right fit for you!
Different types of soccer cleats
Soccer cleats are all designed to meet different needs. Everything from the material they are made from to the length of the stud on the bottom plays a factor in which cleat you should choose.
Technological advancements have helped improve cleats over the years. They're lighter, more durable, and better than ever before. They come in every color and style imaginable.
Something that you will want to think about is what the shoe is made for. This is mainly dependent upon the surface on which you are playing. Each shoe serves a different purpose and can impact your game. 
Choosing the wrong shoe can throw off your game and even lead to injuries.
The most common types of soccer shoes that you will see are:
Futsal/indoor: these shoes are made for playing on hard, flat surfaces such as gym floors.
Turf: synthetic turf often plays like a hard gym floor. However, the surface mimics grass and therefore requires a bit more traction than a flat-soled shoe. That is where the short, turf studs come in.
Hard-ground: the cleats on these shoes are a little bit longer than turf shoes in order to give you a good grip on hard grass surfaces.
Firm-ground: the most versatile of the cleat options, firm-ground cleats can be used on most turfs and grass. The studs are short enough that they don't hurt your feet on a hard grass surface but long enough to withstand softer surfaces. 
Soft-ground: usually longer metal studs, soft-ground cleats give the ultimate grip on wet, grass-playing surfaces. Soft-ground cleats are an excellent option for maximum stability if there has been heavy rain or the field is watered often. 
What materials are Cleats Made From?
Soccer cleats, in most cases, are made from one of two different types of materials.
Leather: for many years, leather shoes were the only option. Leather shoes provide extreme comfort and a soft touch. However, this material is more water-absorbent, which means playing on a wet surface, the cleats may feel heavy as the game goes on.
Synthetic: most cleats produced today are made of synthetic materials. These are much lighter and more water-resistant making them favorable for most players. 
The Best Leather Soccer Cleats – Quick Choice
Comfortable Pick
Great Quality
Popular Choice
Nike Men's Legend 7 Pro Fg Footbal Shoes, Grey...
adidas Copa 18.1 Fg Silver/Black/Blue Soccer Shoes...
NIKE Men's Footbal Shoes, Black Black Black Blue...
⚽ Kangaroo Leather ⚽ Elite ⚽ Hi Spec
⚽ Premium K Leather ⚽ Leather Sole ⚽ Sockliner
⚽ Calf Leather ⚽ Grass & Turf ⚽ Color Choices
Comfortable Pick
Nike Men's Legend 7 Pro Fg Footbal Shoes, Grey...
⚽ Kangaroo Leather ⚽ Elite ⚽ Hi Spec
Great Quality
adidas Copa 18.1 Fg Silver/Black/Blue Soccer Shoes...
⚽ Premium K Leather ⚽ Leather Sole ⚽ Sockliner
Popular Choice
NIKE Men's Footbal Shoes, Black Black Black Blue...
⚽ Calf Leather ⚽ Grass & Turf ⚽ Color Choices
How are soccer cleats made?
Soccer cleats, of course, are much more than simply beautiful colors and designs. An incredible amount of science goes into each shoe as well.
Engineers pay careful attention to every detail. From the shape of the cleats to the size of the tongue.
What are the different parts of a cleat?
Just like a team needs players in each position, no shoe would be complete without each part. Each shoe is made up of four main parts. An upper, insole, midsole, and outsole.
The upper is stitched together. It takes up the largest surface area of the shoe and is the part that the ball will touch most often.
The insole is where your foot rests inside the shoe. It provides arch support and stability for your foot inside the shoe. Insoles can be upgraded by adding inserts that give the shoe a more personalized fit.
The midsole of the shoe is located in between the insole and the outsole. The midsole helps absorb the shock that comes with each step. This is extremely important for preventing injuries and sore feet after wearing your shoes. 
Finally, the outsole is on the bottom surface of the shoe. It is the part that provides traction and helps prevent slipping on the field.
How do I know what soccer cleats to wear?
The type of shoe that you wear will depend on several factors. When deciding, you should take into account:
What types of surfaces will you be playing on (e.g. turf vs. grass)
What the climate is like?

Is the ground typically dry and hard? Or soft and wet?

Should I get more than one type of shoe?
For most players, getting a shoe that is versatile enough to wear in practice or in a game is sufficient.
Not everyone will need or want to have multiple pairs of cleats. If that is the case for you, you'll want to have something strong and long-lasting.
Some players prefer to have multiple pairs of cleats for all different situations. However, this can help make sure you are prepared for all of the elements.
One of the best ways to pick the right cleats is by choosing a reputable name that has been making them for professionals for decades. Some things it's worth the few extra bucks for the pleasure you get from playing in them.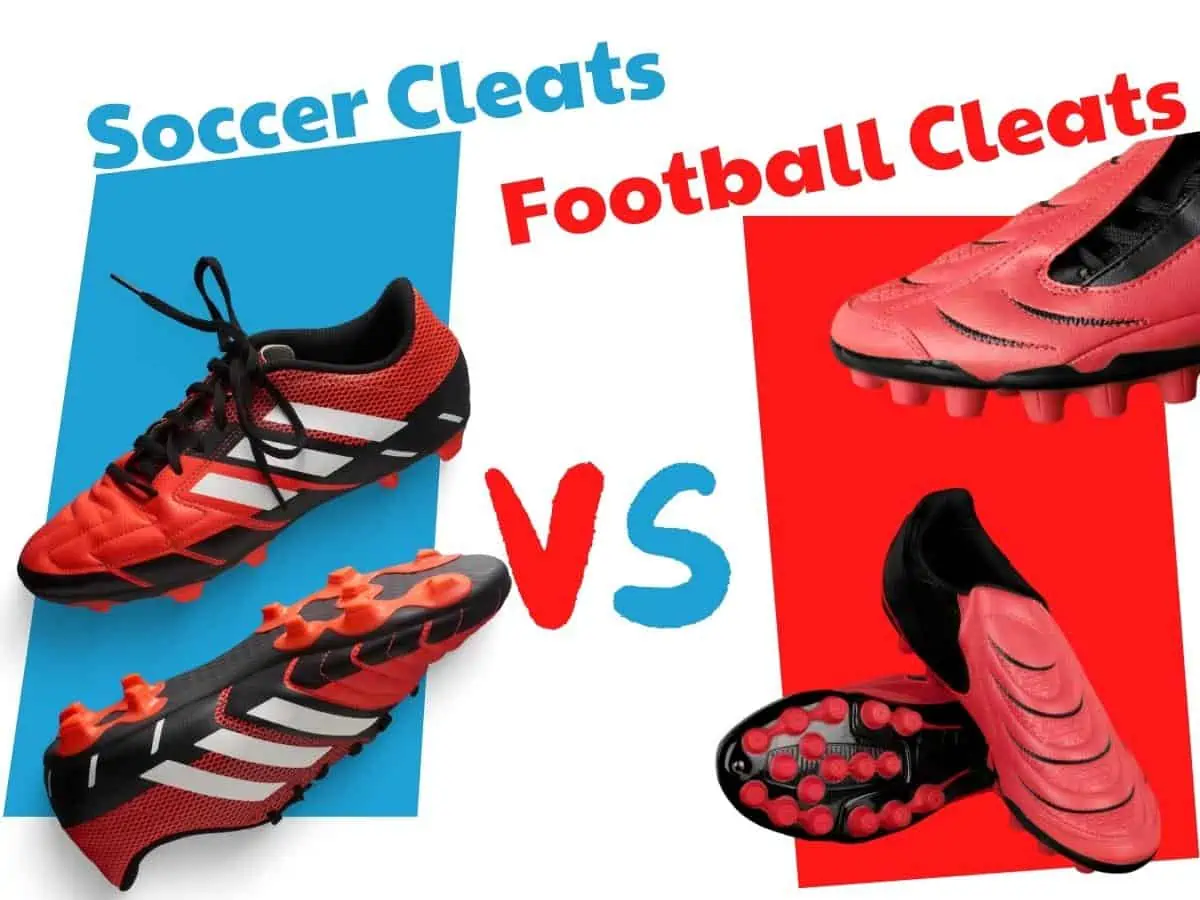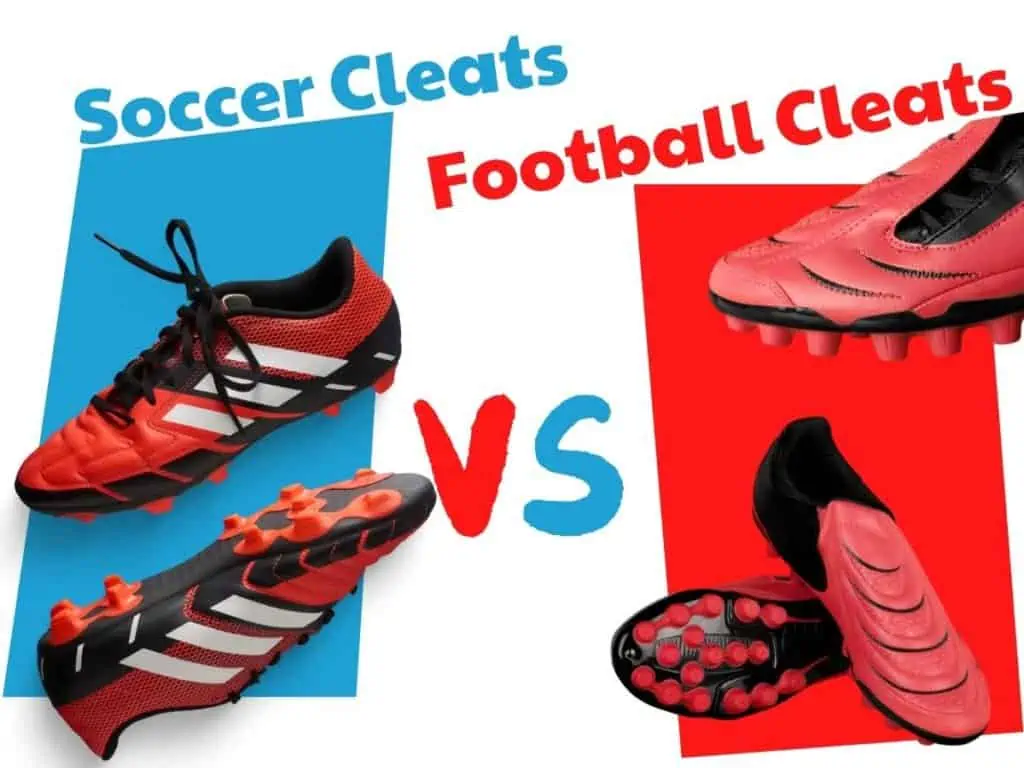 Soccer cleats VS. football cleats article.
How to pick your cleats.
When you do head out to find the right shoe for you, there are a few things that you will want to keep in mind. Going in without a plan can be overwhelming and stressful.
If you put a bit of thought into it, though, you can get the right cleats stress-free!
Set your budget
The price of soccer cleats varies widely. You can find them anywhere from $40 to $200+. While there is not always a correlation between price and quality, spending a little more on your shoe does have some benefits.
Durability and comfort are some of the most notable differences between a cheap shoe and a well-made one.
You should have no problem finding some fantastic shoe options in the $80-$120 range.
Determine your needs
When you're choosing your shoe, you'll want to think about how you're going to use it. Make sure you consider the following questions.
Are you wearing shoes for training and games?
Do you plan on getting a new shoe next year? Or do you plan on replacing them annually?
How many times per week will you be wearing these shoes?
Each player has different needs. There is no right or wrong answer when it comes to what you're looking for. So before you pick, make sure you think about the life of your new shoe.
Choose your style
While it isn't the most important factor in choosing your new cleat, style does play a role. Soccer is a game of confidence and if you're confident in what you're wearing, that can make you feel better.
Fortunately, no matter what your style is, there is a shoe for you.
If you need to choose between two, here are two of the top-rated cleats that you can't go wrong with. The Adidas is full leather and is a classic pair. The Nike Mercurial is synthetic but a fantastic choice.
Are you a flashy player who loves bright colors? There are a plethora of options. Blue, pink, orange, yellow – whatever you like, there is an option for you.
Prefer something a little more subtle? Well, you're in luck too! Every bright-colored option has a plain, black-and-white pair that will look sleek and fit your style.
Choosing your new shoe is one of the most fun parts of being a soccer player. Have fun with it, and remember that every player is different. Like the shoes, there is no one size fits all solution.
Joel is a seasoned soccer journalist and analyst with many years of experience in the field. Joel specializes in game analysis, player profiles, transfer news, and has a keen eye for the tactical nuances of the game. He played at various levels in the game and coached teams - he is happy to share his insight with you.