Bring a Premier League feeling to school with these amazing goal posts. Soccer goals come in different shapes and sizes, and it's important to know what you want from one before purchasing one for schoolchildren. 
Though it may not seem like it, selecting an ideal goal requires much thought. You must know which age groups will use it and what they use it for.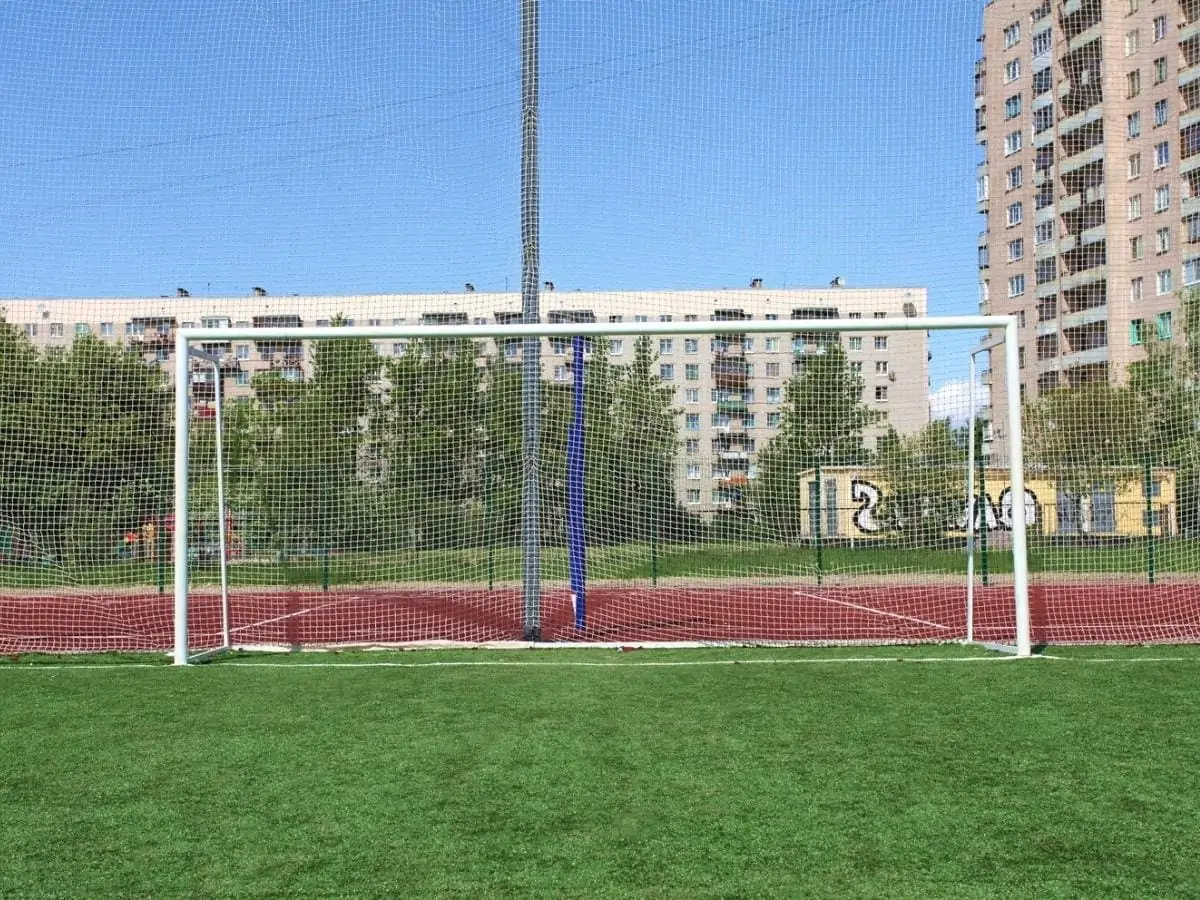 What Are the Best Soccer Goals For Schools?
We've found that a great soccer goal for school use needs to fulfill three criteria:
The goal should be adjustable
It should also be weather-resistant
The goal should look and function like a professional-level goal
To help answer this question, we've compiled a list of the five best soccer goals for schools based on build quality, size, performance, and price.
What to avoid
Anything primarily designed for home use.
There's a big difference between a goal solely built for recreation and a goal with hybrid qualities of competition and recreation. 
Conversely, it makes little sense to purchase a full-size, steel, professional soccer goal used by adult players. Not only are these extremely expensive, but they are also not suitable for school use due to their size and lack of portability.
While each has its pros and cons, they are all solid options in their way. Every school has its own requirements depending on the use and age of the student.
We have compiled this list for all age types and school criteria.
Amazon Basics Soccer Goal Frame With Net - 12 x 6 x 5 Foot, Steel Frame
Key points
⚽ Budget Choice ⚽ Steel ⚽ Full Size
Amazon Basics Soccer Goal Frame With Net - 12 x 6 x 5 Foot, Steel Frame
Key points
⚽ Budget Choice ⚽ Steel ⚽ Full Size
Soccer Goal Sizes
5-A-Side has dimensions that are 12-ft wide by 6-ft high. Such soccer goals are for under-7 and under-8 soccer games
7-A-Side has dimensions that are 12-ft wide by 6-ft high again. Such soccer goals are for under-9 and under-10 soccer games
9-A-Side has dimensions that are 16-ft wide by 7-ft high. Such soccer goals are for under-11 and under-12 soccer game
11-A-Side or full-size soccer goal has 24-ft wide by 8-ft high dimensions for the under-15 and over. Whereas, for the under-13 and under-14, it is 21 ft wide by 7-ft high
Below is a list of the five best soccer goals for school use.
Best Goals for Kindergarten
Franklin Sports Soccer Goal 36×24
Despite what people think, small soccer goals are extremely important for children.
The reduced net size forces them to work on their finishing and shooting skills and develops precision in their passing.
Of course, such a small goal is only really suitable for training drills and would not be used for competitive games.
Pros
Small and compact, the Frankling Sports goal is the easiest to transport
Its small size will help develop accuracy and precision
The skills learned by using this goal will work wonders for players' abilities
Cons
Its tiny dimensions make it suitable for practice drills only
The goal is not sturdy and falls over when meeting a powerfully-struck ball
Overall, the Franklin Sports soccer goal is a welcome addition to a collection of training equipment. It is not, however, suitable as a main cornerstone of training.
It fulfills one area of training extremely well – shooting. Apart from that, the Franklin Sports goal is very limited.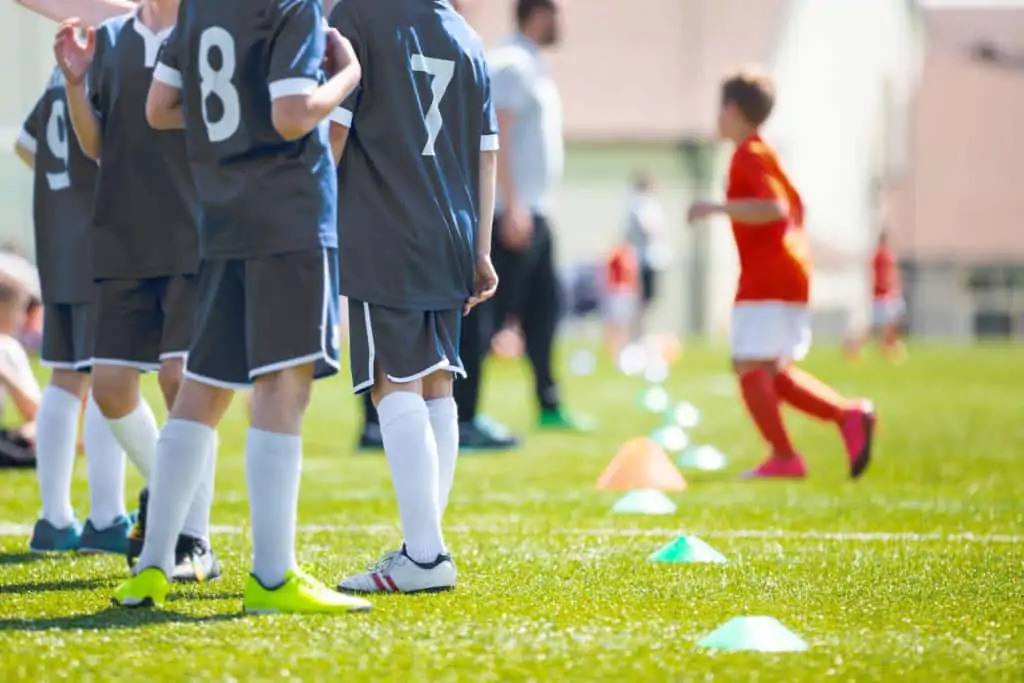 Best Goals for Youth
Net World Sports Forza Backyard Soccer
The Net World Sports Forza goal is available in several different sizes, making it ideal for different age groups and different training drills. 
For example, the smaller versions could be used with younger children or for finishing/shooting drills, depending on your needs.
Pros
The Net World Soccer Goal is light, durable, and easy to assemble
Available in different sizes to suit different age ranges
Suitable for a variety of needs from games to practice drills to recreation
Cons
The crossbar is known to sag due to the interlocking pillars
Its net does not stay in place for too long
Perhaps more suitable for inside use due to its plastic construction.
Overall, the Net World Sports Forza goal is a solid option as a soccer school goal. However, its cheap and flimsy build quality rules it out as a serious option for competitive games.
Best Goals on a Budget
AmazonBasics Soccer Goal Frame & Net
The Amazon soccer goal merges stability with convenience.
Its steel base is easy to assemble and does not require any tools. A great option for a soccer goal for schools.
Amazon Basics Soccer Goal Frame With Net - 12 x 6 x 5 Foot, Steel Frame
Outdoor soccer goal for backyard soccer practice with family and friends; sets up...
Weather-resistant powder-coated steel frame (1.25-inch tubes) holds its shape and...
Durable netting; Velcro straps make it easy to attach the net to the frame
Includes ground anchors to secure the goal in place and a carry bag for easy...
144 x 72 x 60 inches (WxDxH); weighs 34.1 pounds
Pros
Affordable
Easy to assemble
Weather-resistant (mostly)
Durable netting
The AmazonBasics soccer goal does precisely what it says on the box. For the price, it's a very good option for the repetitive use it will see in schools no matter what the time of year is.
Cons
Not adjustable
The velcro fastenings of the net tend to break off quite easily
Its light weight (31lbs) doesn't hold up well in strong winds
Overall, the AmazonBasics soccer goal is a reliable option for school practices. However, its flimsy net and low weight do not lend themselves well to competitive games.
Best Goals for High School
GOLME Pro Training Soccer Goal
The GOLME Pro Soccer goal brings Premier League quality to youth soccer goals.
Available in three sizes depending on age level, the GOLME Pro goal has all bases covered with its sturdy, professional-quality build, easy transport, and solidly constructed net.
Pros
Made with aircraft-like aluminum
Easy assembly and takedown
Available in different sizes
Impact-resistant net
The GOLME Pro Soccer goal is an excellent choice. It has all the hallmarks of a professional goal and requires minimal effort to assemble and transport.
Cons
Expensive
Posts need to be secured down tightly to avoid them falling over
The GOLME Pro goal is slightly more professional for school soccer goals. They make a great choice for competitive games and team training. However, they are an expensive choice for pure recreation. 
Best High Quality Goals for School/College
FORZA Alu60 Soccer Goal
FORZA's Alu60 goal is another shining example of professional-level quality and design.
Available in ten different sizes from indoor futsal use down to 11vs11 games, the FORZA goal truly has all bases covered.
Pros
Made from solid aluminium, the FORZA goal is extremely well-built
Holds up in extreme weather due to its secure hooks
Its net is extremely secure, able to withstand constant, hard impact
Portable for transport between games and drills
As amazing as the FORZA soccer goal, it's not without flaws.
Cons
A full-size goal will cost well over a grand
Assembly of the goal can take a long time and a lot of patience
Overall, the FROZA Alu60 soccer goal is perfect for bringing a professional feel to the schoolyard. Its robust build is similar to Major League Soccer goals – just be ready to pay a large sum purchasing it.
Which One of These Soccer Goals Is Best For Schools?
There is no undisputed answer to this question as many variables need to be considered. The best soccer goal for long-term use and high-quality match play is the Forza Alu60.
If you have the budget for these goals they are a sure winner.
If you're looking for a versatile, economical, resistant, and professional-feeling goal for competitive games, the GOLME Pro goal best fulfills this criterion. 
If you're on a low budget for older students, the GOLME Pro goal possesses all the answers to your problems. The young players will love the professional look and feel of the goal and will appreciate its sturdy build quality.
However, if you're looking to install a goalpost for youth and younger, the other options will be a perfect addition to your school. Any one of these goalposts will be a welcome addition to any school.
Related posts;