In soccer, the number 17 jersey may not be as glamorous as the number 10 or number 7. However, some great soccer players wear (or wore) the number 17 jersey for club and country.
We'll look at ten soccer stars past and present who made the number 17 jersey famous in its own right.
Some famous players on our list today are:
Kevin De Bruyne
Nani
Alexis Sanchez
The number 17 jersey often flies under the radar, but some excellent players have donned it.
10 Soccer stars with number 17
Check out our list of 10 players with the number 17 jersey. Some are still playing, while others have retired.
1. Kevin De Bruyne
Kevin De Bruyne wears the number 17 jersey for English Premier League champions Manchester City. An attacking midfielder, he is considered one of the best players in the world.
De Bruyne is best known for his creative style of play.
Last season, he got 12 assists in the Premier League. And the season before that (2019/20) he got 20 assists.
His 20 assists in that season make him the joint record holder for most assists in a Premier League season, with the great Thierry Henry.
So, that's the kind of company De Bruyne is keeping. It's no wonder he's making the number 17 jersey of Manchester City famous.
If you're a De Bruyne and City fan, you might want a number 17 jersey of your own.
2. Nani
Portuguese soccer player Nani also wears the number 17 jersey. Throughout his career, he wore it for Portugal at the international level. He also wore it for 13-time Premier League champions Manchester United.
Now, Nani plays for Orlando City in Major League Soccer, where he also wears the number 17 jersey.
Nani is a winger with a ferocious shot.
He's shown he can still produce the goods in the twilight of his career.
Check out this rocket he scored recently for Orlando City:
3. David Trezeguet
David Trezeguet is a retired French soccer player. He wore the number 17 jersey for Juventus from 2000-2010, winning 2 Serie A titles and the Supercoppa Italiana.
He won the 1998 World Cup and the 2000 European Championship with France at the international level.
A complete striker, he had a blistering pace and an eye for goal.
That came in handy in the 2000 European Championship. He scored the golden goal in the final against Italy, giving France a 2-1 win.
For these exploits, Trezeguet has to be on the list of soccer stars who wore number 17.
4. Alexis Sanchez
Chilean Alexis Sanchez wore the number 17 jersey in 2 seasons for Arsenal. Then, he changed to the number 7.
Sanchez was Arsenal's talisman after joining them from Barcelona. He helped them to win 2 FA Cups and the FA Community Shield in his 3 seasons with the Gunners.
You can view him here wearing the number 17 jersey for Arsenal:
Many consider Sanchez to be the greatest Chilean player of all time.
He now plays for Serie A side Inter Milan.
5. Emmanuel Petit
Former French player Emmanuel Petit wore the number 17 jersey for his country. Also, he wore it at club level for Barcelona, Arsenal, and Chelsea.
Petit scored the 3rd goal for France in the 1998 World Cup final, which they won 3-0. He also won the 2000 European Championship at the international level.
With Arsenal, he won the Premier League, the FA Cup, and the FA Charity Shield.
Petit was known as a complete midfielder.
His work rate was off the charts, and he was strong in tackles. He could pick out a pass, shoot, and also score goals.
6. Mario Mandzukic
Mario Mandzukic played for Croatia at the international level, wearing number 17. Like Trezeguet, Mandzukic also wore the number 17 jersey for Juventus.
A highly decorated player, his honors include the Champions League, which he won with Bayern Munich in the 2012/13 season.
Mandzukic was a striker known for his strength and stamina.
He was a nightmare for defenders to handle. And he scored goals in every league he played in.
7. Tim Cahill
Tim Cahill is arguably Australia's best player of all time. With 50 international goals, he is their all-time leading goal scorer.
Cahill made his name playing for Everton in the Premier League. In 7 seasons there, he wore the number 17 jersey.
He's known for his unique goal celebration, where he goes to the corner flag and boxes it.
However, he can strike a soccer ball, too, and he scored some awesome goals.
Check out his goal and celebration for Australia against the Netherlands in the 2014 World Cup.
8. Pedro
Pedro is a Spanish soccer player. He wore number 17 for 4 seasons with Barcelona and 1 season with Chelsea.
A decorated player, he's won many titles. These include the World Cup and European Championship with Spain, as well as 3 Champions Leagues with Barcelona. He also won the Premier League, FA Cup, and Europa League with Chelsea.
Pedro plays as a forward, usually on the left side. He likes to cut inside and shoot on goal.
He's known for his speed, technique, and dribbling ability.
These attributes allowed him to play at the highest level. They make him another star who wore the number 17 jersey.
9. Steve McManaman
Steve McManaman is a retired English soccer player. He played for Liverpool, Real Madrid, and Manchester City. Also, he represented England at the international level.
It was at Liverpool where he wore the number 17 jersey for 3 seasons.
With Liverpool, he won the FA Cup and League Cup. He joined Real Madrid in 1999, where he won 2 La Liga titles and 2 Champions Leagues.
McManaman played as a midfielder, usually on the wing. However, he preferred to play as a creative, attacking midfielder.
He was known for his excellent dribbling ability and could score with both feet.
Check out the video to see for yourself (quality isn't the best).
10. Lucas Vazquez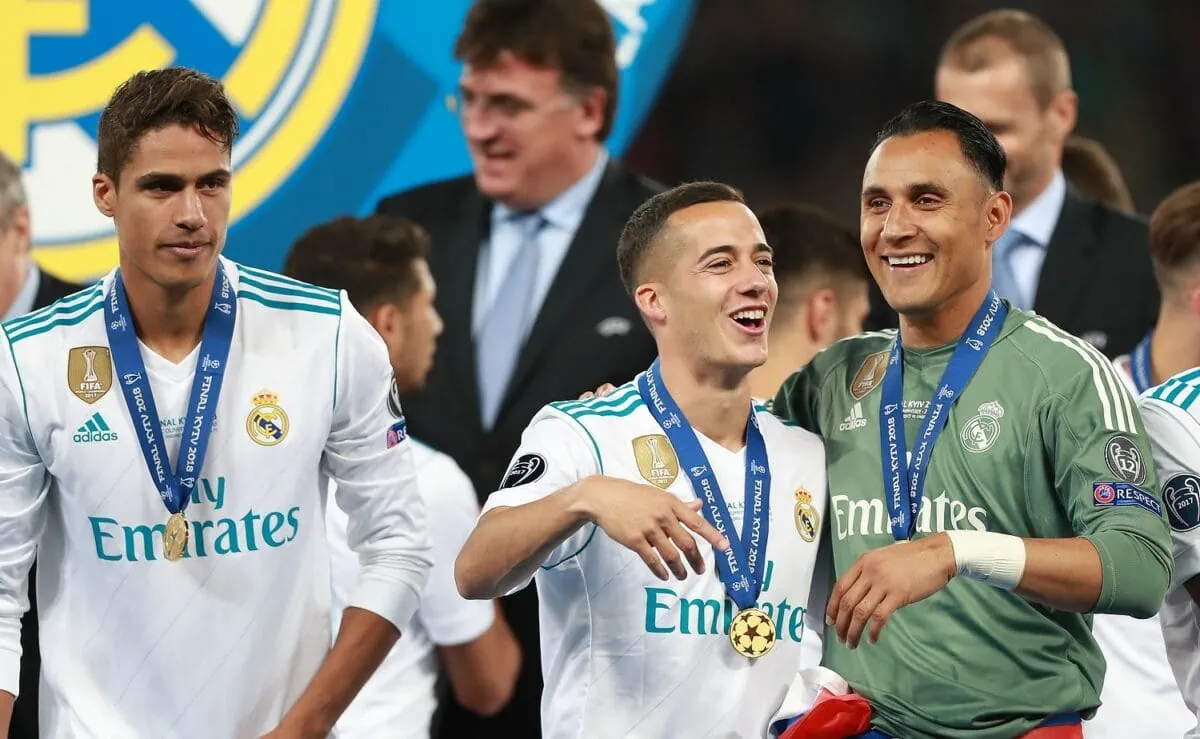 Last but not least, we have Spanish soccer player Lucas Vazquez. He plays for Real Madrid and has worn number 17 for the past 6 seasons. Also, he plays for Spain at the international level.
Among his honors are 2 La Liga titles and 3 Champions Leagues with Real Madrid.
Vazquez can play as a right-winger or right-back.
He's made 245 appearances for Real Madrid, scoring 26 goals.
That's our list of 10 soccer stars with the number 17 jersey. You've likely already heard about some of them, while others may be new to you. But all of them are outstanding soccer players in their own right.