Reading Time:
7
minutes
Share the post "What is a Center Back in Soccer? (What It Takes)"
Many players are hesitant to take on the role of a center-back because they think the position won't be interesting! You won't get much of the glory of scoring goals, but the job of a center-back is one of the most important on the team.
A central defender is certainly a position that is undervalued many times. What is a center back in soccer and what do they do? Find out all about this position including:
The responsibilities of this position
Key skills required
The top players in the position
Keep reading to learn all about the center back position!
What is the Job of a Center Back in Soccer?
Center backs have all of the common responsibilities of a defender in soccer. However, they tend to play an even more defensive (and less attacking) role than an outside back.
The primary job of a center-back is to prevent the other team from scoring. As such they will often do the following:
Defend balls behind
1v1 defending
Block shots and crosses
Heading and clearing the ball from their defensive box
I'm a defender and my first job is to make the team secure at the back; that's my primary responsibility.

Cesar Azpilicueta, Chelsea FC and Spain defender
What is a Sweeper in Soccer?
Another term you may hear related to a center back is a "sweeper." In the past, some teams played with a diamond-shaped backline. There was a right and left defender as well as two center backs.
Instead of playing side by side, the two center backs played one in front of the other. The one in front was the stopper and the one behind was the sweeper.
Using a stopper and sweeper is no longer very common, it's something you will rarely or never see. So, technically a sweeper is a center back but most teams do not use the sweeper/stopper system.
Do Center Backs Score Goals?
Any player in soccer can score goals. However, scoring goals is not the primary job of a center-back. Their main role is to prevent the other team from scoring. Center backs can and do score sometimes.
Some center backs are very strong in the air, and thus will make runs in the box during free kicks and corner kicks. These center backs are likely to score using their head or off a volley.
Other times, a central defender may score when taking a direct free kick or a penalty kick.
Check out this Liverpool video of Virgil van Dijk's goals
What Makes a Good Center Back?
There are a wide variety of talented center backs that have different qualities. Overall, here are some of the top things that good center backs tend to have in common:
Quick, safe decision-making.
Strong 1v1 defending skills.
Ability to read the game well defensively.
Effective communication to direct teammates.
High soccer IQ/vision on the field.
Here's a great video with advice for becoming a better center back;
What Do Scouts Look for in a Center Back?
When it comes to scouting for a center back, there are many different attributes teams look for. What they prefer out of a player in the position will depend on their perception of the position as well as their formation and the team's style.
For example, I played center back (quite successfully) all through college at the D1, Power Five level. Many times near the end, people discussed how my size could be a limiting factor at the professional level.
Some coaches believe this, wanting tall center backs. However, other coaches see the value of my speed and 1v1 defending and do not care about stature.
Simply put some coaches have a certain framework of how they think a center-back should look. In general, though, coaches will look for the following:
Experience, this position requires leadership and great tactical knowledge.
Composure on the ball.
Ability to handle pressure.
Ruthless defensive skills.
An "It" factor. Could be speed, aerial duels, free kicks, etc.
Is Center Back an Important Position in Soccer?
There's no overstating the importance of center-back in soccer. The central defender is the last line of defense before the goalkeeper, and thus has the second-best view on the field.
They automatically hold a leadership role, directing the entire backline as well as the players in front of them. An experienced center-back not only makes a difference with his own talent but also directs those around him to be better.
A lack of experience or confidence in this position is a danger for your team. Think about it, you must defend a whole lot more goals than you need to score to win a game.
You need central defenders that are knowledgeable, technically sound, and willing to direct others on the pitch.
What Position is the Hardest in Soccer?
Every soccer position has its benefits and challenges. Center back is no different. To many, center-back is not regarded as the hardest position in soccer. It's not extremely demanding to play, but it is difficult to excel at.
Here are some of the things that make it challenging to play as a central defender:
The speed at which you must read and react defensively.
Being able to accurately and appropriately direct other players.
The pressure that one mistake could mean losing the game for your team.
Starting your team's attack while under pressure from hungry forwards.
The lack of recognition for the importance of the job.
How Do You Play Center Back in Soccer?
Playing center back in soccer is quite an art. The best center backs make the job look easy, which is why so many underestimate this position.
Here are some tips for playing as a central defender:
Know Your Strengths
What are your strengths as a player? You must be well aware of your abilities to properly play the central defender. For example, a very fast defender will have a different style (in terms of positioning, when to leave their space to close the gap, etc) than a slower player who's maybe great in the air.
Perfect Your Defending
Center back is perhaps the truest defensive position there is in modern soccer. Outside backs often look more like attacking wingers than defenders, which means a lot of the defending gets left to the central players.
Perfect your craft of defending, including 1v1, defending, defending the dribbler, defending the space behind, and defending in the air. All of these are critical for success in this position.
Maintain Composure
In addition to stellar defending, you must also be technically sound on the ball. After winning it, you want to be able to keep it while under pressure and begin the attack for your team.
Practice receiving the ball under pressure, opening up, and playing a wide variety of passes. This position rarely requires fancy skills, it instead demands complete control of technical basics and an immense amount of composure.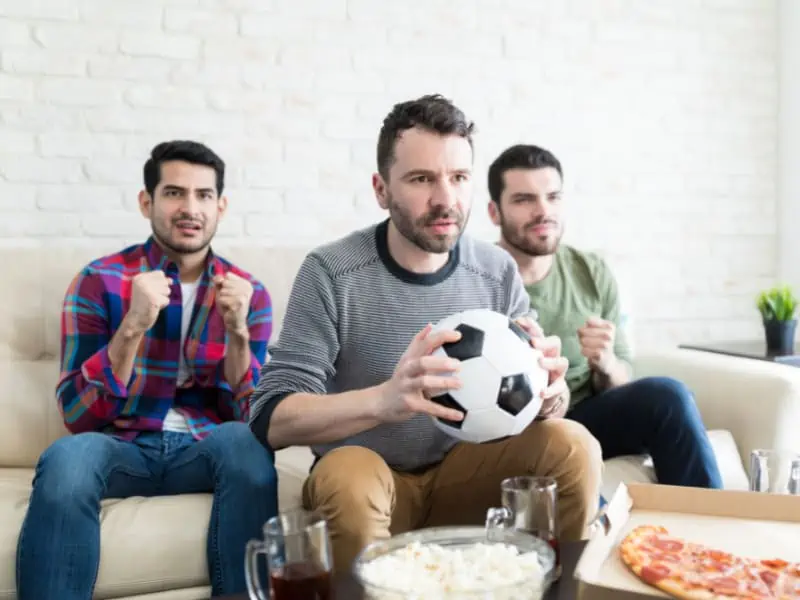 Watch the Best
Undoubtedly, one of the best ways to learn about how to play central defender is to watch the best. Watch soccer whenever you get the chance, and pay attention to the defenders.
Look for:
Body language
Directing other players
Reaction to mistakes
Skills they use
Skills they lack
Decision making
How Do You Pass a Center Back?
Of course, what the opposition is most concerned with is how to pass the center backs. This all comes down to knowing the other team and leveraging your strengths.
For example, if the other team has a very fast central defender, trying to beat them straight on the dribble or with a through ball in their area is not smart.
In that case, you may want to focus on attacking the sides or pulling the defender out of position before using a penetrating pass.
Here are some tips for beating center backs:
Know their strengths and weaknesses. Observe in the game what they may struggle with.
Leverage you/your team's strengths.
Work together, moving the ball to stretch the other team's defense.
Keep calm. The center back wants you off your game.
Who is The Best Center Back in the World?
Seeing the top center backs in action is a great way to learn more about the position. So, who are the best center-back soccer players?
Female Center Backs
One of the best female central defenders is Wendie Renard from France, who ESPN ranked 11th overall and the highest center back on its top 50 Female Soccer Players list.
Towering at 6 feet 2 inches, she offers a strong aerial presence for France and Lyon, where she's won an incredible 7 Champions League titles.
Wendie is one of the center backs that leverages her height to score goals from set-pieces. In the 2019 World Cup, she had 5 goals in 5 games for France.
Male Center Backs
As for male players, Virgil van Djik is regarded as one of the best in the game. He plays for Liverpool and the Netherlands. Some of his impressive Premier League stats in his 189 appearances include:
70% tackle success rate
1,215 duels won
880 aerial battles won
892 accurate long balls
17 goals
Here are five more male center back players to note:
| | | | | |
| --- | --- | --- | --- | --- |
| Name | Position | Team | Stat | Awards |
| Sergio Ramos | Center Back | PSG/ Spain (Former Real Madrid) | 8 aerial duels and 13 tackles so far this season | 4x La Liga Champion, 2x Champions League Winner, 8x UEFA Team of the Year |
| Aymeric Laporte | Center Back | Manchester City/ Spain | 368 total duels won, 206 total aerial battles won | 3x Premier League Champion |
| Fabio Cannavaro | Center Back | Juventus, Real Madrid/ Italy | 317 clean sheets in career | One of 3 defenders to win the Ballon d'Or |
| Ruben Dias | Center Back | Manchester City/ Portugal | 26 clean sheets in 57 appearances | 2020/21 Premier League Champion and Player of the Season |
| Marquinhos | Center Back | PSG/ Brazil | 70% tackle success rate | 23 club trophies |
Best Soccer Center Backs – Teams/Stats/Awards
Conclusion
Center back is a crucial, yet underappreciated, position in soccer. Players in this position must be team leaders and very composed players.
Their primary objective is to stop the opponent from scoring, but they also begin their team's attack. The best players in this position are defensive powerhouses with technically sound ball handling.
Share the post "What is a Center Back in Soccer? (What It Takes)"
Joel is a seasoned soccer journalist and analyst with many years of experience in the field. Joel specializes in game analysis, player profiles, transfer news, and has a keen eye for the tactical nuances of the game. He played at various levels in the game and coached teams - he is happy to share his insight with you.