Reading Time:
7
minutes
Share the post "Teamwork in Soccer (Successful Styles & Examples)"
When discussing the greatest or most entertaining soccer teams, it's a great debate, but surely it matters more if they're successful.
While some will ravish in the no-nonsense, military-style organization of Jose Mourinho's Chelsea and Inter Milan teams of the 2000s, others craze the tiki-taka approach taken by Pep Guardiola's Barcelona teams over the past two decades.
These teams are successful because of teamwork!
Teamwork in Soccer: success
Although trophies, statistics, and records may be used as indicators of success, what exactly makes a soccer team successful? 
Successful soccer teams are based on the number of trophies they've won, their position in the league, the finals played, and the finances used.
Having world-class players is always an advantage. How often have we seen Leo Messi drag their teams from the brink through pure talent?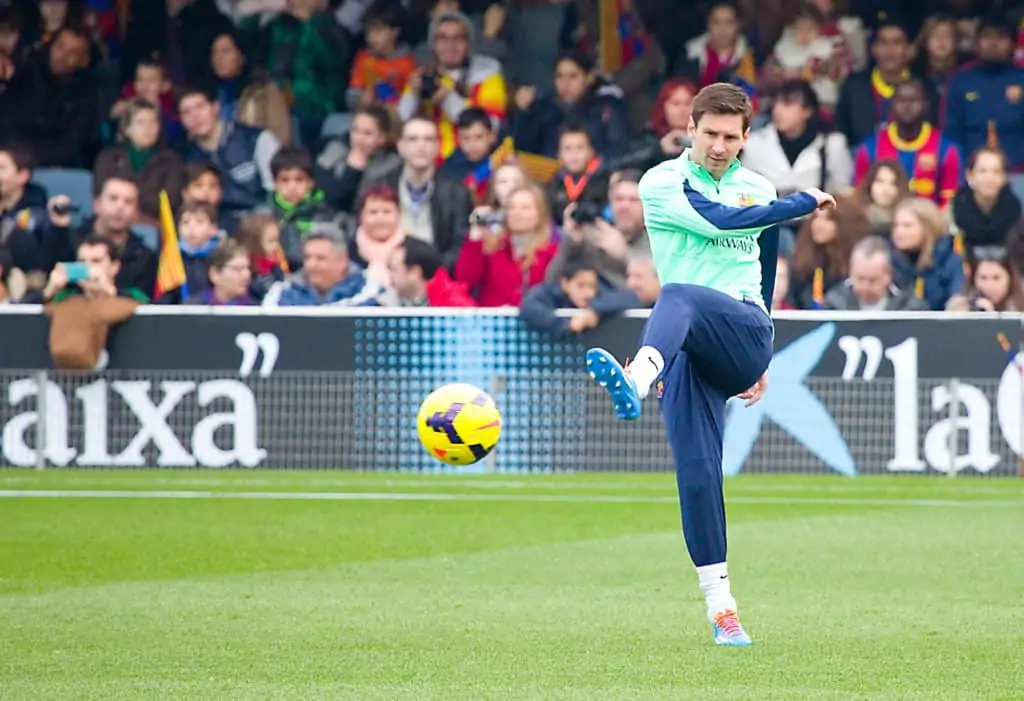 Despite individual brilliance, strong collective unit triumphs in a team sport. 
This article looks at the factors that make a soccer team successful. Referencing some of the greatest teams and coaches we've seen, we'll uncover exactly what makes a winning team tick.
There have been fascinating routes to success from camaraderie and teamwork to tactics and play style. 
Teamwork in Soccer: The Formations
In modern soccer, there are several popular formations. The most successful have created pathways from grassroots to MLS-level soccer. 
4-4-2
The 4-4-2 formation consists of 4 defenders, 4 midfielders, and 2 forwards (strikers). This style of play has a general identity of ruggedness as there are enough players to fill all field areas.
The combatant approach means that no matter where opposition players are located, there are at least 2 others to stop them. 
To be successful, these players must have attacking abilities in the offense. Hence the term, "all-rounders". The modern game consists of more specialized positions.
The most successful teams using this formation include Manchester United from 1996 to 2013. As a typically "English" style of play, other teams elected to form other formations to out-strategize this set-up.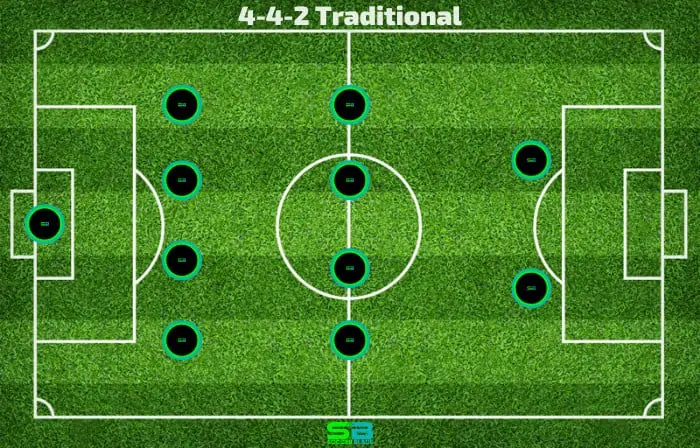 4-3-3
This formation is often described as a diamond. It's similar to a 4-4-2 in that it includes 4 defenders. However, one of the midfielders is responsible for being a safeguard for the back 4.
This allows the other 2 midfielders to have a more creative influence. The attacking combination involves 2 wide attackers and a sole goal scorer.
Masterminded by the legendary Dutch coach, Rinus Michels, this formation is extremely popular in the modern game with Barcelona, Real Madrid, Bayern Munich, and Manchester City.
They enjoyed tremendous national and intercontinental success through this play style.
It's often characterized by players taking triangular positions around the field, focusing on high tempo and possession retention.
4-5-1
In a 4-5-1 there are several variations. Essentially, the midfield is adaptable to combat the opposition formation. If their approach is offensive, the midfielders can drop back to create a bank of defenders.
If the opposition is defensive, the midfielders can occupy advanced positions to pick apart the defense.
To be successful in this formation, individuals must work hard and be positionally aware. However, many teams adopt this shape as a strategic ploy for an individual game.
Jose Mourinho regularly deployed his Real Madrid team in a 4-5-1 formation.
Importance of Teamwork in Soccer
There is no substitute for teamwork in soccer. A well-oiled unit is trained to take apart even the best defensive formations. Tactics allow players to draw out individual defenders to penetrate their defensive blocks.
Without teamwork, a soccer team is not successful. This is why the so-called lesser teams can beat the best on any day – which makes soccer attractive.
The most successful teams don't perform due to a lack of individual work and teamwork. Some of the important factors for teamwork are;
Working with the coaches plan
Defending as a team
Attacking as a team
Covering other players when needed
While teamwork is effective, several factors determine how well a team works together.
How to Make a Soccer Team Work Together
According to the experts, certain factors have a major influence on the successful running of a team. Let's look at what makes a soccer team work well together.
Success Oriented Structure
For long-term success in soccer, winning must be ingrained in the culture. From the standards set at practice to the extra work done to recover after a game, the structure of a soccer franchise has to be success-oriented.
This allows players and coaches to adopt a singular focus on a common goal: winning.
Communication
Effective communication is an absolute necessity at every level in soccer, whether it's a goalie instructing their defense on the position of their offside line or a coach making a tactical adjustment from the sideline.
Communication is key. Hard hours on the practice field and frequent team meetings allow players and the coaching staff to develop trusting bonds that enable clearer communication.
Work Ethic
As the famous high school basketball coach Tim Notke said;
"Hard work beats talent when talent doesn't work hard."

Tim Notke
Sure, we all marvel at the world's greatest soccer players' gifts, but do we truly appreciate the graft that goes into developing these talents?
Cristiano Ronaldo is often compared to a machine in terms of work ethic. In his pursuit to become the greatest soccer player ever, he has developed into a physical phenomenon and arguably the finest athlete the game has produced.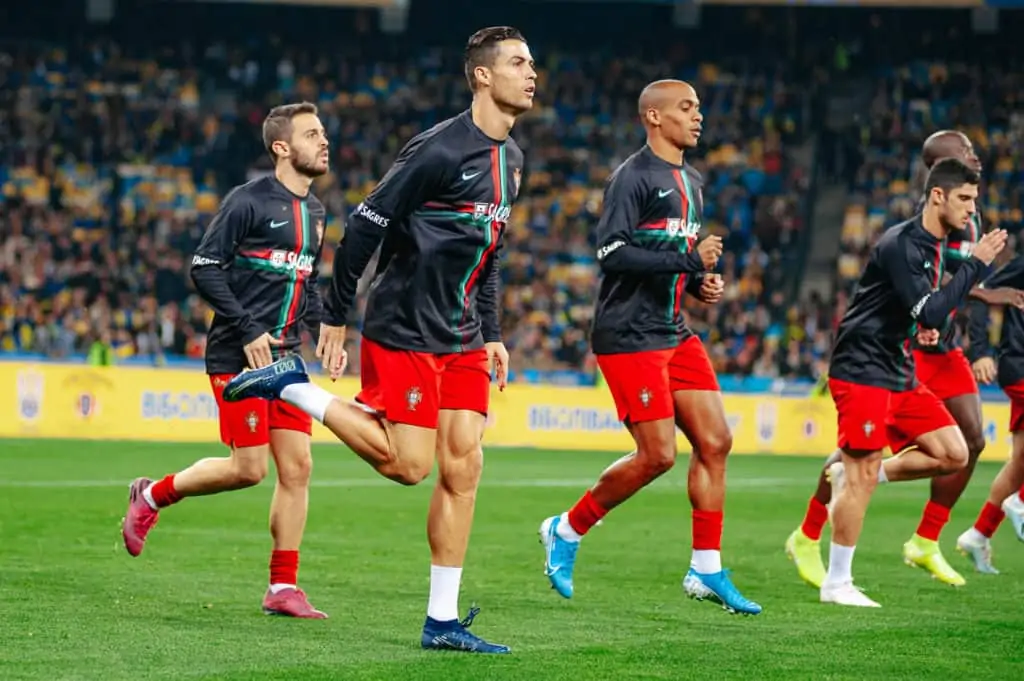 Even at 36 years of age, CR7 continues to outwork teammates. His former Juventus squad member, Medhi Benatia, shared a post-game story that sums up his mentality;
Benatia reported that Cristiano texted him at 11 pm, the night after a game, to work out at the gym because he felt he didn't get enough sweat during the match.
This is just one of many similar anecdotes.
Successful teams embody a collective work ethic that allows them to reach their potential. This doesn't mean overworking, as it can lead to injury.
Many successful athletes suggest that their winning mentality stems from their work ethic.
Here's what one of Europe's elites does on his rest day.
Leadership
By its very nature, leadership instills success. It's described as the capability of influencing a team toward achieving a particular goal or group of goals.
Depending on their personalities, many leaders guide their teams differently.
For example, the US National Team player with the most appearances as captain (64), Carlos Bocanegra, is known for putting his head where others wouldn't put their feet.
He led his players through heart and inspiration as a player who would leave everything on the field.
It also helped that he was a technically sound player with experience playing worldwide, including a 4-year stint in the English Premier League with Fulham (2004 – 2008).
Many captains lead through tactical nouse and communication skills, while others influence their playing ability. Virtually all successful teams in every competition benefited from leaders on the field or the sideline. 
Teamwork in Soccer: Organization and Tactics
How do you break down a team whose only weakness is a brief 3-second window where they can be counterattacked after losing possession in your half of the field?
The simple answer is through a preplanned fast break. However, soccer isn't like basketball. Players don't necessarily hold a strict defensive shape, the field is much larger, and there are more players.
Coaches and players must work tirelessly on organization and tactics to be successful. In most cases, teams prepare for 2 games per week, meaning has to be open to learning and adapting constantly. 
Many trainers are lauded for putting on a tactical masterclass to upset a favorite in a big competition. But what about the coaches with the highest winning percentages?
Organization and tactics can occasionally pull a rabbit out of a hat, but real strategists create styles of play that give their teams the best chance of winning every game.
This debate over the best soccer team in history gives a great example of how to decide if a soccer team is successful;
Continuous Evaluation
There's no time to stop and smell the roses in a constantly evolving sport. Coaches and players must perform evaluations continuously to stay at the top.
Progress is key, whether it's a new zonal marking structure for corner kicks or an advanced recovery technique for hamstrings. The journey to success is an ongoing one. 
Many Successful Approaches
One of the most beautiful things about sports is that there is rarely a singular best way to do anything. While there are key factors to instill success, each has some wiggle room.
From leadership approaches to on-field tactics, successful soccer teams come in all shapes and sizes. The next generation always produces new ways to win.
Share the post "Teamwork in Soccer (Successful Styles & Examples)"
Joel is a seasoned soccer journalist and analyst with many years of experience in the field. Joel specializes in game analysis, player profiles, transfer news, and has a keen eye for the tactical nuances of the game. He played at various levels in the game and coached teams - he is happy to share his insight with you.