The soccer season has changed a lot as I've gone through youth soccer, high school soccer, college soccer, and now professional soccer.
Soccer seasons vary all around the world, which is why it can be difficult to keep up with the timing.
Today, we'll help you better understand when soccer season starts and ends by covering:
Season timing for different leagues
How many games are in a season
How/why soccer is year round
Let's dive into everything you need to know about soccer season length and timing.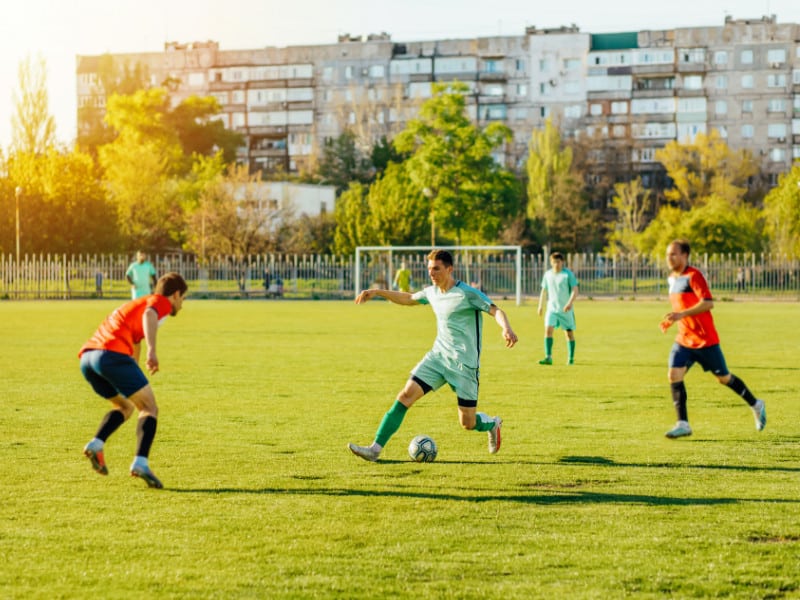 How Long is a Season in Soccer?
Different soccer levels have different season lengths based on the number of games and time between games.
Here's a breakdown of how long a season is in soccer:
Youth Soccer: 16-20 games split into fall and spring
High School: 8-12 games
College soccer: about 16 regular-season games
NWSL: 24 games
MLS: 34 games
Bundeliga: 34 games
English Pemier League: 38 games
What Months is Soccer Season?
Soccer seasons run nearly every month of the year in the United States.
From August to November, we have many youth soccer programs (including club and high school), college soccer, and the end of MLS and the NWSL.
In the winter, most programs do not have official seasons. However, you can often find indoor soccer seasons and/or winter training for teams at all levels.
By March, many youth programs start up again for the spring portion of their season. High school soccer starts in spring in some states. College soccer teams have off-season training and friendlies. The MLS and NWSL start their preseason.
During summer, youth leagues wrap up. Many teams still have tournaments and/or training. Many players from college teams play in semi-professional summer leagues, like the WPSL. The NWSL and MLS are in full swing.
How Long is a Soccer Season in Weeks?
How many weeks a soccer season lastly varies greatly based on the level.
For example, youth soccer seasons tend to be about two 8 week chunks (one in fall and one in spring), for a total of 16 weeks.
On the other hand, college soccer's regular season is around 12 weeks. Including playoffs, it may hit closer to 16 weeks.
Professional soccer in Europe typically runs on a 45-week season with up to 60+ matches.
Here's a breakdown of the approximate number of weeks in different soccer seasons:
| | | |
| --- | --- | --- |
| Level | Approximate # Weeks in Regular Season | Playoffs? |
| Youth | 16 (split between fall & spring) | No |
| High School | 8 weeks | Yes |
| College | 12 weeks | Yes |
| NWSL | 24 weeks | Yes, and challenge cup |
| MLS | 34 weeks | Yes |
| Professional in Europe | 45 weeks | No, but may have a Cup |
Season Length – All Leagues
Is Soccer a Fall or Spring Sport?
Soccer is now a fall AND spring sport in the majority of leagues. However, the answer really depends on which league and level you look at.
Youth soccer offers league games in the fall and spring. Note that not all kids play both. Some multi-sport youth athletes may only pay fall or spring, and dedicate the other season to another sport.
However, in college, soccer is only a fall sport. While teams train all year, the official season only happens during the fall.
At the professional level, soccer typically encompasses parts of both the fall and spring.
Is Soccer Played Year-Round?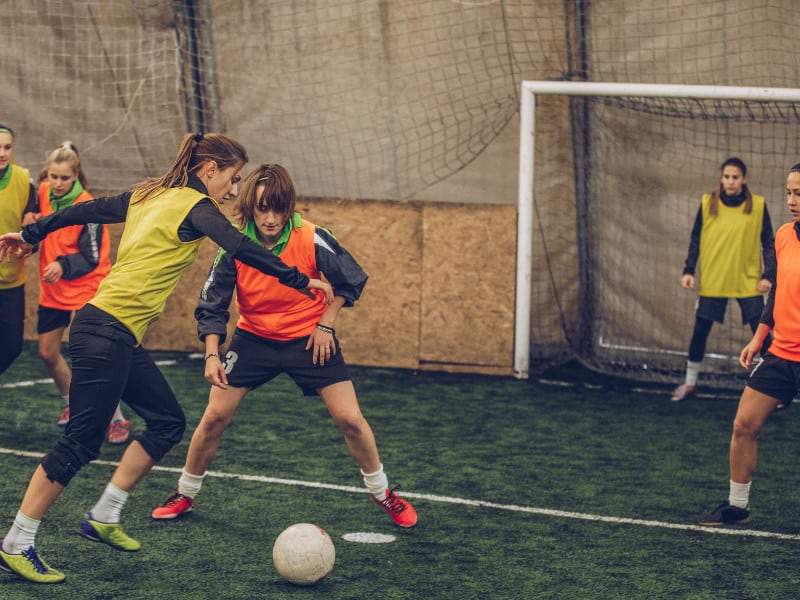 Soccer is played year-round around the country.
Many competitive programs may play with only a short break in the winter and a short break in the summer.

US Youth Soccer
Even if a certain soccer season is only in fall or spring, the majority of players play year-round.
For example, my high school soccer season was the spring. In the fall, I played club soccer. In the winter, we had indoor training, and in the summer we had some tournaments then preseason.
Since soccer season is all year round, you may play on a variety of surfaces. Grass in the spring and late fall may be very soft and muddy. In the winter, you may play on turf or futsal ground.
To prepare for year-round soccer, you need to ensure you have other right footwear. We recommend considering the following:
We'll dive into the timing of other levels as well, but generally, the soccer season encompasses several seasons.
Regardless of official games, players only have a few weeks off before training starts again.
When Did MLS Start?
The MLS soccer season runs from mid-spring through late fall.
In 2021, the MLS began to play on April 16. The regular season goes until November 7th.
On November 19th, the playoffs start, and they run until December 11th.
Some teams will not make the playoff, and will therefore be done with their season by November 7th. However, the teams that make it to the final will have played from April 17th through December 11th.
Furthermore, it's important to note that preseason for the players began well before April 17th. Full team training actually began on March 8th, 2021.
When Does Soccer Season Start in Europe?
Most soccer leagues in Europe begin in August, but many in Scandinavia start between March and May.
For example, leagues in Spain, France, and Germany tend to start in August and end in May. On the other hand, leagues in Norway and Sweden start in March/April and end in November.
When Does Soccer Season Start and End in Europe?
Here's a closer look at soccer season timing throughout Europe:
| | | |
| --- | --- | --- |
| League | Start Date | End Date |
| La Liga | August 13, 2021 | May 22, 2022 |
| English Premier League | August 13, 2021 | May 22, 2022 |
| Eliteserien (Norway) | April 5, 2021 | November 27, 2022 |
| Bundesliga | August 13, 2021 | May 14, 2021 |
| Serie A | August 21, 2021 | May 22, 2022 |
European Leagues – Season Start and Finish
What Months is Football Season in The UK?
The Premier League, one of the most-watched leagues in the UK, begins in August and ends in May.
Therefore, the soccer season in England is played during the months of August, September, October, November, December, January, February, March, April, and May.
When Does Soccer Season Start 2022?
Some soccer seasons work sort of like school. The new year is often right in the middle of the season, not near the beginning.
For example, the start of 2022 is not the start of a new season for college soccer or youth soccer.
On the other hand, the MLS and NWSL will begin a new season earlier in 2022.
Here is a basic idea of when different soccer seasons begin in 2022:
Youth: August 2022
College: August 2022
NWSL: March 2022
MLS: April 2022
When Does Soccer Season Start for Youth?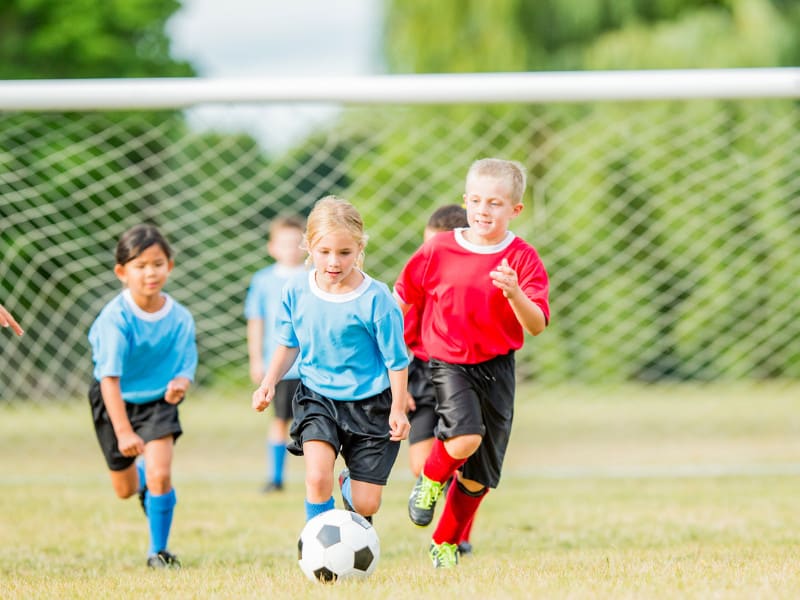 The timing for youth soccer season depends on the team's age, location, and league.
There is no traditional season in youth soccer.

US Youth Soccer
Most often, youth soccer includes a fall season, starting in September, and a spring season, starting in February.
Older teams may start training several weeks before their first game. Commonly, my team began training in early August for games to start in September.
When Does Youth Soccer Season End in 2022?
Just as the beginning of youth soccer season varies, so does the end.
In general, the fall portion ends by mid-November. The spring portion of the season goes until the end of May.
However, some teams qualify for the Regional Cup or National Cup, and will then play in the middle of summer.
Furthermore, many U13+ teams compete in other college showcase tournaments throughout the summer.
Throughout my years playing high-level club soccer, the "soccer season" never really ended. While certain leagues would end, our team continued playing.
We played a fall season, trained all winter, and competed in tournaments in winter. Come spring, some of us played high school soccer and others played spring club soccer.
When summer hit, we began preparing for Regional tournaments and college showcases. We then had a few weeks off before starting preseason again in August for the upcoming fall season.
However, there are club teams at all levels. Some teams do not require a never-ending commitment and maybe a better fit for more casual players.
When does soccer season start in high school?
High school soccer season is not universal. In some states, high school soccer begins in September and ends in November.
In other states, like Wisconsin, the boys' high school season is in the fall and the girls' high school season is in the spring. High school soccer for girls began around March and ended at the end of May.
California is another outlier for high school soccer season. The state holds both girls' and boys' high school soccer in the spring.
When does soccer season start in middle school?
First, you should know that middle school soccer is not common everywhere in the country. I did not know a single middle school in my area with a dedicated soccer team.
A lot of times, middle school-aged kids will play club youth soccer. In that case, they follow the same spring and fall setup.
However, some middle schools may have soccer teams. If so, the season greatly depends on the league the middle school is in.
For example, there is a middle school in Baton Rouge with a middle school soccer team. Their regular season is about 2 months long.
They begin practices on November 2nd, and games start on the 12th. They play 6 games, with an approximate last date as Jan 2nd. The post-season tournament is on Jan 14th.
Conclusion
There's no universal start and end date for the soccer season around the world, or even in the U.S.
The exact timing of soccer season varies greatly depending on the location, level, and more.
Despite the varying season dates and lengths, most soccer players train and play all year in some capacity. Soccer has become a year-round sport, even at the youth level.
Whether you are signing up to play, enrolling your child in soccer, or just looking for a team to support, make sure you learn when the season is for that team.
The good news is that you can almost always find some soccer to play or watch no matter what time of year it is!