Some of the absolute best players I've ever played with in soccer have been central midfielders. It makes sense, as midfielders must have a well-rounded arsenal of skills and excellent tactical awareness to succeed.
But, what exactly is a midfielder in soccer and what does it take to be the best?
Today, we'll dive deeper into the midfield position reviewing:
The responsibilities of a midfielder
Different midfield positions
Top midfield talent in the sport
Keep reading to find out everything you need to know about midfielders in soccer!
What is the Role of the Midfielder in Soccer?
Midfielders in soccer have a fairly challenging job. In fact, they don't have just "one" role.
Overall, the midfielders aim to help with the transitional play. As they sit between the defenders and forwards, they must work heavily on both sides of the ball to defend and attack.
Some of the key aspects to this role include:
Helping stop counter-attacks from the opposition
Offering an outlet to defenders who have won the ball
Attacking opponents on the dribble and with penetrating passes
Crashing the box for opportunities to finish on the net
Winning 50/50 balls and ball out of the air
Serving as a link between defenders and forwards on both offense and defense
To see a truly talented midfielder, check out some of USWNT Rose Lavelle's skills!
What is One Responsibility of a Midfielder?
Protect the defense
Organize the team
Cover for players out of position
Receive the ball from the defense
Dribble with slotted passes
Penetrating passes to break the lines
Long ball/flighted pass
Combination play in the midfield/ with the outside players
As you can see, there are several responsibilities of a midfielder. One of the most essential is the ability to deliver balls to the forwards. Midfielders must be able to get open and receive the ball from defenders before working it to the forwards.
There are many different ways the midfielders can get the ball to the forwards. Some ways that midfielders may bring the ball from defenders to the forwards include:
The midfield is the heartbeat of a football team, it's the centre of the action, so you can't just do one thing.

Casemiro
Skills Midfielders Need
Dribbling
Passing and combination play
Turns
Long/flighted passes
1v1 defending
Aerial duels
Striking (especially from distance and top-of-the-box)
Checking their shoulder, head on a swivel
High level of tactical awareness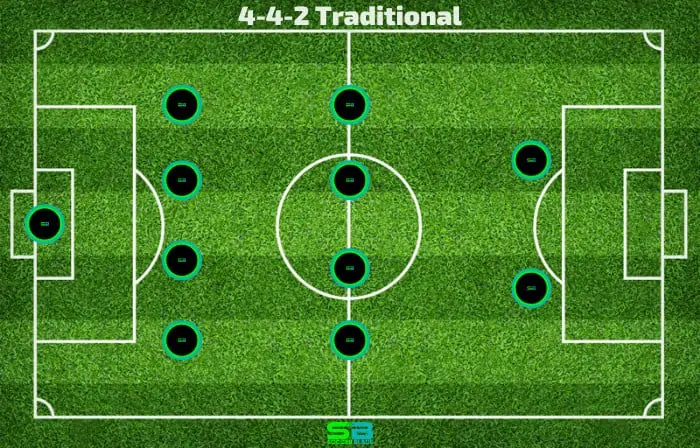 Soccer Midfielder FAQ Section
Types of Midfielders
Attacking Midfielder Role
One type of midfielder is the attacking midfielder. This is typically the "8" or "10" on the field, playing above the 6 (defensive midfielder).
While the attacking midfielder will be involved defensively, their primary objective is to fuel the attack. They contribute offensively in several ways. They may take on the opposing team's defensive midfielder/ defenders, thread balls through to forwards, sprint in the box for late runs, and even score goals.
Here are some tips for playing this role:
Defensive Midfielder Role
Another type of midfielder is the defensive midfielder. The "d-mid" is known as the 6, and teams often play with one or two of them.
The 6 is in front of the central defenders. They are heavily involved in starting the attack and defending against opponents. While the attacking mid usually take more liberty to dribble and roam the field, the 6 must be very aware defensively.
The defensive mid commonly fights to win balls out of the air, chase down the other team's attacking mid, and generally help the backline with defending.
What is the Difference Between a Winger and a Midfielder?
What about a winger? A winger is a player who plays primarily in the width. Depending on the formation, the winger could be a wide mid, outside forward, or outside back. This is why many people do not view a winger as a midfielder even if they are a "wide mid."
The role of the winger is quite different than an attacking or defending mid. Their main area is the width of the field, where they typically make numerous sprinting efforts. Talented wingers are often very fast, good at 1v1 attacking, and extremely fit.
Is Midfield a Good Position?
Overall, the midfielder is a good position for players who understand and see the game very well and have well-rounded soccer abilities.
Every position in soccer has good qualities and challenges. Due to the demand for well-rounded skills and overall fitness, the midfielder is not an ideal position for everyone.
Still, midfield comes with many great aspects. Midfielders are involved in many parts of the game. They get to contribute defensively and offensively. As a midfielder, you are often in a good position to score or assist, but may not face as much pressure to score like a forward.
Where is the Weakest Soccer Player?
Teams at all levels may have to play with a weaker player on the field. As a coach, it can be difficult to know where to put a weaker player.
However, if you must play with a weaker soccer player you should absolutely not place them in the midfield. The midfield is a very challenging position, because of the extreme awareness and demand for comprehensive skills.
A weaker player will get lost in the midfield, and likely hurt your team both defensively and offensively. The midfield is not a place to "hide" a player who lacks skills or tactical understanding.
Best Midfielders in Soccer
Given the challenging demands of this position, it can be hard to find an excellent midfielder. So, who is the best midfielder in the world? Midfield can be a difficult position to analyze.
Midfielders may score goals, but this is not necessarily the best measure of their contribution. There's a lot to consider when evaluating midfielder players. Still, some players consistently stand out amongst the rest.
ESPN's top 50 Female Soccer Players ranking lists American midfielder, Sam Mewis, as not only the top midfielder but as the top player overall. The 28-year-old most recently played for Manchester United and is a key member of the USWNT.
Known as the "Tower of Power" she's progressed tremendously over the course of her career to become a consistently USWNT starting midfielder.
According to USWNT coach Vlatko Andonovski, she is;
Sam Mewis is a true example of what the USWNT stands for

Vlatko Andonovski via ESPN
As for the best male midfielder, many different experts will hand the title of "best midfielder in the world" to Manchester City's Kevin De Bruyne. He is also a Belgium national team star and is currently ranked as one of the best in the game of soccer.
De Bruyne has 51 goals and 81 assists in 202 appearances. For the 2019/2020 season, he earned the Premier League player of the season. He's also a 3x Premier League Champion and was the 2017/2018 and 2019/2020 Playmaker of the year.
Let's take a look at some of the all-time great midfielders in men's soccer:
Best Midfielders of All-Time
| | | | | |
| --- | --- | --- | --- | --- |
| Name | Position | Team | Stat | Awards |
| Kevin De Bruyne | Midfield | Manchester United/ Belgium | 51 goals, 81 assists in Premier League | 2019/2020 Premier League player of the season |
| Bruno Fernandes | Attacking Mid | Manchester United/ Portugal | 78.3% pass success, 18 goals, and 12 assists so far this season | 2018 and 2019 footballer of the year |
| Andrea Pirlo | Defensive mid | AC Milan, Juventus, Italy | 58 goals and 94 assists in Serie A | Serie A champion, 4x Juventus Champion |
| Didi (Waldry Pereira) | Attacking mid | Fluminense FC , Botafogo FR/ Brazil | 150 goals in 51 appearances for Fluminense | 1958 and 1962 World Cup winner, Golden Ball |
| Lothar Matthaus | Defensive mid, center back | Bayern Munich/ Germany | 121 goals and 43 assists in 464 Bundesliga games | Most World Cup appearances before age 25, most capped German player |
| Xavi | Midfield | FC Barcelona/ Span | 58 goals and 129 assists in 5050 La Liga games | 4x IFFHS World's Best Playmaker |
| Ronaldinho | Attacking mid, winger | PSG, Barcelona/ Brazil | 70 goals, 50 assists in 145 La Liga appearances | Ballon d'Or in 2005, 2x FIFA World Player of the Year |
| Zinedine Zidane | Attacking mid | Juventus, Real Madrid | 122 goals and 130 assists in 633 total appearances | Ballon d'Or in 1998 |
| Andreas Iniesta | Midfield | Barcelona/ Spain | 35 goals and 86 assists in La Liga | 9x FIFA FIFPro World XI, 6x UEFA Team of the Year |
| Michel Platini | Midfield | Juventus | 68 goals, 11 assists in Serie A | 3x Ballon d'Or winner |
Is Messi Midfielder?
Messi has played as both an attacking midfielder and a forward. According to an article by Goal.com, Messi believes he is more likely to transition in the midfield as he continues to age.
A lot of players drop deeper when they move into the later stages of their career, and that's certainly an option for me, to become an out-and-out midfielder

Messi, via Goal.com
Was Ronaldo Ever a Midfielder?
Currently, Ronaldo is a talented striker (forward). In the past, Ronaldo has played midfielder. He started out in the midfield and wing, originally more of a playmaker than scorer in his youth.
As Ronaldo developed his finishing, he became a true danger on the attack. For Madrid, he often played on the left wing. He now plays as a forward for Manchester United. Thus far, he's scored 96 Premier League goals in 220 appearances.
Conclusion
Midfield is one of the most challenging positions in soccer, and one of the most crucial. Midfielders play in the center of the pitch, heavily involved in both the attack and defense.
To succeed as a midfielder, you must have a diverse skillset. You must also be able to read the game quickly and accurately. Overall, this position can be difficult to succeed in, but often showcases some of the most talented players.