Reading Time:
7
minutes
Share the post "Why Soccer is Better than Basketball, Baseball, and Football? (Game-On!)"
I think soccer is the best game in the world, but why what show us so? It's called "the beautiful game" worldwide and followed with such appeal.
Sure other sports have their merits and are good for certain aspects, but there must be some reason why their popularity is unmatched.
Why is soccer the best?
45 minutes nonstop
Action
Atmosphere
Determination
Excitement
Flamboyance
Free kicks
Overhead kicks
Pace
Passion
Penalties
Red cards
Skills
Support
Tactics
Team play
Tricks
Volleys
Why is soccer better than football, baseball, and basketball?
Accessibility: Soccer can be played almost anywhere with a single piece of equipment
Creativity: Coaches and players can completely turn the game around with their imagination
Passion: Singing from 80,000 hardcore fans.
Popularity: Soccer is the world's favorite game, and for good reasons
Pace: Action-packed 45-minute half without interruption
Why is soccer better than basketball?
Soccer is better than basketball because the sport is more inclusive, the range of play is greater, players are more athletic, and the support is superior.
Height
Basketball is a game that's limited to tall players. I know there are some small players. But if you the height of an average American at 5'10", you've got very little chance of making it as a pro.
The chances of making like a pro in any sport are tough, but when less than 1% of the country is taller than 6'5″, it's a tall person's game.
Whereas soccer is inclusive. You can be any height to play and be successful. The two best players in the world are on either side of the average height – Messi and Ronaldo.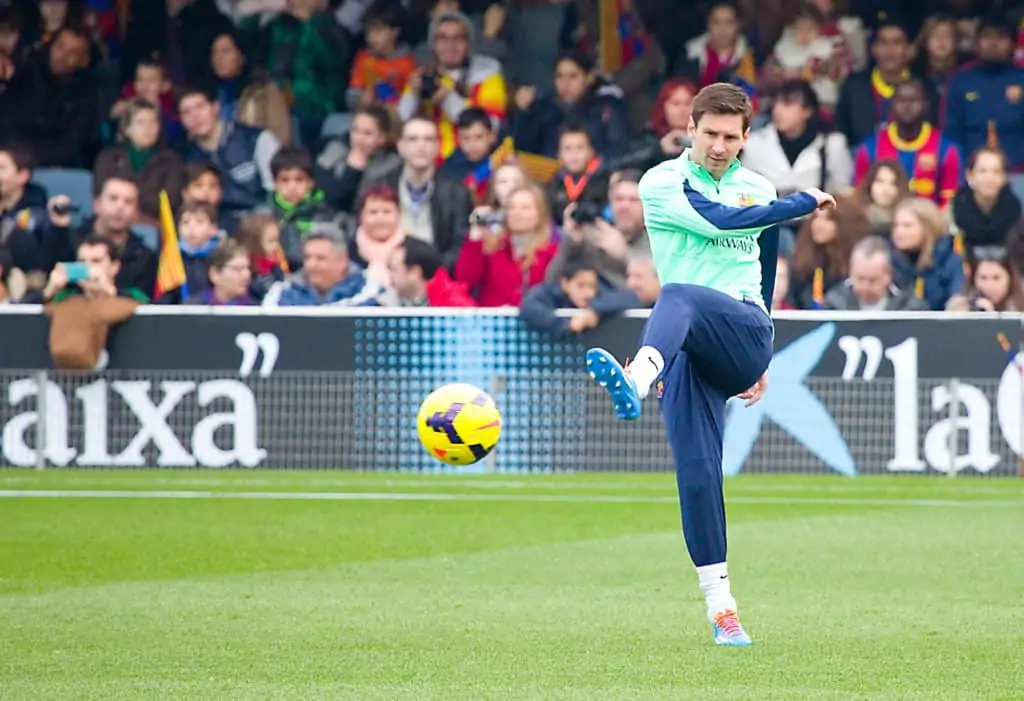 Range of play
Basketball is a good sport but lacks the range of play that soccer offers. This is due to the court's size and the ball type.
A soccer ball makes the game more varied – a diving header or an overhead kick shows the flexibility in play and players.
The size of the soccer goal compared to the basket lets the game be mixed. A basketball can hit the rim, but a soccer ball can hit one post to another and bounce in from a 30-yard shot.
I'd like to say it's a close call, but soccer is better than basketball for these many reasons.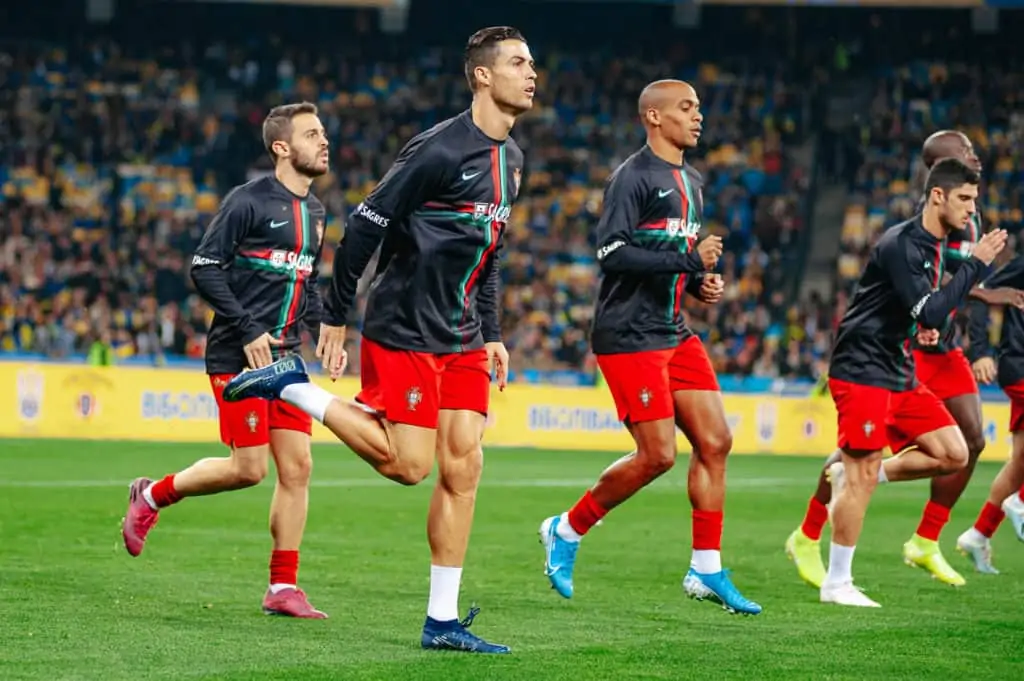 Why is soccer better than baseball?
Soccer is better than baseball with the action it produces every minute, from pro athletes with skills like no other.
Action
Soccer is claimed to be slow for action, but baseball tops that. From throw to throw, the wait is longer than the action.
Three throws and no hits, with nothing in between. The wait is too long. Bigger balls and bigger bats might change that!
Soccer can be action-packed for 90 minutes. The ball can go from one end of the field to the other in 10 seconds, with a chance for each team.
Athletes
Soccer is a game for athletes, and that takes dedication that you can admire. Sure, baseball players train, but nothing like a pro soccer player.
Dedication to the game of soccer produces incredible skills that take commitment and flair.
Running around four bases makes baseball limited – while soccer has a huge field to show athleticism. This produces action like no other sport.
Why soccer the best sport – 12 Reasons
1. Soccer is Creative
That's a bold claim, but we don't make it lightly. In soccer, creativity can win a game out of nowhere.
It's that magic x-factor that can decide a close game between 2 even opponents or let an underdog beat one of the giants in their backyard.
2. Skilful players – Messi
On an individual level, it's incredible to watch some of the game's most creative players. Leo Messi is renowned for his ability to pick the perfect pass at the perfect time.
Time stands still as he looks at the field and then magically puts the ball in the ideal spot for one of his attacking partners.
He sees the game before it happens, knowing where his teammates will run and where the defender will be caught off-guard.
3. American stars – Landon Donovan
Landon Donavon was famous for a different sort of creativity. He scored so many goals from the edge of the penalty area, making a run from midfield at a moment no one expected.
He made it looks easy, but only because he had the creativity to see where the ball might be in 5/10 seconds and the confidence to act on it.
4. Tactics
Likewise, managers can win games before they even start with the right tactics. Whereas football is quite restrictive with what's legal and what's not, a soccer manager can choose to line up with 7 attackers and 3 defenders if he wants.
This has led to incredible creativity, like Barcelona playing without a striker or many modern teams playing with 5 players who shuffle around the defensive positions to let one of them always go forwards.
To start a quick game in your yard, check out these 30-second folding goals on Amazon. So handy to move out of the way when your game is over.
QUICKPLAY Q-Fold Soccer Goal | The 30 Second…
QUICKPLAY Q-FOLD The fast set-up all-weather home soccer…
ALL-WEATHER SOCCER GOAL Made from durable 68mm diameter…
SUPER FAST 30 SECOND SET-UP FROM FOLDED The Q-Fold frame…
NEW DURABLE FLEXI-JOINT SYSTEM (Patent Pending) Gives the…
NO SAG STRAIGHT CROSSBAR TECHNOLOGY (Patent Pending) As…
5. Passion For Soccer
Have you ever…
Been to a baseball game wherethousands of fans hold up an enormous banner covering an entire side of thestand?
Attended a football game where50,000 people have sung in unison for the entire game?
Been an away fan at a basketballgame where the opposing striker emerges to almost 100,000 hands clapping?
The experience is incredible. It's like nothing else in the world because the scale and dedication are seen in a few other places.
6. Commitment of Fans
It can sometimes feel more like a political rally than a game. The sheer commitment fans have to soccer is incredible.
You'll see grown men cry as their team lose a game or enter absolute bliss when that first goal hits the back of the net.
This is their club, it has been for decades. They'll turn out in the sun or rain to cheer their team on.
They'll travel hours, they'll keep cheering even when their team is soundly beaten. Why? Because it's their team.
7. Accessibility of Soccer
All you need to play soccer is a soccer ball—everything else you can improvise. Any schoolboy will tell you how easy it's to make goalposts out of sweaters in a park, yard, or street.
You can even use a different ball if you have to, just so long as it's round!
This makes it easy for anyone to play at almost any time. Countries like Brazil and Argentina, which don't have the economic status of the US, are incredible at soccer.
Why? Because they can play it even in the narrowest streets of the slums, picking up incredible ball control skills that allow them to dominate when they reach the pitch.
This is a unique part of what makes soccer a brilliant game, adopted worldwide.
8. Soccer: The World's Most Popular Sport
Soccer is more popular than football, baseball and basketball combined. It's not even that close!
There are estimated to be around 3.5 billion soccer fans worldwide, from Australia to Peru.
It's a game loved across the globe: you're never far from a bar where you can discuss the game with enthusiastic fans.
9. Unpredictable
One of the coolest things about this is that it means you can never be quite sure who will win a tournament.
Sure, there are always favorites, and a dozen countries are traditionally top tier, but there's always room for upsets.
Greece famously won the 2004 Euros, Italy was knocked out of the World Cup by Japan, and the usually amazing Germany crashed out of the last World Cup after losing to a group full of underdogs.
It also means that you rarely find a place where a pickup game or weekly league isn't available.
If you love playing soccer, chances are there will be some way for you to play it with other people, no matter where you are.
10. Constant Play
One of the most appealing things about soccer is its pace. It's a joy to watch, especially in slower sports like football and baseball.
There is no length stops between play, no highlights, no breaks for music, and cheerleaders that can interrupt your focus on the game. It's just pure soccer for 45 minutes.
There are the odd breaks when a player getsinjured, but generally, it's just all about the play.
11. Excitement
We love these for so many reasons. You don't watch a TV show and stop every 5 minutes from hearing expert analysis on what's going on.
And isn't it so much better when you watch a movie at the cinema and don't have commercials just as it's getting tense?
Think about how much more you get sucked into the plot and how much more you care.
It's more exciting, more nail-biting, moredramatic. As much as it can suck when your team is going into the final 15minutes defending with 9 men, it's one of the things that makes soccer great.
12. Engagement
It also makes the game way more interesting to play. For starters, you know that the next 45 minutes will be a challenge once you get out on the pitch.
That lets you get into the zone, thinking about nothing but how to win. It's also more of a test. You'll need the fitness levels to let you chase down a sprinting winger in the 85th minute.
You'll need to stay focused on the game, waiting for the right moment to intercept the ball or play the killer pass.
It makes the game more complex and interesting. For more useful guides, see the articles below or visit our home page.
Related Questions
Are you more likely to get injuries in Soccer vs. Football?
You're much more likely to get injured in football vs. soccer. Football is naturally a much more physical game that relies on contact.
Football injuries are also far more likely to be very severe head injuries. Football is increasingly being linked to long-term, severe brain trauma.
Is Soccer popular in America?
It's an old stereotype that soccer is not very popular in America, but the numbers show a very different story. Soccer will soon be the nation's 3rd favorite spectator sport, behind football and basketball.
Soccer is increasingly being played at schools, and the MLS is gaining much respect worldwide.
Share the post "Why Soccer is Better than Basketball, Baseball, and Football? (Game-On!)"
Joel is a seasoned soccer journalist and analyst with many years of experience in the field. Joel specializes in game analysis, player profiles, transfer news, and has a keen eye for the tactical nuances of the game. He played at various levels in the game and coached teams - he is happy to share his insight with you.