Reading Time:
6
minutes
Share the post "Why Soccer Players Are the Best Athletes (here's Why)"
The debates go on, who are the best sportspeople and some will say argue, why soccer players are the best. Soccer players are some of the most fascinating athletes to analyze.
Soccer is a combination of speed and strength, often having to deal with many different aspects during a game and becoming very refined and developed individuals on a physical level as their careers develop.
Soccer is the most popular sport around the world and this demand creates the best.
Why Soccer Players Are the Best Athletes?
Soccer players are the best athletes because the physical range is nothing compared with other sports. From running long distances to short sprints – shoulder to shoulder with tall physical players to dangerous tackles – the whole body is worked.
Here are the main reasons why soccer players are the best athletes;
Running distances
Short and long sprints
Activity on turf which is more demanding
Jumping and volleying
Slide tackles
Physical battles
Between 40 and 94 domestic games per season
The variation of play in a soccer game is demanding on a player's body. They need to be prepared for all scenarios. A short player has faster acceleration and a lower center of gravity, which a tall player needs to deal with.
Previously Soccer Was Even More Demanding
Soccer players have similar physiques to those of a regular person that was moderately fit as the player's technical aspect was prioritized more than his physical capacity since the sport used to be played with more complicated conditions.
Such as;
Heavier balls
Fields in poor conditions
Physical clashes, and tackles were more permissive
Now the game is more refined, making it more technical – although players train harder making them fitter and stronger overall.
Are Soccer Players More Physically Fit than Other Athletes?
Currently, soccer has become a very demanding sport in many ways because a lot of teams cannot challenge the bigger clubs on a technical level.
They decide to compensate at a physical level in order to avoid giving advantages and as a result, you've soccer players with very strong physical conditions and capable of performing during large periods of time making them super fit.
Physical fitness has become so important these days that it's common to find soccer players who have personal physical trainers to maintain a certain level of fitness even out of their team's training routine and even while they're relaxing on pre-season.
Shape and Physic for Each Position
Another point that has changed recently in soccer is the specific work for each position because back in the day only the goalkeeper had a different training than the rest of the players.
However, now the center backs have a tactical and physical preparation that differs from what the full-backs are doing and we can say the same thing with the wingers or the strikers, just to name a few examples.
This is quite logical since each position has different demands, although at the end of the day that training results in athletes with enviable physiques.
Who is the fittest soccer player?
The fittest soccer player in the world today, and one of the fittest in the history of the game, is undoubtedly Cristiano Ronaldo, who has such a tremendous physical condition that's evident
He performs on a regular basis for Juventus and the degree of endurance that he has played as a winger that cuts inside to end the plays as a striker.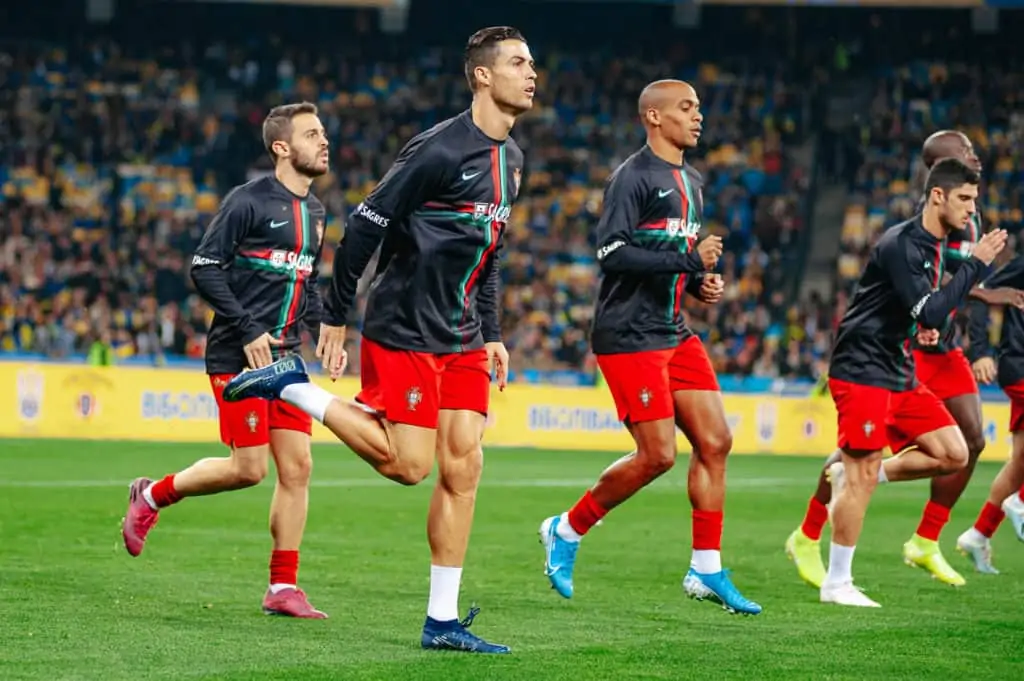 However, in the case of Cristiano, besides being an excellent athlete, he also has genetics on his side since studies show that at the age of 35 he has the physique of a 23-year-old person,
This also speaks volumes of the dedication and commitment that the Portuguese have throughout his outstanding career in the game.
Examples of the Most Fittest Soccer Players
As other prominent as some of the fittest soccer players today, we can mention Olivier Giroud, the French world champion and Chelsea player or the defender of Real Madrid and the Spain national team, Sergio Ramos.
Both seasoned players have maintained tremendous physical conditions and have also managed to maintain a certain level of consistency in their performances.
Here are the fittest soccer players based on the strength from our 'Are Soccer Players Strong Article';
| | | | | |
| --- | --- | --- | --- | --- |
| Player | Country | Team | Position | Strength |
| Akinfenwa | England | Wycombe Wanderers | ST | 97 |
| Dike | USA | Orlando City | ST | 96 |
| Vukotić | Serbia | Waasland-Beveren | CB | 95 |
| Lukaku | Belgium | Chelsea | ST | 95 |
| Méndez | Uruguay | Newell's Old Boys | RB | 95 |
| Oularé | Belgium | Barnsley | ST | 94 |
| Petrášek | Czech Republic | Raków Częstochowa | CB | 94 |
| Maierhofer | Austria | Würzburger Kickers | ST | 94 |
| Carvalho | Uruguay | Boston River | CB | 94 |
| Ballas | Germany | FC Erzgebirge Aue | CB | 94 |
Top 10 Strongest Players – FIFA 2022
Who Are the Most Athletic Soccer Players?
One of the sensations of the current season of the English Premier League and in general of European football is Adama Traoré, the most athletic player – Spanish Barcelona winger
He has impressed everyone with his physical condition, but also with his strength, speed, and skill.
Another player who has worked on his physical condition to improve what he naturally possessed is the Wales and former partner of Cristiano Ronaldo at Real Madrid, Gareth Bale.
The British attacker stood out from the beginning of his career for his skill and pace and as he grew professionally he also improved his physique.
This helped him to compete better in a league as physically demanding as the English Premier League and later in the Spanish league.
If we focus on speed only, leaving aside the technical aspect, the list of soccer players is significantly expanded by finding, for example;
Arsenal's Pierre-Emerick Aubameyang
Kylian Mbappé from Paris Saint Germain
Manchester City's Kyle Walker
Striker Iñaki Williams of the Athletic Club of Bilbao
Do Soccer Players Have the Best Bodies?
Aesthetically soccer players have the best bodies and are in excellent shape because they train both the upper and lower part of the body in addition to the aerobic part.
This is because different aspects are included in the essence of the sport that leads them to this complete preparation.
In other sports such as tennis, where there is no contact between athletes, or basketball, where training is more explosive due to the nature of the game, there is no such complete focus on working most of an athlete's physical condition.
Who Is Faster, a Soccer Player or A Football Player?
The comparison in this type of discussion leads us to compare soccer players with football players, mainly from the NFL. Many of them have a very prominent development in the upper section of the body and additionally, many of them have a past as track and field athletes.
One of the aspects that make the difference between both sports is the resistance that soccer requires since each player runs the equivalent of a 10K marathon in each match vs 2K that runs through an NFL player.
The other difference between soccer players with respect to most sports is that it does not focus on a particular feature such as jumping on basketball or speed sprinters.
The soccer player has to stand out in all those aspects and many others to compete at the highest level.
Why Soccer Players Are the Best Athletes?
Overall, soccer players are some of the most capable athletes due to the fact that they're trained and prepared to deal with a wide variety of situations and circumstances during the game.
This requires them having to be in peak physical condition and be physically developed to cope with a wide variety of challenges.
Soccer is a wonderful sport where there is much to like and that's why soccer players tend to be pushed to the max in order to secure victory and perform at the highest level. For more useful guides, see the articles below or visit our home page.
FAQ
Is the track good for soccer players?
The track is great for soccer players wanting to improve their sprints and long-distance running. Soccer requires twisting and turning, so it's best to vary your workout.
Should soccer players run every day?
No. Professional players will have at least one day off per week and their bodies are used to heavy workouts, so it's important to rest. Vary your workouts so that you get good all-around fitness.
Share the post "Why Soccer Players Are the Best Athletes (here's Why)"
Joel is a seasoned soccer journalist and analyst with many years of experience in the field. Joel specializes in game analysis, player profiles, transfer news, and has a keen eye for the tactical nuances of the game. He played at various levels in the game and coached teams - he is happy to share his insight with you.