Reading Time:
7
minutes
Share the post "How Much Soccer Players Get Paid Per Goal (Wow!)"
In late 2020, details about the contract between soccer superstar Lionel Messi and his former club were leaked to the press. At the time, Barcelona had paid Messi over 550 million euros since 2017, which reached €4 million per goal.
Considering the exchange rate in November 2021, Messi earns $4.6 million each time he defeats a goalkeeper, which happens quite often, but that is not how professional soccer players are paid. Each soccer game is expected to have a numerical outcome.
We know that the side that scores the most goals wins, so we can easily infer that goals are significant in a beautiful game. It stands to reason that a club manager wants to ensure top-scoring players are paid well so they can continue scoring, but even Messi's base salary is not based on this assumption.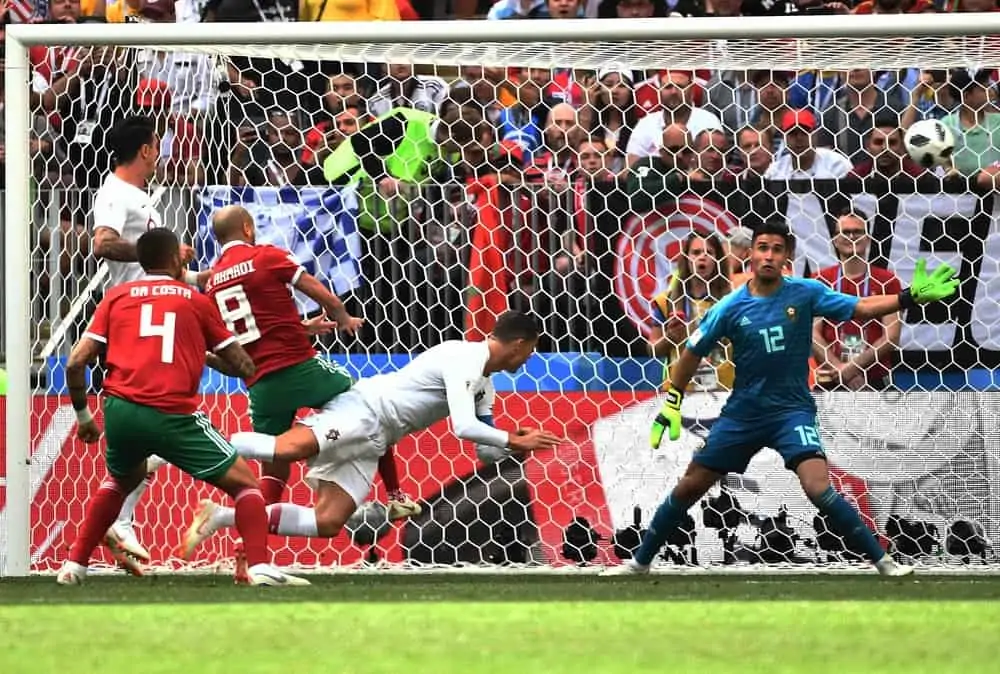 How much should soccer players be paid per goal?
In 2016, before negotiating his final contract with Barcelona FC, Messi was paid about €42 million for a Spanish League season during which he scored 41 goals in 49 games. That works to a little over a million euros per goal in the Liga Santander alone; we are not considering the UEFA Champions League.
Professional soccer players do not get paid for each goal they score. In Messi's case, we are doing quick math on a paper napkin to estimate his value as one of the best soccer players in history. Like the rest of his teammates, he is paid for the following:
* Playing fair.
* Playing by the rules.
* Helping his teammates score.
* Preventing his opponents from scoring.
* Giving 100% on the pitch.
* Making fans happy.
The points above are universal expectations of all soccer players at any level. They apply even if you are the goalkeeper of a youth team or the sole striker in a friendly five-on-five game. A legal version of the points above is invariably spelled out on professional players' contracts.
What About Bonuses Paid Per Goal?
In soccer, some positions do not give players too many opportunities to score. Goalkeepers come to mind in this regard, but what about full-backs? Even if a team's strategy is to take advantage of defenders who can speedily escape down the wings, chances are that their offensive plays will be limited to crosses into the box and assists.
A defensive midfielder may have fewer chances to score goals if he or she is expected to recover the ball and make plays for the strikers. Players at the center-back and sweeper positions are more likely to score goals. Spanish defender Sergio Ramos of Real Madrid is highly skilled with headers, and you often see him taking up spots during corner kicks;
He is an outlier because he frequently scores despite playing behind midfielders. Ramos, however, played under a contract that incentivized him each time he scored. Monetary bonuses paid per goal are part of a relatively recent practice adopted by top soccer clubs. Messi enjoyed such incentives at Barcelona, and he hit them quite often.
We don't know if Messi has such incentives at Paris Saint Germain because that contract has not leaked, at least not yet, but it is easy to assume he does. There is, however, one Premier League player whose goal-scoring bonus payments are known in 2021.
How Much Can Soccer Players Earn Per Bonus Goals?
Roberto Firmino Barbosa de Oliveira is the player who makes goalkeepers nervous each time he comes near the box. Even though Firmino's position at Liverpool is attacking midfielder, he plays more like an opportunistic striker who knows how to make the ball sail under the goalposts.
With more than 70 goals scored since signing with Liverpool in 2015, Firmino has some clear monetary incentives to continue scoring:
At the beginning of the season, the first five goals scored by Firmino paid £25,000. We are talking about more than $30K as of November 2021.
Firmino scores the sixth goal of the season, and he gets £45,000 each.
The 11th goal will be rewarded with £65,000.
The 16th goal will be rewarded with £85,000.
Once Firmino hits 20 goals in the season, he will be paid £100,000. That works out to $134,000 per goal.
If you are wondering whether Firmino has reached the 20-goal bonus level, you should know that he did so during the 2017-2018 season. Firmino is one of the few players whose juicy bonus structures for scoring goals are publicly known.
Sports agents who represent soccer stars such as Ronaldo, who recently returned to Manchester United, have explained that their clients are sometimes offered bonuses for scoring in specific derby games; for example, Ronaldo is rumored to have earned hefty bonuses for scoring against Barcelona while he was signed with Real Madrid.
Paying Soccer Players Per Goal is Unusual
There is no question that professional soccer is big business at the club level, but few clubs have the kind of cash to pay goal bonuses such as the one Liverpool offers to Firmino. Look at Marta Vieira da Silva, who currently plays with the Orlando Pride of the U.S. Women's Soccer League. Marta's salary is $400,000 per season, and she has scored 27 goals since signing with the club in 2017.
The Pride's finances would not allow her to get bonuses such as the ones offered to Firmino. Speaking of Marta, we are talking about a forward who has scored 286 goals during her club career and more than 110 with the Women's National Team of her native Brazil.
Women's Soccer
Many talented soccer pros worldwide specialize in scoring, but few get personal goal bonuses. Marta should get rewards because she is a scoring machine. Unfortunately, women's soccer would need to get more attention from the public before this happens. Team bonuses are more commonly offered in the world of professional soccer.
In leagues where the tournament format includes playoffs and grand finals, each player would be paid a bonus when the club makes it to a particular stage. This is the case in the Liga MX of Mexico, and this bonus would be higher when derby games such as America-Monterrey sell out of the stadium. Soccer is a team sport, so it makes sense to distribute bonuses evenly for the benefit of all players.
Goal Bonuses' Impact on Player Motivation and Performance
Goal bonuses are commonly used to incentivize strikers and attacking players. However, some research has shown they can also negatively impact teamwork:
Motivation effect: Large bonuses make scoring goals a clear and measurable objective, driving players to focus more on attacking. This can boost individual motivation and performance.
Shot selection: Players may be inclined to shoot rather than pass if an assist does not result in a bonus. This could undermine passing moves and team chemistry. One study found goal bonuses increased shots but not scoring.
Risk of selfish play: Large goal incentives could tempt players to attempt more risky individual plays rather than making the safest pass to a teammate. This may reduce offensive fluidity and increase the chances of turnover.
Positioning issues: Players may drift out of position in search of goalscoring chances, disrupting tactical structure. However, smaller bonuses could still motivate without changing positioning much.
Impact on different player roles: Bonuses focused only on goals are less motivating for defenders, and midfielders. Broader bonuses for wins, clean sheets, or assists may better encourage teamwork.
Goal bonuses can boost individual motivation but must be carefully implemented to avoid undermining team cooperation or encouraging statistically-focused "gaming" of incentive systems.
Alternative Performance-Based Incentives for Soccer Players
Some alternative performance-based incentive structures that are used for soccer players instead of or in addition to goal bonuses:
Win bonuses – Extra compensation for each game won encourages collective success over individual stats. This could apply to both team and individual bonuses.
Assist bonuses – Rewarding assists, values creative playmaking, and discourages selfishness. It can complement goal bonuses.
Chance creation bonuses – Incentivizes quality over quantity by rewarding opportunities set up through passes, dribbles, etc.
Defensive metrics – Bonuses for tackles, interceptions, clearances, clean sheets, etc., to value defensive contribution.
Pass completion bonuses – Encourages possession play and taking fewer risks with short passes.
Man of the Match awards – Small bonuses voted on by coaches/fans after each game, regardless of position.
Statistical benchmarks – Bonuses for hitting thresholds in key stats like passes/game, distance covered, 50/50 balls won, etc.
Team performance bonuses – Payments triggered by league position, cup wins, etc., to foster collaboration.
Intangible bonuses – Coaches/captains allocate small bonuses for leadership, mentoring, and sportsmanship to shape culture.
Using a balanced portfolio of individual and team incentives tied to diverse metrics could optimize motivation across all playing positions and styles of play.
Share the post "How Much Soccer Players Get Paid Per Goal (Wow!)"
Joel is a seasoned soccer journalist and analyst with many years of experience in the field. Joel specializes in game analysis, player profiles, transfer news, and has a keen eye for the tactical nuances of the game. He played at various levels in the game and coached teams - he is happy to share his insight with you.