Playing at the end of the field with their backs to the stands for most of the game, fans often wonder, do soccer goalies have numbers?
While soccer players didn't always display digits on their shirts, squad numbers are now mandatory in most competitions. All registered players must show their squad numbers, including goalies and substitutes.
Today, goalies have become so synonymous with the squad number, "1", that the first choice 'keeper in a team is typically referred to as the "number 1", regardless of the actual number on their back.
While no player is required to wear a specific number, certain positions have traditional connections to them.
Some of the key points we'll be discussing include:
Why players have squad numbers
Traditional numbering systems
Squad numbers in the modern game
Squad number rules
This article looks at the origin of squad numbers, their role in the modern game, and why some numbers have become iconic.
Why Do Players Have Squad Numbers?
Before 1911, soccer players wore numberless jerseys. Sydney Leichardt and HMS Powerful, from Australia, were the first recorded teams to brandish numbered uniforms, and it quickly became mandatory in the New South Wales soccer leagues. 
Over the next 20 years, various domestic soccer leagues would start to wear numbers on their jerseys. The first official FIFA competition that required the use of squad numbers was the 1950 World Cup.
However, the numbers were individually assigned for each game, depending on who played in what position.
The 1954 FIFA World Cup was the first international competition in which players were assigned squad numbers for the tournament.
Originally, squad numbers were assigned by position, from 1 to 11. As teams were built from defense to attack, goalkeepers wore number 1, and outfield players were given the numbers 2 to 11.
It's important to note that formations were a lot different back then. Some of the most popular systems in the first half of the 20th century included 2-2-6 and 1-2-7 formations!
As soccer styles, tactics, and systems developed differently around the world, squad numbers became less indicative of position as time went on. 
Interestingly, these formations made for very high-scoring games. From the first World Cup in 1930 to the fifth tournament in 1954, the average number of goals scored per game was 4.4.
Since more tactical approaches were taken from the 1960s onward, the average goals per game in a World Cup has never reached 3.
K-LO Armour Pro-Pack Soccer Goalie Gloves, Fingersave Goalkeeper Glove with Extra Precision Grip, German Latex Build-Hybrid Cut, Inside Silicone Gel,...
Reusch Soccer Prisma Prime S1 Evolution Finger Support Goalkeeper Gloves, Yellow, Size 7
Rinat Unisex's Xtreme Guard PRO Goalkeeper Glove, Gold/Nacre, 7
⚽ German Latex ⚽ 5 Finger Saver ⚽ 360 Wrist Strap
⚽ Soft Gel Foam ⚽ Natural Latex ⚽ Breathable
⚽ Punch Pads ⚽ German Latex ⚽ Thumb Support
K-LO Armour Pro-Pack Soccer Goalie Gloves, Fingersave Goalkeeper Glove with Extra Precision Grip, German Latex Build-Hybrid Cut, Inside Silicone Gel,...
⚽ German Latex ⚽ 5 Finger Saver ⚽ 360 Wrist Strap
Reusch Soccer Prisma Prime S1 Evolution Finger Support Goalkeeper Gloves, Yellow, Size 7
⚽ Soft Gel Foam ⚽ Natural Latex ⚽ Breathable
Rinat Unisex's Xtreme Guard PRO Goalkeeper Glove, Gold/Nacre, 7
⚽ Punch Pads ⚽ German Latex ⚽ Thumb Support
Although the game has changed, some numbers are still associated with certain positions, with the goalie's number 1 being the most iconic of them all!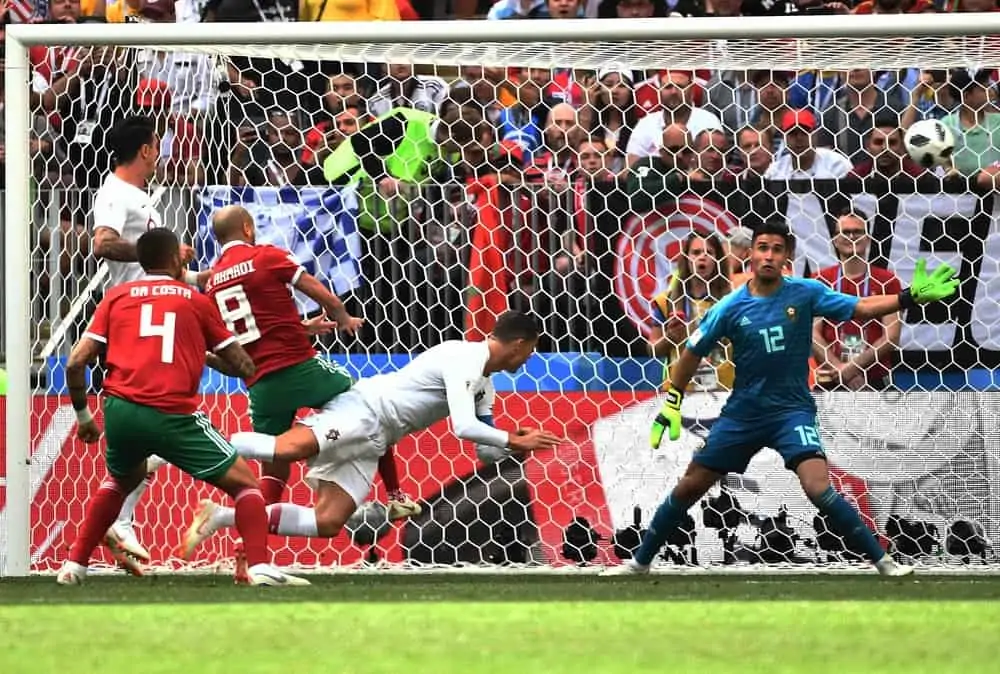 Soccer Squad Numbers By Position
In the modern game, squad numbers are varied. While it's common for players to wear numbers based on their positions, many don't. Some numbers hold prestige in certain franchises.
For example, it is an honor and a privilege to wear the number 7 shirt at Manchester United.
Ironically, after the departure of Cristiano Ronaldo from the team in 2009, wearers of the number 7 at Manchester United were largely unsuccessful, leading many fans to believe (albeit playfully) there was a "curse" on the number.
It is generally agreed upon that Edison Cavani broke this "curse" after signing in the 2020 summer transfer window.
After his famous return, get Cristiano Ronaldo's 2021/2022 Manchester United shirt here.
It is very uncommon for soccer franchises to retire shirt numbers, unlike other sports like basketball, baseball, and American Football.
As many domestic soccer leagues prohibit registered senior players from wearing numbers above 35, retiring jersey numbers would become problematic.
Do Soccer Goalies Have Numbers?
More often than not, the first-choice goalie in a soccer team wears number 1 on their back, and the reserve goalie will wear the number 12 or 13.
It is extremely rare for any player other than the goalkeeper to wear the number 1 shirt. However, there have been some exceptions over the years.
A notable recent exception was during the '13/14 season, where Dutch legend, Edgar Davids, wore the number 1 shirt as player-manager.
Goalkeeper Squad Numbers
While outfield players typically don't wear number 1, it's not uncommon for goalkeepers to wear other numbers. You must remember that most teams have two to three backup goalies. They can't all have the same squad number!
Apart from number 1, goalies frequently wear the number 12 or 13 shirt as these are the first numbers of a hypothetical second team.
As there are usually 7 permissible substitute players allowed, second-choice goalies often wear the number 18 as it is the last number of the squad. In the days when there were only 5 permissible subs, it was common for backup 'keepers to wear 16.
In 2007, FIFA declared that the number 1 jersey must be assigned to a goalkeeper for all of their future tournaments (men's and women's World Cups and Club World Cups).
Defender Squad Numbers
Defenders typically occupy the lower third of the numbers 1 to 11. Right-sided full-backs generally wear the number 2, left-sided full-backs usually wear the number 3, while center-backs don the numbers 4, 5, or 6.
However, it is common for any defender to wear 2 through 6, regardless of the exact position they play in.
While defenders don't tend to wear numbers 7 through 11, many choose squad numbers from 12 and up. For example, John Terry famously wore the number 26 shirt for Chelsea throughout his career.
Midfielder Squad Numbers
Central midfield players usually wear numbers 4, 6, and 8. 4 and 6 are traditionally reserved for deep-lying, defense-oriented players, while 8 is often associated with box-to-box style midfielders.
Wide midfielders or wingers are generally assigned numbers 7 and 11. As flair players and significant contributors to goals and assists, these are some of the most sought-after outfield squad numbers.
Attacker Squad Numbers
It's no coincidence that many aspiring soccer players select the numbers 7, 9, and 10 when given the choice.
The most exciting part of the game of soccer is the goals. Fans watch 90-minute games for that one feeling of elation when the ball hits the back of the net. Strikers have the most difficult job in soccer but they are lauded as the heroes for their goalscoring exploits.
Most strikers wear the number 9 or 10. However, due to the popularity of the number 7 in world football, many strikers opt for this shirt too.
Number 10 is also a popular number for attacking midfielders or playmakers. This type of player occupies the space just behind the main striker.
Squad Number Rules
You may not know that independent domestic leagues enforce different rules regarding squad numbers. Depending on the country they play in, goalies may only have a limited choice of squad numbers.
Let's take at some of the interesting number rules in big leagues around the world!
Soccer Leagues in France
In the French leagues, such as Ligue 1 and Ligue 2, registered senior players are required to wear squad numbers 1 through 30. If additional players are signed, they may be allowed to occupy numbers above 30.
French pro leagues are unique in that numbers 1, 16, and 30 are reserved specifically for goalkeepers. If a fourth-choice goalie is signed, they wear the number 40.
However, there has been a couple of notable exceptions recently, with the 2021 transfers of Lionel Messi and Gianluigi Donnarumma to PSG.
As you probably noticed, Messi has started his career at PSG wearing the number 30 shirt as his iconic 10 jerseys are worn by his Brazilian friend and world superstar, Neymar. Reports state that Messi refused Neymar's offer of the number when he joined the club, claiming he must earn the right to wear it.
PSG had to make a request to the Ligue de Football Professionnel (LFP) to grant Messi special permission to wear a shirt that's usually reserved for goalies only.
The number 30 means a lot to the Argentine as it is the number he wore when he first broke into the Barcelona team in the '04/05 season, beginning an era of dominance for the Catalan side.
Donnarumma was famous for wearing the number 99 jersey throughout his club career in Italy.
As Ligue 1 rules prohibit him from carrying this tradition to France, he managed to strike a deal with the relevant bodies to be allowed the number 50.
Soccer Leagues in Italy
The Italian leagues have the most interesting numbering systems of all major leagues worldwide.
The Italian Football Federation (FIGC) allows players to wear numbers 1 through 99, without any restrictions. It's common to see players wear obscure numbers in Serie A.
For example, Cristiano Lupatelli, a former Chievo Verona goalie, wore the number 10 during a stint at the club from '01 to '03. The Dutch midfielder, Jonathan de Guzmán wore the number 1 shirt for Chievo during a loan spell in 2016.
Speaking about his unusual choice of number, Lupatelli said:
"I am the first and, so far, the only goalie to wear the number…I made a bet with my friends back home…it all started out as a joke, and it became reality. Something I think that was fun and amusing."

Cristian Lupatelli
Soccer Leagues in Spain
La Liga enforces a rule where A-squad players must wear numbers 1 through 25. Goalkeepers are obligated to take 1, 13, or 25. Players recruited from the reserve teams are allocated numbers between 26 and 50.
Soccer Leagues in England
In the Premier League, squad numbers tend to follow the traditional systems. However, players are generally permitted to wear numbers 1 through 99 as long as they are unique and unoccupied.
Soccer Leagues in the United States
Major League Soccer doesn't enforce strict rules regarding squad numbers, allowing franchisees to allocate numbers between 1 and 99. However, most teams register players between 1 and 30.