Reading Time:
11
minutes
Share the post "Team and Goalkeeper Numbers (Positions 1-99)"
Playing at the end of the field with their backs to the stands for most of the game, fans often wonder, do soccer goalies have numbers?
While soccer players didn't always display digits on their shirts, squad numbers are mandatory in most competitions. All registered players must show their squad numbers, including goalies and substitutes.
Today, goalies have become so synonymous with the squad number, "1", that the first-choice 'keeper in a team is typically referred to as the "number 1", regardless of the actual number on their back. While no player is required to wear a specific number, certain positions have traditional connections to them.
Some of the key points we'll be discussing include:
Why players have squad numbers
Traditional numbering systems
Squad numbers in the modern game
Squad number rules
This article looks at the origin of squad numbers, their role in the modern game, and why some numbers have become iconic.
Why Do Players Have Squad Numbers?
Before 1911, soccer players wore numberless jerseys. Sydney Leichardt and HMS Powerful, from Australia, were the first recorded teams to brandish numbered uniforms, and it quickly became mandatory in the New South Wales soccer leagues.
Over the next 20 years, various domestic soccer leagues would start to wear numbers on their jerseys. The first official FIFA competition that required the use of squad numbers was the 1950 World Cup. However, the numbers were individually assigned for each game, depending on who played in what position.
The 1954 FIFA World Cup was the first international competition in which players were assigned squad numbers for the tournament.
Initially, squad numbers were assigned by position, from 1 to 11. As teams were built from defense to attack, goalkeepers wore number 1, and outfield players were given the numbers 2 to 11. It's important to note that formations were a lot different back then. Some of the most popular systems in the first half of the 20th century included 2-2-6 and 1-2-7 formations! As soccer styles, tactics, and systems developed differently worldwide, squad numbers became less indicative of position as time passed. 
Interestingly, the old formations made for very high-scoring games. From the first World Cup in 1930 to the fifth tournament in 1954, the average number of goals scored per game was 4.4.
Since more tactical approaches were taken from the 1960s onward, the average number of goals per game in a World Cup has never reached 3.
Although the game has changed, some numbers are still associated with certain positions, with the goalie's number 1 being the most iconic of them all!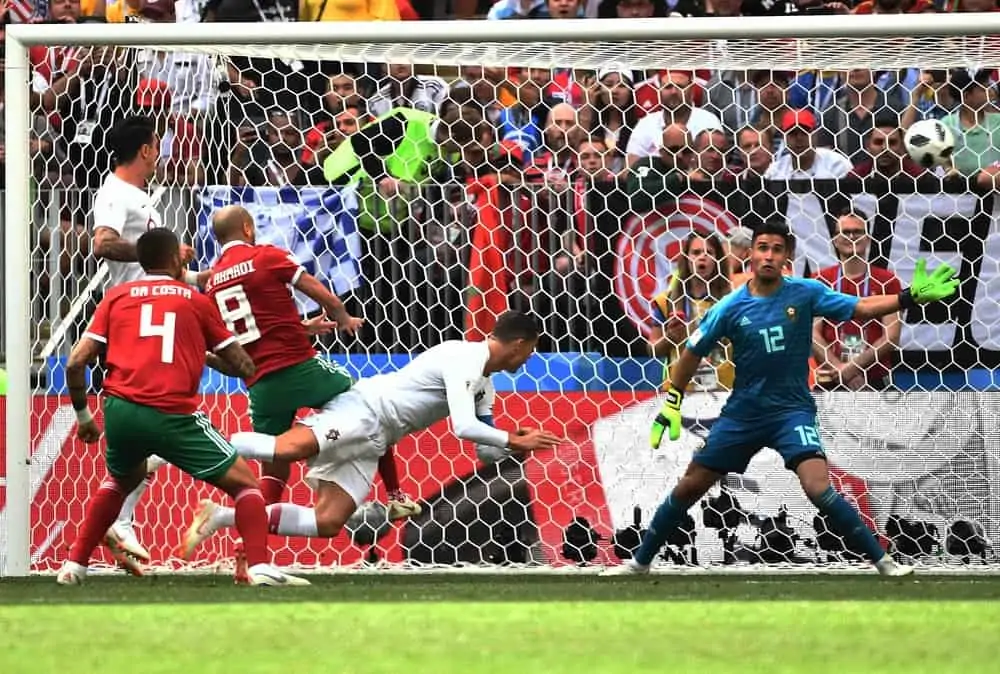 Soccer Squad Numbers By Position
In the modern game, squad numbers are varied. While it's common for players to wear numbers based on their positions, many don't. Some numbers hold prestige in certain franchises.
For example, wearing the number 7 shirt at Manchester United is an honor and a privilege. Ironically, after the departure of Cristiano Ronaldo from the team in 2009, wearers of the number 7 at Manchester United were largely unsuccessful, leading many fans to believe (albeit playfully) there was a "curse" on the number.
It is generally agreed upon that Edison Cavani broke this "curse" after signing in the 2020 summer transfer window.
It is very uncommon for soccer franchises to retire shirt numbers, unlike other sports like basketball, baseball, and American Football. As many domestic soccer leagues prohibit registered senior players from wearing numbers above 35, retiring jersey numbers would become problematic.
Do Soccer Goalies Have Numbers?
More often than not, the first-choice goalie in a soccer team wears number 1 on their back, and the reserve goalie will wear the number 12 or 13.
It is rare for players other than the goalkeeper to wear the number 1 shirt. However, there have been some exceptions over the years. A notable recent exception was during the '13/14 season when Dutch legend Edgar Davids wore the number 1 shirt as player-manager.
Goalkeeper Squad Numbers
While outfield players typically don't wear number 1, it's not uncommon for goalkeepers to wear other numbers. You must remember that most teams have two to three backup goalies. They can't all have the same squad number!
Apart from number 1, goalies frequently wear the number 12 or 13 shirt as these are the first numbers of a hypothetical second team. As there are usually 7 permissible substitute players allowed, second-choice goalies often wear the number 18 as it is the last number of the squad. In the days when there were only 5 permissible subs, it was common for backup 'keepers to wear 16.
In 2007, FIFA declared that the number 1 jersey must be assigned to a goalkeeper for all of their future tournaments (men's and women's World Cups and Club World Cups).
Defender Squad Numbers
Defenders typically occupy the lower third of the numbers 1 to 11. Right-sided full-backs generally wear the number 2, left-sided full-backs usually wear the number 3, while center-backs don the numbers 4, 5, or 6.
However, it is common for any defender to wear 2 through 6, regardless of the exact position they play in.
While defenders don't tend to wear numbers 7 through 11, many choose squad numbers from 12 and up. For example, John Terry famously wore the number 26 shirt for Chelsea throughout his career.
Midfielder Squad Numbers
Central midfield players usually wear numbers 4, 6, and 8. 4 and 6 are traditionally reserved for deep-lying, defense-oriented players, while 8 is often associated with box-to-box style midfielders.
Wide midfielders or wingers are generally assigned numbers 7 and 11. As flair players and significant contributors to goals and assists, these are some of the most sought-after outfield squad numbers.
Attacker Squad Numbers
It's no coincidence that many aspiring soccer players select the numbers 7, 9, and 10 when given the choice. The most exciting part of the game of soccer is the goals. Fans watch 90-minute games for that one feeling of joy when the ball hits the back of the net. Strikers have the most challenging job in soccer, but they are lauded as the heroes for their goalscoring exploits.
Most strikers wear the number 9 or 10. However, due to the popularity of the number 7 in world football, many strikers opt for this shirt too.
Number 10 is also a popular number for attacking midfielders or playmakers. This type of player occupies the space just behind the central striker.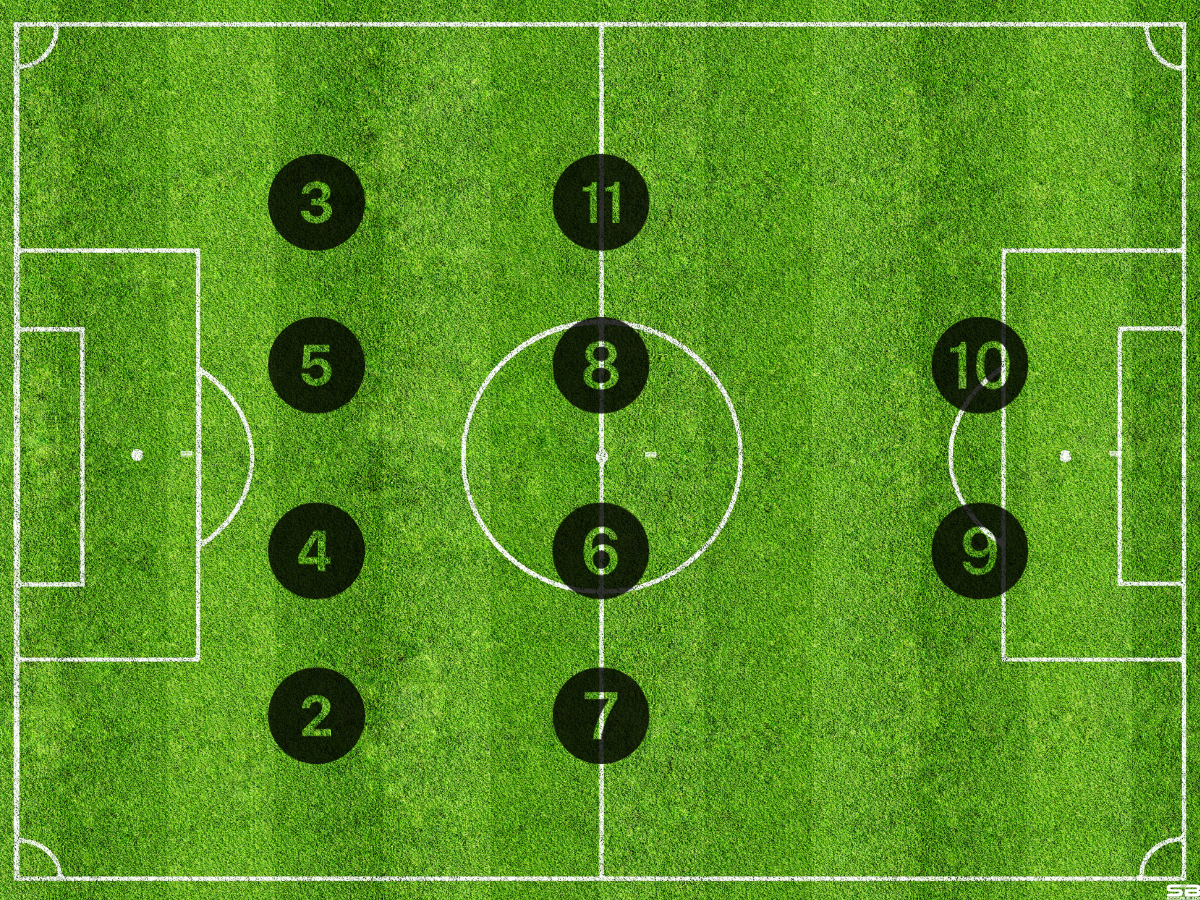 Typical Positions for Each Squad Number
The numbering system traditionally corresponds to specific positions on the field. Here's an overview of numbers 1 to 11 and their associated roles:
1. Goalkeeper
Role: The last line of defense, responsible for stopping shots and organizing the defense.
Significance: Number 1 is almost exclusively reserved for goalkeepers, symbolizing their unique and crucial role on the team.
2. Right Fullback
Role: Primarily a defensive position, responsible for covering the right flank and stopping opposition wingers.
Evolution: Modern right fullbacks also support the attack, making overlapping runs down the flank.
3. Left Fullback
Role: Similar to the right fullback but on the left side, balancing defensive duties with attacking support.
Evolution: Like their counterparts on the right, left fullbacks have become more involved in offensive play in modern soccer.
4. Center Back
Role: A key defensive position, center backs are responsible for marking strikers and winning aerial battles.
Characteristics: Players in this position are typically strong, tall, and good at heading the ball.
5. Center Back
Role: Often partners with the number 4 in central defense, playing a crucial role in defending against attacks.
Variation: In some formations, the number 5 may play as a sweeper, cleaning up balls behind the defensive line.
6. Defensive Midfielder
Role: Shields the defense by breaking up opposition attacks and starting plays from deep positions.
Evolution: Modern number 6s are often key in transitioning defense to attack, requiring good passing skills.
7. Right Winger
Role: Traditionally plays on the right wing, focusing on creating scoring opportunities and providing crosses.
Famous Players: Players like David Beckham have epitomized the classic number 7 role with their crossing and dribbling abilities.
8. Central Midfielder
Role: A versatile position, combining defensive responsibilities with supporting the attack.
Characteristics: Number 8s are often box-to-box midfielders, known for their stamina and ability to contribute at both ends of the pitch.
9. Striker
Role: As previously discussed, the main goal scorer is leading the attack.
Attributes: Number 9s are typically strong finishers with a knack for finding space in the penalty area.
10. Attacking Midfielder
Role: As detailed earlier, the playmaker orchestrates the team's offensive play.
Legacy: Worn by some of the greatest legends in soccer, symbolizing creativity and skill.
11. Left Winger
Role: Plays on the left wing, often tasked with cutting in to shoot or providing width to the attack.
Evolution: Modern number 11s are versatile, capable of playing as forwards or in more traditional wide roles.
These numbers and their traditional roles form the backbone of many team formations and strategies. However, in modern soccer, players' roles are increasingly fluid, and these numbers often serve more as a heritage and identity rather than strict positional guidelines.
Timeline of The Evolution of Player Numbers
The evolution of squad numbers in soccer is fascinating, reflecting the sport's tactical development and cultural shifts. Here's a timeline highlighting key moments in different leagues:
Early 20th Century: Fixed Numbers
1928: Arsenal manager Herbert Chapman is credited with introducing numbered shirts in a match against Sheffield Wednesday.
1933: The English Football League officially adopts numbered shirts, with players wearing 1 to 11 according to their position on the field.
Mid 20th Century: Position-Based Numbers
1950s-1960s: Using numbers 1 to 11 based on player positions becomes standard across European and South American leagues. Each number corresponds to a specific role on the pitch.
Late 20th Century: Personalized Squad Numbers
1970s-1980s: The trend of players keeping the same number throughout a season starts to emerge, moving away from numbers strictly tied to positions.
1993: The English Premier League introduces permanent squad numbers, allowing players to keep a specific number for the entire season and beyond. This change will enable players to build a brand around their number, like David Beckham's iconic number 7.
21st Century: Commercialization and Personalization
2000s: Squad numbers become a significant part of a player's brand identity. Iconic numbers like Messi's 10 or Ronaldo's 7 become synonymous with the players.
2010s: In leagues worldwide, players choose numbers for personal reasons, often ignoring traditional position-based numbering. Numbers like 99, 88, or even higher have become more common, especially in leagues like Serie A.
2020s: The personalization trend continues, with players often choosing numbers with personal significance, such as birth years, lucky numbers, or tributes.
Cultural and Regional Variations
Brazil: Known for a more relaxed approach to numbering, with players often choosing high and unconventional numbers.
Italy: Serie A sees a wide range of numbers, including forwards wearing traditionally defensive numbers and vice versa.
Spain and Germany: While more traditional, these leagues have also embraced the personalization trend, though not as extensively as in England or Italy.
The evolution of squad numbers in soccer mirrors the sport's growth from a tactical and commercial perspective. From rigid, position-based assignments to personalized and commercially significant choices, squad numbers have become integral to a player's identity and the global soccer culture.
How Players Choose Their Numbers
The process of choosing squad numbers in soccer and the reasons behind players' choices can be quite intriguing, blending personal preferences, superstitions, and historical significance. Here's an insight into how players choose their squad numbers and the various factors influencing their decisions:
Personal Significance
Birth Dates: Players often choose numbers corresponding to significant dates, like their birth date or that of a loved one.
Lucky Numbers: Some players have a personal affinity for certain numbers they consider lucky or fortunate.
Tributes: Numbers can be chosen as tributes to other players or family members. For example, a player might choose the number worn by a childhood idol or a parent.
Career Continuity
Previous Numbers: Players often stick with a number they've had success with in the past, whether at a youth level, previous clubs, or national team.
Brand Identity: High-profile players may keep a particular number throughout their career to maintain their brand identity, like Cristiano Ronaldo with number 7.
Positional Tradition
Positional Heritage: Despite the trend towards personalization, some players still choose numbers based on traditional positional numbering (e.g., 1 for goalkeepers, 9 for strikers).
Professional Influence: Young players might choose numbers based on the position they aspire to or the style of a particular player they admire in that position.
Availability and Club Policy
Club Restrictions: Some clubs restrict number choices, especially for higher numbers. This can limit players' options.
Seniority and Hierarchy: New players, especially younger ones, might have limited choices and often end up with what's left after senior players have made their selections.
Superstition and Beliefs
Superstitions: Some players are highly superstitious about numbers, believing certain numbers bring good luck or help avoid bad luck.
Cultural Influences: Cultural beliefs can also play a role, as certain numbers may have specific meanings in different cultures.
Marketing and Commercial Considerations
Merchandising: For high-profile players, choosing a number can have significant merchandising implications. Unique or iconic numbers can make player jerseys more desirable for fans.
The choice of a squad number in soccer is a blend of personal preference, superstition, tradition, and commercial considerations. While some players opt for numbers with personal significance, others adhere to traditional positional numbers or make choices based on availability and club policies. As soccer evolves, these choices become part of a player's identity and legacy.
Squad Number Rules
You may not know that independent domestic leagues enforce different rules regarding squad numbers. Depending on the country they play in, goalies may only have a limited choice of squad numbers. Let's look at some exciting number rules in big leagues worldwide!
Soccer Leagues in France
In the French leagues, such as Ligue 1 and Ligue 2, registered senior players are required to wear squad numbers 1 through 30. If additional players are signed, they may occupy numbers above 30. French pro leagues are unique because numbers 1, 16, and 30 are explicitly reserved for goalkeepers. If a fourth-choice goalie is signed, they wear the number 40.
However, there have been a couple of notable exceptions recently, with the 2021 transfers of Lionel Messi and Gianluigi Donnarumma to PSG. As you probably noticed, Messi started his career at PSG wearing the number 30 shirt, as his iconic 10 jerseys are worn by his Brazilian friend and world superstar, Neymar.
Reports state that Messi refused Neymar's number offer when he joined the club, claiming he must earn the right to wear it. PSG had to request the Ligue de Football Professionnel (LFP) to grant Messi special permission to wear a shirt usually reserved for goalies only.
The number 30 means a lot to the Argentine as it is the number he wore when he first broke into the Barcelona team in the '04/05 season, beginning an era of dominance for the Catalan side.
Donnarumma was famous for wearing the number 99 jersey throughout his club career in Italy. As Ligue 1 rules prohibit him from carrying this tradition to France, he managed to strike a deal with the relevant bodies to be allowed the number 50.
Soccer Leagues in Italy
The Italian leagues have the most exciting numbering systems of all major leagues worldwide. The Italian Football Federation (FIGC) allows players to wear numbers 1 through 99 without restrictions. It's common to see players wear obscure numbers in Serie A.
For example, Cristiano Lupatelli, a former Chievo Verona goalie, wore the number 10 during a stint at the club from '01 to '03. The Dutch midfielder, Jonathan de Guzmán, wore the number 1 shirt for Chievo during a loan spell in 2016.
Speaking about his unusual choice of number, Lupatelli said:
"I am the first and, so far, the only goalie to wear the number…I made a bet with my friends back home…it all started out as a joke, and it became reality. Something I think that was fun and amusing."

Cristian Lupatelli
Soccer Leagues in Spain
La Liga enforces a rule where A-squad players must wear numbers 1 through 25. Goalkeepers are obligated to take 1, 13, or 25. Players recruited from the reserve teams are allocated numbers between 26 and 50.
Soccer Leagues in England
In the Premier League, squad numbers tend to follow the traditional systems. However, players are generally permitted to wear numbers 1 through 99 if they are unique and unoccupied.
Soccer Leagues in the United States
Major League Soccer doesn't enforce strict rules regarding squad numbers, allowing franchisees to allocate numbers between 1 and 99. However, most teams register players between 1 and 30. 
Share the post "Team and Goalkeeper Numbers (Positions 1-99)"
Joel is a seasoned soccer journalist and analyst with many years of experience in the field. Joel specializes in game analysis, player profiles, transfer news, and has a keen eye for the tactical nuances of the game. He played at various levels in the game and coached teams - he is happy to share his insight with you.