Reading Time:
12
minutes
Share the post "What Players Wear Nike Mercurial Cleats? + (Are They Good?)"
For decades, the Nike mercurial has evolved in many variations, making it the top boot for goals scored and incredible performances across the soccer industry. Notable soccer players who have rocked these boots include Cristiano Ronaldo, Eden Hazard, Zlatan Ibrahimović, and Alexis Sánchez.
Notice they're all wingers and strikers? Well, let's dig in and find out more about the Nike Mercurials that have attracted the eyes of the crème de la crème of soccer. 
In a nutshell, Nike Mercurial cleats are soccer boots manufactured by Nike, an American multinational corporation that designs, develops, and manufactures footwear, apparel, and other accessories. The cleat's history can be traced back to 1998 when Ronaldo debuted the first original air Nike mercurial boots at the World Cup.
The original boots were first released in black and later in other colors such as silver, blue, and yellow. All the boots were on soft ground (SG) and Firm Ground (FG varieties. The SG version used non–removable studs.
In 1999, the Mercurial two came to market in black /blue and black /red colorways. They were identical in shape, size, and fit to the originals; however, they had different insoles and a smaller Nike "swoosh" symbol on the side of the boot.
QUICK CHOICE – OUR TOP THREE
*The first product is showing a different image because it's sold on the same page at Amazon – they have 12 different colored Mercurial 12s.
The Nike Mercurial was the first boot to be made using synthetic materials and also ventured into the market of lightweight boots designed for speed.
Are Nike Mercurial Cleats Good?
Buying the mercurial cleats is often pretty expensive; however, the joy of owning a pair surpasses the amount spent. In addition, they have proven to be the winners topping scoring chats since they first came out. So yes, Nike mercurial cleats are good.
Let's look at the pros and cons of these iconic boots:
Pros
The Nike Mercurial cleats are very comfortable for a lightweight boot. Arguably because of the pliable Flyknit upper and the microfiber.
They are super responsive, meaning they react well to someone's foot movement.
They provide tremendous and aggressive traction. The traction helps with grip and running first.
Cons
The mercurials are tight, narrow fitting, and generally not considered in any wide-foot football boot list. Additionally, Nike Mercurial Cleats can be tight, which might be uncomfortable and pose an injury risk to the player.
What Are Mercurial Cleats Good For?
The design of the Mercurial cleats helps cut through the air fast, creating high power acceleration. Therefore, it is perfect for players who sprint longer distances throughout the 90 minutes.
The design also emphasizes the player's ability to latch onto the ball behind the full-back, charging down the goal and getting the shot in.
Soccer Players With Nike Mercurial
On its debut in 1998, Nike Mercurial cleats got praise for their track spike-inspired design engineered for cut and strike speed. Most players went for the Nike Mercurial and were hailed for their quicksilver play.
Which Soccer Players Wear Nike Mercurial?
Since Nike released the first Nike Mercurial cleats, some two decades ago, famous soccer players have worn these shoes. They are currently available in two main designs, the Superfly and the Vapor.
The Superfly features a dynamic fit collar, whereas the Vapor has the traditional, low-cut collar. Here are some of the biggest soccer superstars to wear the Nike Mercurial pair. They include Ronaldo, Mbappe, Neymar, Philipe Coutinho, and many other notable players.
Ronaldo
It all started over two decades ago when Ronaldo played as a striker. Nike turned to the most famous player in the world at that time and partnered with him. Ronaldo was a muse, an incredible talent with power, pace, skill, and a predatory eye for scoring.
It was designed with Ronaldo's startling speed in mind. He first showed off the original Nike Mercurial boots in France's 1998 World Cup.
The Brazillian icon was known for his deadly finishing, silky dribbling, and sheer ability to devastate the opposition. This incredible action was associated with Nike Mercurial cleats, setting the bar high for other brands.
Kylian Mbappe
He is a professional French soccer player. Nike has been his official partner since 2006 and their brand ambassador. He is one of the most valuable assets to Nike and probably in the next decade in the football industry.
He was recently spotted rocking some of the newest blackout mercurial cleats. He is known for his finishing, handling, and speed. Hence, arguably, getting the best out of Nike Mercurial cleats.
Neymar
Neymar junior never stops inventing, refracting the harsh glare with the spotlight and into a brilliant spectrum of athleticism. When wearing the Nike Mercurial, he makes a bold statement on and off the pitch.
These colorful elements of Neymar served as an inspiration for Nike to release a special edition called Neymar Jr. Mercurial Vapor Jogo Prismatico. A boot embodiment by the player.
The boot's heels have been printed with a tattoo corresponding to his tattoo on the legs.
Phillipe Coutinho
Philipe Coutinho is a Brazilian professional soccer player. He plays as a forward for Aston Villa in the Premier League while donning the Nike Mercurial Vapor 14 soccer cleats.
Thibaut Courtois
Courtois, a Belgian goalkeeper, rose to prominence with his stints at Atletico Madrid and Chelsea, where he held the number one position undisputed.
He is an avid user of the Nike Magista Opus boots and Nike Vapor three gloves while on the pitch.
Courtois is renowned for his reach and quick reactions as a goalkeeper. Currently, in his career, he has made remarkable saves and cemented his legacy as one of the best goalkeepers the world will ever see.
Types of Nike Mercurial
Several variations of Nike Mercurial continue to evolve to date, placing them on the world map as one of the best cleats.
What Types of Nike Mercurial Are There?
Since 1998, the Nike Mercurial cleats have undergone several advancements through the years. First, we shall look at how they have evolved from the first pair to the latest.
Nike Mercurial ( 1998)
The boots were an update of the Tiempo range. As a result, they featured a thinner plate and a KNG-100 synthetic upper.
Nike Match Mercurial (2000)
They were associated with Euro 2000, where they continued to rise. As a result, the boots came out in copper color. Notably, the reinforcement of the heel began, and a recognizable design was released to protect the heels.
Nike Mercurial Vapor (2002)
They have synthetic fiber rather than leather. The comfort levels were added and did not compromise the speed and lightness of previous versions. They also had a variety of colors, including black, bronze, and silver/red.
Nike Mercurial Vapor II (2004)
Nike Mercurial Vapor II had more grooves, but Nike made minimal adjustments from a design point of view.
Nike Mercurial Vapor III (2006)
These had Tejin microfiber for conformance and to adjust the foot shape. Furthermore, it had a reimagined heel, two-piece plate, and direct injection studs.
Nike Mercurial Vapor IV (2008)
Notably, Nike had citron–colored versions available. However, Nike was now on a mission to get faster, lighter, and bolder cleats.
Nike Mercurial Vapor Superfly (2009)
The Mercurial Vapor Superfly was groundbreaking. It was so unique that it needed a new name. It had a Teijin skin exterior and Flywire threads that were revolutionary technology. Additionally, it was very flexible compared to the previous models. They also had traction and a carbon fiber chassis that cut the weight down.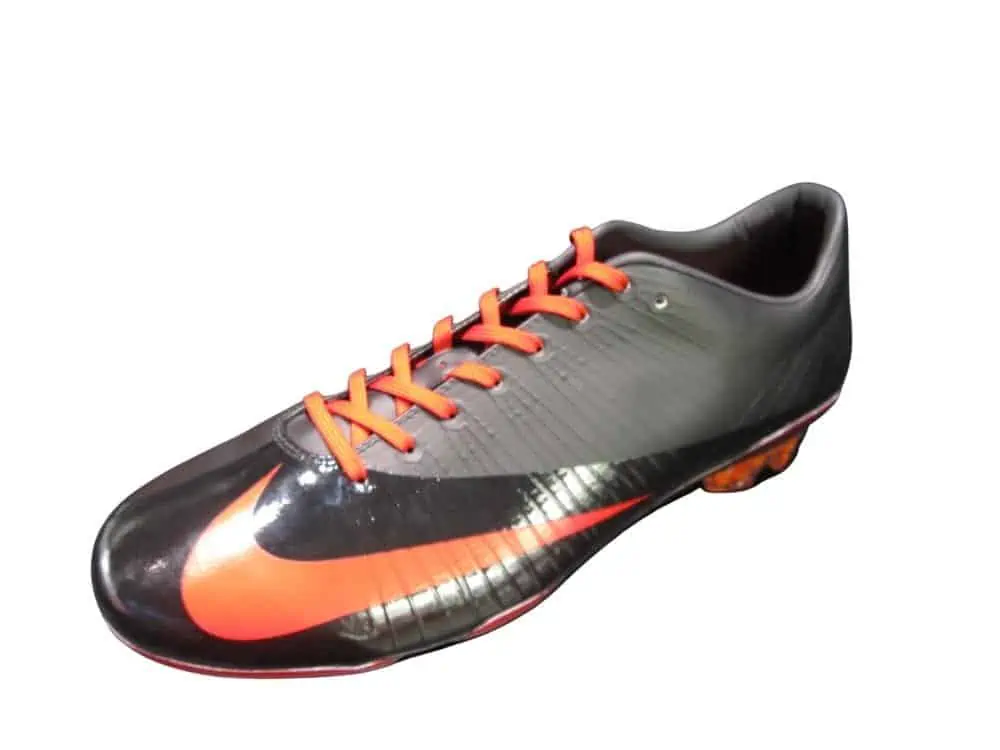 Nike Mercurial Vapor Superfly II (2010)
The 2010 version was an absolute triumph. These cleats had a legendary colorway. The heel was redesigned, and Nike incorporated sensing technology. The studs would retract or extend by millimeters based on ground and pressure conditions.
Nike Mercurial Vapor Superfly III (2011)
Unique features added to this included a tri-blade configuration that would help players change direction quickly. The upper was also more streamlined than previous versions. They also had a new texture, and the patterns got jazzier.
Nike Mercurial Vapor VIII (2012)
The finish appeared more suede-like, and the toe was lower. It also had a new outsole that was very flexible.
Nike Mercurial Vapor IX (2013)
Its studs were retooled and had glass plates. The outer shell of the cleat was dimpled like a golf ball, helping the ball fly through the air. Another exciting feature is that 'All Conditions control' technology made one feel dry in wet conditions.
Nike Mercurial Vapor Superfly (IV) 2014
It was the first Mercurial that used tiny cables from the lace to the sole. Additionally, it had a sock-like material around the collar that Nike called Dynamic fit collar.
Nike Mercurial Vapor X 2015
The Vapor X 2015 boot resembled the first boots. The toughness was improved than the first version, though.
Nike Mercurial Vapor 11 (2016)
The Vapor 11 (2016) boots weighed an exceptional 167g. The emphasis was on the horizontal stripes, whose design would cushion the ball better.
Nike Mercurial Vapor 360 (2018)
The horizontal models of the two previous models now went lengthways down the shoe to come up with the Vapor 360. Cheetah's traction influenced the design of the studs.
Nike Mercurial Vapor 12 (2019)
After a year, the Mercurial re-emerged and had more graphic embellishments.
Nike Mercurial Vapor 13 (2020)
They had an Aerowtrac added to the forefoot and a slightly stiffer chassis to help supercharge traction.
Nike Mercurial Vapor 14 (2021)
Nike Mercurial Cleat 14 is a lightweight, efficient boot with an arresting aesthetic. Its design follows natural geometry to enhance speed and efficiency with minimal weight.
This is not the end of Nike's evolution. We expect to see more developments in the near future.
What Are the Best Nike Mercurials?
The Nike Mercurial 13 is ideally said to be the best because of its features and the value of money it gives. The outer shell of the cleat was dimpled like a golf ball, helping the ball fly through the air.
Another exciting feature is the 'All Conditions control' technology, which makes one feel dry in wet conditions.
*The first product is showing a different image because it's sold on the same page at Amazon – they have 12 different colored Mercurial 12s.
Nike Mercurial Features
It has a new upper material called Vaporsite, a composite of a base of soft avail Q Liner, a grippy mesh overlay, a Titan synthetic body, and a soft Flyknit on the tongue and the collar.
ACC is reinforced by Duragon wet traction, whose role is to combust water upon contact.
Have an anatomically- shaped sole.
It has a thin plate, KNG-100 synthetic upper, making it thinner and lighter than traditional leather, reducing the boot's weight.
The upper side of the Nike Mercurial cleats has the thinnest layer of Nike skin ever seen while keeping all conditions controlled for superior performance in various weather conditions.
It features NikeGrIP tech to ensure a minimum level of slipping and maximize energy efficiency.
Studs have been strategically placed to 1 mm longer, additionally being designed like claws to ensure acceleration and easy change of direction.
Do Nike Mercurial Cleats Cushion?
Nike Mercurial Cleats have a dynamic fit collar to cushion your ankle and lock your foot in the boot. Typically, cleats are not designed to cushion.
A good pair has flexibility and a snug fit but no padding, no arch support, and no lateral support. Their main purpose is traction on grass or turf.
How Much Does Nike Mercurial Weigh?
Nike mercurial weighs approximately 6.5 ounces.
Where Are Nike Mercurial Cleats Made?
The 2008 Nike Mercurial Vapor was a global game product. Crafting of the upper was in Italy. The engineering of the plate was in Germany, and that of the outsole was in South Korea.
Different variations vary, like the Nike Mercurial Vapor which uses synthetic fiber, stronger than kangaroo leather, and Nike's signature Flyknit material, known for its lightweight and durability.
Nike Mercurial Fit
The great cleats have a great fit, excellent lockdown, and anatomical soleplate that feels so good. Fit is among the most crucial factors considered when selecting a pair of Nike Mercurials.
How Do You Wear Nike Superfly?
Many people struggle to put on the Nike Superfly because they do it all wrong. Below are steps to help you wear Nike cleats with more ease.
Loosen the laces from the top two holes and continue down systematically, making the opening much bigger.
Use both hands to stretch out. Don't jam your foot on the shoe. Instead, grab the upper extension of the collar and the back of the shoe; don't fear stretching because the material has room to stretch.
Use your thumb and put it on the back of the shoe as you slide in the leg. It's a common mistake that people make, causing the back to bend and causing frustration when wearing them.
Is Nike Mercurial True to Size?
Nike mercurial fit is true to size for people with a narrow fit or those who want a tighter shoe.
How Do Nike Mercurials Fit?
Fit-wise, the Nike mercurial accommodates slim-fitted players. However, if one has a wider foot or moderate foot, the shoe barely fits and can be uncomfortable if it does.
Do Nike Mercurials Stretch?
The Nike mercurial fit is usually narrow and tight due to the small opening, but they stretch around the mouth of the boot.
Are Nike Mercurials Good for Wide Feet?
The width of soccer cleats is critical because it determines and impacts the comfort levels of the player. Unfortunately, Nike Mercurial cleats are notoriously tight and narrow fitting. Therefore, they do not feature on any wide feet soccer boot list.
Do Nike Mercurial Cleats Run Small?
The answer is yes. Nike mercurial cleats are well known for running small. However, a buyer may certainly want to order one size larger if they prefer a roomier fit.
What Size Nike Mercurial Should I Get?
Go for your normal boot size. However, if one does not like really tight boots, go up by half a size.
How Can You Tell a Fake Mercurial?
Nike Mercurial shoes are among the most popular brands in the world. Unfortunately, their popularity has made them prone to counterfeits. For example, if the buyer has no adequate information about authentic Nike Mercurial cleats, they may purchase fake cleats.
We will dig deeper and determine how one differentiates between fake and authentic mercurial cleats. Stick around so that you don't fall prey to counterfeit cleats.
Examine the packaging. Fake Nike Mercurial does not have the original Nike box. Instead, the boxes are hastily glued together while others are shrink-wrapped in clear plastic.
Examine the condition of the shoe. Real Nike Mercurial cleats are always soft because they are genuine leather. In contrast, the fake pair is manufactured from pleather (plastic leather), making them rigid and pliable.
Look at the texture of the shoe. The real ones have a rough surface, while many fake ones have a smooth texture.
The midsoles of a fake mercurial pair tend to have visible dots, unlike the authentic ones.
The lacing of a fake pair tends to skip lacing holes, unlike a real one that is usually fully laced.
You cannot see glue lines in a real pair of Nike Mercurial ones, whereas the real ones have no inconsistencies and are very clean.
Examine the SKU number on the packaging box and the labels inside the shoes. Every pair of authentic Nike pairs comes with an SKU number that is identical to the SKU number on the box. If the numbers are not matching, that pair of shoes is likely to be fake.
The price. Fake Nike has an unrealistic price. Or rather, the price seems too good to be true. The prices are usually low compared to standard market prices to lure unknowing customers.
How to Clean Nike Mercurial?
Soccer cleats will look new all season long if you make a little more effort at cleaning them. Extend the Nike Mercurial cleat's lifespan by keeping them in their best condition.
It would be best to clean the shoes as soon as the game ends. So that the dirt and grime do not damage the shoe and maintain the performance features.
 Bang your Nike Mercurial against each other sole on the sole to dislodge dirt and grass.
Warm water and soak a washcloth and rinse the shoes till they are clean.
Inner soles and laces should be removed and washed separately in a washing machine or hand washing.
Can You Wash Nike Mercurial?
Yes. Use warm, soapy water, a cloth, and a soft toothbrush to clean the cleats on the inside and outside.
An important note to adhere to is that Nike Mercurial soccer cleats should never be submerged in water.
Can You Put Nike Mercurial in the Washing Machine?
No. Do not put your cleats into a washing machine without checking the manufacturer's instructions about cleaning the shoe. It weakens the shoe and will void the warranty. However, other people argue that a machine can wash them strictly following these steps.
Use a soft-bristled brush to clean and remove stains.
Put them inside a mesh laundry bag or a pillowcase and choose a cool wash program to clean them.
How Do You Dry Nike Mercurial?
For the cleats to dry completely, air dry at room temperature and stuff the cleats with an old newspaper or paper towel to absorb moisture and retain the shape of the cleats. However, note that exposing them to direct sunlight will damage them. You're advised to dry them in a shady area or indoor space.
Can You Put Nike Mercurial in the Dryer?
No. Do not put your Nike mercurial cleats in a dryer – the fabric will spoil.
While in a hurry, it can be tempting to put your cleats in the dryer. If you are such a person, be warned. Putting them in the dryer weakens the structure of the cleats, shortening their life cycle.
References
https://www.shopify.com/retail/what-is-a-sku-number
www.nike.com/w/mercurial-soccer-shoes-1gdj0z4f1bzy7ok
news.nike.com/news/nike-mercurial-highlights-from-fast-to-faster
news.nike.com/news/mercurial-superfly-vapor-360
news.nike.com/news/what-the-mercurial
Share the post "What Players Wear Nike Mercurial Cleats? + (Are They Good?)"
Joel is a seasoned soccer journalist and analyst with many years of experience in the field. Joel specializes in game analysis, player profiles, transfer news, and has a keen eye for the tactical nuances of the game. He played at various levels in the game and coached teams - he is happy to share his insight with you.