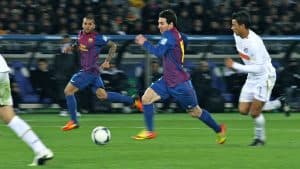 There are not many breaks in a game of soccer, but do they run far?. Messi is one of the greatest players ever, he combines
Read More »
The basics in soccer are key to the game. Beginner soccer skills are pro players have mastered these areas, so these are skills that will
Read More »
The debates go on, who are the best sportspeople and some will say argue, why soccer players are the best. Soccer players are some of
Read More »
The reason that you might not be getting better at soccer is that you have the wrong training methods, are not learning the right way,
Read More »
Even as a kid, I was already pretty sure that I'd never be tall enough to play in the NBA (where the average player's height
Read More »
Soccer that have emerged in the world throughout the decades, one that has gradually gained a certain degree frequency and cultural and commercial relevance is
Read More »
Soccer Blade has professional coaching licences and years of experience on the field.
We analyze the game to bring you skills, drills, rules and lifestyle.
We are passionate about soccer and here to share with you, our insights to bring-on your game.
For coaches, players and fans.